As the week of June 22nd, 2018 draws to a close, marking the official beginning of summer, Jay-Z and Beyoncé reign in the season by blessing us with some critical heat and black love while members of the 1% celebrated father's day by sueing over a Basquiat . An arts festival in Trenton, New Jersey was tragically disrupted by a gang-related shooting, New York City is dedicating $10 million to commission new monuments commemorating women, and if you're driving yourself crazy trying to make it as a struggling artist, the Creative Independent has released some statistics that will shed light on the fact that the struggle is not only totally real, but also more present than you might think.
Struggling to Get By in Art? You're Not Alone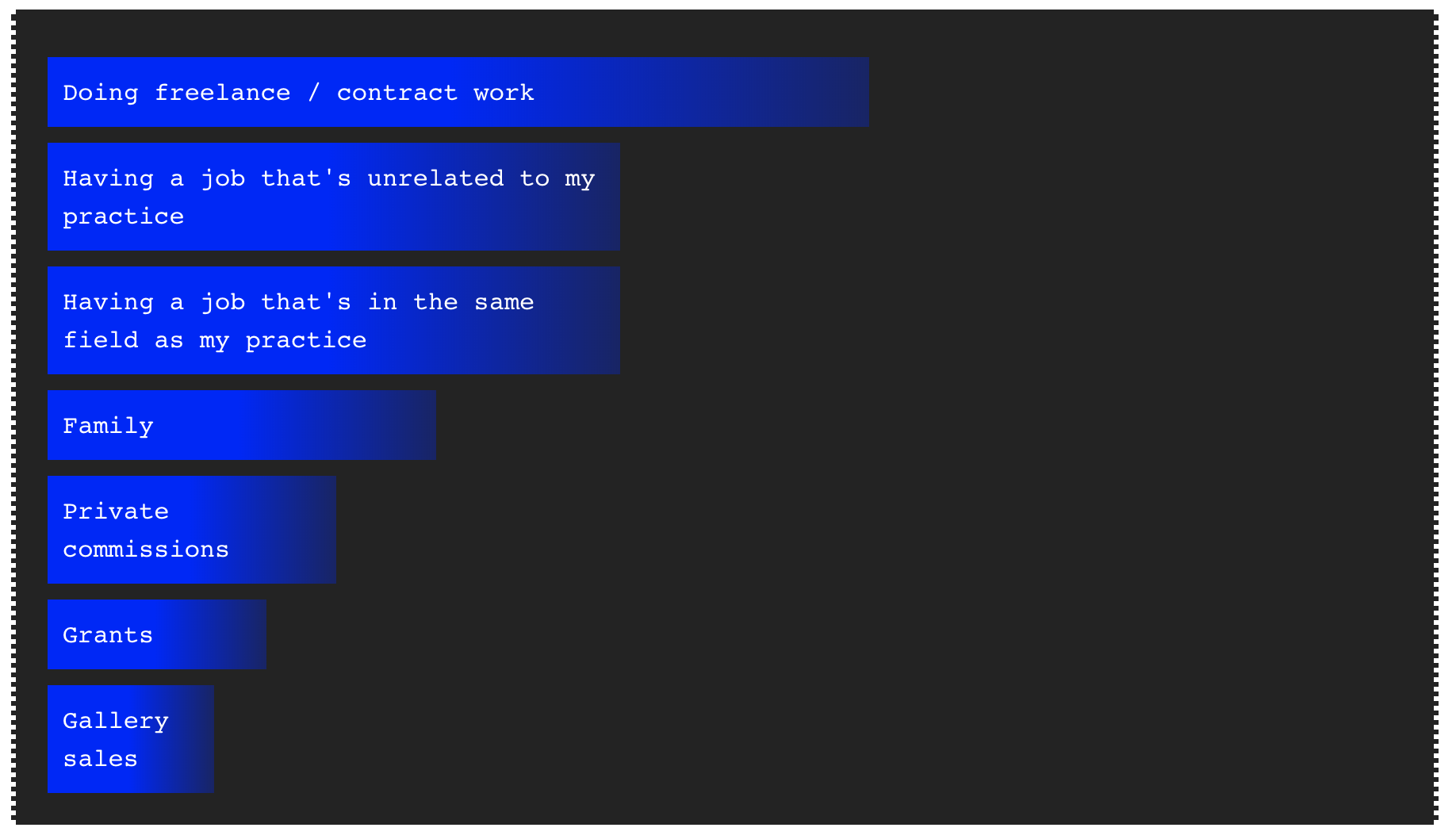 Statistics graphic via the Creative Independent.
If you haven't sold a work of art in a while, don't sweat it! It turns out, only 17% of artists make between 75%–100% of their income through gallery sales. Also, pretty much everyone does freelance work to make ends meet so if you thought you were the only one obsessively tracking your receipts and expenses, you are definitely not alone. A recent study by the Creative Independent surveyed over 1,000 artists around the world (though 75% of respondents were from the United States), gathering information about how they were able or unable to achieve financial stability as working artists. The resulting statistics were both fascinating and somewhat unsurprising. While a majority of respondents reported that on a scale of 1 to 10, their financial security fell at about 5 ("reliably having enough money to cover basic expenses, plus reliably saving money"), those that fell below the median were predominantly women, gender non-binary, or people of color. Their study also found that only 17% of its respondents' incomes met the national median income of $52,000, with 60% of the artists surveyed reportedly making under $30,000.


Nothing Says "Happy Father's Day" Like Suing the Old Man for $100 Million



Flesh and Spirit (1983). Image via Sotheby's.
It's easy to judge an art collector who sues her father for "no less than $100 million" when a Basquiat she's selling at auction only fetches a disappointing $31 million. The optics certainly aren't great but behind this pithy and pejorative headline is story of family dysfunction and betrayal that's worthy of Shakespeare. The painting in question, a 1983 canvas titled Flesh and Spirit was originally purchased by collector Belinda Neumann Donnelly's mother. She bought it the same year it was painted for a retrospectively enviable $15,000. Fast forward to this past May, when Donnelly's father, Hubert Neumann attempted to halt the painting's auction by contesting ownership and claiming he had rights to the work despite the fact that his late, estranged wife's will clearly excluded him from all assets, citing physical abuse and threats to her life. The judge dismissed Neumann's claim, however, Donnelly believes that the dispute was responsible for the painting's lackluster sale. Expecting at least 9 figures based off of the record-breaking 2017 sale of a 1982 Basquiat canvas for $110.5 million, Donnelly motioned to sue her father for what she believes was an intentional and malicious sabotage of the sale last Monday.


"She Built NYC" Addresses the Issue of #TooManyMaleMonuments in New York City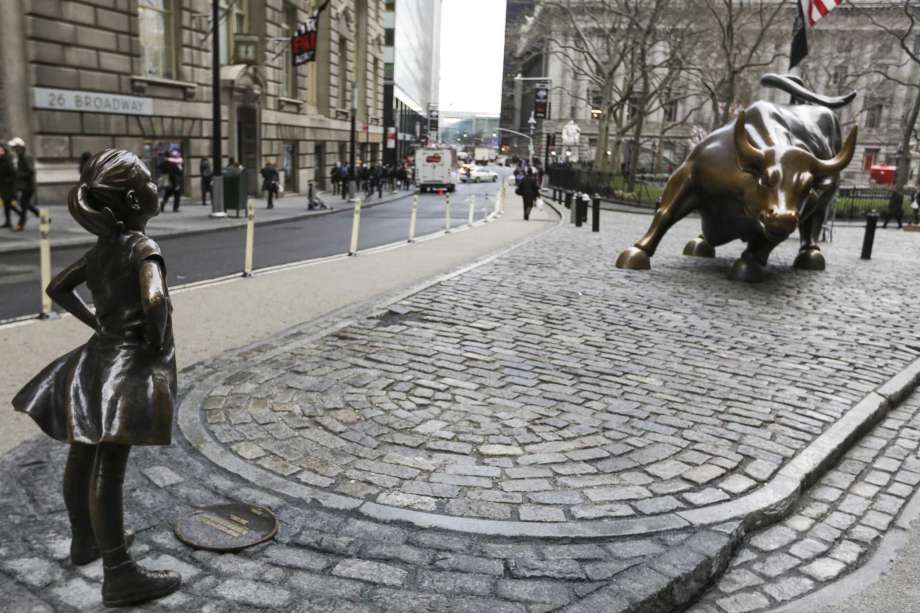 Fearless Girl confronting Wall Street's Charging Bull sculpture. Image via Express News.
"In Central Park," states a 2017 report by the Gothamist, "the most-visited urban park in the country, there are 23 historical male statues, but the sole female representations are either fictional characters, like Alice and Mother Goose, or nameless props, like nymphs and angels." In an effort to address this glaring disparity that has until now been hiding in plain sight, on Wednesday New York City announced a new initiative by the Mayor's Office and the Department of Cultural Affairs to commission a public monument or artwork on city property with a focus on women's history. "She Built NYC" has committed up to $10 million dedicated to the building of new monuments commemorating women and expanding "the stories, histories, and narratives represented on public property in New York." Nominations for women and historical events are open to the public until August 1st at Women.nyc.
Gang Related Shooting at Trenton, NJ Art Fair Leaves One Dead and Twenty-two Injured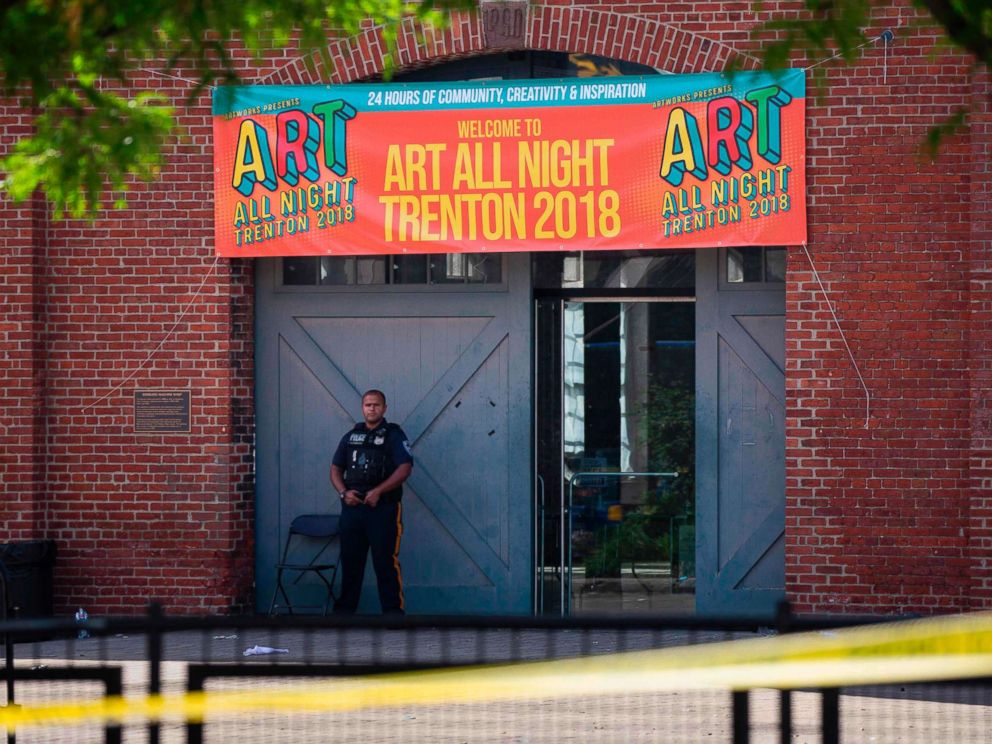 The tragic incident occurred on Sunday morning at 3:00AM at the Art All Night festival in Trenton, New Jersey, a community event supporting and celebrating local artists, musicians, and chefs. Two suspects have been identified in the gang-related shooting. It's the first time the arts event has erupted in violence in its 15 years running. One of suspects was killed as a result of the shooting, while the second remains in the hospital. A vital part of an initiative to revitalize the Trenton community through the arts, the Art All Night festival accepts submissions from all area residents. "Everyone can put in one piece," said Becke Singleton, who had volunteered at the event in the past. "It's nonprofessional next to professional. Elderly next to a little child." A statement released by the festival organizers later on Sunday read, "Our hearts ache and our eyes are blurry but our dedication and resolve to building a better Trenton through community, creativity and inspiration will never fade."
Jay and Bey Took Over the Louvre (Again)
While a 2014 visit to the Louvre left many rolling their eyes (for those forgetful or uninformed, the Louvre closed itself to the public so the power couple could enjoy an iconic and infamous private viewing of the collection), when Jay-Z and Beyoncé returned to the venerated institution in their music video for "Apeshit" over the weekend, all eyes were fixed, awestruck, and welling up with tears of joy. Ours were, at least. Directed by Ricky Saiz, the music video is a precisely orchestrated and #flawless institutional critique of the Eurocentric, whitewashed canon of art history. It powerfully addresses the exclusion of black bodies and luck luster representation at the Louvre simply by being present. Our gazes are drawn away from the immobile masterpieces of Roman, Neoclassical, and Renaissances past to behold the fluid, living masterpieces of today's culture, represented by black bodies. Arriving on the heels of Childish Gambino's internet-breaking music video " This is America ," and an Arthur Jafa retrospective at Gavin Brown's Enterprise, "Apes**t" is a critical and timely addition to the conversation of race, art, and culture that both Jay-Z and Beyonce have been consistently vocal in. Released in addition to a surprise collaborative album, titled "Everything is Love," Jay-Z and Beyonce lead us on a powerful examination of what it means to be successful beyond belief while embracing blackness in America.
RELATED ARTICLE:
"Apeshit" at the Louvre, "Like Life" at Met Breuer, and the Persistent Whiteness of Neoclassicism