Meet Emily Hoerdemann , an artist directly partnered with Artspace as part of our celebrated Straight From the Studio initiative. Her work is easy to love: serene, scenic photographs collaged with bold, cut-out text that make it hard to believe Hoerdemann could live anywhere but Los Angeles (she does). The artist draws on her obsession with organization and as a result, each work is a delicate placing of aesthetics and color. She received a BFA in painting and a BFA in photography in 2008 from Bradley University, Peoria, Illinois.  In 2012, she received an MA in Contemporary Art from Sotheby's Institute of Art, New York.
Here, she responds to questions via email about her inspiration, process, and work.
What do you make work about?
Language, appropriation, and objects of femininity; personal experience that I hope translates to collective experience.
Can you describe your process?
I make analog cut-and-paste collages repurposing materials, texture, and techniques of creation traditionally associated with femininity. It always begins with lists of words and phrases in my sketchbook. With the Hues it's a lot about selecting a color palette to work with, then playing with the layering until there is a sense of balance. With the cutout works, it starts with pairing a phrase to an image, printing, cutting, selecting a background, then cutting elements to tuck within the cutout font, again focusing on balance and color. I am using my own photographs either for the ground to work on or for collage elements such as the florals, so there is a lot of organizing images, collecting magazines and catalogs, and then doing a lot of printing, drawing, and cutting. Then it's time to start layering!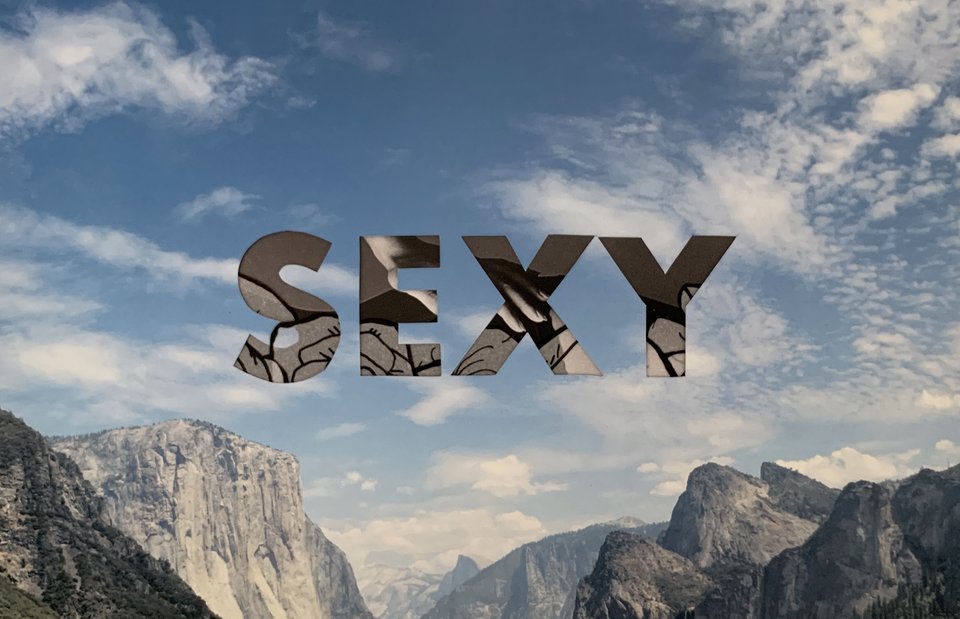 Sexy (Sieff) , 2019 is available on Artspace for $750
What are you trying to communicate through your text?
The One Word Poems ( Bossy (de Kooning), Queen (Winters) ) is a very specific series, referencing words I remember being called throughout my life. Through the series, my hope is the words also resonate with others in different capacities through language and subject. The Text Posters and Text Cutouts act as a quasi-motivational poster for the millennial and beyond. Many phrases are incredibly snarky or excessively gregarious with their use of profanity. To me this is reasserting ownership of the words.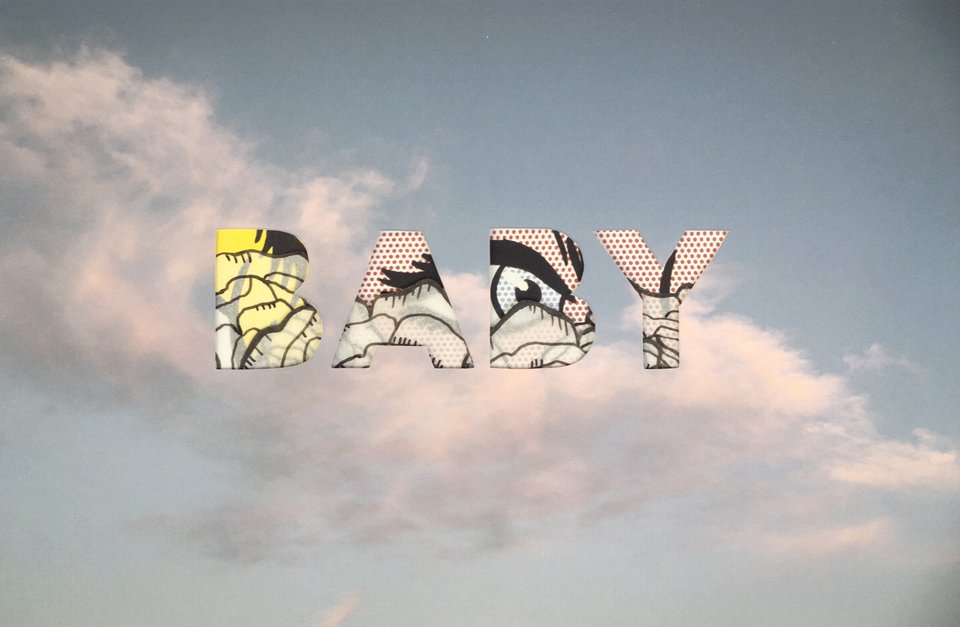 Baby (Lichtenstein) , 2019 is available on Artspace for $750
Can you say something about your homage pieces?
The Text Cutouts ( Don't Quit Your Daydream, It is What It Is ) and the One Word Poems ( Little (Hirst) , Rockstar (Gupta) ) pair original photography with contemporary artworks and organic floral elements. The appropriated works are masked by the cut photograph and used as a background texture for the floral drawings or images. Taking these words and phrases or images and materials associated with artistry or femininity and divorcing them from their traditional application is in an effort to rediscover them through renewed aesthetics of balance, color, and form.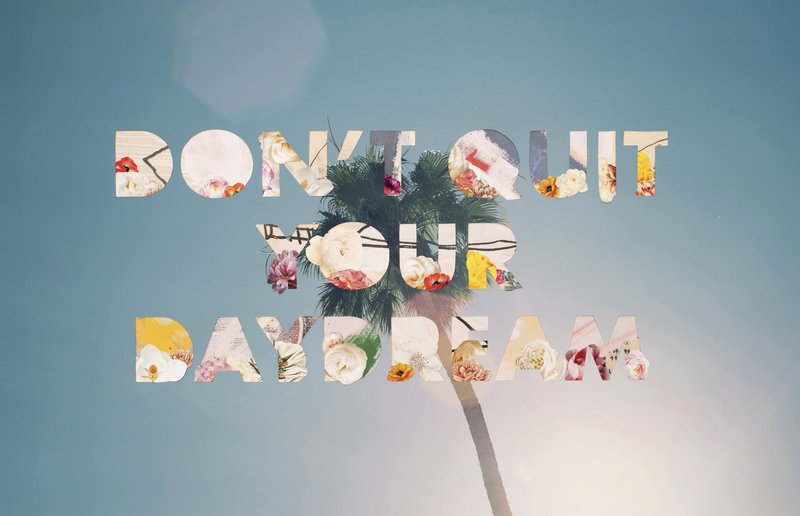 Don't Quit Your Daydream (Palm Springs) , 2019 is available on Artspace for $1,500
Can you say something about your Photo Interventions?

The Photo Intervention Series are photographed desktop collages combining elements of contemporary art with fashion editorial and advertisements with elements from home-and-garden magazines; part deconstructed dream-board paired with the fragmented female form. I love this series, which is featured in the Artspace section of The Frame TV by Samsung .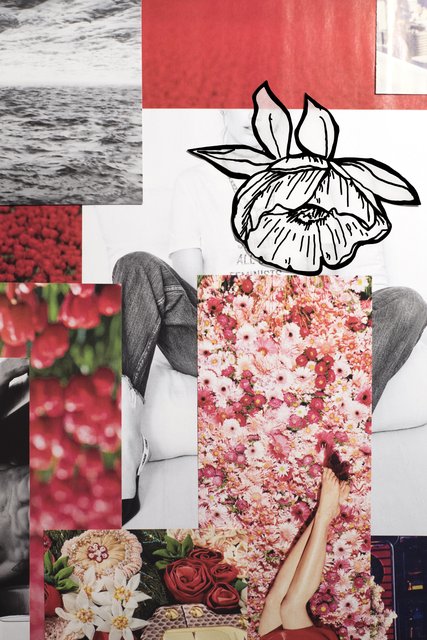 Photo Intervention 27-4 , 2017 is available on Artspace for $1,500
Can you say something about Hues?
The Hues are collages on paper that explore color themes and re-contextualizing images of femininity composed from magazine cutouts, advertisements, and other collected objects. The color names evoke individual memories and the colors we are drawn to tell our own narrative.  The application of embroidery thread, collaged vintage cookbook pages, and objects passed down from my grandmother challenge traditional notions of femininity with the very materials associated with being feminine.
For more available works by Hoerdemann, visit her artist page.
RELATED ARTICLES:
Straight From the Studio: Collect Alice Quaresma's Painted Photographs that Blend Landscape with Geometry
Four Questions for Collage Artist Charles Wilkin
In the Studio with Artist Roxa Smith & Her Colorful Interiors