As the assistant curator at the Jewish Museum in New York and, before that, the co-founder of the Taxter & Spengemann gallery (now closed, but formerly a must-stop on many a critic and curator's list), Kelly Taxter knows a thing or two about what makes a great artwork. Here, she singles out 10 works from the NADA New York 2015 lineup.
SADIE BENNING
Red and White Gun Blast, 2015 (Callicoon Fine Arts)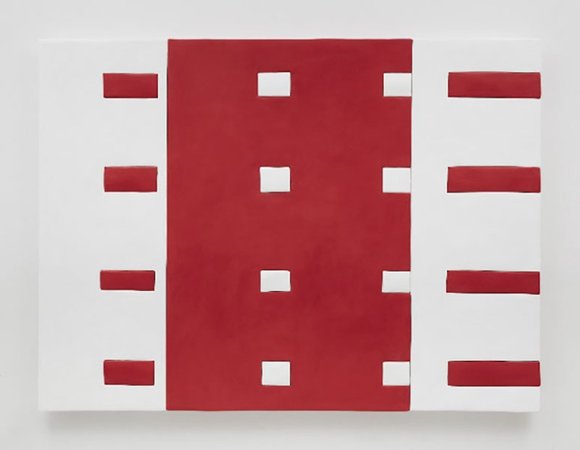 I first learned about Benning while reading Sassy magazine when I was 16 years old. She was the youngest person ever included in a Whitney Biennial, with her coming of age story called It Wasn't Love. She shot the video with a Fisher-Price PixelVision camera that my friends and I coveted for making home movies and skate videos. That 1993 Biennial was the iconic and endlessly relevant identity politics one. I've never stopped looking at her work, which keeps getting weirder and better.
HEATHER BURSCH
Signature Work, 2015 (Abrons Arts Center)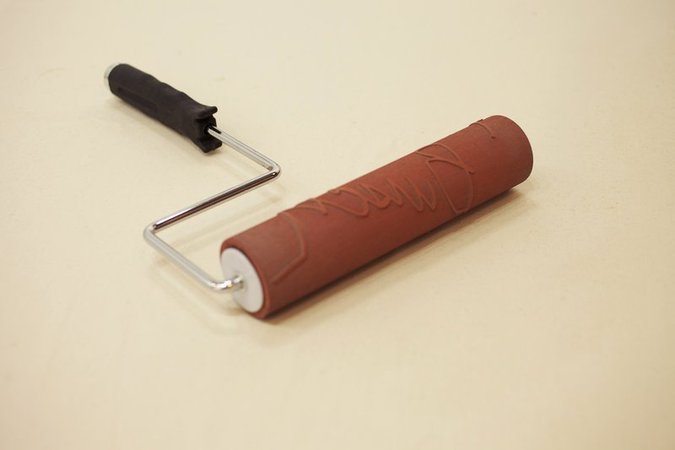 The artist's signature is never not interesting to me. To buy it etched into a paint roller and be able to throw it up all over your house is a funny idea.
BENJAMIN BUTLER
Dark Tree (Green), 2015 (Klaus Von Nichtssagend Gallery)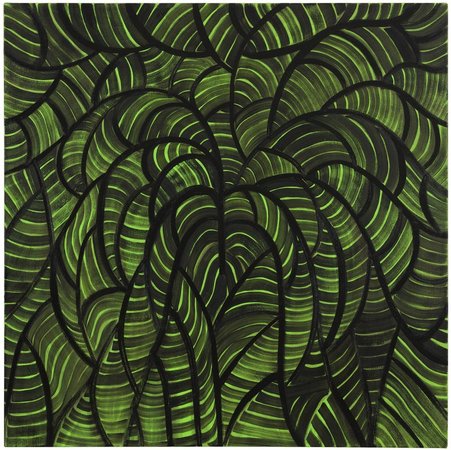 Butler has painted trees and leaves for a very long time. His loyalty to the subject of landscape, particularly this rather narrow slice of it, has evolved his sensitivity to color, line, light, and space to wildly poetic levels.
LUCKY DEBELLEVUE
Untitled, 2015 (Kai Matsumiya)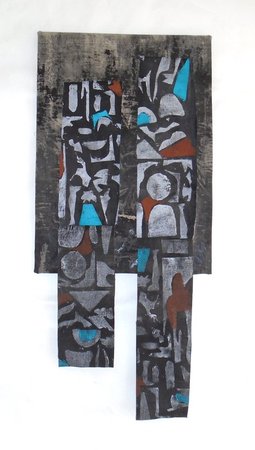 This piece reminds me of Kim MacConnel, who in the late 1970s and early '80s was associated with a short-lived movement called Pattern and Decoration. Along with those of artists like Robert Kushner, Ned Smyth, and Valerie Jaudon, MacConnel's fabric works were unabashedly optical and colorful—quoting Eastern cultures and Miami kitsch alike. Debellevue's collaged textile paintings feel connected to that moment in a contemporary, post-global-art-world kind of way.
GENIEVE FIGGIS
Lady with a Harp, 2015 (Half Gallery)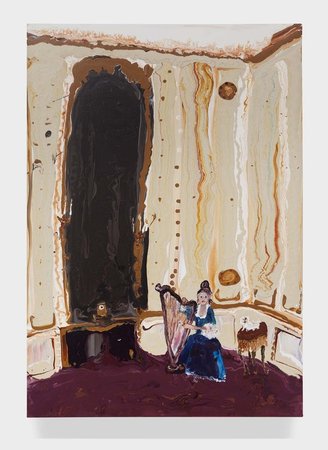 Figgis's paintings feel dark and stormy. The figures are half-formed and composed of squishy paint; the interiors slope and are subject to distortions of perspective. There's a pathos here, one that's alternately funny and scary, and a formal aesthetic that swings between a comic book and Karen Kilimnik.
JAY HEIKES
Music for Minor Planets (Burroughs), 2015 (Federica Schiavo Gallery)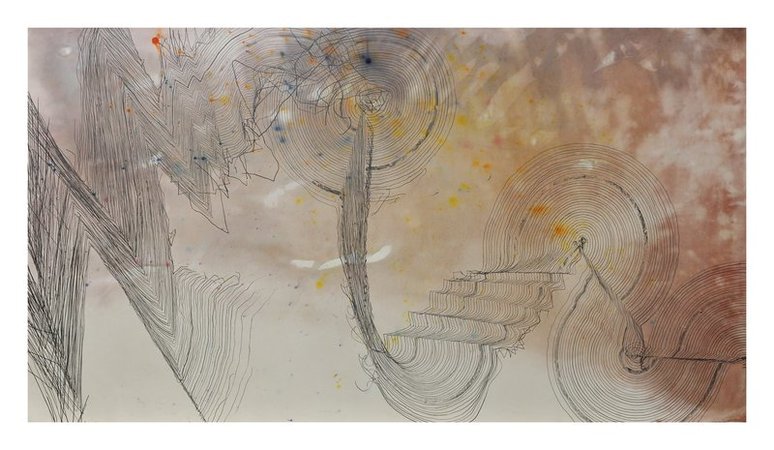 I've always liked Jay Heikes's work but I don't know what it's about, and that's okay. There is a formal quality to everything he's produced that appeals to me, that lies somewhere between abstraction and representation, nature and culture. He has a disjointed, fragmentary way of installing that is not in any way "post-internet," yet speaks to the fractured reality of living in our contemporary moment. These works seem to reference a musical score, a non-visual language that allows the mind to wander.
ELIZABETH JAEGER
Maybe We Die So The Love Doesn't Have To, 2015 (Jack Hanley Gallery)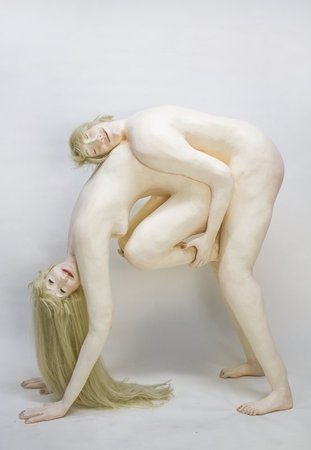 A young woman who makes big, bizarre figurative sculpture, Jaeger should be applauded for being risky, in bad taste, and making overt commentary about sexuality, gender, misogyny, and many other topics that most of us would rather avoid.
TATIANA KRONBERG
Untitled, 2015 (Essex Flowers)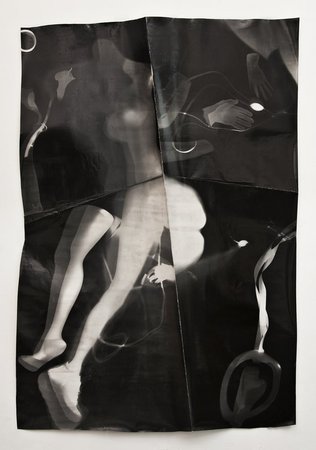 Kronberg's sculptural photographs are mysterious and feel intensely personal. This series of disembodied limbs conveys a sense of movement, perhaps dance or theater—of something that happened and was recorded, and was then abstracted and made three-dimensional and very physical again. Part object, part image, her work brings to mind Laurie Simmons's early photographs of dollhouses and figurines.
NANCY SHAVER
Sausage, 2014 (Soloway)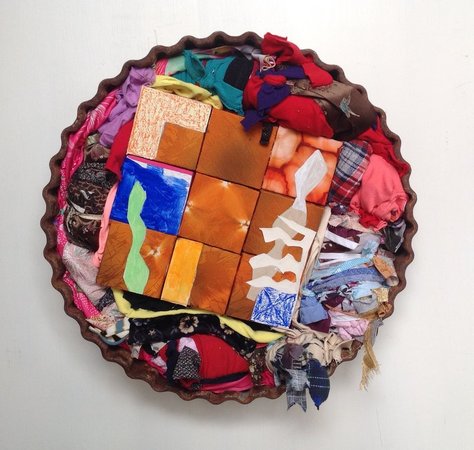 I used to have a fantasy that I'd have two really cool sons. After I retired and moved upstate to my farm/studio to make sculpture for no one but myself to see, they'd come for regular visits and tell me how fun New York was, all the dates they went on, the bad and good things they did that week. This isn't what Nancy Shaver is doing, or what her life is like, but when I see her work I project that fantasy onto it and think she must being having such a good time.
B. WURTZ
Untitled (stack of triangles), 1989 (The Apartment)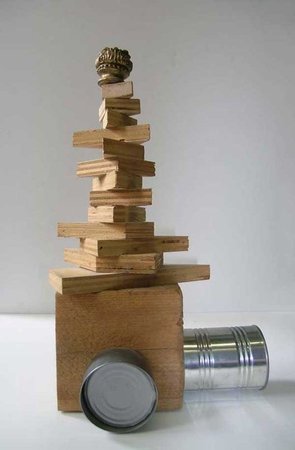 This piece is pure poetry: from the slightest of gestures and flimsiest of materials, it conjures visual verses that will stick around for a long time.