This week, more than 60,000 visitors descended on Hong Kong for Asia's third edition of the Art Basel megafair franchise, with collectors streaming in from across the region to sample the wares of 233 galleries from 37 countries and territories. Of these exhibitors, many—particularly those in the "Discoveries" sector dedicated to emerging talent—presented up-and-coming contemporary artists worth keeping an eye on. Here are a few we noticed.
ATIF KHAN
Gandhara Art – Karachi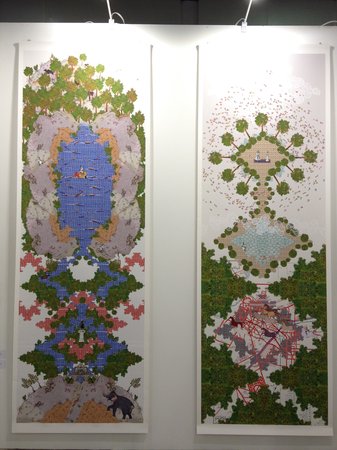 The work of printmaker Atif Khan, shown widely in his native Pakistan and throughout South Asia, has been cropping up in Western group shows in recent years. At Art Basel, the Karachi-based Gandhara Art gallery dedicated half of its booth to works that Toronto's Aga Khan Museum commissioned from the artist for its inaugural exhibition last year. Khan—by day a professor at Lahore's National College of Arts—has produced four large-scale Chinese-style scrolls based on a "Garden of Ideas." Seamlessly merging traditional and contemporary imagery, The Lost Garden ii (above right, priced at $14,000) shows the 17th-century Mughal Emperor Jahangir casting for fish. With their verdant palettes, ornate designs, and witty historical references, Khan's scrolls are a feast for both the eyes and the mind.    
YANG YONGLIANG
Shanghai Gallery of Art – Shanghai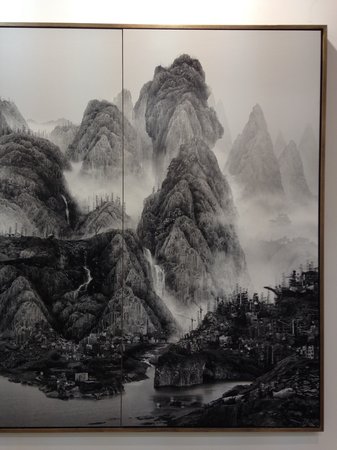 It may look like a Song dynasty landscape from across the room, but on closer inspection Shanghai-born Yang Yongliang's work reveals itself as a set of manipulated photographic prints. Drawing from his massive database of urban cityscape photographs, Yang edits together images of dense built environments to create traditional forms in muted or monochromatic palettes. In From the New World (2014), the classically trained artist fashions a dramatic Chinese mountaintop scene from countless images of concrete towers, cranes, pipes, and mangled metal. Yang, also a lecturer at the Shanghai Institute of Visual Art, has stepped onto the international stage in the recent years with solo and group shows in New York, Paris, and Milan; his limited-edition prints have sold for $5,000 at auction.
SAMSON YOUNG
AM Space – Hong Kong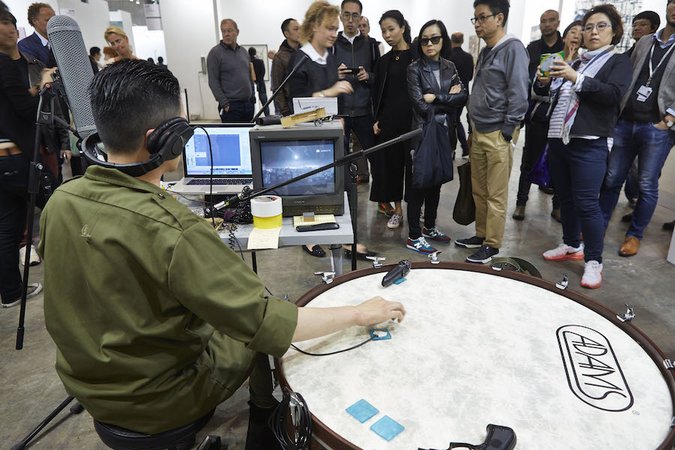 A trained musician who once composed and conducted an opera performed entirely on iPhones controlled by community volunteers, the Hong Kong-based artist Samson Young has made a name for himself at recent biennials, fairs, and group shows. This week, his sound-and-art installation Pastoral Music (2014) landed this Hong Kong Arts Development Council "artist of the year" another accolade: a spot on the BMW Art Journey award shortlist. Combining graphic sound effects recorded from warzones with his own original scores and visual imagery, the piece was inspired by Young's research into the role of Hong Kong-based musicians during World War II who mimicked the sounds of battle to distract or confuse the enemy. The result is a strong work that reveals both the power of music to influence conflicts and the intense gestural exchange between conductor and orchestra.  
TREVOR YEUNG
Blindspot Gallery – Hong Kong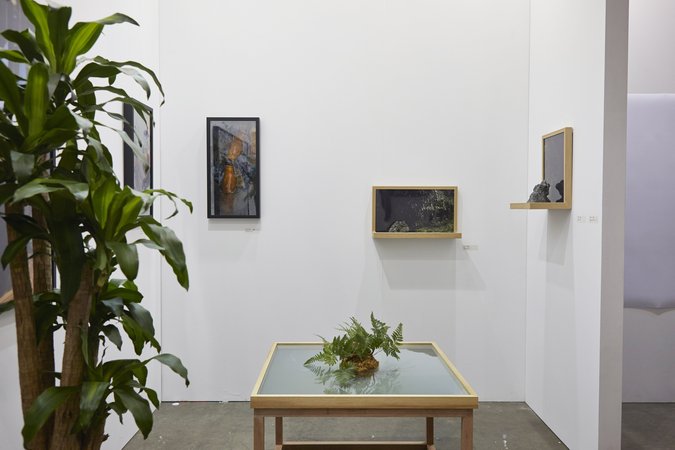 In 2012, the Chinese artist Trevor Yeung invited viewers into his bedroom to consider his collection of plants and goldfish. On another occasion, he transformed a gallery into a full-fledged greenhouse complete with a fog machine for dramatic effect. His photography-based, horticulturally-inclined installations continue to engage viewers and keep them on their toes. Garden Cruising: It's not that easy being green showcased Yeung's ongoing and new series at the Blindspot gallery booth in the "Discoveries" section. The display's idiosyncratic assemblages—botanical and otherwise—highlighted the twentysomething mixed media artist's knack for merging photographs, drawings, objects, and installations inspired by everyday life. (Yes, the plants are available for purchase, too.) Along with Samson Young, Yeung has been shortlisted for the BMW Art Journey award; the winner will be announced later this year.
COEN YOUNG
Jensen Gallery – Sydney & Newmarket, Auckland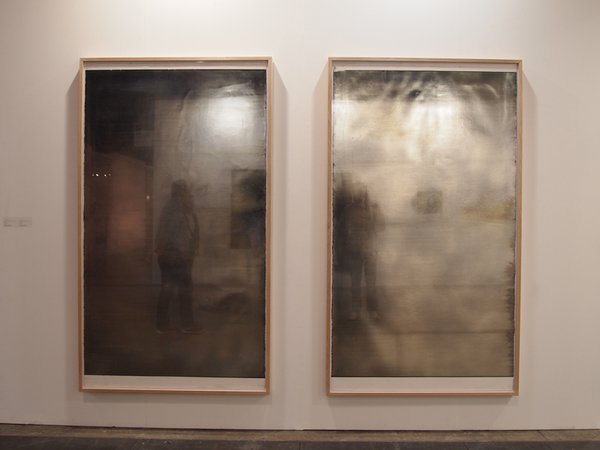 The Australian artist Coen Young's hybrid works—neither paintings nor photographs—are always in flux. Atop a base of cotton rag paper, Young adds layers of chemicals and material such as gesso, acrylic, enamel, and marble dust, finishing with a final, quasi-photographic seal of silver nitrate. The result is a reflective, mirror-like surface, with a history that can be traced in its imperfect, discolored edges, and an ongoing science experiment. Young's contemplative works have inspired comparisons to Gerhard Richter and questioned what makes a photograph a photograph, or a painting a painting. Young, based in Sydney, was nominated in 2012 for the inaugural Giorgio Armani commission.
JOEY KA-YIN LEUNG
Grotto Gallery – Hong Kong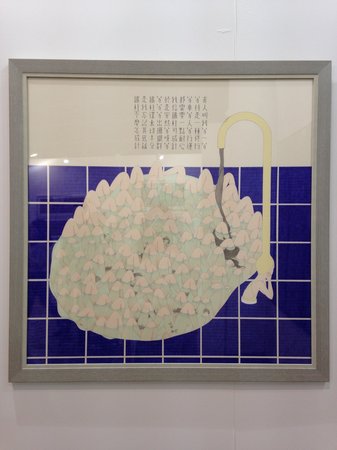 One of Hong Kong's most promising emerging female artists, the 39-year-old Joey Ka-yin Leung creates mixed media works that fuse comic illustration with Chinese ink traditions in often absurd ways. Fantastical scenes of contemporary figures mingle with delicately inscribed traditional Cantonese poetry and landscapes in ancient dynastic styles or color palettes. In Wait A Moment (2015), ornately inked carp swim among dozens of dismembered human legs while a young woman's hair streams out of the faucet—or is it her bathing cap?—in a surreal bathtub scene. Exhibited in Tokyo, Taipei, Shanghai, and London, Leung's works conduct dialogues across aesthetic traditions and time periods.