EILEEN QUINLAN
Special Assessment (2005/2014)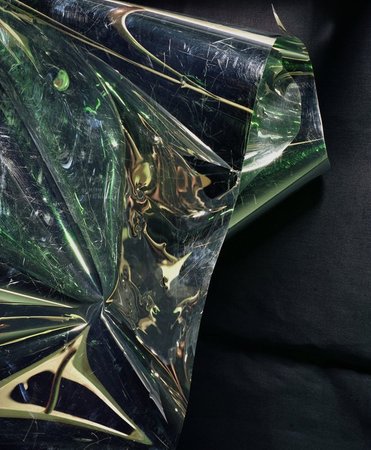 Considered to be one of the most exciting photographers of her generation, Eileen Quinlan was featured in the 2013 edition of MoMA's star-making "New Photography" survey (alongside Annette Kelm and Josephine Pryde). She uses analog and digital methods to capture fluid materials—clothes, fabrics, mylar, smoke, liquids—and make them read as simultaneously representational and abstract. This picture is pleasing on a whole host of levels, from the way the mylar's reflection approximates the veining of green marble to the stark haptic contrast between the metallic sheet and the rough fabric in the background.  
SAM FRANCIS
Falling Star (1981)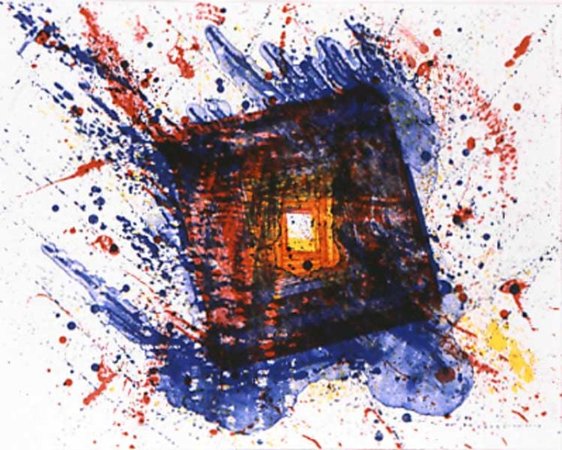 An American Abstract Expressionist who skipped out on the movement's legendary barroom brawls by moving to Japan, where he associated with the Gutai artists and picked up the art of ink painting, Sam Francis has been experiencing an extraordinary posthumous comeback over the past year. Just look at his market: at Christie's in November he set a new world record when Red and Pink (1950) sold for $4.9 million, and every single artwork of his that went under the hammer in the season's auctions fetched at least twice its estimate. This lithograph is an exuberant example of his later work, marrying a dynamic splatter of color—as much a hallmark of Gutai as of Jackson Pollock—to a geometric core.
PEDRO VÉLEZ
Twitter Said (2013)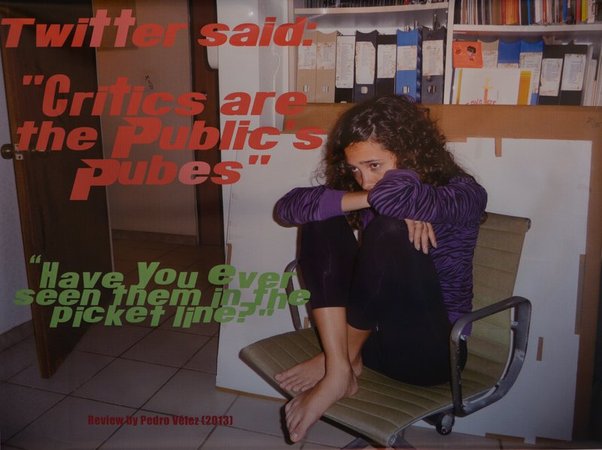 The artist Pedro Vélez is a rare breed in the art world: an accomplished critic who actually puts his money where his mouth is, creating the kinds of blistering, society-critiquing artworks that he finds lacking in the artistic discourse. Last year Vélez was featured in the Whitney Biennial, and a version of this piece was a prominent part of his display (which referred to the path that a review he wrote, "White Privilege in Criticism," took through social media over the course of a year in which NATO protests, outrage over the Trayvon Martin verdict, and other political flashpoints occurred.) The text at the bottom echoes the related Whitney flyer, which asked: "The #Art Press, have you ever seen them in the picket line?"
SHERRIE LEVINE
After Degas IV (1987)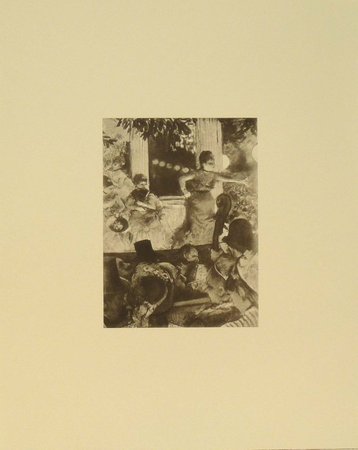 The Pictures Generation artist Sherrie Levine has long been one of the deadliest marksmen in the war on the "original," updating Duchamp's notion of the readymade to include not only found objects but also classic works by masterful artists. She has appropriated photographs by Edward Weston and Walker Evans, exemplifying reductio ad absurdum: If an artist can claim anything as art, even art, then what happens to the authorship claim of that original artist? Here, Levine's tactics present collectors with a nice two-for-one: when buying this print you not only get a terrific fake Degas, you also get an authentic Sherrie Levine.
DARIO ROBLETO
I Want You (2003)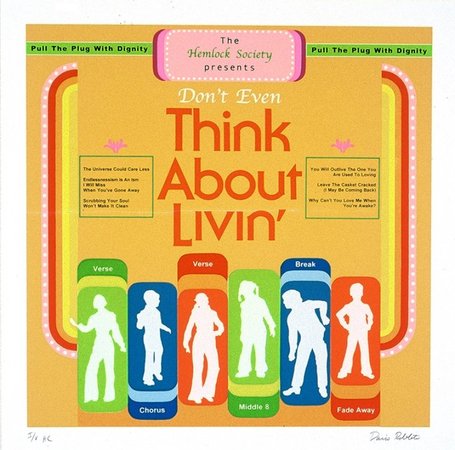 The subject of recent solo exhibitions at the Menil Collection and Houston's Contemporary Art Museum, the Texan artist Dario Robleto has acquired a devoted following. His intricate, borderline obsessive artworks combine his love of pop music with macabre meditations on mortality (as in his sculptures made from human bones). This series of four prints attacks his themes with a lighter heart, with four prints in the style of '60s Christian albums that subvert the era's trippy, love-in aesthetic to instead peddle suicide, with titles like "Don't Even Think About Livin''" (with songs like "The Universe Could Care Less" and "Leave the Casket Cracked (I May Be Coming Back)") and "A Sound Odyssey in Vulcanology" (featuring such hits as "Melt Me Into a Lava Flow").
BARBARA KRUGER
Culture Vulture (2012)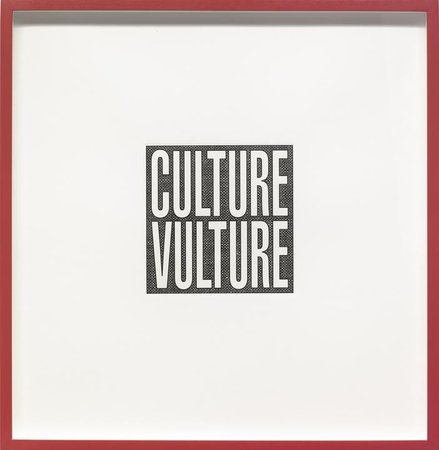 Another Pictures Generation artist alongside Sherrie Levine, Barbara Kruger famously began her professional career as a designer for Mademoiselle and other magazines before defecting from the mass-media overculture to join the conceptual-art resistance. And she didn't join the cause empty-handed. In her work, Kruger hacked the magazine world's finely turned tools of cultural communication to begin conveying slogans that went in direct contrast to social conventions (particularly when it came to women): "gender is irrelevant," for instance, or "your body is a battleground." Many works declare positions that seem anthemic but then become more and more ambivalent with time, and, in this piece, "Culture Vulture" is both a mark of pride for its owner and an occasions for reflection on the more predatory sides of the arts industry.