Before you dive head-first into Jeff Koons 's mega-retrospective at the Whitney Museum —the first ever to occupy the building's entire interior—it might be wise to brush up on your knowledge of the 59-year-old artist's sensational career. Koons is, after all, renowned for works that match suburban Americana with monumental scale and high-end fabrication techniques, a potent mix that derives its artistic appeal from a cultivated ambiguity between kitsch and class. So, how well do you know Jeff Koons? Let's find out!

1. What was Jeff Koons's profession before he became a well-known artist?
A. Toy designer
B. Wall Street stock broker
C. Elementary school gym teacher
D. Clinical psychologist
2. What material is Jeff Koons's 1998 sculpture "Rabbit" (pictured below) made from?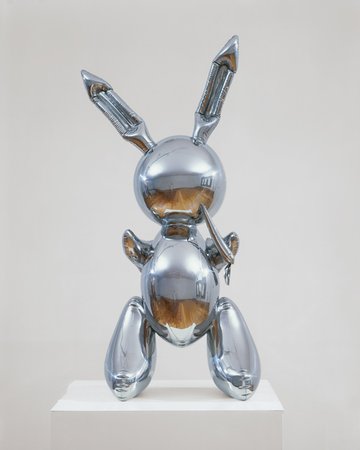 A. Plastic
B. Cast stainless steel
C. Cast uranium
D. Molded fibers from Andy Warhol 's wigs
3. Which photograph of Jeff Koons is NOT included in his series of "Art Magazine Ads," which ran in magazines like Artforum in the 1980s?

A. Jeff Koons posing genially with a mother pig and her piglet
B. Jeff Koons offering flowers and birthday cake to a pair of bikini-clad models
C. Jeff Koons eating a lobster roll on the Atlantic City boardwalk
D. Jeff Koons teaching an elementary school class about the exploitation of the masses
4.  Where is Jeff Koons's capacious studio located?
A. Marfa, Texas
B. Indonesia
C. Chelsea, New York
D. SoHo, New York

5. Approximately how many studio assistants does Jeff Koons employ?

A. 2
B. 120
C. 50
D. 230

6. What breed of dog is Jeff Koons's monumental topiary sculpture Puppy (pictured below) modeled after?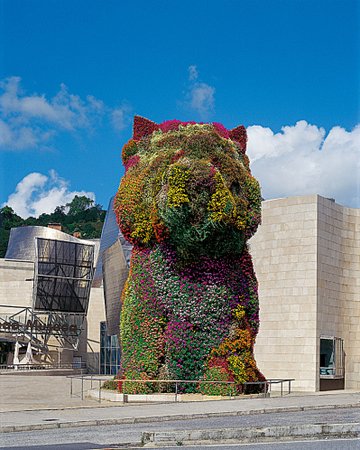 A. Golden Retriever
B. Shih-Tzu
C. It's a cat
D. West Highland Terrier
7. Which of these headlines did NOT appear in the French press after the opening of Jeff Koons's retrospective exhibition at the Palais de Versailles?
A. "Jeff Koons Creates Castle Controversy" (" Jeff Koons crée la polémique au château" )
B. "Versaille: Ostentation—but Not Jeff Koons" (" Versailles: 'l'ostenation, mais pas Jeff Koons' ")
C. "Jeff Koons at Versailles: Daring or Bad Taste?" ( "Jeff Koons à Versailles : audace ou faute de goût?")
D. "Let Them Eat Koons" (" Qu'ils mangent de Koons")

8. Which of the following popular party accessories is monumentalized in Jeff Koons's "Celebration" series?

A. Giant party whistle
B. Donkey piñata
C. Giant disco ball
D. Easter egg

9. In 2013, Jeff Koons broke auction records when his work Balloon Dog (Orange) sold for...
A. $58,400,000
B. $27,600,000
C. $46,300,000
D. $7.99
10. Which image depicts a sculpture by Jeff Koons?
A.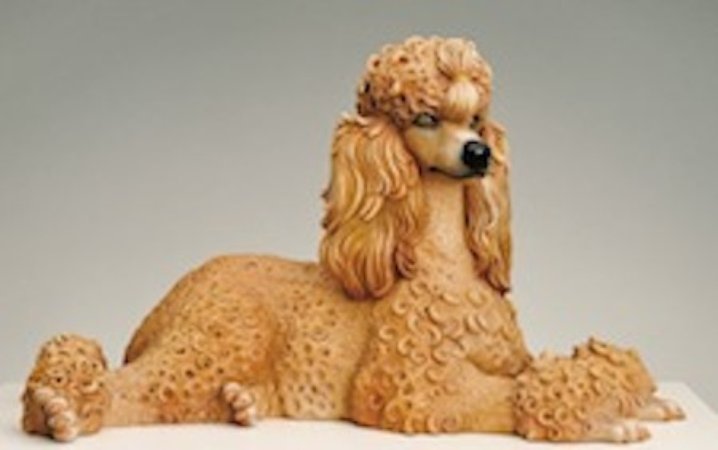 B.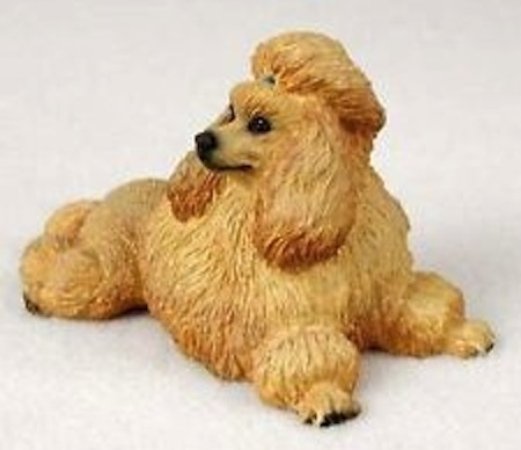 C. Both A and B
11. How does Jeff Koons describe his philosophy as an artist?
A. "The production of too many useful things results in too many useless people."
B. "The world today doesn't make sense, so why should I paint pictures that do?"
C. "I tried to remove bourgeois guilt and shame in responding to banality."
D. "I like to talk about lint and coasters, the expansion of the universe and maybe McDonald's. I'm completely turned off by the idea of politics."
12. Which priceless artwork is hanging in Jeff Koons's bedroom?
A. Pablo Picasso's Deux personnages (Marie-Thérèse et sa soeur lisant) (1934)
B. Nicolas Poussin's Jupiter and Antiope (c. 1600)
C. René Magritte's Les idées claires (1955)
D. Édouard Manet's Quatre Pommes (1882)
E. Pablo Picasso's Tête de Femme (Dora Maar) (1941)
F. All of the above
13. Jeff Koon's co-star in his pornographic "Made in Heaven" series was not only an famous porn star, she was also...
A. A Honduran anaesthesiologist
B. A Lithuanian physicist
C. An Italian parlimentarian
D. A French diplomat
E. A Russian zinc-mining industrialist
14. For his debut 1985 show, Jeff Koons exhibited a series of fanciful posters of basketball stars. How did he make them?
A. He rented Richard Avedon's New York studio to shoot their portraits.
B. He commissioned a young David LaChapelle to shoot their portraits.
C. He commissioned graffiti artists to find pristine versions posted around the city and carefully remove them from the walls.
D. He flew out to Oregon to obtain the original image files for the posters from Nike.
E. He painted them himself, showing that even at the outset of his career, and without assistants, he was capable of phenomenal photorealism.
15. Which of these is NOT a real quote from Jeff Koons?
A. "I really believe in art. I really believe in the transcendence that it's given me—it's taught me how to feel, to enjoy the senses, and with that sense perception it's taught me how to enjoy ideas, and also experiences—very variable, ephemeral ideas, and to really become a better human being."
B. "Art's a very metaphysical activity. It's something that enriches the parameters of your life, the possibilities of being, and you touch transcendence and you change your life. And you want to change the life of others, too. That's why people are involved with art."
C. "In my life, art has been a kind of divine presence, inspiring me to use my fullest pontential as a human being and touch the lives of others through the magic of beauty, and sensuality, and transcendance. Art has just allowed me to be the best me I can be."
D. Art "lets you kind of control physiology and the secretions that take place within the body."
E. "Sex with love is a higher state. It's an objective state, in which one lives and enters the eternal, and I believe that's what I showed people. That's why ["Made in Heaven"] wasn't pornographic."
(scroll down for answers)


ANSWER KEY
1: B, 2: B, 3: C, 4: C, 5: B, 6: D, 7: D, 8: D, 9: A, 10: A, 11: C, 12: F, 13: C, 14: D, 15: C