We took a look at last week's Philips Evening & Day Editions auction for some of the most expensive artwork—and then we found way more affordable alternatives. Collect some of the most sought-after names, without losing an arm or a leg.
JAMES ROSENQUIST
STEAL: Forehead I (1968), $5,450 or as low as $480/month
SPLURGE: Marilyn (1974), sold for £7,500 ($9,559 USD)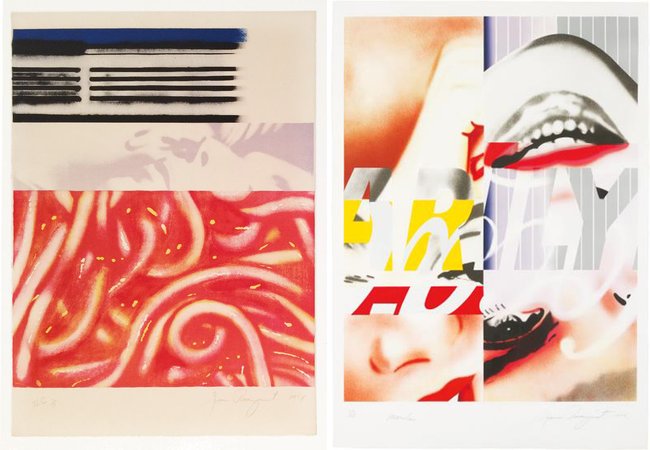 Earlier this year, we sadly lost a deeply influential artist, James Rosenquist, who exploded into the Pop Art scene in 1960 with his large-scale works that appropriated commercial imagery from billboards, posters, and advertisements. The uncomfortable visceral depiction of spaghetti that pervades so much of Rosenquist's work is on full display in Forehead 1. For it's large size (40 by 30 inches), it's small edition size (only 11), and it's iconic imagery (if you don't like red spaghetti, there's also gray!), this piece is indisputably a steal for under $5,500.
DAVID HOCKNEY
STEAL: Rampant (1991), $7,500 or as low as $660/month
SPLURGE: The Wave, A Lithograph (1990), sold for £33,750 ($43,606 USD)

Though David Hockney was considered the grandfather of British Pop art in the 1960s, he's also one of the most versatile British artists of the 20th century. Throughout the late '80s and early '90s, the artist experimented with home-made forms of printmaking, using fax machines and a color copier. For Rampant (1991), Hockney turned to a more "traditional" printmaking method, lithography, featuring the curvy abstract forms inspired by landscapes and seascapes that defined his work during that time period. In recent weeks, a similar print sold at auction for more than $43,000. Get yours on artspace for less than $8,000.
YAYOI KUSAMA
STEAL: Pumpkin (Red and Black) (2016), $950 or as low as $84/month
SPLURGE: Pumpkin (Limoges) (2002), sold for £22,500 ($29,070)

For collectors, it's wise to invest in artworks that represent key motifs in an artist's oevure—which is why Kusama's pumpkins are always a solid choice (she's been making them since the 1950s). During her youth, Kusama recalls having eaten pumpkins to the point of nausea, and yet retained an attachment to its irregular form. Though the artist became famous for her emersive "Infinity Room" installations and nude performances, fans of her avant-garde career can still own a piece of her work, while adding some sophisticated flare to their shelf or table-top.
IMI KNOEBEL
STEAL: Untitled #1 (Dyptych) (1996), $2,500 or as low as $220/month
SPLURGE: Anima Mundi 89-3 (2003), sold for £28,750 ($37,187 USD)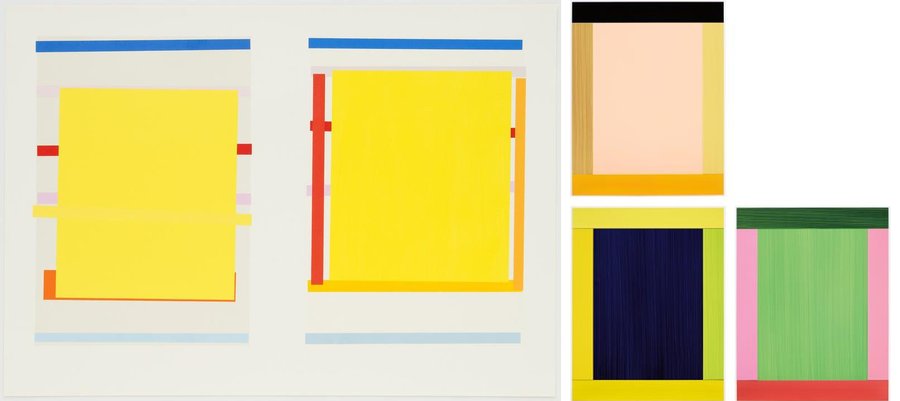 Join the MoMA in collecting the work of German artist Imi Knoebel, whose colorful abstractions are as pensive as they are energizing. Knoebel's composition for this luminous 1996 lithograph diptych is carefully constructed; playing with the relationships between the central planes of yellow and the blue, pink, orange, and red stripes that sit behind and around them, he shows how the variation of similar elements can create radically different impressions of mood and architecture. Though the artist has shown in tip-top institutions like the Guggenheim, the Stedelijk Museum, and Documenta, collectors can enjoy his Untitled #1 (Dyptych)  without breaking the bank.