From a less-than-$100 Charlie Billingham print to an actually affordable Louise Lawler, we've rounded up six artworks that are deals no matter how you slice it. 
STEAL
SOPHIE CALLE
Les seins miraculeux/The breasts, 2013
Print
$500, or as low as $44/month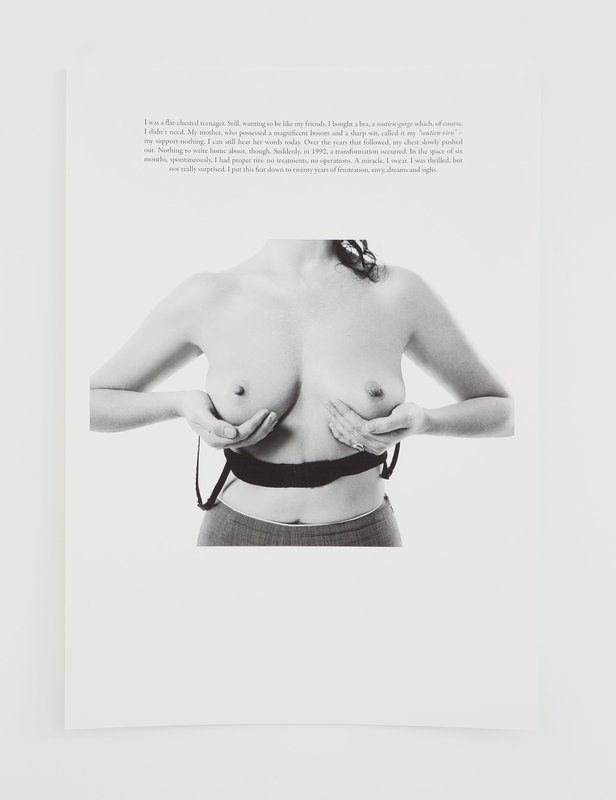 In 1980, French conceptual artist Sophie Calle followed a man she met at a party in Paris to Venice where she disguised herself and continued to follow and photograph him. Okay, so you might not want to run into Calle at party, but you do want to collect a piece from this evocative artist, who will be inaugurating a new project 25 years in the making at the Green-Wood Cemetery in Brooklyn this Spring. "Visitors to The Secrets of Green-Wood will write their secrets on slips of paper, seal them with an envelope, and deposit them into the earth through a slot in a marble obelisk Calle has designed." If this isn't obvious already, Calle makes the personal public, and the private public—Les seins miraculeux/The breasts case in point. Calle's bare chest is, to her, a coming-of-age miracle: "I was a flat-chested teenager… Suddenly, in 1992, a transformation occurred. In the space of six months, spontaneously, I had proper tits: no treatments, no operations. A miracle. I swear. I was thrilled…."
SPLURGE
JAMES ROSENQUIST
STARS AND STIPES AT THE SPPED OF LIGHT, 2000
Lithograph print, 45.5 x 31 inches, edition of 50
$7,500 or as low as $660/month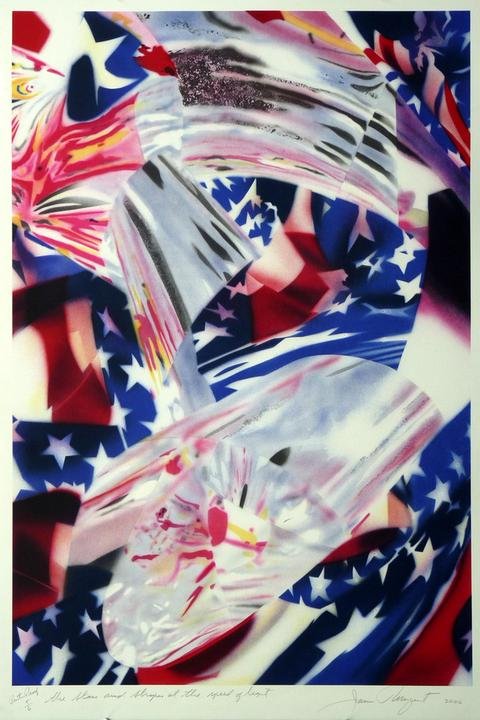 Sadly, we lost a fixture of the Pop Art movement of the '60s earlier this month. James Rosenquist (1933-2017) used his training as a billboard sign painter to make large-scale abstract paintings that created visual narratives of American culture. It doesn't get much more American than STARS AND STRIPES AND THE SPEED OF LIGHT, a lithograph representative of the artist's "Speed of Light" series, which is inspired by Einstein's theory of relativity and explores vision in motion. "The paintings are about my imagination as to a new view, or a new look at the speed of light," the artist has said. Collect this rare print before the market reflects the artist's passing.
STEAL
SHEPARD FAIREY
20 Year Retro Print: Propaganda Engineering, 2009
Screen print, 46 x 33 inches, edition of 75
$750, or as low as $66/month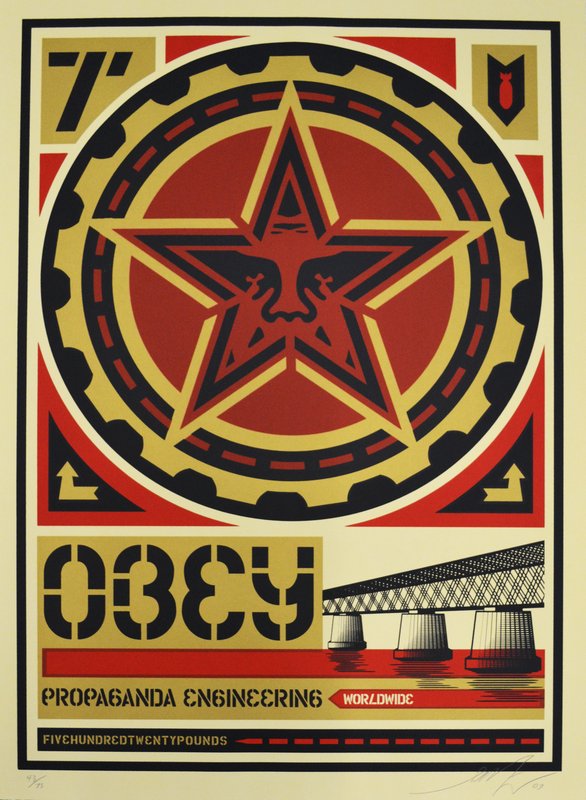 Build your "street cred" by adding an OBEY print by one of the most influential street artists working today. Though Shephard Fairey might be best known for his Hope poster that defined Barack Obama's 2008 presidential campaign, the artist is best known on the street for his OBEY works, which challenge the status quo and illustrate Fairey's interest in phenomenology and subversion…in other words, "damn the man."
SPLURGE
LOUISE LAWLER
Untitled (from: Notes on a room), 1998
Suite of three color lithographs, 16 x 20 inches each, edition of 130
$4,500 or as low as $396/month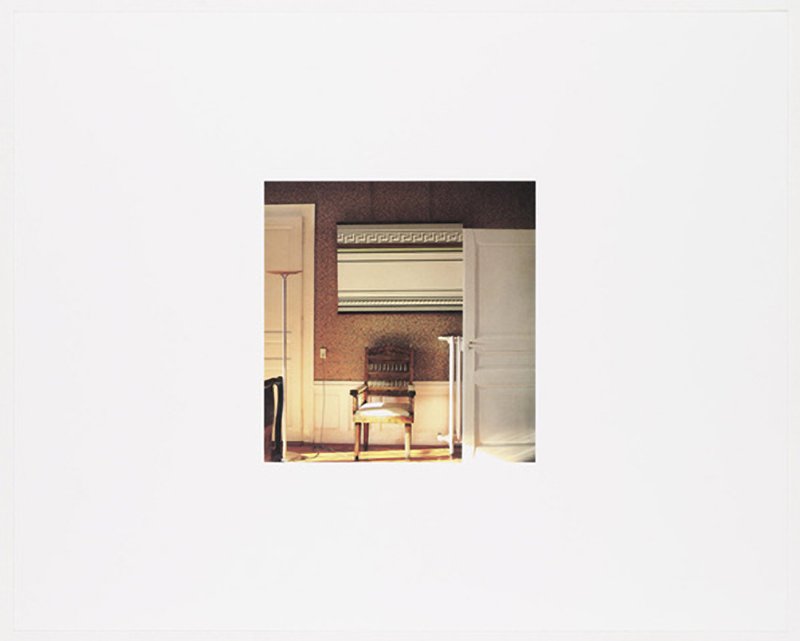 At $1,500 per print, and by an artist with a retrospective opening this month at MoMA, this suite of lithographs is just as much a steal as it is a splurge. Louise Lawler is an influential member of the Pictures Generation, a tight-knit group of artists beginning in the '70s who provocatively manipulated images to underscore how media influences our perceptions of subjectivity and the world. This suite comes from a series of prints made by Lawler, Richard Artschwager, and Sol LeWitt. Lawler's MoMA retrospective, "WHY PICTURES NOW" opens April 30th.
STEAL
CHARLIE BILLINGHAM
Had She Had Had (detail), 2016
Risograph print, 17 x 12 inches, edition of 80
$94, or as low as $13/month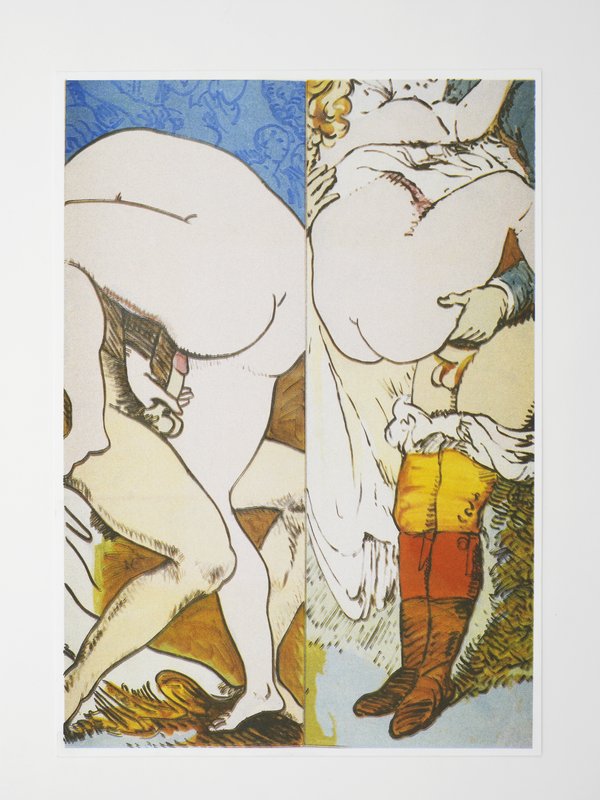 In all honesty, the author of this article had to literally confirm that this Charlie Billingham print is actually under $100 dollars, because surely, it must be a mistake. But the truth is, for $94 Had She Had Had (detail) is a steal from one of Britain's most satirical printmakers since William Hogarth (known for his humorous depictions of the eighteenth century English aristocracy). Drawing from populist illustrations from Britain's Regency-era, Billingham sardonically exposes moments when the breaches of the upper class come undone in playful color palettes. This insanely low price is almost as naughty as the figures depicted.
SPLURGE
ALEX KATZ
Chance 1 (Anne), 2016
30 color silkscreen print, 70 x 46 inches, edition of 50
$20,000 - $20,000. Please inquire for price.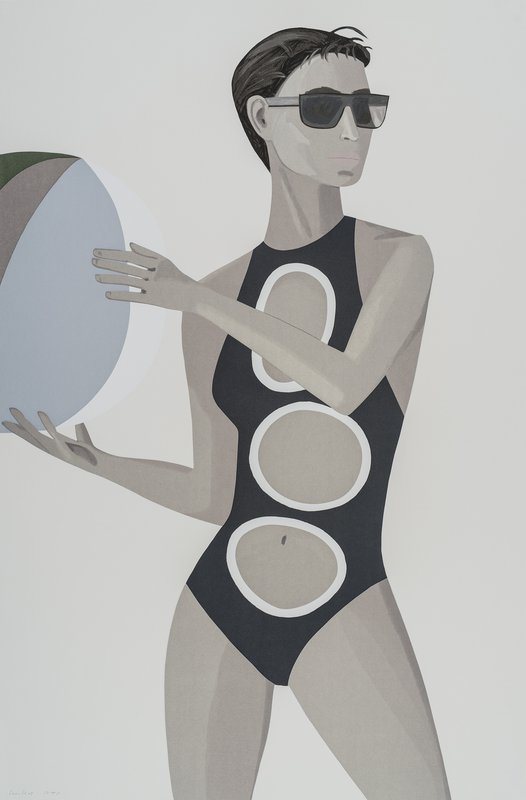 Ever since his small but profond exhibition at the Metropolitan Museum of Art last year, interest in Alex Katz has been rising. Amongst the heyday of Abstract Expressionism, he returned to figurative painting and anticipated the subsequent rise of Pop art to come through his use of bold, flat color planes and everyday mundane subject matter. Chance 1 (Anne) captures Katz's practice in a nutshell: a profanity for female portraiture, fun thematic content, and simple stylized painterly execution are all wrapped up in one. This "dissident" figural painter has proved that sixty-three years after his first solo show at Roko Gallery in New York, he'll always be worth splurging on.