Getting lost in a maze of booths at an art fair is a common occurrence, but it's rarely a deliberate choice. This year's Frieze New York, however, will be purposefully disorienting. Inspired by Fluxus artist George Maciunas's 1976 obstacle course of an installation, Flux-Labyrinth, Frieze Projects curator Cecilia Alemani has enlisted several artists to make a series of confounding and/or covert spaces. As Alemani told Phaidon's Mat Smith, the Projects are meant to be "a subtle interruption of the regular rhythm of the fair." Below, Artspace walks you through this year's playful sculptures, installations and interventions.
SAMARA GOLDEN
What lurks in the underbelly of an art fair? A shadowy netherworld, to judge from the work of Samara Golden (a Los Angeles-based artist influenced by the deeply perverse installations of Paul McCarthy). Her project, a secret chamber underneath the Frieze Tent, exposes structural details like pillars and air-conditioning pipes while building a veritable funhouse of infinity mirrors, blacklights, and other special effects. It expands upon her installation from the "Frame" section of Frieze New York 2012, which conjured the "spirits of Randall's Island" and created zones of ambiguous depth within the booth of Night Gallery. Golden's current project also echoes her installation The Flat Side of the Knife  (currently on view at MoMA/PS1), using spatial hierarchies to evoke social and psychological stratifications. In the tent above, business is being done; below, the artist told Phaidon, is "something undefinable, something that haunts us." 
One of two mazes in the fair (the other being the Flux-Labyrinth tribute), the performance artist Aki Sasamoto's project doubles as a personality test. As viewers progress through the passages, they are asked to make a series of seemingly minor but ultimately revealing choices: Coffee or tea? This type of chair or that one? The experience mirrors aspects of digital life, with its Facebook quizzes that funnel valuable data to marketers, but Sasamoto is also commenting on the snap judgments made in person at art fairs, where, as she told Phaidon, "everyone walks through booths after booths only to reaffirm what kind of art makes them tick."

PIA CAMIL
In 1964, the Brazilian artist Hélio Oiticica came up with a series of wearable abstract paintings called "Parangolés": large, multicolored capes, flags, and banners, designed to be worn and carried by samba dancers. In homage to Oiticica, the Frieze Projects artist Pia Camil has stitched together some 800 tentlike garments from fabric remnants and will be giving them away from a booth at the fair. Of course, there are some key differences between her project, which will presumably clothe well-heeled art collectors who may be disinclined to samba through the aisles, and the Parangolés, which were originally worn by inhabitants of the Rio de Janeiro shanty town of Mangueira Hill. "Oiticica's audience is very different to the audience now, and that is exactly the point," Camil told Phaidon. "Set in an art-fair context the piece forces us to establish a different set of rules."
Frieze Projects are meant to offer respite as well as diversion from the main activities of the fair, and the New York-based artist Korakrit Arunanondchai appears to have taken that mission quite seriously. He's dispersed a series of massage chairs throughout the tent, allowing visitors stricken with "fair-tigue" to sink into his signature bleached-denim upholstery and listen to meditative sounds recorded in collaboration with the producer Harry Bornstein. (He installed a similarly lounge-y environment at MoMA/PS1 last March, with floor pillows also covered in denim.) It's an uncharacteristically subdued intervention by the Bangkok-born artist, who typically works in a combination of installation, painting, video, and performance.
Visitors strolling the grounds outside the Frieze tent will come across a forbidding-looking structure that appears to be in a state of degradation or collapse. It's the work of the New York-based sculptor Allyson Viera, who is known for using architectural materials like I-beams and drywall. This time, she is experimenting with bales of compressed plastic—leftovers from American manufacturing that are normally shipped to China, where they are used to make cheap consumer goods. "I became fascinated by this strange cycle of material transformation that both feeds on and feeds into disposable consumerism," she told Phaidon. 
FLUX-LABYRINTH (1976 / 2015)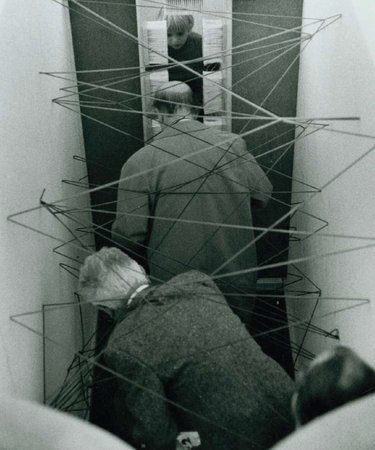 A passageway by Ay-O from the Flux-Labyrinth, Akademie der Künste, Berlin, 1976. Photo by Larry Miller, 1976/2007.
In 1975, the Fluxus ringleader George Maciunas came up with an interactive installation called the Flux-Labyrinth that was shown the following year at the Akademie der Künste in Berlin.  Funneling intrepid visitors through a sort of walk-in Rube Goldberg machine, it entailed obstacles such as a slippery marble-covered floor, a hidden seesaw, and numerous trick doors (one of them rigged to open only when a particular piano key was struck). For Frieze Projects, Alemani has organized a tribute version of the Flux-Labyrinth that includes some of the original obstructions by the likes of Maciunas and Nam June Paik along with never-realized designs by Fluxus artists such as Alison Knowles—and, for good measure, new hurdles commissioned from contemporary artists. The absurdist German sculptor and performance artist John Bock and the goofy Austrian collective Gelitin are among the collaborators, so wear sturdy shoes and enter at your own risk. As with the original Flux-Labyrinth, once you walk in there's no turning back.