From January 21 to 24, Singapore's Suntec Singapore Convention & Exhibition Center will host the launch of 2016's first new art fair: Singapore Contemporary. The island city-state has been beefing up its contemporary art bona fides in recent years, opening several galleries (including Art Plural Gallery, Taksu, and more) in recent years and emphasizing its multicultural roots, which of course also extend to the city's world-famous culinary scene. If you're heading to the Lion City for the new art fair, be sure to check out these five fine-dining destinations excerpted from Phaidon'sWallpaper* City Guide: Singapore.
RESTAURANT ANDRÉ
41 Bukit Pasoh Road, T 6534 8880, www.restaurantandre.com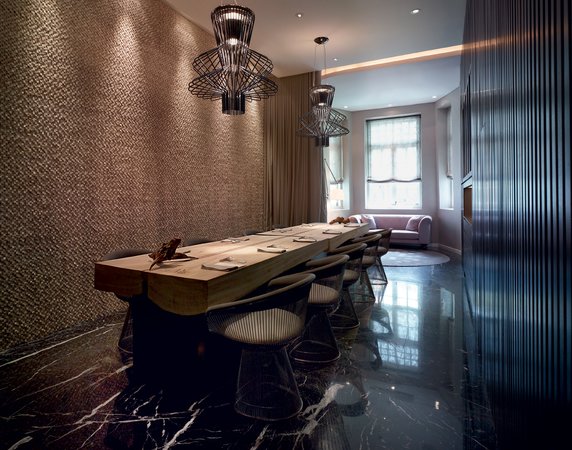 Photo credit: Ying Yi
Fans of chef André Chiang flocked to this beautiful Chinatown shophouse when he opened here in 2010. There is artistry throughout; from the paper-thin plates, some of which are designed by Chiang himself, to the signature eight-course tasting menu melding French nouvelle cuisine with Mediterranean accents.
POLLEN
1-9, 18 Marina Gardens Drive, T 6604 9988, www.pollen.com.sg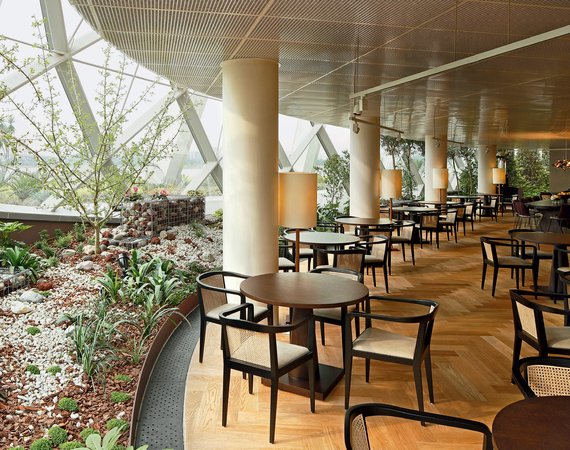 Photo credit: Darren Soh
For the appropriately named Pollen restaurant, Colombian architect Antonio Eraso carved out a corner of the glass-sheathed Flower Dome, part of the 101-hectare Gardens by the Bay complex, a lush, tropical indoor paradise. The space is bordered with a dense green wall and a working garden that supplies herbs and vegetables for the kitchen, which is helmed by Colin Buchan, formally of Gordon Ramsay's York & Albany in London. The Euro-Asian menu includes seasonal delights such as raw Hokkaido scallops with dashi jelly and a much-lauded pressed foie gras terrine with smoked duck breast and pickled pear purée.
CÉ LA VI
Tower 3, 1 Bayfront Avenue, T 6688 7688, www.sg.celavi.com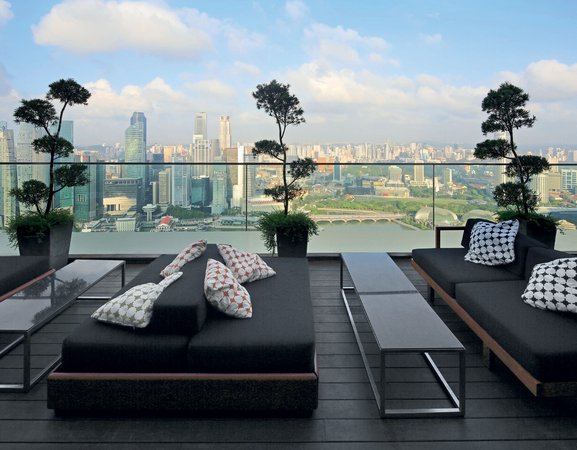 Photo credit: Darren Soh
At any time of day or night, the view from Cé La Vidazzles, thanks to its wraparound sweep of Singapore's skyline. The restaurant/bar/club crowns Marina Bay Sands' 200m-high SkyPark. It's a magnet for pretty young things and big shots in search of a meal or a cocktail before they head down to the casino. 
NEW ASIA
2 Stamford Road, T 9177 7307, www.swissotel.com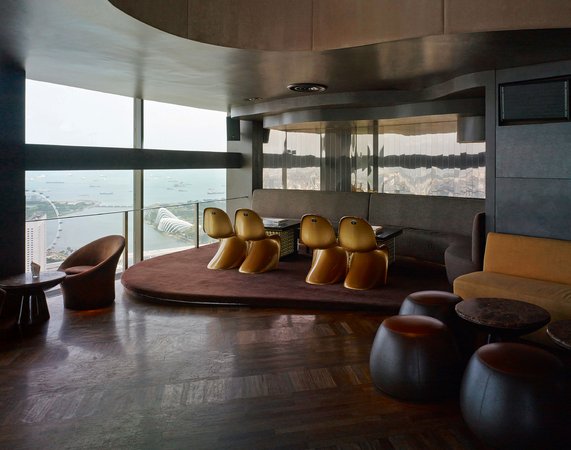 Photo credit: Ying Yi
Perched on floors 71 and 72 of Swissôtel The Stamford (T 6338 8585), the New Asia bar draws a crowd of Singaporean TV celebs, and boasts dizzying vistas of the city, as Malaysia and Indonesia twinkle in the distance. If you feel the floor is tilting, don't blame it on your G&T—it slants at a 20-degree angle for a better panorama. 
FOREST
Level One, Equarius Hotel, 8 Sentosa Gateway, T 6577 6688, www.rwsentosa.com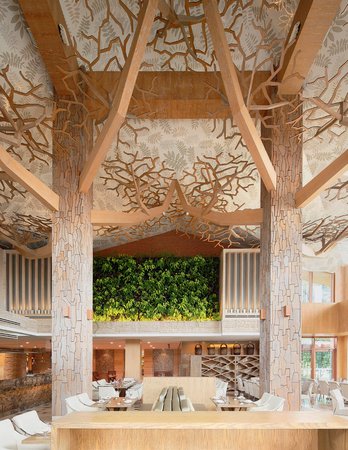 Photo credit: Darren Soh
After a decade as culinary director at the TungLok Group, Sam Leong branched out on his own in 2012 with the launch of Forest. Set in a hotel resort on Sentosa Island, the restaurant showcases Leong's deft touch and affinity for contemporary Chinese cuisine, and the innovative menu includes milky chicken broth with morel mushrooms and wild bamboo pith. Australian Diana Simpson designed the rainforest-inspired interior: a bright, high-ceilinged dining room where an open kitchen is segmented by stylized faux trees.