The great state of California has long served as a safe haven for freethinkers and radicals of all kinds—the perfect folks for making some really interesting art. In this excerpt from Phaidon'sVitamin 3D (an exhaustive roundup of the most important contemporary sculptors working today, selected and written by a team of international experts), we're taking a closer look at three very different Golden State artists whose work reverberates far beyond their home state. Be on the lookout for works by these mid-career artists in your aesthetic wanderings—you just might catch a whiff of that sweet Cali surf.
RUBEN OCHOA
Born 1974, Oceanside, CA, USA. Lives in Los Angeles, CA, USA.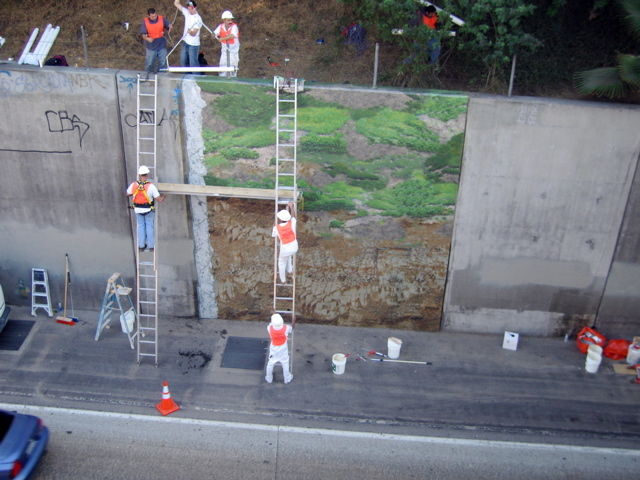 Fwy Wall Extraction, 2006 (installation view)
In recent years, contemporary artists have exhibited a preoccupation with mobility by creating works that are meant to be experienced transitively and which they imbue with a sense of specific topology. This "topographical impulse" refers less to an image of landscape than to the experience of its forms, such as moving through the spaces of an urban, postindustrial context. In Los Angeles-based Ruben Ochoa's particular brand of this mapping, the social dimensions of movement and boundary figure clearly: literally, as in Class: C (2001–2), for which he retrofitted his family's tortilla delivery van as a traveling art gallery, and more figuratively, as in his recent freeway project. In Fwy Wall Extraction (2006) Ochoa transferred what appeared to be a section of the freeway boundary wall to a gallery space and then seemingly replaced that same segment on the road with wallpaper simulations of the natural world obscured behind the concrete barrier. Visitors to the gallery soon discovered that the massive, Serra-like form was an elaborate fake; as one moved "backstage," it revealed its own construction, as did certain viewpoints of the wallpaper "replacements" from passing cars. Ochoa's work, whether referencing the freeway boundary walls or the more conceptual barriers between neighborhoods and communities, refocuses attention on the socio-economic underpinnings of spatial flow and control. 
Typically, Ochoa's projects have multiple, evolving incarnations: the extraction project gave rise to other recent works such as lenticular photographs (What if walls created spaces, 2007) depicting the freeway section that from one angle appears as a whole and banal view but from another dissolves into the same leafy flora as was pasted to the actual wall. In another piece that directly morphed from the project, Remnants of a Fwy Wall Extracted/Wallpaper with the Sound of its Own Removal (2006–08), Ochoa hangs the original vinyl paper that cloaked the concrete wall, accompanied by a recording of the sounds of its removal. Riffing on Robert Morris's 1961 work Box with the Sound of its Own Making, Ochoa again inserts a social/class dimension into the elite, hermetic project of art making by enfolding an idea of labor and industry within it. The images, scaled to the highway landscape, are monumental in the gallery space; however, their battered, curling surfaces mitigate against authoritarian objecthood. Hung close to but somewhat away form the wall, the scrolls of paper create a newly bounded space for the viewer to walk behind. The oppressive closeness of the corridor subtly evoked issues of power and control embedded in Ochoa's work.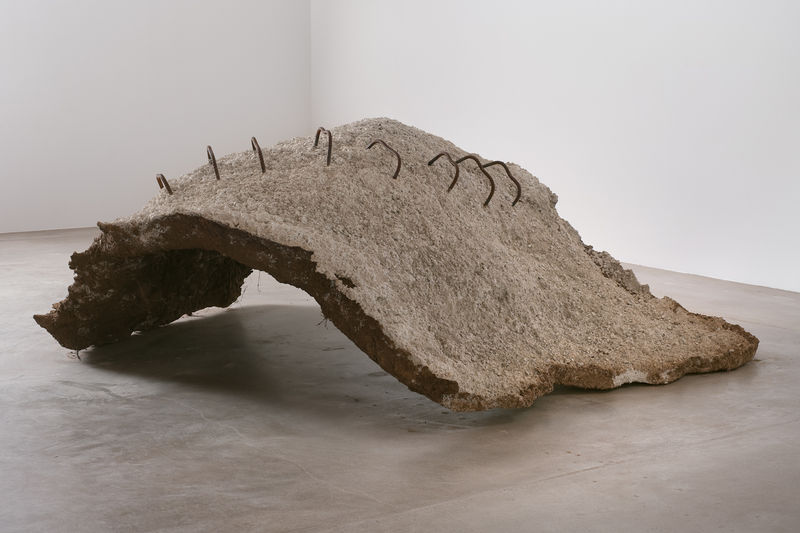 Grounded, 2010
Other recent works employ familiar urban materials to a similar end. Concrete and wooden pallets suggest stylized, broken sidewalks; chainlink fencing is employed for its referent of protection/control, as well as for its stunning formal capacities; rebar—comprising the embedded structures that literally hold the city together—acts as a graceful minimalist gridwork of schematic tree-like forms, melding nature and culture in a way both visually compelling and politically investigative. 
The number of contemporary artists who, like Ochoa, mine American urban sprawl speaks to the metaphorical power of that subject, typically imbued with an insistence on finding interstitial spaces of transformation and resistance. In this way, the topographical impulse touches upon ongoing discussions of (and revisions to) the idea of site specificity, in which site has become a discursive space—the restive, in-between space of our contemporary moment. [Shamim M. Momin] 
TRISHA DONNELLY
Born 1974, San Francisco, CA, USA. Lives in San Francisco, CA, USA
Untitled, 2008
Trisha Donnelly is among the most elusive and indefinable artists working today. In the exhibition guide for the 2008 Yokohama Triennial, the location of her work was not specified on the floor plan but simply described as "some other place." This is typical of Donnelly's work, which is never obvious in any way and never suggests a simple interpretation. Resistance to a one-dimensional, "fast" form of art consumption characterizes almost all of her work. 
This inscrutability has not, however, prevented her from enjoying a successful career, or her work from being included in the collections of some of the world's most respected museums. In fact, her aversion to making things easy for art audiences—including critics, curators, collectors and the wider public—has actually aided her reputation in this era of the quick and uncritical ingestion of art. Donnelly grew up in San Francisco, a place that has throughout the last five decades consistently resisted art-world norms and doctrines. Like Wallace Berman, Jay DeFeo, or Bruce Conner, Donnelly pursues artistic autonomy and independence. 
There is, of course, more to her work than gestures of refusal to play by the usual rules of the game. Donnelly works in a wide range of media, including photography, film, video, audio, drawing, collage and sculpture. She once described her work as "anti-materialist materialism," referring to the crystallization of a kind of non-object-based, even metaphysical, experience of the world into something material. But even this description does not fully explain the experience of seeing, hearing and feeling her pieces. Ultimately, she wants to create atmospheres of the nonexistent. 
Installation view from Donnelly's 2008 Renaissance Society show
In the beginning her pieces mainly took the form of highly subtle, almost ephemeral drawings and puzzling performances enacted in front of a live audience or a video camera. Since then, they have become increasingly cryptic and enigmatic. 
Donnelly's sculptural work is as mysterious as most of her other pieces, yet, it feels almost inappropriate to talk about her art by focusing on specific media. In her spring 2008 exhibition at the Renaissance Society in Chicago she again combined a wide variety of media to create a large installation consisting of a number of material and immaterial elements in which the gallery space turned into the work of art. This included the removal of all windows frames in the exhibition space, the elimination of the freestanding walls, and the exclusion of the fluorescent tubes lights normally located on the gallery ceiling. In addition to these acts of subtraction, she included a sound piece in the space (a recording of church bells), a couple of benches that also functioned as the screen for the projection of one of the films depicting the movements of liquid, a few drawings, which where placed underneath the benches, as well as some photographs in a display case. Together, the installation clearly aimed at heightening the visitors' awareness of their own presence within the exhibition space, which, during the opening of the show, was activated through several events such as a dance party and a reading. [ Jens Hoffmann ] 
ERIC WESLEY
Born 1973, Los Angeles, CA, USA. Lives in Los Angeles, CA, USA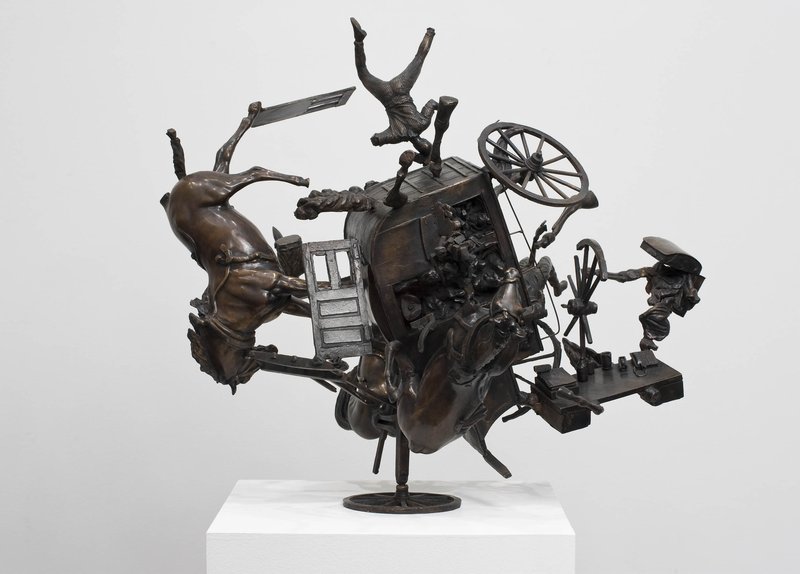 Remix (Stagecoach), 2008
Writing in 1960 of the diminishing returns of an irrelevant avant-garde, Guy Debord decried the "practical reduction of [an artist's] realm of real action to zero." Against this farcical "decay in art," he argued that true modern art must be "the revolutionary claim to other professions." Debord's idea has become commonplace in the art of the twenty-first century, with restless artists moving parasitically or collaboratively into other still bounded areas of knowledge, including anthropology, natural sciences, literature, academic research, information management, design, and so on. 
Nowhere has this claim been so dramatized—and ironized—as in the work of Eric Wesley, for whom it is imagined as a drive towards rogue expertise in a range of disciplines. Pursuing the activities of the set designer, manager, manufacturer, entrepreneur, social worker and professor, his productions are often the artifacts of an autodidactic and hard-won acquisition of skill. This practice presents, in his words, "a social encoding … which remains an encoding," even as it acts as "a vehicle for the real." 
Such encoding is particularly absurdly over-determined in the world of commodity exchange. Wesley uses a version of sculpture, through the irreverent lens of Pop, to work over both the signs and objects of this world. Take, for example, his Remix (Stagecoach) (2008), a bronze sculpture, in the style of Frederick Remington, of the famous logo of Wells Fargo Bank. A prescient riff on capitalism's fatal attraction with destabilization and liquidity, as well as the stagecoach's role in conquering the American West, the work presents its coach upended, apocalyptically disordered—a negation of the values for which the mascot elliptically stands. 
Frit Display (2007), is both a prank—gold jewelery in the form of French fries and onion rings, cheap food elevated to symbols of status—and a meditation on the primitive basis of exchange value: a sort of binary code of deep-fried ones and zeros. Proceeds for the fried jewelery go to ending slave labour in Africa—a way of both mapping out and commenting on what Wesley calls the "haphazard symbiotic relationship" between the production of reified objects for consumption and display, and real-world causes and struggles.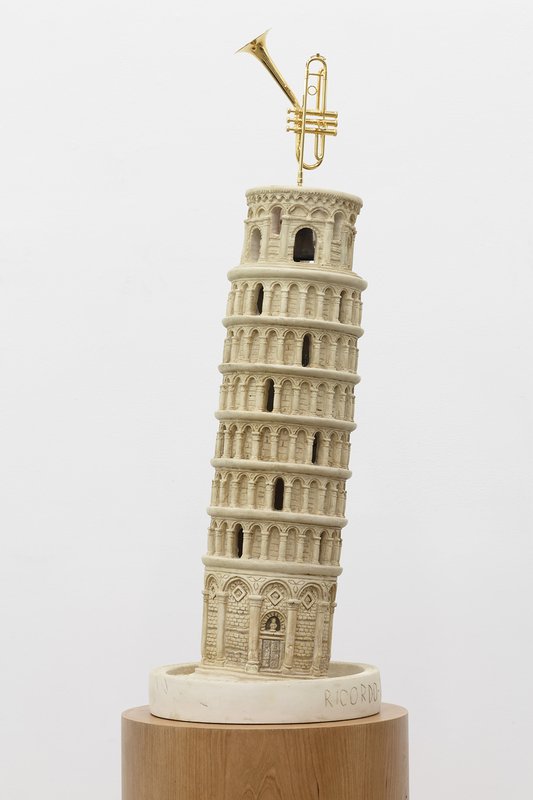 Souvenir (Dizzy, Liberty, Tower), 2013
Real space is second line of attack, and guerrilla architecture another position that Wesley inhabits. Producing or befouling built spaces with a negative verve, he makes visible the way in which architectural form structures social relationships. For one untitled project, made in 1994, he built, transformed and destroyed a crude six-foot cinderblock cube on the campus of the University of California, Los Angeles, where he was a student. The structure was connected formally to the dumpsters, sheds and power generators that subsist beneath the ideal order of the campus landscape. In contrast to the edifying public nature of the university, it was an outpost of privacy and muddy dis-enlightenment: an industrial-primitive edifice where the artist could learn physics on his own terms. 
Located on the campus of Caltech, in Pasadena, Two Story Clock Tower (2000) was a "frontier" monument—a common symbol of civilized mastery over land, nature and time—with a subterranean clubhouse and miniature casino in its foundation. Simply constructed, the work was metaphorically rich. Above ground was a technocratic universe of controlled time and civic myth, subtended by a basement where time disappeared. The structure also worked as a sniper platform, with targets suspended in the surrounding trees; invoking campus shooting rampages, Wesley upended the deceptive symbolism of such structures, even as he made space for disruptive play. [ Julian Myers ]