Peter Marino is known for being the leather-clad architect behind jaw-dropping private residences, galleries, luxury clothing stores, where he often features commissioned work from world-class contemporary artists like Sol LeWitt and John Armleder. But how did he get here?
In this excerpt from Peter Marino: Art Architecture—Phaidon's new monograph collecting all of his commissioned artworks into a single comprehensive volume—the art historian and longtime Marino colleague Gay Gassman explains how and why her friend earned his place as one of the most celebrated architects working today.


READ PART OUR TWO-PART INTERVIEW WITH PETER MARINO:
"Art Architect" Peter Marino on How He Became the Dark Prince of Luxury

Peter Marino on What Contemporary Art Can Do for Fashion's Bottom Line
There is a new way of displaying and looking at art that challenges the traditional models of museums, foundations, and galleries. Art has moved out of institutions and into new territory, in large part due to the visions of people like Peter Marino.
Cornell-educated Marino began his career as an architect working in the office of Skidmore, Owings & Merrill. The young architect continued his training with George Nelson and I. M. Pei, and founded his eponymous firm in 1978, a few blocks from where his father's house still stands in Midtown Manhattan. During the 1970s, Marino received his first commission from Andy Warhol at The Factory, which led to his entry into the artistic circles of collectors such as the Agnelli family, Fred Hughes, and Yves Saint Laurent and Pierre Berg. He was also introduced to the sphere of luxury retail, designing Barneys' first women's store on 17th Street in New York City in the late 1980s, and working during that time with fashion designers Donna Karan, Calvin Klein, Carla Fendi, Giorgio Armani, and Azzedine Alaïa, to name only a few.
Thirty-eight years later, Marino now runs an architectural practice at the service of major fashion luxury brands, private residential clients, and exclusive hotels around the globe. Marino is not only the go-to architect for his design expertise in all things luxury, in both retail and residential, but he is also sought after for his commitment to placing and commissioning contemporary art in the majority of his design projects.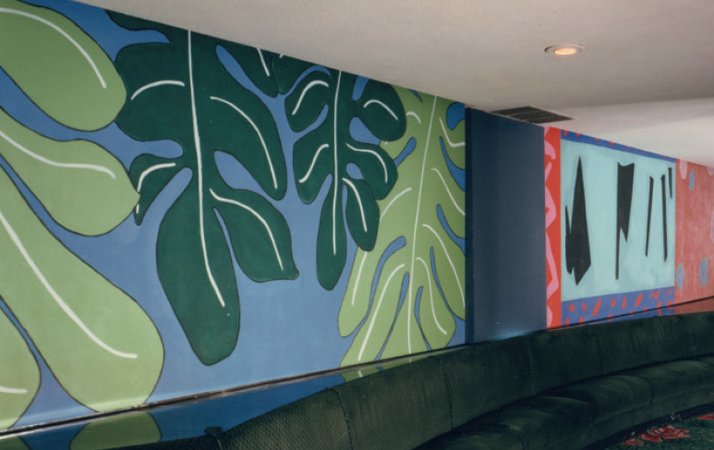 Kimiko Fujimura's Seven Dancing Rhythm (1986) comissioned for the Roseland Ballroom, New York


Today, architecture and art go hand in hand, but flash back to 1986 when Marino commissioned artist Kimiko Fujimura to make a three-paneled mural for the Roseland Ballroom in New York City's theater district. Marino was one of the first to truly understand the possibilities for changing the landscape of art patronage and began to incorporate site-specific commissions in his projects.
Marino gives visibility to art and artists in spaces he creates with this in mind. His practice often centers the architectural design around a specific work of art. He has been known to literally move walls to accommodate a great painting and increase ceiling heights to add space for a sculpture. For the artists, this means being offered, at the inception of an architectural project, a unique space to show their work—often to a vast public. 
What is exceptional and paramount is that as an architect, Marino is in the position to commission artists for site-specific works, and this is exactly what he does. Artists have praised his involvement, with observations such as "working with Marino has allowed me to realize projects on a scale and scope I never dreamed of" and "our collaboration challenged me to experiment with new materials and techniques." For many, this has resulted in the breakthrough work that has given visibility to their art. 
Marino enjoys being an integral part of the process, inviting artists to look for inspiration within the "DNA" of a brand, or from a particular location, or from the surrounding architecture. Discussions take place, drawings exchange hands, and sometimes artists even walk through a site to "feel the space." They carry out research, look through archives, and seek out ways to inform their work. And the creative dialogue continues even when that particular work is finished. Some artists attribute their dynamic conversations with Marino to helping them open up new and different ways of working, which they continue to include in their practice moving forward.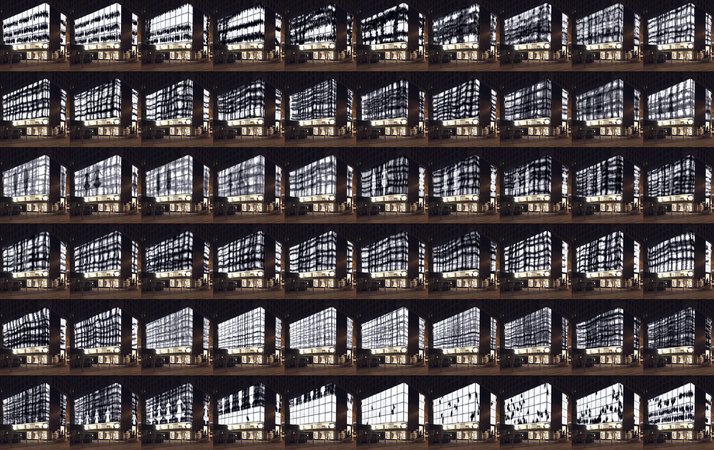 Michal Rovner's video installation Weave, Hong Kong (2005) comissioned for Chanel, Prince's Building, Hong Kong


When the accomplished and highly respected Israeli artist Michal Rovner was asked why she would create a video work for the exterior of a building designed by Marino in Hong Kong, she—who had represented her country at the 2003 Venice Biennale and has had solo shows in major museums around the world—did not miss a beat. She stated pragmatically that over the course of one day in Hong Kong, more people would see her work displayed on the outside of a building that one can see from the Hong Kong Bay than would ever see any of her solo shows in a museum. Her words also hold true for many of the artists Marino has worked with over the past thirty-five years.
All told, Marino is operating within the art world, at times very much behind the scenes, in a way that is unmatched. During his career he has commissioned more than 250 works of art, of which Peter Marino: Art Architecturehighlights just a selection. This represents Marino's vision to showcase art in unexpected landscapes and to champion artists in all stages of their careers. He is always on the lookout for new material, whether it be from one of today's renowned art stars or from a young artist in San Francisco still seeking gallery representation. Now it is Marino who does not miss a beat, seizing opportunities to collaborate with artists who inspire him. As he himself says, "Let the artists be the artists. I don't want to tell them what to do. I want to see how their creativity can interface with my own."
READ PART OUR TWO-PART INTERVIEW WITH PETER MARINO:
"Art Architect" Peter Marino on How He Became the Dark Prince of Luxury

Peter Marino on What Contemporary Art Can Do for Fashion's Bottom Line