Long before the days of digital photography, the famed glossy magazines we still covet today were filled with the illustrated visions of the era's eminent fashion designers. As arbiters of emerging and changing artistic styles and movements, fashion illustrators have not only canonized the iconic looks of our most memorable designers, but have also inspired the fashion world's ultra-luxe market to continue collaborating with art and artists across the decades.
From Phaidon's newly updated compendium The Fashion Book, here are 10 of the most interesting fashion illustrators from the past century.   
GEORGES LEPAPE
Fashions of Tomorrow
1911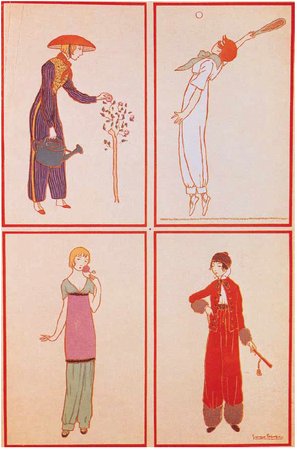 These "Fashions of Tomorrow" most certainly live up to their name. Poiret's pantaloon gowns, illustrated here by Georges Lepape, were considered shocking at the time, but anticipated the move towards greater physical freedom in women's fashion. This illustration is one of the plates from Les Choses de Paul Poiret vues par Georges Lepape. The sculptural simplicity of Lepape's illustrations captures perfectly the silhouette of Poiret's clothes. Poiret was the first couturier to relate fashion successfully to the other arts and was innovative in commissioning the artists Georges Lepape and Paul Iribe to compile limited-edition albums of his designs. Lepape contributed illustrations to La Gazette du Bon Ton, a folio of fashion news and drawings in the twentieth century, and regularly appeared on the cover of Vogue in the 1920s. Lepape was instrumental in bringing art movements such as Cubism into the realm of fashion.
BENITO
Afternoon Dress by Paul Poiret
1922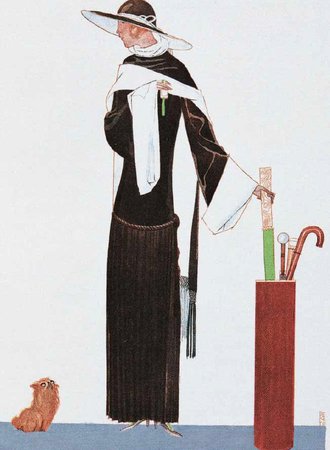 Benito, one of the masters of fashion illustration of the Art Deco period, captured through his simple, supple strokes the statuesque women in their extravagant gowns who epitomized the 1920s. His outstanding characteristic was the extreme elongation of the figure to emphasize the elegance of the silhouette. His style was reminiscent of sixteenth-century Mannerist painting and of the Cubist paintings of Picasso and the sculptures of Brancusi and Modigliani. Benito was also noted for his inventive vignettes. The close links between fashion and interior decoration are shown with perfect clarity and create an Art Deco harmony of design, color, and line. Born in Spain, Benito went to Paris at the age of nineteen, where he established himself as a fashion artist. Along with Lepape, his illustrations for Vogue reflected the haut monde of the Jazz Age.
SALVADOR DALÍ
I Dream About an Evening Dress
1937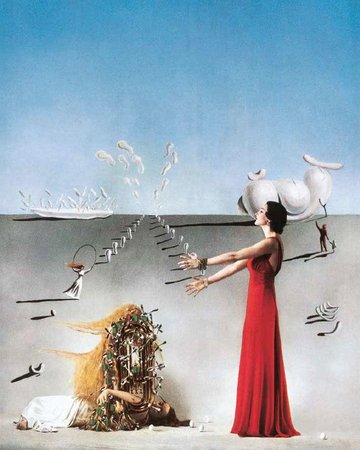 In this dream sequence by Salvador Dalí, the spectator's attention is fixed on the figure wearing a bold red dress very fashionably cut on the bias, the fabric falling in smooth, vertical folds from the hips. Dalí described his pictures as "hand-painted dream photographs" and his juxtaposition of the real and unreal presented fashion in a new way, bringing out its elegance and seduction. During the 1930s, with economic and political pressures mounting, fashion and fashion illustration took an escapist route, venturing into Surrealism, the dominant art movement of the decade. Cecil Beaton, Erwin Blumenfeld, and George Hoyningen-Huene captured Surrealism's bizarre elements in their work. Vogue also commissioned artists such as Dalí, who collaborated with Schiaparelli in the design of fabrics and accessories, to make "photo-paintings," presenting fashion's relationship with Surrealism.
RENÉ GRUAU
Panther Paw
1949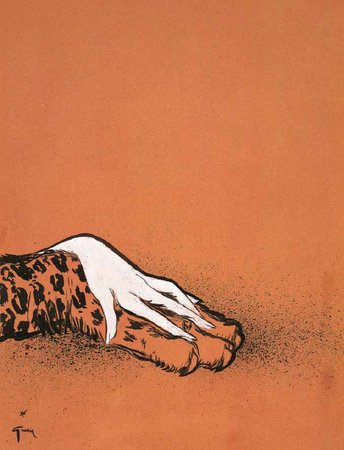 In this suggestive advertisement for Christian Dior, the sinuous lines of a woman's hand are placed on a panther's paw, reflecting a spirit of graceful worldliness and glamour. Noted for his strong silhouettes and tonalities of color, Gruau's images became prestigious icons of elegance. He was an outstanding graphic artist of the period after the Second World War, when his swift, expressive line was chosen by Dior's couture and perfume company to illustrate their perfume advertisements. Together with Bouché, Gruau also brilliantly illustrated haute couture of the era in French Vogue. Influenced by the posters of Toulouse-Lautrec, he used strong outlines—a technique that perfectly accentuates fashion's shape and form. He was one of the last grand magazine illustrators before the creative possibilities of fashion photography made it equal to the fantasy of illustration.
TONY VIRAMONTES
Valentino Haute Couture
1984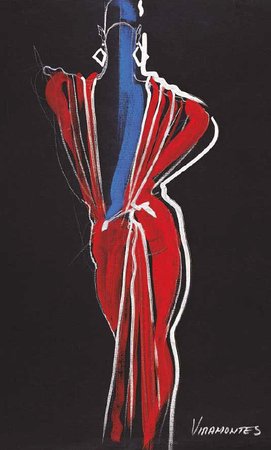 A waterfall of jersey in scarlet—Valentino's favorite color—streams down the back of Tony Viramontes' subject. Her skin is a broad stroke of cobalt from naked head to waistband and the fabric is decribed with swathes of red gouache. Viramontes worked throughout the 1980s, capturing the vivid, angular attitude of the designers' work he illustrated—in particular Valentino and Montana. He also captured the highly colorful, romantic period of street fashion early in the decade; a time of fashion pirates with their heads wrapped with turbans and bodies decorated with elaborate costume jewellery. Viramontes settled in Venice and Paris, drawn to Europe by his love of fashion and art. Of the artists who inspired him, the most obvious influences were those of Jean Cocteau and Henri Matisse. Viramontes created line drawings similar in intention to Cocteau's figures and blocked them with oil pastel, ink, or watercolor.
JOE EULA
Knitwear by Missoni
1985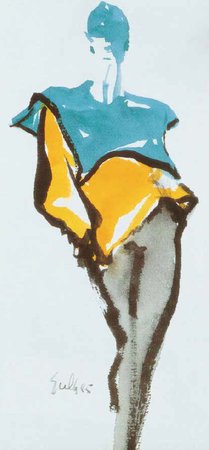 Free, vivid color captures a woman mid-step in a sketch that typifies the art of modern fashion illustration. Eula was a keeper of the graphic tradition of fashion at a time when photography dominated. His fashion illustrations for Italian and French Harper's Bazaar, from 1979, used impressionistic watercolor. Eula began his career in the 1950s on the fashion and social pages of the Herald Tribune, then worked for The Sunday Times in London. Back in New York in the 1960s, he worked on fashion stories for Life and designed sets and costumes for the New York City Ballet under George Balanchine. He diversified into television, directing "fashion specials" for movie stars such as Lauren Bacall. In the 1970s he also worked with Halston, illustrated fashion for Vogue and assisted Diana Vreeland, who was then head of the Costume Institute at the Metropolitan Museum of Art in New York.
MICHAEL ROBERTS
Azzedine's Sphinx
1991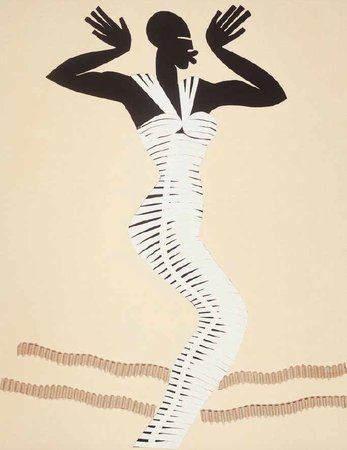 Recalling the collage work of Henri Matisse, Michael Roberts accurately depicts Azzedine Alaïa's sculptural Sphinx dress. Bands of white paper emulate the elastic bands in Alaïa's trademark creation; a black paper silhouette accentuates these bands' curvaceous effect. Using a naïve, "child-like" illustrative technique, Roberts keeps an outsider's perspective, while his humorous treatment hints at a deep knowledge of fashion's intricacies. A fashion writer, stylist, photographer, illustrator, video director, and collagist, Roberts pokes fun at fashion icons. His outrageous sense of style and venomous pen found their way through his appointments at The Sunday Times in 1972, society magazine Tatler in 1981, and at British Vogue and the New Yorker magazine. His provocative vision was acutely exemplified when, for an "April Fool" issue of Tatler, he transformed designer Vivienne Westwood into Margaret Thatcher.
FRANÇOIS BERTHOUD
Woman with Hat
1993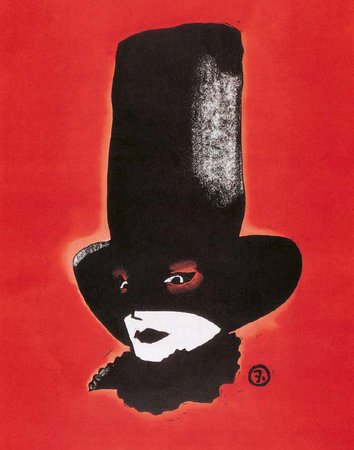 François Berthoud's startling illustration presents a woman in a stovepipe hat, her demonic eyes watching from the shadows. Berthoud uses linocuts and woodcuts for his melodramatic work. They are brave and unusual methods for fashion illustration, which usually demands flowing lines. But these approaches suit the sharp contours of contemporary fashion, lending strength and drama to the simplest garment. Berthoud studied illustration in Lausanne and, after receiving his diploma in 1982, moved straight to Milan where he worked for Condé Nast. He later became heavily involved in the visual appearance of Vanity magazine, a publication that showcased illustration, designing many of their covers. In the 1990s Berthoud's enduring illustrations have appeared in the New York-based style quarterly Visionaire.
JEAN-PHILIPPE DELHOMME
Modes de Vie
1993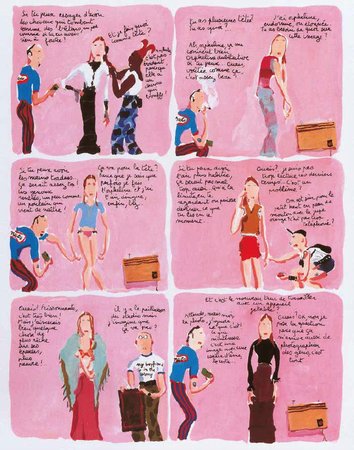 The supermodel, the hairstylist, the photographer, and the assistant interact in a familiar scene from the fashion world. Such familiarity, however, becomes a novelty when painted in the form of a comic-style strip. An accessory to Jean-Philippe Delhomme's wit, fashions are blurred in favor of visually comforting satires of the affectations of those who lead their everyday lives in this industry. This bright, hand-painted gouache, which belongs to Delhomme's own one-page column published monthly in French Glamour since 1988, reveals a knowing artist. While drawing inspiration from his friends in the fashion trade, he claims to operate in, "a décalage, a kind of jet lag, that appears between life written up in magazines and what's happening in the real world." Delhomme's highly stylized and spontaneous caricatures recall the work of Marcel Vertès who, in the 1930s, fondly satirized the foibles of fashionable society.
MATS GUSTAFSON
Yohji Yamamoto Silhouette
1997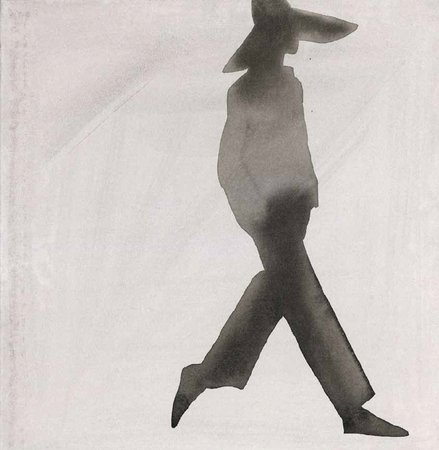 It's difficult to overstate the elegance and artistry of this beautiful Yohji Yamamoto watercolor. The silhouetted figure displays a relaxed posture and easy gait as it strides ahead, echoing the characteristic serenity of the watercolor's muted tones. Illustration had long been eclipsed by photography for showcasing designer collections by the time the illustrator Mats Gustafson began his career in the late 1970s. Nearly single-handedly reinvigorating the medium, Gustafson's exquisite aquarelle sketches and cut-out works on paper recast illustration as a conceptual tool, extending its relevance and broadening its expressive possibilities. Early editorial illustration assignments led him to hone his focus on fashion leading to an impressive roster of editorial clients such as Vogue and Visionaire. His work in advertising has also resulted in stunning collaborations with eminent brands such as Hermès, Tiffany, Dior, and Comme des Garçons.