You've heard the lie before: "painting is dead." As we've found throughout in our ongoing coverage of Phaidon's new contemporary painting compendium Vitamin P3, smearing pigment on canvas is hardly a lost art—in fact, by all appearances, this most traditional of art forms is still going strong. At the same time, however, some artists aren't content to confine their creativity to the easel or wall. Emboldened by the anything-goes mentality of postmodern art, these painters have expanded their approach by thinking outside the box, with beautiful and sometimes bizarre results. 
These excerpts fromVitamin P3 highlight three painters—each working in their own distinct dialect and pulling from widely diffuse inspirations—that are actively challenging the age-old strictures of their medium.
Fernanda Gomes
Born 1960, Rio de Janeiro, Brazil. Lives and works in Rio de Janeiro.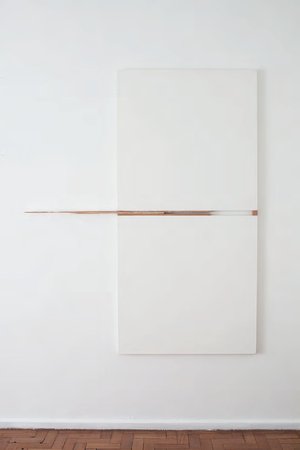 Untitled, 2011
Are the artworks of Fernanda Gomes paintings? If so, they make us think differently about what painting is. There are no traditional canvases in Gomes's work: painting instead becomes sculpture, object, an act of mark making upon a surface, or an arrangement on a wall. Her installations (or "things," as she prefers her works to be called) resemble cartographies, abstract compilations made from collections of mostly found objects. Some of these objects Gomes leaves unaltered, others she paints with white pigment. The works, always untitled, are assembled in situ. The location of an exhibition becomes her temporary studio and, after a period of meditative observation—which Gomes has described as an attempt "to try and enlarge perception, as a stone thrown in the water"—she creates compositions that are intimately related to the surrounding space.
A delicacy and respect for objects is crucial to these compositions. Many of the objects Gomes selects and arranges are mundane: a glass of water, a roll of paper, a wooden pencil sharpened at both ends, a ruler, stray wood (possibly taken from furniture), a single rubber ball dipped in white paint and placed on the gallery floor. By choosing such everyday things, and giving them precedence, Gomes makes us reconsider the material world, both ordered and chaotic. These "things" have no explicit referents but themselves, yet they hold the quality of relics—sacred remnants of past lives and uses. The power of Gomes's art lies in the unexpected dialogues she creates between objects, such as when two pieces of crispbread sandwich a barely visible sheet of gold leaf. Some of her artworks hint at the imperceptible: a single piece of transparent thread against a white wall or a used butterflied tea bag. Her subtle arrangements bring things into focus but her use of white paint can also, at times, seem like an act of reduction, where the editing of an object flirts with making it disappear completely.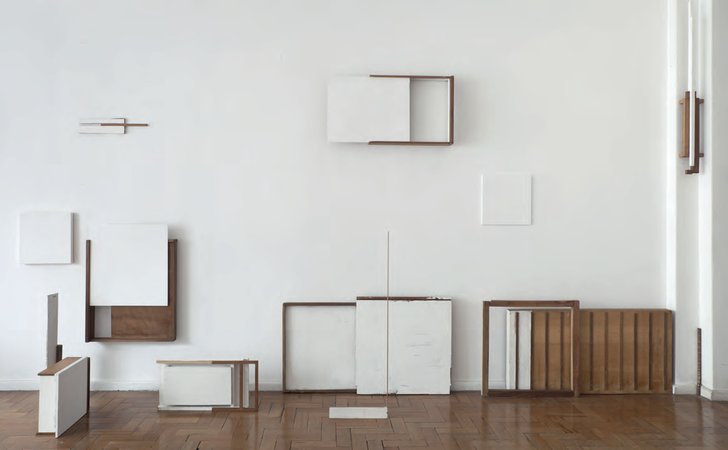 Untitled, 2015
Gomes belongs to a generation of Latin American artists that includes Beatriz Milhazes (b.1960), Ernesto Neto (b.1964) and Adriana Varejao (b.1964), but her work also contains qualities found in the Neo-Concretism of the early 1960s, when a Brazilian group of artists—such as Lygia Clark (1920–88), Lygia Pape (1927–2004) and Helio Oiticica (1937–80)—broke away from traditional Latin American modernism in favor of a more integrated and experiential form of geometric art. Indeed, Gomes's constructions are in a lively dialogue with objects such as Clark's Matchbox Structures (1964), where a basic geometric unit, in this case a box of matches, becomes the organizing principle of the work.
Writing about Gomes's work is complicated. The artist has often spoken out about the insufficiency of words, particularly when it comes to art. Ultimately this failure of language takes us to the heart of her output: Gomes makes "things" somewhere between painting and sculpture, between the mundane and the significant, which attempt to capture the sensitivity of the visual world whilst knowing it can never quite be caught. Her choice of unlikely, humble materials—small pieces of bone, worn wood, thin semi-translucent white plastic bags, half-burnt cigarette papers, or the edge of two stapled canvases—that reveal and hide themselves, questions what it might mean to paint with found objects.
– Thalia Allington-Wood
Jane Lee
Born 1963, Singapore. Lives and works in Singapore.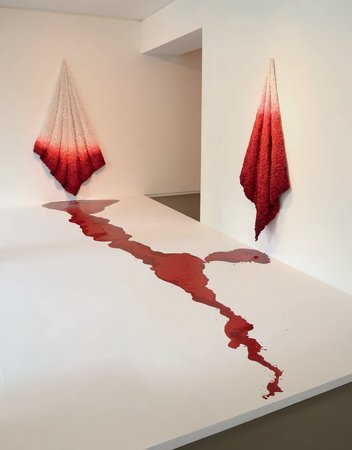 Solid Turn Liquid, 2015
The materiality of painting and process-based art making is crucial to Jane Lee's work, which constantly flirts with sculpture, defying categorization. She explores the very nature of how paintings are constructed by treating its basic component in playful, uninhibited ways. In the process, she re-examines the significance of painting and its relevance within contemporary art practice. "Painting became too limited for me, I needed more freedom, more space," the artist said when discussing her work in 2009. But how does a painter move beyond the medium without disposing of it? Perhaps this question has already been answered: the limitations of painting, and exploring the possibilities that arise from pushing against it, have a long and fruitful history. Just as, say, the postwar Italian artist Alberto Burri (1915–95) wrestled within, and against, the surface and unity of the canvas, Lee's work seems to contend with paint itself by exploring the very nature of how paintings are constructed and exhibited.
Lee's background in fashion design is reflected in her sensitivity to composition and display. Her paintings often hang, drape, sag or fold like fabric. Often her works are constructed using unconventional materials, such as fiberglass, poured enamel, and gel, making the surfaces of her paintings highly tactile and labored. In Solid Turn Liquid (2015) draped fiberglass canvases of enmeshed paint drip ruby red paint, which pools like blood on the pristine white floors of the gallery. The theatricality of the display might conjure images of a hospital room after surgery, but any symbolic violence is quickly undermined by the attention to material and form. This is an aesthetic game, not a political one. Reminiscent of a weave or quilt, through its composition and meticulous use of paint, brushstrokes, and layering, this handling of the medium suggests Lee's ability to push painting towards traditional crafts.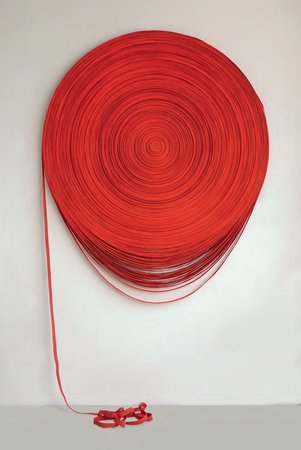 Turned Out, 2009
Repetition within the compositions and techniques become a meditative, quasi-ritualistic process for the artist. In Turned Out (2009) a canvas has been cut into long strips and carefully coiled. And yet, the work still hangs on the wall, retaining its status as a painting and at the same time refusing the conventional "flatness" of the canvas. Such techniques are employed to highlight the processes of the medium, and draw attention to the fact that whatever else a painting may be, it is also, first and foremost, a painting. This reflexiveness seems to question the medium's ability to offer a valid and relevant perspective on the world, but such a view would be to ignore the pleasure of materiality itself.
– Tom Francis
Donald Moffett
Born 1955, San Antonio, Texas. Lives and works in New York.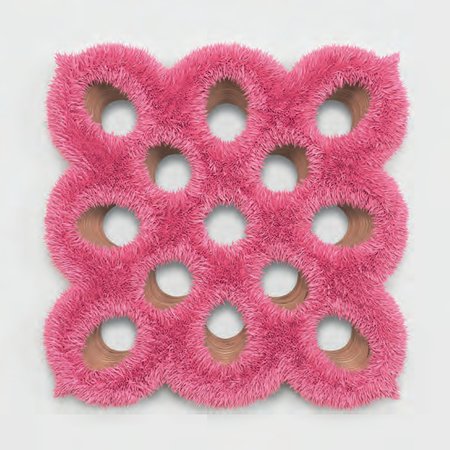 Lot 021515 (spore 5, radiant magenta), 2015
Donald Moffett's paintings often break the rules. Holes and openings puncture many of his canvases so that they appear assaulted or buckshot. Others feature zippers, reminding us of clothing without a body. For the past twenty years, Moffett has been unravelling the conventions associated with painting, perpetually renegotiating the terms of the most vaunted medium in the history of art. This renegotiation began around 1995 with modest-sized paintings in which fine blades of oil paint protrude unexpectedly from the surface. Moffett applies the paint perpendicular to the picture plane, "making paint stand up rather than lie down, asking it (or rather, forcing it) to do something unnatural."
While these paintings respond to—and complicate the legacy of—abstract painting (and the tradition of the monochrome), the human body insinuates itself in subtle but significant ways: extruded paint suggests hair or fur, while the holes in the works suggest orifices. Moffett established himself as an artist in the midst of the AIDS crisis and was a founding member of Gran Fury, an AIDS activist collective formed in New York in 1989 and famous for murals and posters with slogans such as Kissing Doesn't Kill: Greed and Indifference Do." Although Moffett's political work and his painting practice are often examined separately, the AIDS epidemic has undoubtedly contributed to the persistent presence of the human body in his work. Even some of his most abstract-looking paintings register the body and hint at the pleasures it enjoys and the pains it endures.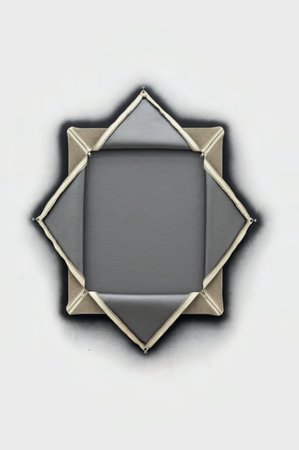 Lot 121213 (query 1), 2013
Moffett flouts other norms associated with painting: he has projected video on canvas, combining two mediums that are rarely brought together. He also challenges the conventional relationship between painting and the wall. In work he refers to as having been "gutted" or "flayed" (again, invoking the corporeal), he literally turns paintings inside out, painting only the insides of their unzipped flaps. The centre of these paintings is, upon close looking, not canvas at all, but rather the wall itself—a normally invisible backdrop recast as a focal point. In Moffett's practice, centers and margins frequently switch places, leaving us to catch up with the changing rules of his game.
In recent years, Moffett has dispensed with the wall altogether: "The wall started to bug me, to fail me. [I was] perfectly penetrating the painting, but the wall was stopping the view … As my frustration grew, it seemed natural to move away from the thing that was frustrating me. I picked the painting up and moved it off the wall." Entering the arena of sculpture, the works that resulted feature paintings suspended from salvaged industrial machines, garden statuary, and found objects. In many of them, paintings that appear shot are attached to driftwood posts, weathered beams, or concrete statuary, obliquely conjuring target ranges that are a common sight in rural Texas, where Moffett spent much of his childhood. Many of these works are held together tenuously with straps or bailing wires, yet they testify to the vitality and resilience of painting itself.
– Veronica C. Roberts
Explore Three Emerging Painters Who Are Changing the Way We See Ourselves and Glitter, Neon, and Good Old Fashioned Paint: Three Abstract Painters Pushing the Medium Forward, also from Phaidon's Vitamin P3.
[related-works-module]