Bursting out of the frame and off the pedestal, installation art has proven to be one of the most vital artistic innovations of the past century. Its practitioners—including Robert Smithson, Mike Kelley, and Yayoi Kusama—appreciate its anything-goes sensibility and relative absence of historical baggage. Individual installations may take the form of architectural interventions, taxonomic collections, or large-scale landscaping projects, but they have in common a search for a new kind of aesthetic experience. The following boundary-breaking examples are excerpted in their entirety from Phaidon's The Art Book.
CHRISTO & JEANNE-CLAUDE
The Pont Neuf Wrapped, Paris, 1985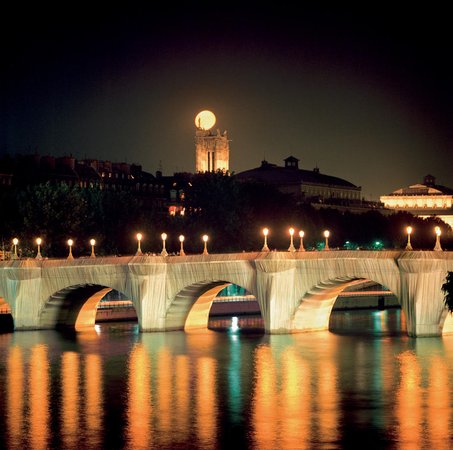 Partners in both art and life, Christo & Jeanne-Claude became world-famous for their sculptural use of fabrics on a grand scale. Shown here is a work they created by wrapping one of the great landmarks of Paris – the Pont Neuf – in woven nylon, secured by rope. The temporary transformation of the bridge into a work of art was an exciting new way of creating sculpture. By covering it in fabric, the artists drew people's attention to the sculptural details of the bridge, while also creating a majestic and mysterious object of beauty. It also served to emphasize the importance of preserving such historical monuments. Their work encourages us to look at objects in a new and different way. This notion of transforming familiar objects is typical of the New Realists, a movement founded in 1960. In 1976 they completed Running Fence, comprising 40 km (25 miles) of white fabric running over the Californian hills. Christo & Jeanne-Claude first collaborated together as artists in 1961.
GORDON MATTA-CLARK
Office Baroque, Antwerp, 1977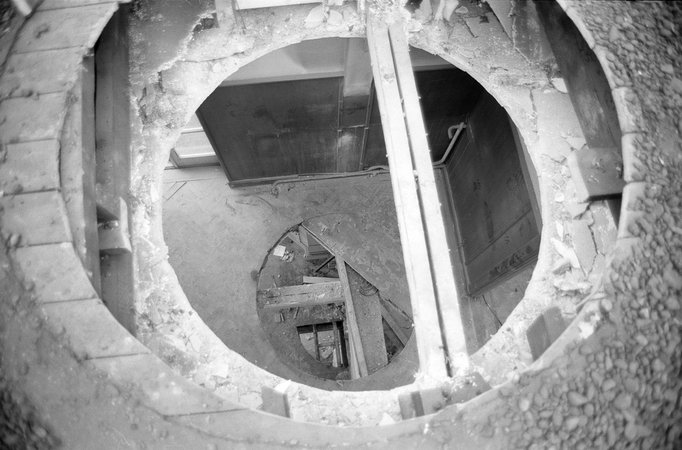 A series of circular and droplet-shaped holes have been cut through the floors of a five-story office building. Looking down to the ground below, the effect is both vertiginous and amusing – the architectural structure appears to have been cut open like a tin can. After training as an architect, Matta-Clark was inspired by the work of Land artists and the European Situationist movement to engage with buildings in a less conventional way. Producing what he referred to as "Anarchitecture," Matta-Clark modified a number of disused buildings through the insertion of "cuts," a process that linked together spaces that had previously been defined as private and public. In one notable example, Splitting, a house was sliced completely in half. Central to Matta-Clark's art was an investigation into the transformation of found objects. The cuts in Office Baroque, Antwerp were inspired by overlapping shapes created by teacup stains that had been left on a drawing. Matta-Clark's father was the Surrealist painter Matta Echaurren.
MIKE KELLEY
Craft Morphology Flow Chart, 1991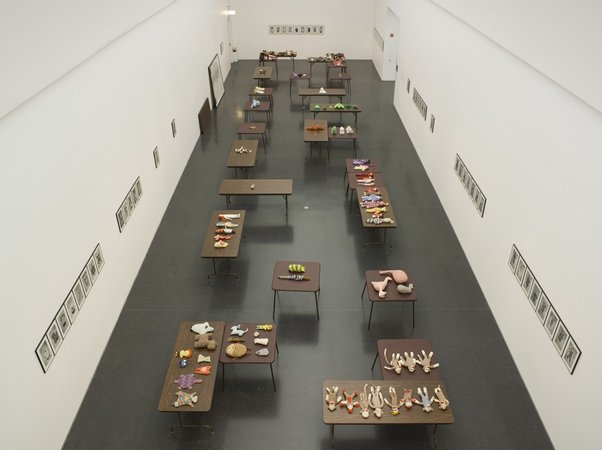 A group of found, stuffed fabric dolls is arranged with taxonomic precision, based on size and type; photographs in black and white exhibit individual dolls alongside a ruler, in the way of archaeological finds. Kelley thus imposes an analytic order on once-loved, now discarded, childhood objects. Mixing tasteless pop culture with philosophical themes in paintings, sculpture, performances and installations, Kelley's conceptual works expose the grimy underside of society and private life, questioning the conventions that surround religion, family, sexuality, and the modern cult of victimhood. His irreverent "punk" art is raunchy, uncomfortable and sometimes deliberately humiliating in its attempts to make the viewer examine his own preconceptions. Though Kelley's questioning of cultural norms would continue until his death, this piece marks his abandonment of craft objects in his work, following the refusal of critics to see his found toys as anything but evidence of the artist's infantile recidivism.
MARTIN KIPPENBERGER
The Happy Ending of Franz Kafka's "Amerika", 1994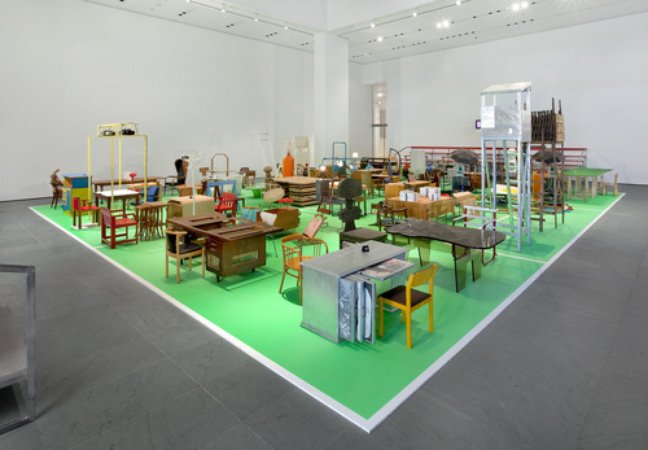 An eclectic assortment of desks, tables and chairs has been set out in a gallery to create a playful environment for conducting interviews. Alongside conventional office furniture, the artist has included beach chairs and raised lifeguard platforms. The large installation proposes a setting for a happy conclusion to Franz Kafka's unfinished, and posthumously published, novel Amerika; a book that the artist claimed he had never read. In Kafka's story the protagonist, Karl Rossman, applies for a job at the Nature Theatre of Oklahoma – an organization that promises to find work for everyone. It is the utopian idea of total employment that underlies Kippenberger's work. The different styles of furniture allude to the diverse range of people who would partake in the interview process. Kippenberger was one of the most prolific and respected German artists of his generation. Spanning a wide range of media, he avoided signs of stylistic consistency in his work.
YAYOI KUSAMA
Peep Show/Endless Love Show, 1966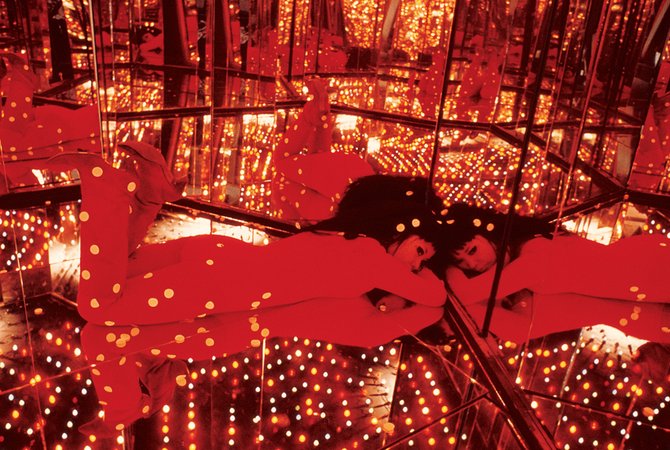 Installed as part of the exhibition "Kusama's Peep Show/Endless Love Show," this hexagonal space was lined with mirrors, while the floor was crowded with pulsing red, blue, white and green lights. Two small windows permitted viewers to peer inside. The installation exhibits the signature polka dots (in the form of round light bulbs) and the sense of infinite, repetitive immersion and unbound space that have continued to characterize Kusama's art for over fifty years. From her early years in New York, where the now internationally renowned artist was part of the 1960s anti-art establishment, Kusama has traded on her own neuroses and mental fragility (she has been a voluntary patient in a mental hospital in Japan since the early 1970s) to create works – paintings, sculptures, installations, performances – of cosmic infinity and obsessive excess. It has been suggested that rather than searching for meaning in her art, we should seek to discover the mental processes and ways of seeing that each work offers.
ROBERT SMITHSON
Asphalt Rundown, 1978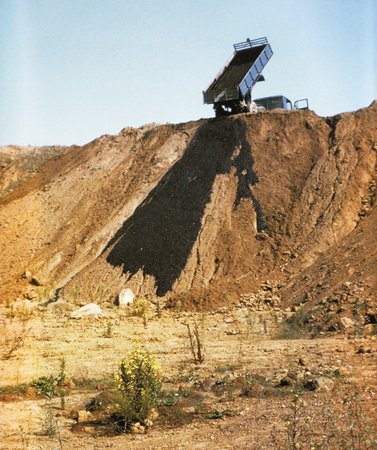 A truck tips a load of asphalt down a gravelly hillside. The sticky black substance creates a dark shadowy stain. With relatively little control over the form that the finished work takes, the artist's role is that of an instigator. Although earlier in the decade he had produced Minimalist-type sculpture, with Asphalt Rundown Smithson signaled his position as an innovator of Land art. Unlike gallery exhibited art objects (which could be readily moved) these large-scale works were site specific. Since Land artists tended to work with natural materials in locations far from the urban centers of the contemporary art world, most viewers experience these often-temporary works though the non-site medium of photography. In the same year that Asphalt Rundown was completed, the artist started construction of his most iconic "earthwork," Spiral Jetty. Smithson was tragically killed in a plane crash whilst inspecting one of his works in 1973.
KARA WALKER
Slavery! Slavery!, 1997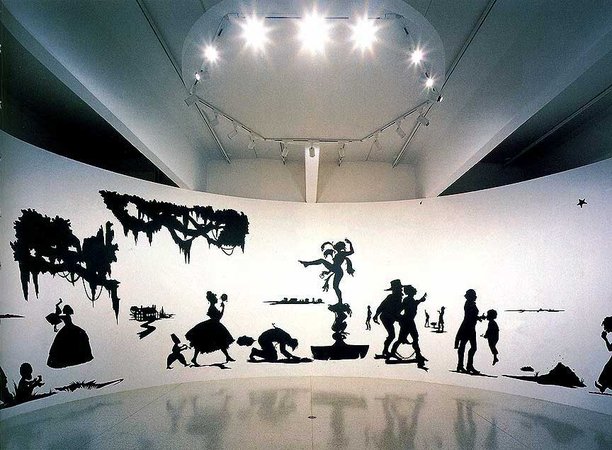 The complete title of this work is Slavery! Slavery! Presenting a GRAND and LIFELIKE Panoramic Journey into the Picturesque South. Slavery of 'Life at "Ol" Virginny's Hole" (sketches from Plantation Life)'. See the Peculiar Institution as Never Before! All Cut from Black Paper by the Able Hand of Kara Elizabeth Walker, an Emancipated Negress and Leader of her Cause. The paper cutouts have a cartoon-like prettiness at first glance, until a closer look reveals a hellish world of sex, slavery, and sadism under a crescent moon and dripping Spanish moss. Racism dominates Walker's work, and she draws inspiration from historical fiction, actual slave narratives, minstrel shows and other artists, such as Adrian Piper. Yet within the story that she tells, whether in cut-out silhouettes, drawings, or film, is a chaos of contradictory ideas. She plays with stereotypes, but the standard dualities – victim and predator, strong and weak, black and white – are unreliable and shifting, forcing the viewer to reconsider their own response.