The label "art collector" can seem intimidating, un-relatable, or unattainable—in reality, the label is, if anything, misleading. There aren't any special tricks to being a collector, and you don't need a whole lot of money to get started. Similar to how a foodie might take pride in knowing the source of their food and in supporting small, local farmers, art collectors pride themselves on sourcing their wall decor from contemporary artists, often sold through galleries or online platforms like Artspace—rather than say, big design companies or home goods stores. Collecting contemporary art means using your home and your patronage to further the history of art, while supporting living artists. That's something to feel good about! So, if you're going to decorate your apartment or your house, you might as well take a few extra minutes to learn (with the help of Homepolish experts) about how buying the work of contemporary artists not only makes for stunning interiors, but also be the foundation of a budding art collection that you could one day pass down to younger generations.
Don't know where to begin? Acquiring prints is a great way to start a collection affordably. Unlike say, a poster or a print that you might buy from a store, fine art prints are made by artists who either consider themselves printmakers (they use printing presses primarily in their art making) or artists who work as image-makers of a different medium, but want to make multiple copies of a single image—often with the intent of producing work that's more affordable and accessible than the rest of the work. So if you really love a painter like Laura Owens , who just recently had a solo show at the Whitney, but you can't afford her paintings (which have sold at auction for upwards of $1.755 million), buying a signed and dated Laura Owens print for $1,800 is a great alternative.
Below, you'll find everything you need to know about buying prints to jumpstart your art collection, and some words from the design-wise at Homepolish , our favorite end-to-end interior design and renovation service.
KNOW YOUR PRINTMAKING METHODS
There are a lot of different ways to make prints. For a comprehensive introduction to printmaking, check out " Our Complete Guide to Prints "—though we'll give you the quick and dirty run down below.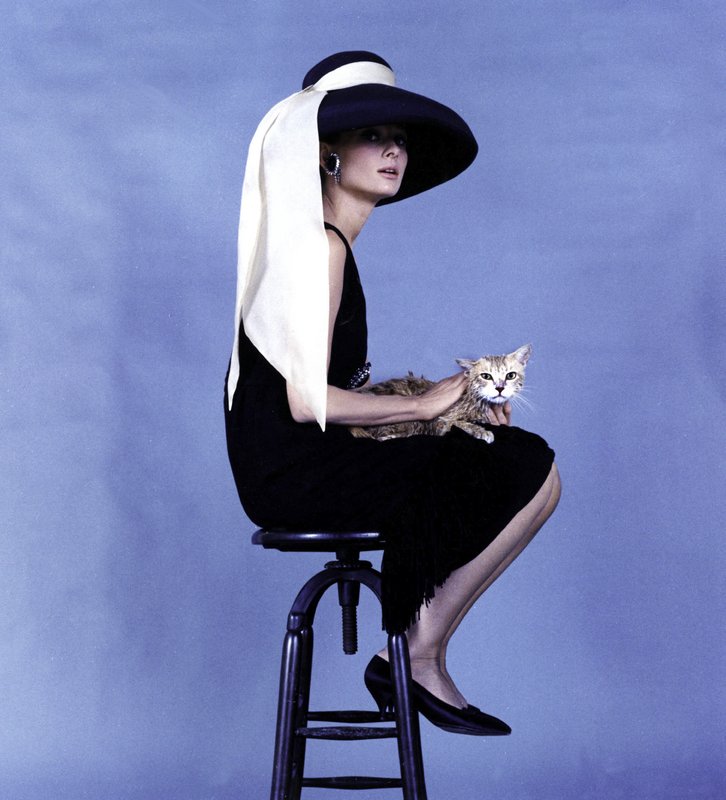 Audrey Hepburn on the Set of "Breakfast at Tiffany's" Holding a Kitten , 1961 is available for $595 or as low as $53/month
We all know what photographs are, though we don't always think of them as "prints." But if you've ever developed a roll of film, or even printed a snapshot using your desktop printer, you've made a photographic print. There are a lot of different ways to make a photographic print—some of which are digital, and some of which are chemical. "As technology gets better the quality of the prints gets better," says Homepolish designer Margo Nathanson. "That opens more options than their used to be."
The photograph above of Audrey Hepburn on the set of Breakfast at Tiffany's , is a great example of Nathanson's point. The print comes from Capital Art, an agency that produces photographs from a variety of stellar artists who have captured some of the most iconic people and memorable moments of our recent history. Though many of them were photographed years ago, they've been just recently printed for the first time in history—in effect, unearthing a treasure trove of images documenting some of our favorite 20th-century icons, like Audrey Hepburn, and printing them using the latest technology. (If you're interested in collecting photographs, we suggest reading our super-duper comprehensive article, " From C-Print to Silver Gelatin: The Ultimate Guide to Photo Prints .")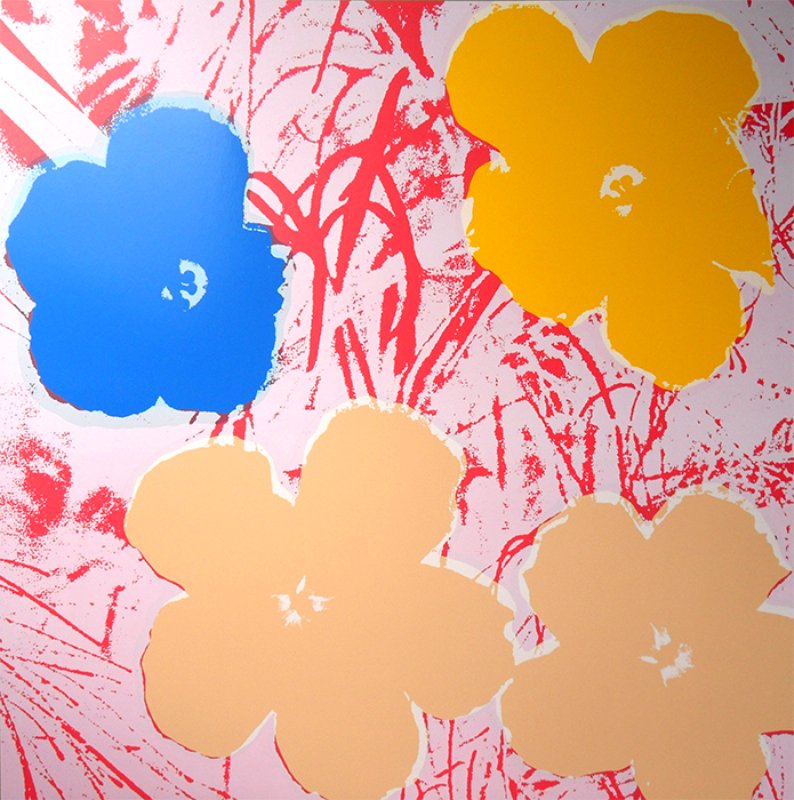 After Andy Warhol, Flowers 11.70, 2011 is available on Artspace for $546 or as low as $40/month
At the nucleus of DIY culture, is screen printing. Also known as silk screen, screen prints don't require a printing press to be made, and are relatively easy to produce—making them the perfect medium for artists and makers looking to make multiples on the cheap. Silkscreening involves pressing ink through a stencil that's placed directly onto a tightly stretched fine-toothed mesh. With this method, the substrate, or the thing that it's printed on, can be a variety of things, from t-shirts and to vinyl album covers to posters and fabric—basically anything with a flat surface.
The result tends to look quite graphic, as in the above-pictured print reproducing an iconic work by Andy Warhol , a pioneer of the medium. Here's a great decorating tip from Homepolish 's designer Allie McMunn: "In my dream world, if I had a piece like that my client would let me go to town with the rest of the room. Sure, the print could be a pop of color in a more minimal room, but if you let a piece of artwork be the focal point it's all you are going to see. I'd rather play off the dynamic palette and give everything that fun pop. Use lots of different colors and enhance the work, perhaps pulling the bright vibrant blue in with an accent chair."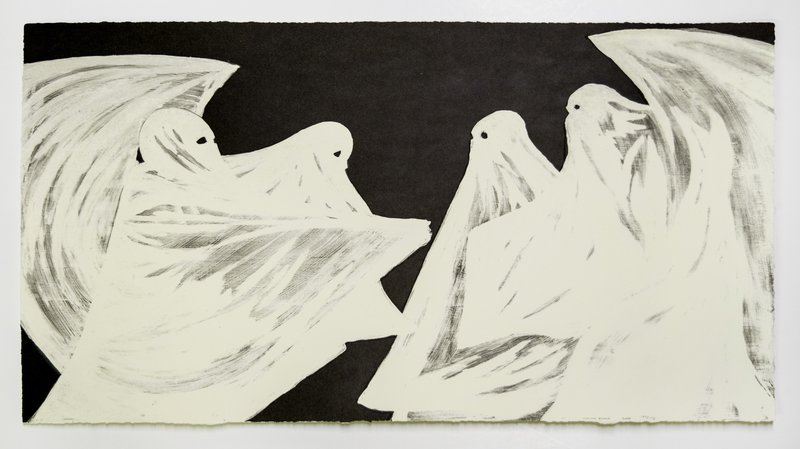 Marcel Dzama, Scared of His Own Ghost , 2008 is available on Artspace for $600 or as low as $53/month
The basic premise behind lithographs is that oil and water don't mix. It's a pretty complicated and labor-intensive process that we won't get fully into here, but basically an image is transferred from a flat limestone block onto a sheet of paper. Lithographs can render a wide range of styles and affects, and have been around for centuries. This litho by "indie draftsman" Marcel Dzama uses photo luminescent pigment—so it glows in the dark! Spooky.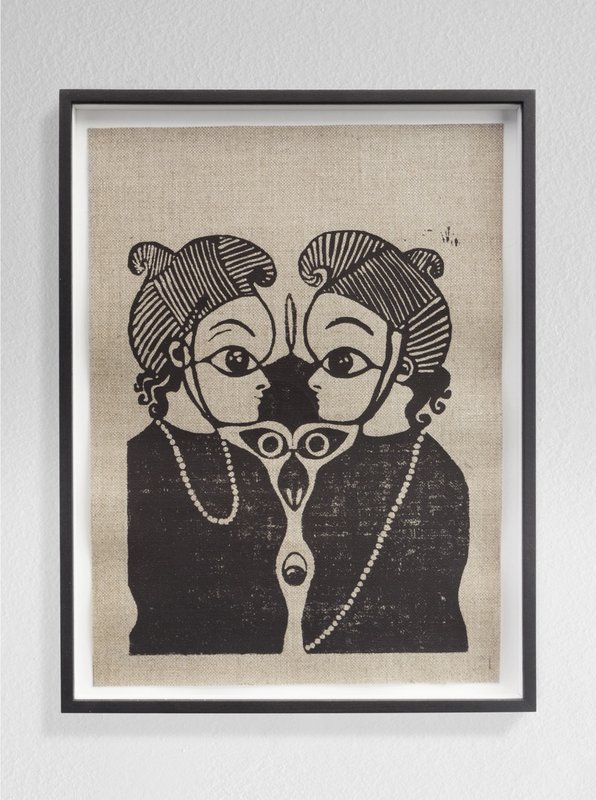 Stephanie Popp, Noete & Needs , 2017 is available on Artspace for $246 or as low as $18/month
There a few ways to make a relief print—but each entails physically removing material to reveal a raised surface that when rolled with ink and pressed onto a substrate, creates an image. (You can think of it like a stamp.) Woodcut is one type of relief printing that was typical of 18th- and 19th-century Japanese artists, but became widely used by Impressionists in the West before coming a commonly taught printmaking process. "Because woodblock prints were historically associated with traditional Asian artists," says Homeplish designer Margo Nathanson, "they can look great in homes with worldly, global decor." Stefanie Pop's relief print (pictured above) was made by linocut, a method involving cutting away material from a linoleum slab.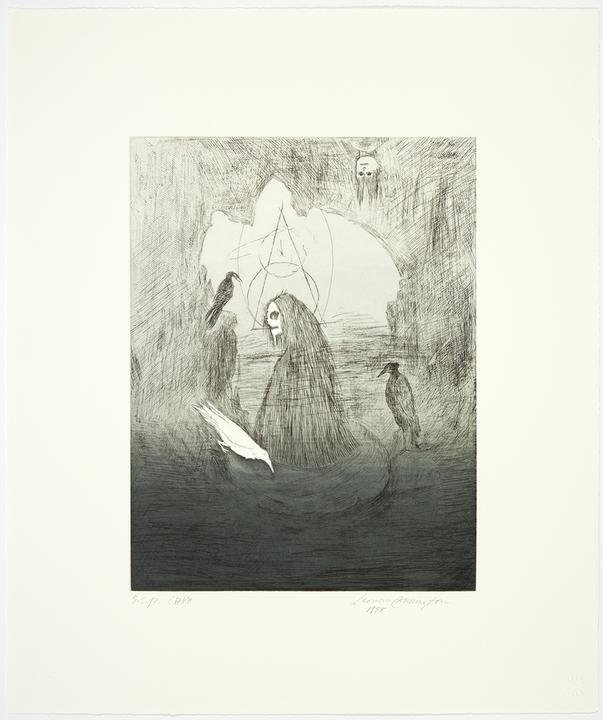 Leonora Carrington, Beasts: Cave, 1998 is available on Artspace for $2,000 or as low as $176/month
Intaglio is a broad term that encompasses several printmaking techniques like etching, drypoint, aquatint, and engraving. Some intaglio techniques involve physically scratching into a metal plate, while others use chemical processes to eat away at the plate. Either way, ink fills in the grooves of the flat plate, which transfers to paper when pressed. Unlike silkscreen, which is limited to flats of color, intaglio can produce a range of tones and precise fine lines—making it the medium of choice for draftsman. It might be what you picture when you think of "printmaking" in its most fine-art-y sense—like the work of 16th-century intaglio Albrecht Durer, whose detailed apocalyptic prints put the medium on the map, as they were sold and distributed in markets across Europe.
Interior designer Allie McMunn from Homepolish says, "I love to blend in traditional pieces like etching in a modern space, or have a really vibrant silkscreen in a traditional space." For example, the print above could look fetching in a modern home. The work is by the late Leonora Carrington , a Paris Surrealist and anti-Nazi activist who emigrated from Europe following WWII before becoming a central protagonist in the male-dominated movement of Surrealism. She was an author too—and you've probably seen The Complete Stories of Leonora Carrington on prominent display at your favorite bookseller recently. It was published last year and has been getting a ton of great press.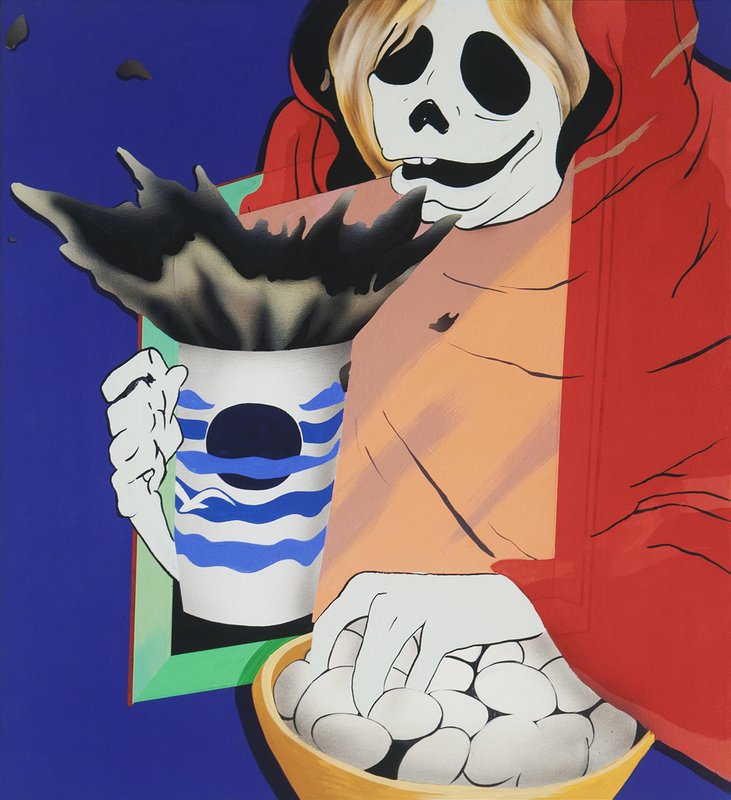 Jamian Juliano Villani, The Breakfast From Hell , 2014 is available on Artspace for $500 or as low as $44/month
The newest form of printmaking involves the digital printer, which has become a common way to produce not only photographic prints, but images of all kinds. Though using a digital printer is generally less labor intensive than traditional methods, it can be quite a bit more expensive. Wade Guyton became famous for using inkjet digital printing to create painterly canvases as a commentary about the ways that technology has changed—and hasn't changed—the medium of painting.
Digital printing hasn't only given new options to painters and printmakers, it's also made the lives of interior designers a heck of a lot easier. Says Homepolish 's Allie McMunn, "Advances in digital art have been a huge change for decor. They allow designers to really play with scale, and to change your art later down the line. You aren't going to swap out a piece that you already spent $10,000 on, for but if it's $500 then you can decide later that it's not something you want. The investment is much less scary." Pictured above is a digital print by of-the-moment painter Jamian Juliano-Villani .
EDITION BASICS
Okay, now that you have an understanding of some of the most common types of prints, we're going to go over the term "edition." An editioned print means that the print has multiple identical copies. (Actually, printmakers don't like the term "copy" because it implies there's an original—that's why we say "editions.")
Often the price of a print will correlate to the size of the edition—a print in an edition of 6 will most likely be more expensive than a print by the same artist in an edition of 1000, simply because the print is much more scarce. If you see a print that's an "open edition," that means that the artist decided not to cap off the edition with a certain number, but instead can produce an unlimited number of prints. These tend to be the most affordable types of editions, since they are unlikely to increase in value over time (since the supply can always meet demand).
A "variable edition" means that some aspects of the print are identical to others in the edition, while other aspects differ from print to print. For example, if an artist prints an edition of 20 identical intaglio prints using black ink, but then hand paints each print with water color, that would be a variable edition; no two prints in the edition are identical. Each editioned print will be assigned a number so that each print is accounted for. There's a myth that the lower the number, the more valuable the print—but this is absolutely false.
The last thing to know about editions is the term "AP." Sometimes a print won't be given a number, but instead be an "artist proof" or "AP." Every time an edition is printed, a few extra are produced that the artist will often keep for themselves. These do enter the market sometimes though, so it's not entirely uncommon to see them for sale.
Now that you're an expert on prints, it's time to pull the trigger on starting your collection. Check out our collection of  " Great Prints by Female Artists Under $750 " to browse some amazing and affordable prints to get your collection rolling—and then check out our friends Homepolish for some brilliant design inspo!
RELATED ARTICLES:
How Do Today's Art Stars Make Prints? Master Printer Erik Hougen Explains an Intimate Form of Collaboration