There's no hard science behind investing in art—and just about every renowned collector we've talked to undoubtedly tells us that above every other motivation, collecting for love is the only real rule to live by. This being said, it's always nice when the artists you happen to like and collect end up withstanding the test of time, rather than proving to be little more than flashes in the pan. But how do you know if an artist is (or will be) considered historically significant?
MoMA PS1, a Queens-bound affiliate of the Museum of Modern Art dedicated to exhibiting the most experimental art in the world, displays the work of artists who are on the brink of new movements and genres, new ideas and trends, new directions in contemporary art. Artists who show at MoMA PS1 early on in their careers typically go on to become part of some of the most prestigious collections of contemporary art in the world.
Here we describe five artists who have had solo shows at MoMA PS1, starting chronologically with the oldest show first (and incidentally the most expensive artworks on this list) and ending with recent MoMA PS1 exhibitors. Join MoMA PS1 in appreciating these groundbreaking artists and add them to your collection!
SYLVIA PALACIOS WHITMAN
Untitled, 2014
$9,000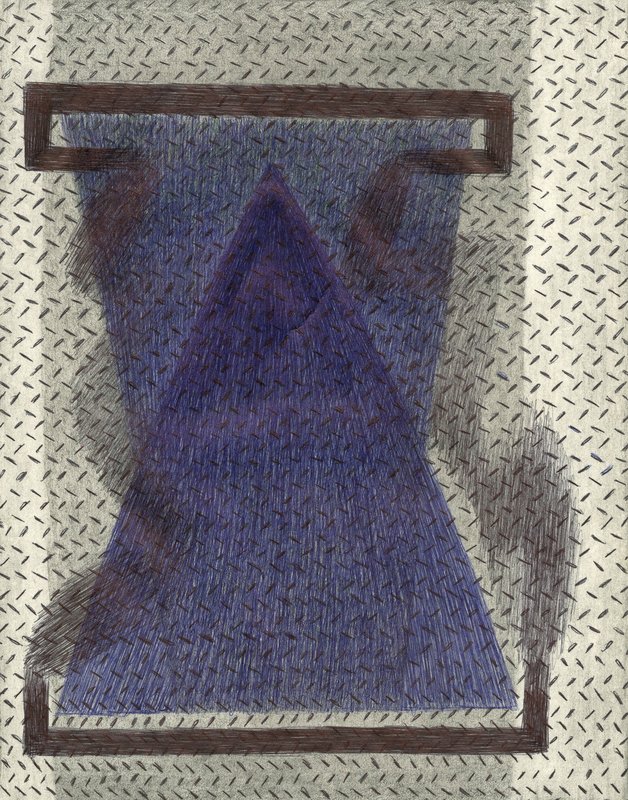 Sylvia Palacios Whitman immigrated to New York from Chile in 1961 to pursue painting and drawing and soon after began performing with Trisha Brown and Robert Whitman (whom she married in 1969). She eventually invented her own unique dance style that included surreal stage props (like giant hands worn as gloves by the artist), and massive drawings to create theatrical performances that combined Latin-American surrealism with New York's signature minimalist approach to dance. In May of 1975 she performed Slingshot at MoMA PS1. That same year, she performed it again at the Whitney, and her career continued to take off; since then she's performed at the Guggenheim and The Kitchen in New York, Moderna Museet in Stockholm, and others. Though best known as a pioneer of avant garde dance in the '60s, Palacios Whitman honored her artistic roots, making drawings and paintings throughout her career, and in 2014 had an exhibition of drawings at Broadway 1602 gallery. This particular drawing echoes the surreal sensibility of Whitman's performances; impenetrable layers of graphite give way to spiraling movement and ambiguous structures. At 24 by 18 inches, this rather large unique drawing on paper is a steal!
JENNIFER BARTLET
Conversation 1, 2005
$5,000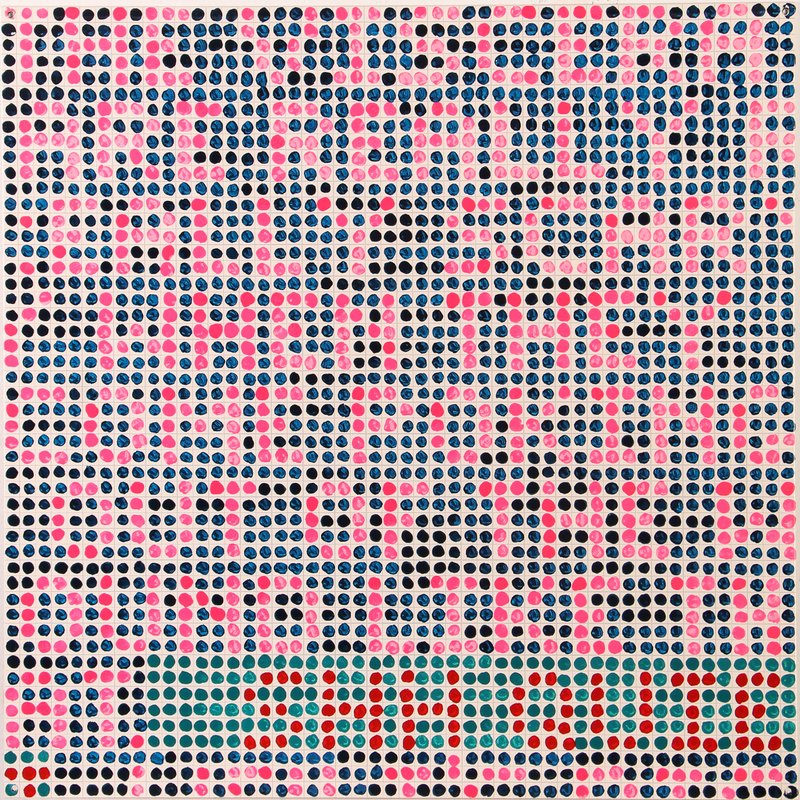 Though she studied under art world giants like James Rosenquist, Claes Oldenburg, Alex Katz, and Robert Rauschenberg at Yale in the mid-'60s, Jennifer Bartlet went on to hold her own as one of the most important figures of the '70s. A veteran MoMA exhibitor (she's listed in 26 exhibitions at MoMA and PS1), Bartlet had her first solo show, "Swimmers Atlanta," in 1979 at PS1. Bartlett's works have always used the grid as a starting point, combining the systems-based execution typical of Conceptual art and the painterly approach of Neo-expressionism. Conversation 1, pictured above, is no exception, and like many of her other works, it's composed on an enameled metal plates. Barlet is known for taking rigorously systematic approaches to banal and every-day subject matter; this particular piece reads: "THE VISCERA ARE REALLY REALLY SCARY WHEN THEY COME POKING OUT OF THE WOUND LIKE THAT. SHH QUIET [...]."
SARAH CHARLESWORTH
Black Stewart, 1986
$1,200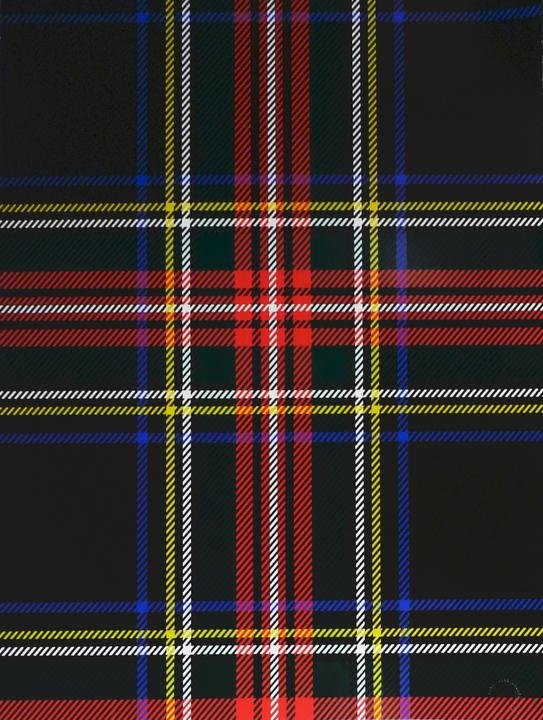 A crucial link between the intellectually rigorous Conceptual Art of the 1970s and the more poetic and playful work of 1980s Pictures Art, Sarah Charlesworth (1947-2013) made photo-based works that deconstruct assumptions about photography. A seminal figure in both photography and feminist art, Charlesworth made photographs that call into question the role of images in society, and its influence and projection of sexuality, gender, and politics. Charlesworth had a solo exhibition ("Sarah Charlesworth: Selected Works 1981-1984") at MoMA PS1 in 1984 and has since had solo exhibitions at the Queens Museum of Art, the Cleveland Center for Contemporary Art, Site Santa Fe, the Museum of Contemporary Art in San Diego, the National Museum of Women in the Arts in DC, the Art Institute of Chicago, the New Museum, and LACMA. She passed at the age of 66 in 2013.
ALEKSANDRA MIR
Help!, 2005
$1,035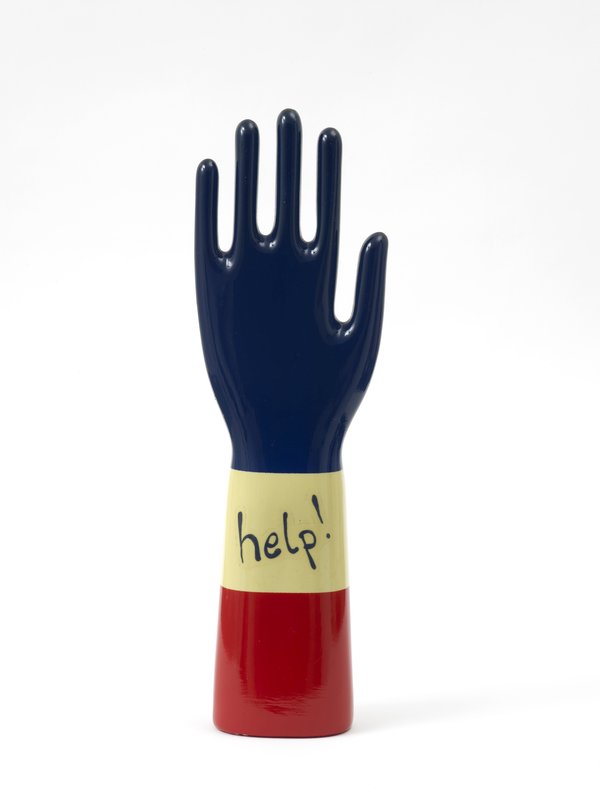 The wildly imaginative artist Aleksandra Mir is known for soliciting the participation of collaborators—whether students, friends, or random passersby—to make works that critique certain social codes, often with a feminist bent. In The First Woman on the Moon (1999) she enlisted the help of bulldozers to transform a deserted beach in the Netherlands into a fictitious moonscape to stage a moon landing. In 2004 she had a solo exhibition at MoMA PS1 entitled "The Big Umbrella," in which she invited strangers to join her under an umbrella big enough to protect 16 people from the rain, as a way to explore social interactions in relation to isolation. While most of the artists work is large in scope, immaterial, or site-specific, this ceramic sculpture lets enthusiasts take a piece of the artist's practice home.
MARK LECKEY
Untitled, 2014
$277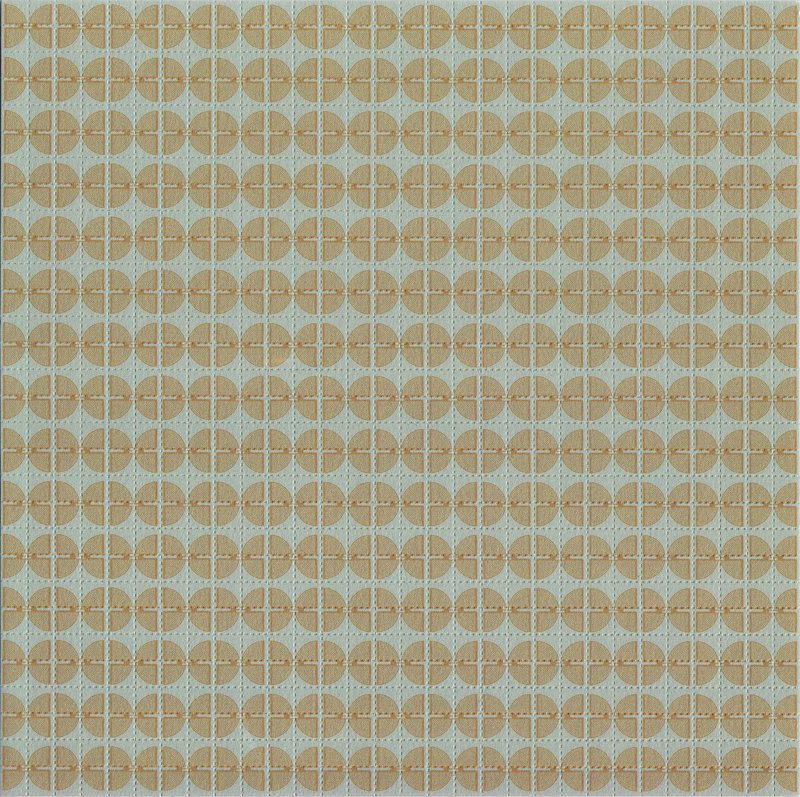 Just last year, MoMA PS1 held the first (in the US) and largest survey of the work of Mark Leckey, a pioneering British artist that holds significant influence over a younger generation of artists who have come of age after the internet. Tackling the effect of technology on popular culture as his subject matter, Leckey explores class and race in a variety of media including video and sculptural installation. Here in this 2014 Untitled work, the artist has serialized the shape of an RFID chip to the point of abstraction. Printed on perforated paper, the piece references acid (LSD), which is typically distributed on this type of tabbed paper. At just $276 (or as low as $18 per month when using Affirm), this piece is truly a steal. You'd have to be tripping not to buy it!
RELATED ARTICLES:
Join the Tate in Collecting These 6 Artists
Collect These Artists Recently Acquired by the ICA/Boston
8 Artists Recently Acquired by the MoMA to Add to Your Collection