After two hours of intense bidding, Christie's live-streamed 21st Century Evening Sale this week ended at over $210million and set 10 new auction records for artists including Nina Chanel Abney, Rashid Johnson, El Anatsui, Mickalene Thomas, and Jonas Wood, whose Two Tables with Floral Pattern broke its $2-4million estimate when it sold for $6.5million.
Los Angeles-based artist Wood has established himself as the reigning prince of contemporary painting, using playful geometrics and lush, vibrant color to excavate traces of memory and domestic selfhood. His work combines art historical references with images of objects, interiors, and people that comprise the fabric of his life.
His ascent to art stardom has included a spate of critically acclaimed solo shows in the world's most prestigious outlets, including a recent turn at the Dallas Museum of Art and his work has been collected by the Guggenheim and Hammer Museums.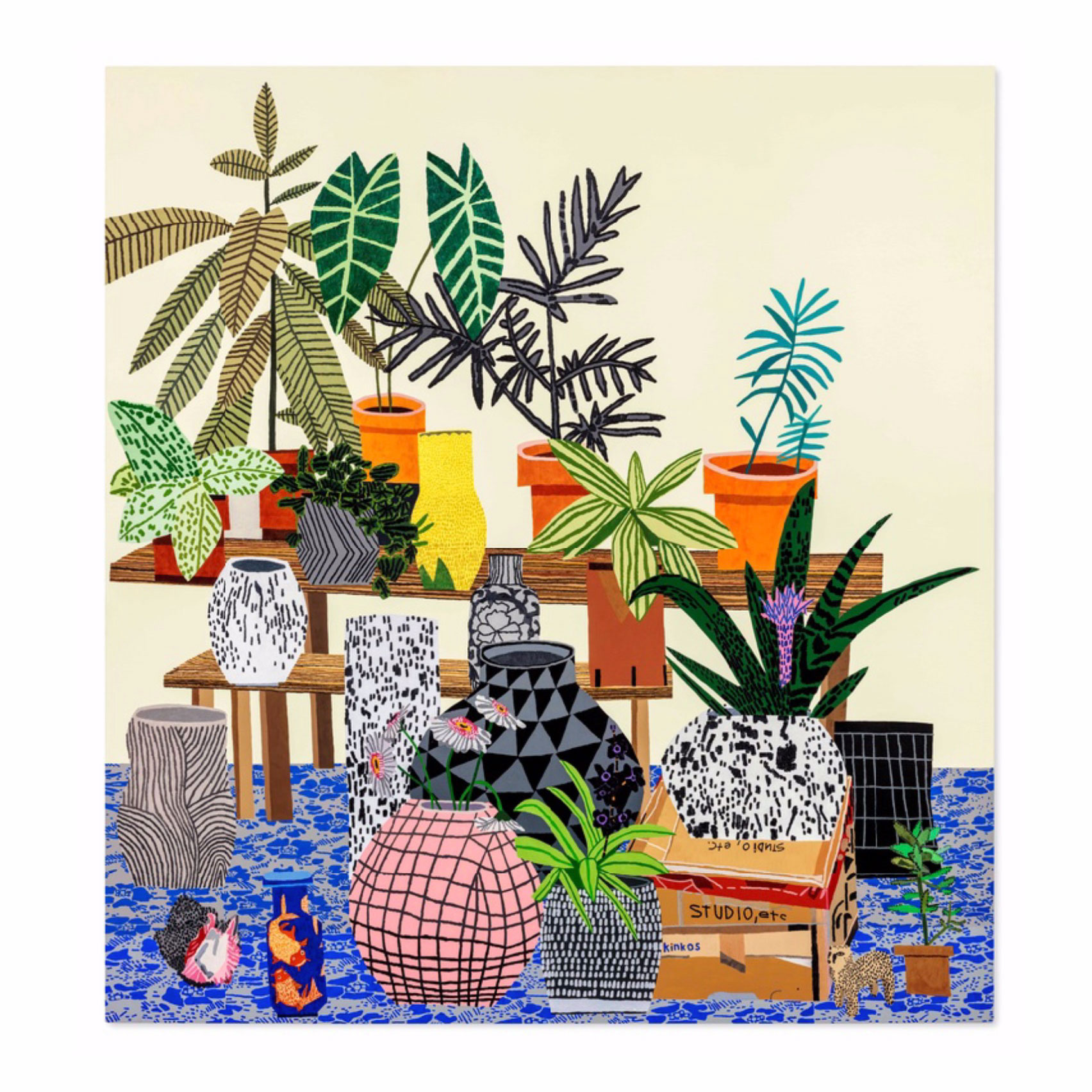 Jonas Wood - Two Tables with Floral Pattern, 2013
Wood, as you'd hope and expect, explained the lasting value of his art, rather than its price , when Artspace interviewed him around the release of his Contemporary Artist Series book and limited 200 edition print .
"There's so much more to art than just what it ends up aesthetically looking like or feeling like," Wood told us. "I think that there's a lot of value in seeing things from a different perspective. I was introduced to Phaidon's Contemporary Artists Series with monographs by Peter Doig and Franz West, which were so revealing visually. So when we were thinking about what to do for the limited edition print , I went back and looked through my drawings and found the original drawing I had used as a tracing to make the painting that eventually became the book cover. It represented what I think this book is about: process.
"I wanted to recreate the source image, and part of the vision for the project was to show how I get to where I get to. It starts out very simply. It's almost like a blueprint, or a skeletal part of my studio practice, but it's also a drawing. That's exactly what this etching is. It's the blueprint of the painting. Printmaking is a big part of my process, drawing is a big part of my process, and tracing and getting the basic shapes of things before I make the painting is a big part of my process."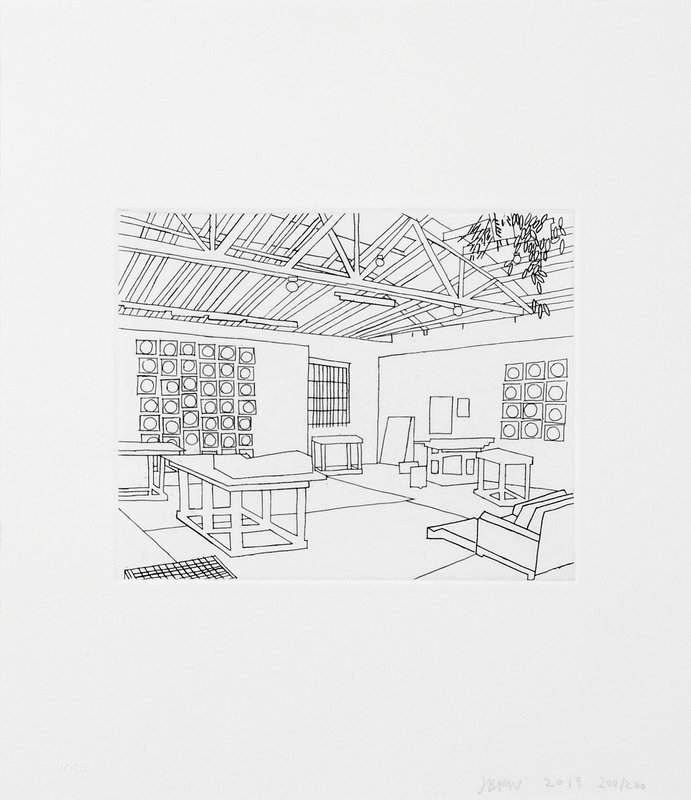 Jonas Wood - Bball Studio, 2019 Etching on white Rives BFK paper Edition of 200 Paper size: 11 x 9.5 in /27.9 x 24.1 cm Image size:  5 x 6.25 in / 12.7 x 15.87 cm Signed and numbered with publisher's chop on recto
That process of making the Phaidon book and the accompanying etching was not without nostalgia for Wood. "I'm trying to appreciate things like that, because I think I live in a way that's very much in the moment. But it's nice to look back and see some of the older work, like some of the really simple plant paintings, and some of the really complicated interiors. It has changed but hasn't really changed. There are always new things I want to paint about, but there's a lot I still keep coming back to.
"So it wraps up all of these things: nostalgia of this old studio I rented from Ed Ruscha in 2007 after my first show in New York, (This is where I started making drawings of isolated basketballs, pinning them up on the wall, and looking at them in grids and eventually making paintings of them) this great painting that we used for the cover, and the original drawing, changed back into a print —eight years later—to raise money for charity."
Bball Studio, 2019, comes inside a portfolio, complete with a silkscreened tote bag and a hardcover copy of the monograph. The etching, which was printed in-house by Jonas Wood's studio, comes from a small run of 200. A few copies are available here.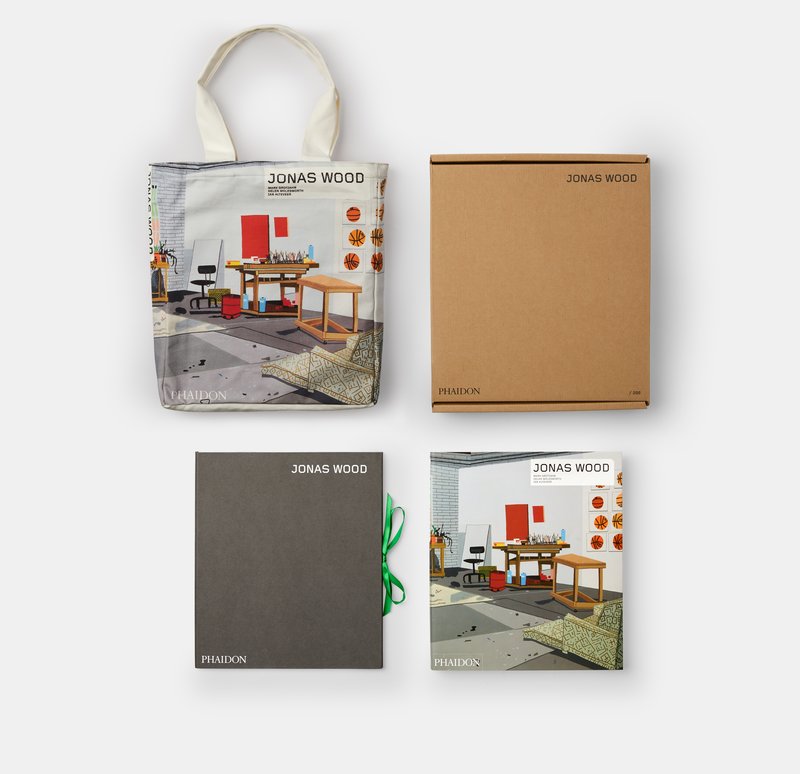 Jonas Wood - Bball Studio, 2019 Etching on white Rives BFK paper Edition of 200 with Phaidon Contemporary Artist Series book