The current pandemic has forced many of the art world's favorite fairs - both big and not so big - to pivot to online offerings. Some have been successful in their transition, but just as many are hoping and praying, real-life events return soon.
To meet this challenge, UNTITLED, ART, and Artland have joined forces to present a revolutionary virtual-reality art fair experience for viewing and buying art online. UNTITLED, ART Online is the first-ever VR fair, using the latest technology and hyper precision to create a vivid, realistic, and memorable virtual art fair experience never before possible. It previews this Thursday (30), and Artspace and Phaidon are the charitable partners for the fair. Artspace is launching a limited edition (50) signed print by Genesis Tramaine, which you can find out more about here . We will also be posting an interview with Genesis Tramaine this week in which she talks extensively about her work and how the edition was made.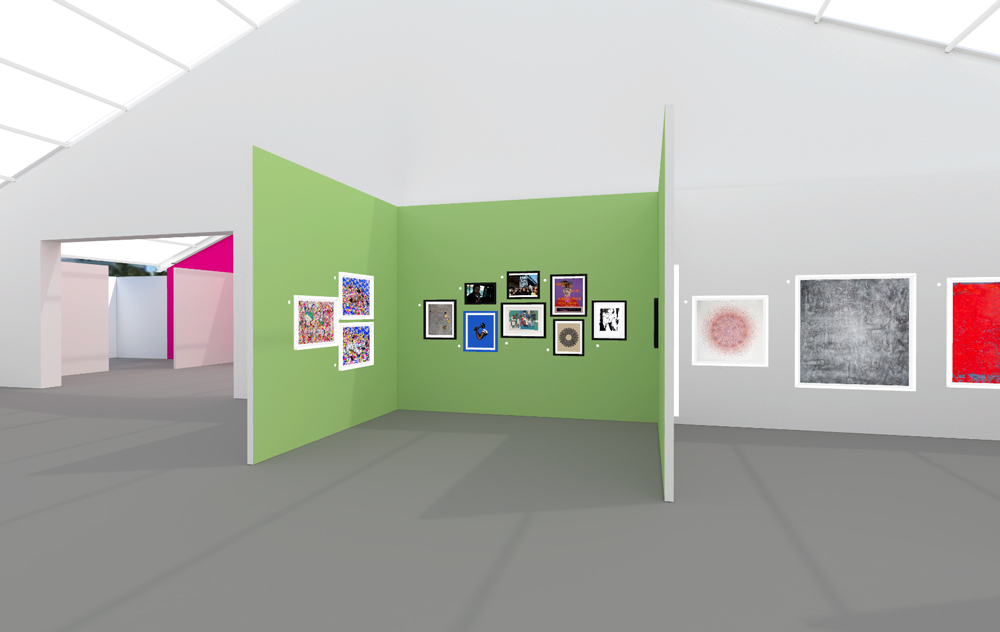 The Artspace and Phaidon booth at UNTITLED, ART Online
As you may well know, UNTITLED, ART is an international, curated art fair, founded in 2012 and expanded (to San Francisco) in 2017. It focuses on curatorial balance and integrity across all disciplines of contemporary art. On its launch, it innovated the standard art fair model by selecting a curatorial team to identify and curate a selection of international galleries, artist-run exhibition spaces, and nonprofit institutions and organizations, in dialogue with an architecturally designed venue.
And now it's innovating again. For this week's online version of the fair, UNTITLED, ART has partnered with Artland , an online platform dedicated to all facets of contemporary art which connects galleries and art collectors via the web and its app. Together, they've come up with a virtual reality fair that allows visitors to view the work on sale in three dimensions, They enjoy the sight (if not the smell) of the ocean but most importantly purchase art simply and safely.
We caught up with UNTITLED, ART CEO Jeffrey Lawson, and fair director Manuela Mozo to ask them a few questions before this week's preview.
Are there unexpected benefits organizing the fair online as opposed to in a physical space – we hear that you were working on an online component for this year's fair already? We started developing UNTITLED, ART Online over a year ago. The mission was to create a supplemental platform for our already existing fairs in Miami Beach and San Francisco. Our objective was to create a platform that focused on e-commerce and created opportunities for galleries to participate without the financial constraints of a traditional fair. Frankly, there are many parallels and similarities between building a fair in real life and building a fair in VR. As for the unexpected, we will have to wait to see.
Tell us about how you worked with Artland to create the look and feel of the fair? The look and feel was a very nuanced process. First, you have to focus on the functionality of the tech. How it works, what you want to accomplish from a user experience standpoint, and how the interface will function. Then you develop the look and feel.
GENESIS TRAMAINE - Black Woman University, 2020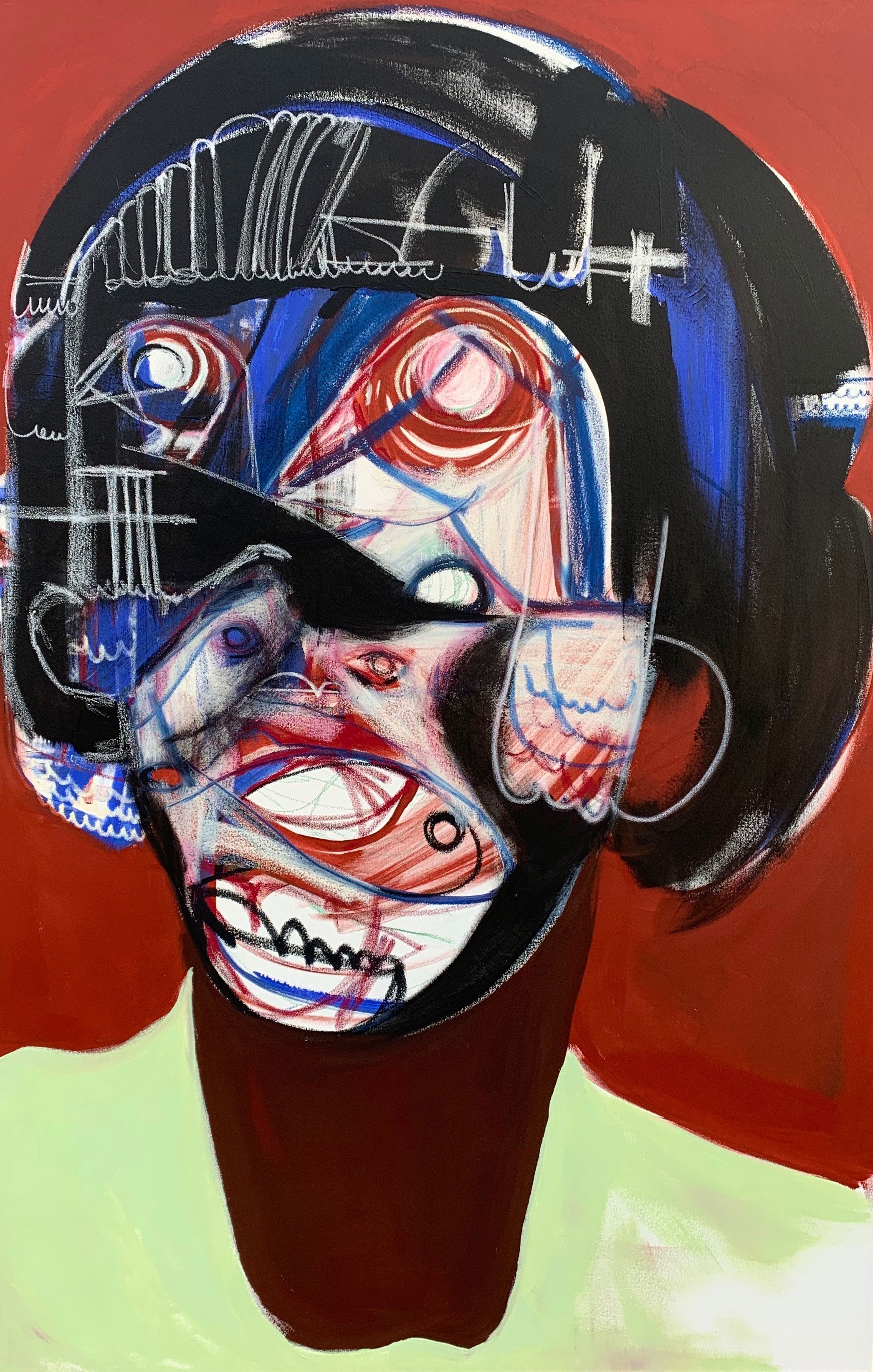 Genesis Tramaine - Black Woman University, 2020. Courtesy of the Richard Beavers Gallery.
And you have recreated the Miami design - that's a nice touch. We discussed many options in the development phase—grand spaces, warehouses, etc. Ultimately we decided for the first edition to use the design of our Miami Beach fair as it is a venue that people are so fond of, and we figured in these unprecedented times it might be nice to have something familiar to visit. We created a structure similar to our Miami Beach edition, but the interior layout is different.
Are there any quirky details we should look out for as we roam the virtual aisles? The experience will be of walking through a virtual version of our Miami Beach fair. Visitors will be able to walk through the front door or jump to a specific gallery. Either way, once inside, the visitor walks the aisles, can see the ocean, there is a lounge in the middle of the fair, and some galleries may have desks and computers in their booths. And there will shadows of the seagulls that sit atop the pavilion in real life!
We've read that the tech takes a kind of video game approach, what does this enable? It's not exactly a video game approach. We are using gaming technology within VR. This technology is the most advanced when it comes to realistic user experience. And the views of artworks are three dimensional. If a gallery has a sculpture in its booth, you, as a visitor, will be able to walk around it and zoom in for details – that applies to all artworks.
UNTITLED, ART has always had a curatorial focus; we imagine that was impossible for the online version of this year's fair? Yes, as we had to launch this first edition in response to the pandemic, the curatorial review of gallery proposals was set aside to finalize the amazing technology necessary. This first edition was a steep learning curve in how artworks are rendered from a technical perspective. For future iterations, our process of a curatorial team that reviews applications and makes determinations from that position will be used.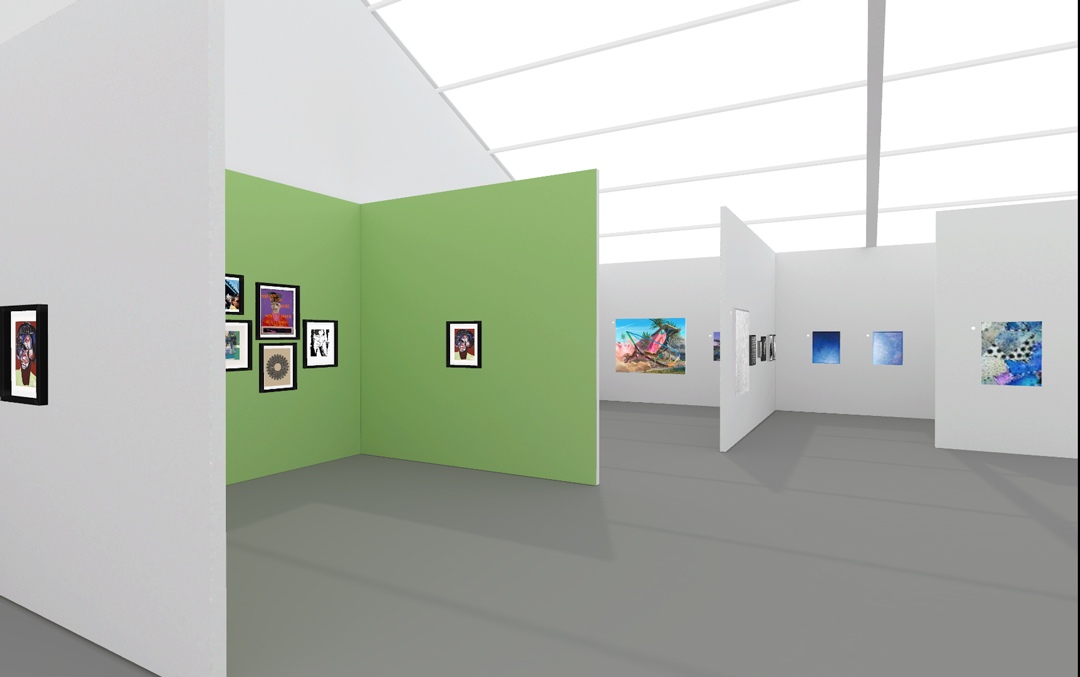 The Artspace and Phaidon booth at UNTITLED, ART Online
Can you tell us how the Genesis Tramaine edition came about? Keith Fox of Phaidon brought the idea of a benefit edition by Genesis to the table, and we couldn't be more excited. We have successfully worked with Artspace and Phaidon for the past few years in Miami Beach and San Francisco with different types of collaboration. Genesis is a rising voice of her generation, and her work speaks poignantly to our current moment in history. We are proud to feature her work as part of the UNTITLED, ART Charitable Artist Edition, and to have the opportunity to support NYFA (a nonprofit organization that empowers working artists and emerging arts organizations) in such a meaningful way.
For more information about the fair and to register to attend UNTITLED, ART Online here . To be in with a chance of purchasing the Genesis Tramaine edition go here .