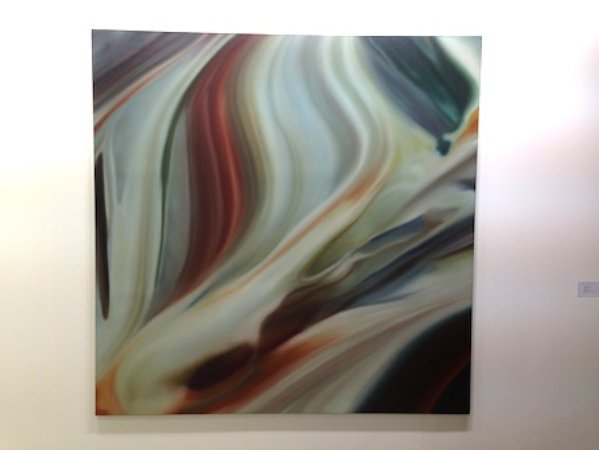 1) Gerhard Richter's Ausschnitt (Kreutz) (1971) at David Zwirner
The German master's abstract paintings—which he typically makes by layering a plexiglas squeegee with bright, primary-color paint and dragging it across a canvas until the hues streak, overlap, and merge—have proven an auction-market sensation as well as the stuff of riveting cinema, with his idiosyncratic process captured in the recent documentary Gerhard Richter Painting. How Richter evolved from his earlier photo-based paintings to the Abstraktes Bilds is lesser known, however, and this painting (one of his earliest abstractions) is a key in that transition: to make it he put an earlier canvas under the microscope and painted a tiny square of it at greatly expanded scale.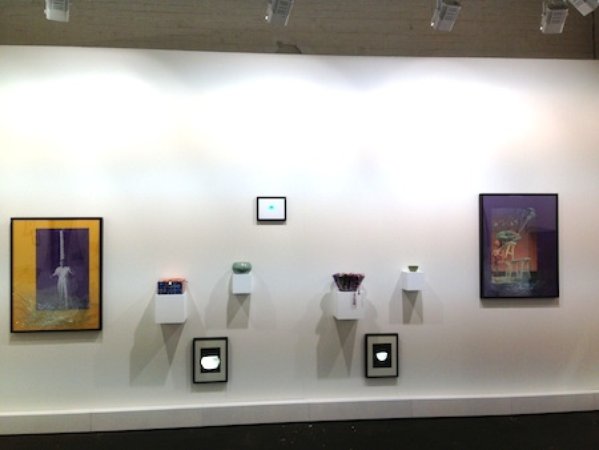 2) Barbara Bloom's photographs, sculpture, and video at Tracy Williams, Ltd.
In 1995 the artist Barbara Bloom fell out of her window as she was watering her plants, injuring herself severely and requiring a long convalescence. In its Statements booth, Tracey Williams is exhibiting works from the artist's first show of new work made after the accident—in 2001—featuring a small video of a woman in a dress pirouetting surrounded by photographs in smashed glass frames and broken ceramic vessels that were repaired with gold seams according to a Japanese tradition, with the fixed pieces held in the highest esteem. About precarity and the fragility of the body as well as the determination to go on, the display is deeply moving.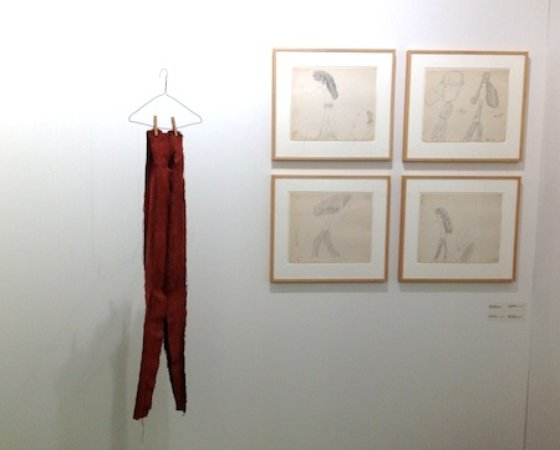 3) Claes Oldenburg's Clothespin—4 Ft.—(Soft Version) (1975) at Paula Cooper Gallery
As a miniature companion to the traveling Oldenburg retrospective now on view at MoMA, Paula Cooper has given over a gallery in its booth to his classic sculptures and drawings from the '60s and '70s. This piece, made from red-dyed painter's canvas and wittily suspended on a wire hanger by two actual clothespins, is a charming version of his series treating the common household object—which for Oldenburg has both anthropomorphic qualities and an affinity to Brancusi's pillars—that found its grandest expression in a giant public-art sculpture across from Philadelphia's City Hall.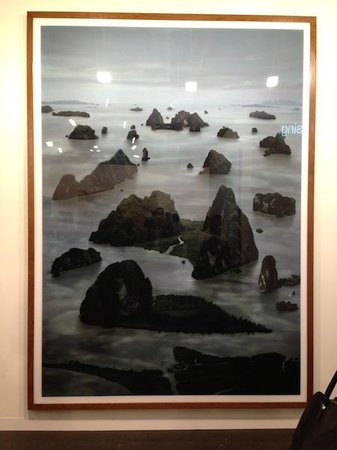 4) Andreas Gursky's James Bond Island II (2007) at White Cube
Sure to appeal to some of the eviller plutocrats traipsing through the fair, this photograph by the German artist shows numerous views of the island where the villainous assassin Scaramanga hides his lair in The Man With the Golden Gun. Shot in Thailand, where the movie was filmed, and digitally manipulated into a cluster of islands—with the colors subtly shifted to all but erase the distinction between sea and sky—the piece is an elegant pop-culture homage as well as an atmospheric tour de force.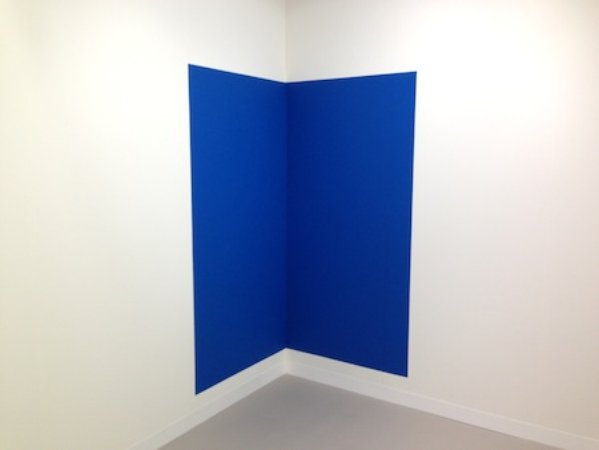 5) Dominique Gonzalez-Foerster's Ludwig's Grotto/Visual Poem (2013) at 303 Gallery
Typical to the artist's work, this piece, plastered in the corner of 303's booth, is a tightly wound coil of high-concept references. Inspired by beloved 19th-century Bavarian king Ludwig II's illuminated blue grotto at Linderhof Palace—which was itself inspired by the famous Blue Grotto in Capri—the installation also makes reference to another Ludwig, Wittgenstein, in its insistence that complex meaning be applied to the abstract piece solely through an interplay between the work's title and the viewer's mind.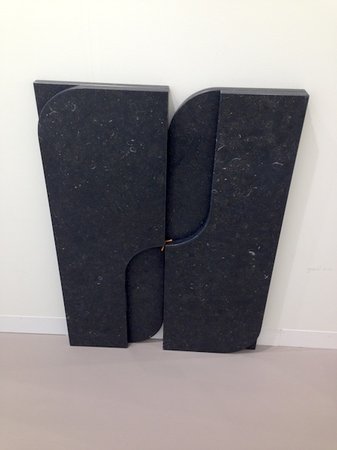 6) Gabriel Kuri's Untitled (2013) at Kurimanzutto
An artist who combines strands of Minimalism and Arte Povera along with a healthy dose of black humor, Gabriel Kuri has been employing found marble plates—usually sections from furniture that he finds in thrift stores—in his quirky, unexpected assemblages for years. For this piece, which squeezes two brown cigarette butts between four curvaceous layers of black marble, the artist for the first time gave himself over entirely to the medium, crafting the stone components himself.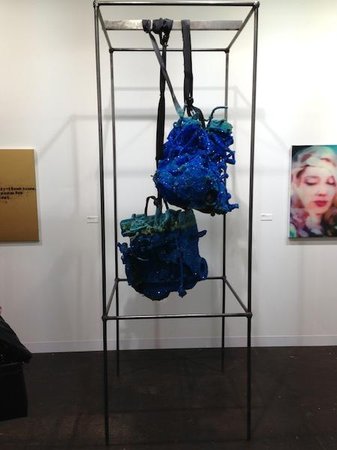 7) Roger Hiorns's Untitled (2013) at Luhring Augustine
A bonafide art star whose powder sculptures seem omnipresent these days—see his pulverized altar in "The Encyclopedic Palace" and his ground-up airplane at MoMA PS1's "EXPO 1"—Roger Hiorns came to renown for a different body of work, in which he covers various surfaces with copper sulfate, giving rise to lovely blue crystal environments. One of these won the artist a Turner Prize nomination in 2009—and is about to be resurrected at Yorkshire Sculpture Park later this year—while this one coats car engines with the chemical, making for a visually arresting take on the ephemeral quality of technology.