Quality abounds at this year's edition of Frieze New York, with exceptional new pieces by the world's most celebrated artists mingling with deeper cuts of illuminating works from early in their careers. There's plenty of provocation on hand as well, notably Paul McCarthy's surprisingly direct broadside of Jeff Koons in the form of glossy sculptures of balloon dogs—with a gigantic hot-air version perched outside the fair's entrance—that tweak that fellow mega-artist for his eyebrow-raising 2011 legal fight with a small San Francisco bookstore selling mini balloon dog sculptures. (Koons had insisted that, as the creator of famous shiny balloon dogs, he owned the exclusive right to balloon dogs worldwide; the court disagreed.)
Appropriation, of course, is a topic very much in the news these days, but what's intriguing here is that instead of having a famous artist borrow work from a lesser-known or dead one (say, de Kooning) this little ruckus involves two of the world's most prominent artists, and at a time when both of them have enormously high-profile gallery shows in Manhattan. It's also the second time McCarthy has mimicked Koons: back in 2002 he did a couple grotesque versions of the artist's famous Michael Jackson and Bubbles sculptures, one of which, Michael Jackson Fucked Up (Big Head), sold at Christie's for $2.2 million. Evidently McCarthy has a thing for the glossy, arch-perfectionist artist. In any case, here's a look at 11 of Frieze New York's standout artworks—a few of which, it so happens, involve twists on appropriation.
TINO SEHGAL'S ANN LEE (2011) AT MARIAN GOODMAN GALLERY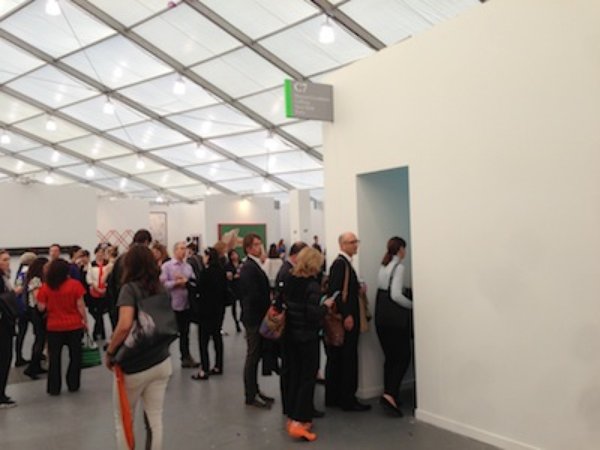 Probably the biggest word-of-mouth success at the fair, Marian Goodman devoted her booth to one of Turner Prize-nominated artist Tino Sehgal's stranger performance pieces: visitors enter the enclosed space in small groups and find a whippet of a girl who introduces herself as "Ann Lee," a 13-year-old manga character that the artists Philippe Parreno and Pierre Huyghe have used in their work. The girl, possessed of a preternatural cool and moving with the slow, deliberate gestures of a robot from the uncanny valley, explains that, for whatever reason, the artists decided to bring her to life, and she asks members of the audience to explain what it's like to be human (posing stumpers like, "What is the relationship between a sign and melancholia?"). The artist, meanwhile, sits outside the booth. The work comes in an edition of three, and, like the rest of Sehgal's work, is prohibited from being photographed or reproduced in any way.
RICHARD PRINCE'S UNTITLED (2012) AT SADIE COLES HQ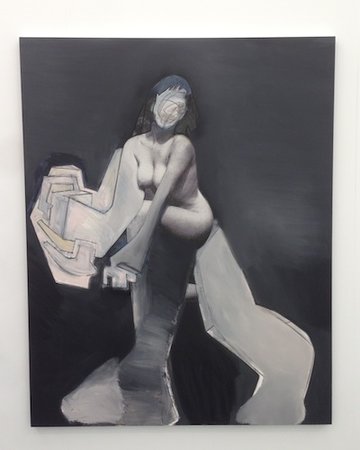 With McCarthy aping Koons and Sehgal trespassing into the work of Parreno and Huyghe, it's interesting to note that the new series at Sadie Coles Gallery by Richard Prince—both the jester and king of appropriation—seems to portend a move away from that controversial practice. Showing the artist's growth as a painter and his continuing interest in uniting painting and photography to test new strategies of figuration, the series, which debuted in London earlier this year, actually includes photos that the artist took himself and ink-jet printed onto the canvas (along with some photos he didn't). Who knows? If Prince began using all of his own photographs, it could save him a few headaches.
DO HO SUH'S WIELANDSTR. 18, 12159 BERLIN (2011) AT LEHMANN MAUPIN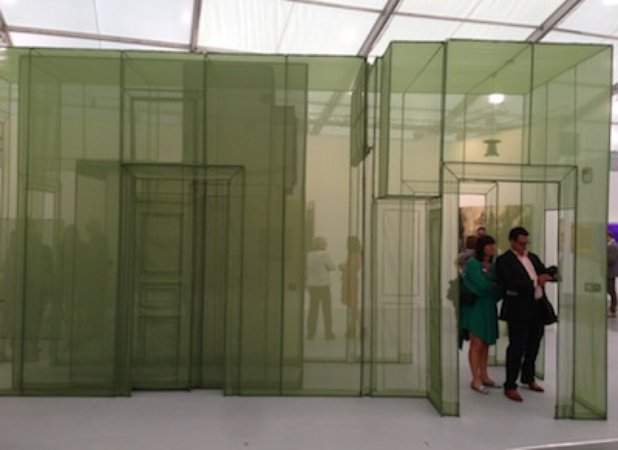 An apparition in luminescent lime green, Do Ho Suh's sculptural installation at Lehmann Maupin recreates a corridor from an apartment where the artist once stayed during a residency in Berlin, manifesting a kind of sense memory of that temporary home—a commentary, like much of his work, on the itinerant lives of emigrants in a global society, some of whom have no homeland to return to. Made out of polyester fabric in an edition of three, shows the artist working at his most crowd-pleasing scale, allowing viewers to enter the work and share, in a dreamlike fashion, a moment in his memory.
TOM FRIEDMAN'S UNTITLED (PIZZA) (2013) AT LUHRING AUGUSTINE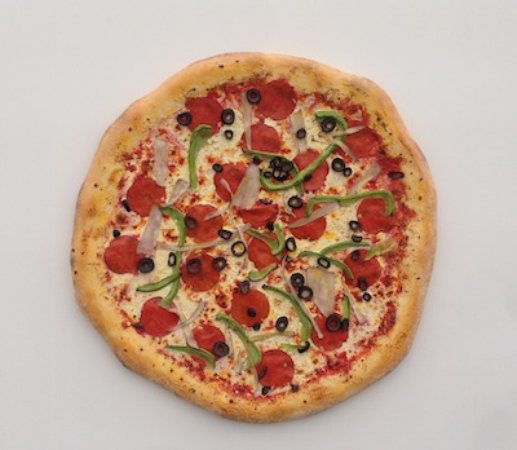 Pure fun is to be had at Luhring Augustine's solo presentation of new work by Tom Friedman, including an array of new food pieces, carved from styrofoam and painted, that include a life-sized pea displayed almost invisibly on one wall (it sold, for $35,000). This extra-extra-large pizza, on the other hand, drips with wall power to spare, with pepperoni made from painted canvas and other toppings, like olives and onions, astonishingly created purely out of built-up paint. In another demonstration of virtuosity, a pair of beat-up New Balances with socked-feat sticking out of them (even the laces are carved from styrofoam) stands in a corner as a self portrait of the artist, who's known for wearing the sneakers around the studio.
SIMON EVANS'S MAN IN NATURE (2013) AT JAMES COHAN GALLERY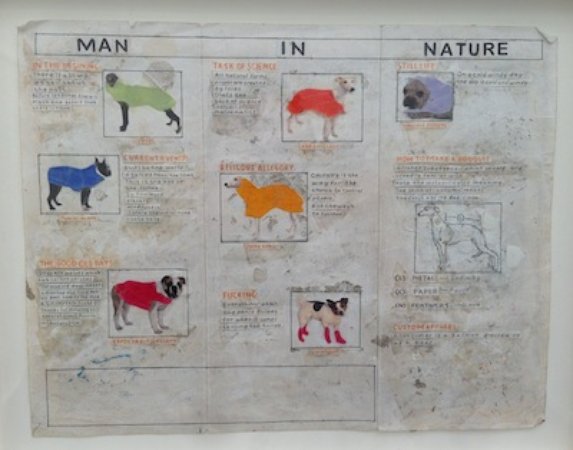 A former pro skateboarder who transitioned into a writing career before finding that the scraps of paper he carried around in his pocket made for great art supplies, Simon Evans brings an offbeat literary sensibility to his DIY collages. In this piece at James Cohan Gallery, what appears to be a diagram about different kinds of dogs digresses into unexpected terrain, mixing loopy maxims ("Chivalry is the way for the church to control people, also the way to succeed," "A consumer is a salmon dressed up like a bear") with loopier charts. A must for the unhinged dog lover.
HUMA BHABHA'S UNTITLED (2010) AT SALON 94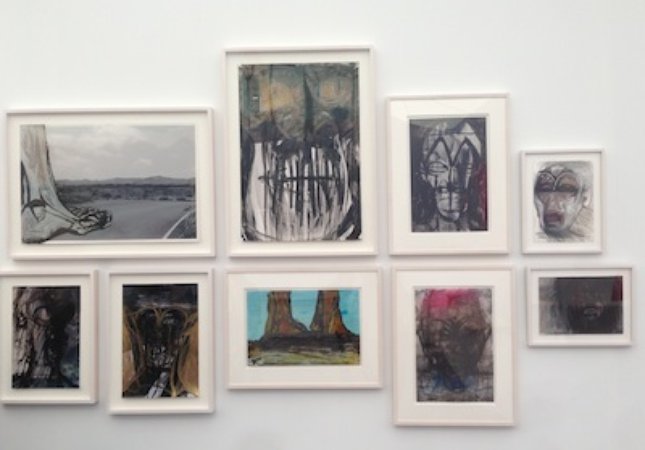 An artist currently having a major market moment, Huma Bhabha is known for her rough sculptures and equally raw works on paper that combine "primitive" figuration—of the sort Picasso was so enamored of in his early Cubist days—with futuristic, post-apocalyptic themes and imagery. These pieces at Salon 94 feature photographs that the artist took, many of them of disintegrating architectural ruins that she came across in her birthplace of Karachi, Pakistan, and then overlaid with turbulent ink drawings. Skulls and floating heads are a recurring motif in her drawings, adding to the overall ambiance of perilous desolation.
SIMON HANTAI'S TABULA (1980) AT PAUL KASMIN GALLERY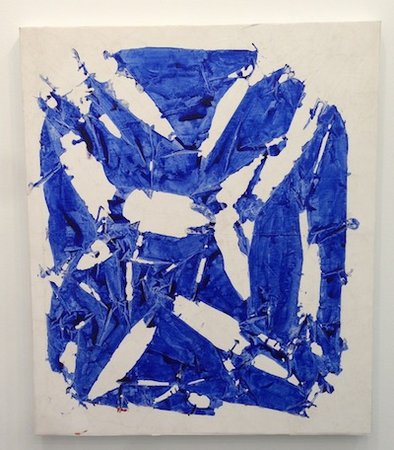 Once among France's most famous and critically adored artists, Simon Hantaï developed a novel painting process that he called pliage—a kind of answer to Matisse's decoupage, or cut-out, technique—which consisted of wadding up a piece of canvas into a ball, colorfully painting its exterior, and then flattening it out to reveal a mix of bare and painted swaths. The artist mastered this technique, developing a panoply of variations on the theme that yielded lovely abstractions, but became alienated from the art world and retreated into seclusion until his death in 2008 and was more or less forgotten. Until now. This canvas, at Paul Kasmin's booth, marks a year when the artist is receiving a sweeping survey at Paris's Pompidou Center (May 22-Sept. 2) that is certain to prompt a welcome reassessment and embrace of his pleasurable work.
THOMAS RUFF'S PORTRAT (VARIOUS WORKS) (1980-1984) AT DAVID ZWIRNER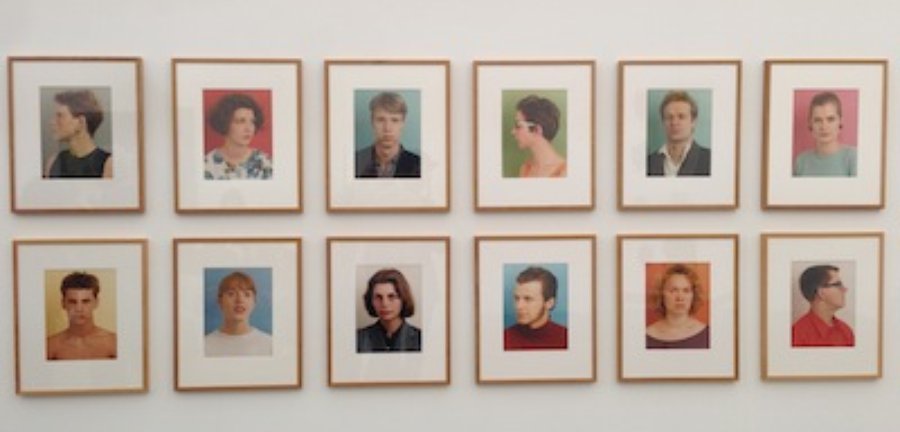 This week David Zwirner dedicated his spacious booth to a solo presentation of work by German photographer Thomas Ruff dominated by the artist's notorious "supernudes," blurry, large-scale photos of hard-core pornography that straddle the line between abstraction and graphic figuration. On the other side of the booth, however, are works of a far quieter sort: portraits that the artist took as a young man of his fellow students, teachers, and friends when he studied with the legendary Bernd and Hilla Becher at the Düsseldorf Art Academy. These photograph show Ruff's subjects in affectless poses in a way that muffles individuality while at the same time casting it into barren relief—the kind of visual typologies that place the artist squarely in the legacy of the Becher's so-called Düsseldorf School of photographers, which also include Thomas Struth and Andreas Gursky.
COLLIER SCHORR'S IN THE COLLAGE (MARIE) (2013) AT 303 GALLERY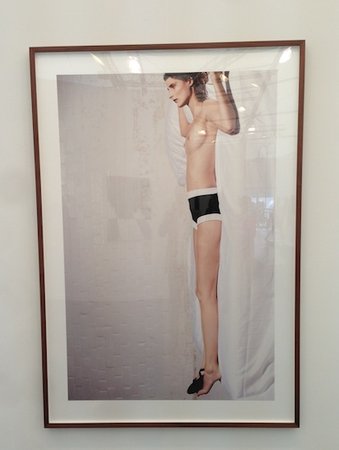 A nude very different from Ruff's hangs at 303 Gallery in the form of this photograph by Collier Schorr, in which a woman lies topless on a white bed in a white room, one shoe on and one shoe off, bisected by a striking pair of black-and-white underwear. What at first glance seems to be a portrait of an evidently refined woman—the aesthetic of her clothes, room, and bed is impeccably streamlined and minimal—enjoying a private moment becomes complicated by the orientation of the photo: displayed vertically, her pose mirrors that of Christ on the crucifix, suggesting a feminist gloss on the biblical event.
MELISSA GORDON'S BLOW UP II (COMPOSITION A WITH RED, BLUE, AND YELLOW IN TIME AND SPACE) (2011)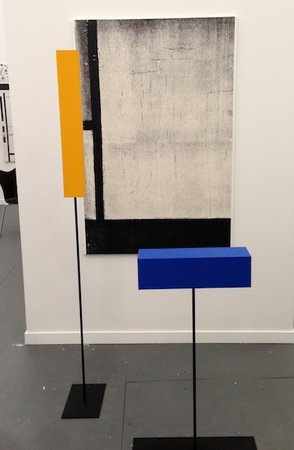 Picking up the theme of appropriation from a different angle, the artist Melissa Gordon has in recent years been blowing up examples of textbook Modern art history onto canvases that explore the nooks and crannies of classic geometric abstraction. This piece, a hybrid of sculpture and painting at Marianne Boesky Gallery, takes the formally rigorous experiments of Piet Mondrian into the third dimension, adding physical weight and heft to shapes that the Dutch artist treated with such verve on canvas.
DAMIEN HIRST'S UNTITLED (2013) AT WHITE CUBE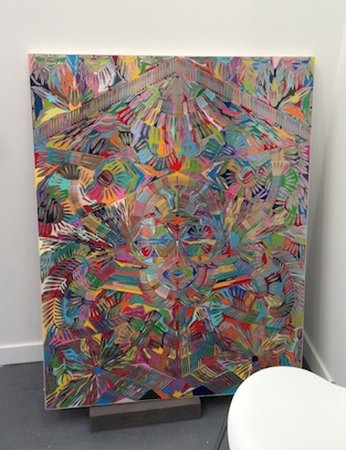 No art fair would be complete without a Damien Hirst, and White Cube gave pride of place at its palatial booth to a particularly fine 1992 medicine-cabinet sculpture containing boxes and bottles of generic prescription drugs—one of the YBA's trademark investigation of death and the invasive, cold, and exceedingly brutal ways we try to stave off the inevitable end. In the gallery's back room, however, was the real find for Hirst aficionados: examples of the artist's newest series, a group of works that embed gleaming steel scalpel blades (a particularly incisive symbol of body horror) in multicolored gloss paint to create wall pieces that build on both his medical sculptures and his intricate mosaics of butterfly wings and other dead insects. The glitter factor of these works and their tie to Hirst's previous signature series make them candy for collectors interested in the British megastar.