Yesterday, in the 84-degree heat, it was a task to get up the steep, crowded steps of the Metropolitan Museum of Art. But there is a special excitement to the museum in summer, particularly now that the European painting galleries have just reopened after a complete face-lift.
For the museum's first full-scale reinstallation since 1972, the 45 galleries now hold more than 700 paintings (they could previously house 450), many of which have been reframed, rehung, or are on view for the first time in years—and now under brilliant lighting and in spacious galleries aligned for doorway views. To give a sense of the magnitude, in the time since the museum last rethought the collection, it has acquired Vermeer's Study of a Young Woman, Caravaggio's Death of Saint Peter, and other notable works by Jacques Louis-David, Rubens, and Duccio.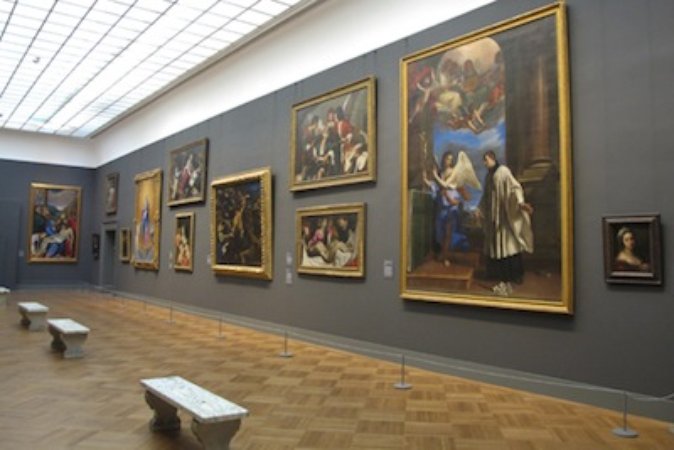 After ascending the main staircase, one confronts a set of massive, colorful Tiepolo canvases—a truly grand entrance. The collection has been reorganized by chronology and region for more clarity, and some galleries have been devoted to specific themes and schools. Even characteristically darker and moodier works appear more alive: the vivid colors and sharp lines of El Greco's huge canvases—notably the adjacent Opening of the Fifth Seal and Portrait of a Cardinal—make for an electrifying presence. And a room of Caravaggios takes on added gravitas, his deep shadows all the richer in the generous light. The room of Vermeers—a hallmark of the collection—unites five of the Dutch Master's few existing works, including A Maid Asleep, for a truly rare look at the artist's oeuvre, now on view permanently.
More space has been given to Dutch and Flemish painting in galleries where blockbuster special exhibitions used to appear. There's the "Still-Life Painting in Northern Europe" gallery with vanitas works by Pieter Claez, in which intricately cut glass goblets seem to truly sparkle. From Frans Hals's drunken, rosy-cheeked subjects to Rembrandt's austere portraits, breadth and context has been added to this area in particular.
In front of Velazquez's famed Juan de Pareja, a man in a green T-shirt had set up an easel to paint a near-exact reproduction of the portrait. Nearly finished, he attracted a crowd as he worked, using small dabs of white paint to recreate the final delicate sheen on the subject's forehead. Tourists took pictures, curious New Yorkers stopped to stare—it was just a small sign of new life in this historic wing of the museum.