In 1983 Jaime Riestra and Patricia Ortiz Monasterio founded OMR in the Roma district of Mexico City. Over the following decades the co-founders and their colleagues have established OMR as one of the pioneering forces of contemporary art within Mexico. The gallery has shown such internationally acclaimed artists as Sol Lewitt, John Stezaker, and Thomas Ruff, taken part in numerous fairs, including Art Basel and Art Basel Miami Beach, and popularized emerging and established figures within the Mexican art scene.
As gallery director Ana Paula de Haro tells Artspace, "Mexico itself had a strong modern art and muralist movement but the contemporary movement arrived a little bit late, in the Nineties. The gallery was on the turning point of the contemporary art scene in the Nineties. Patricia is very academic, and close to the right institutions.
"They were pioneers in Roma, in an old house and it was really the center of art for many years. I love that the gallery really has a rich history in the Mexican art scene. They inspired a lot of people and really set the pace. A lot of other galleries started opening.
I was living in Miami and Europe at the time and we would bump into each other at art fairs and Jaime and Patricia were always asking me to come and work at the gallery.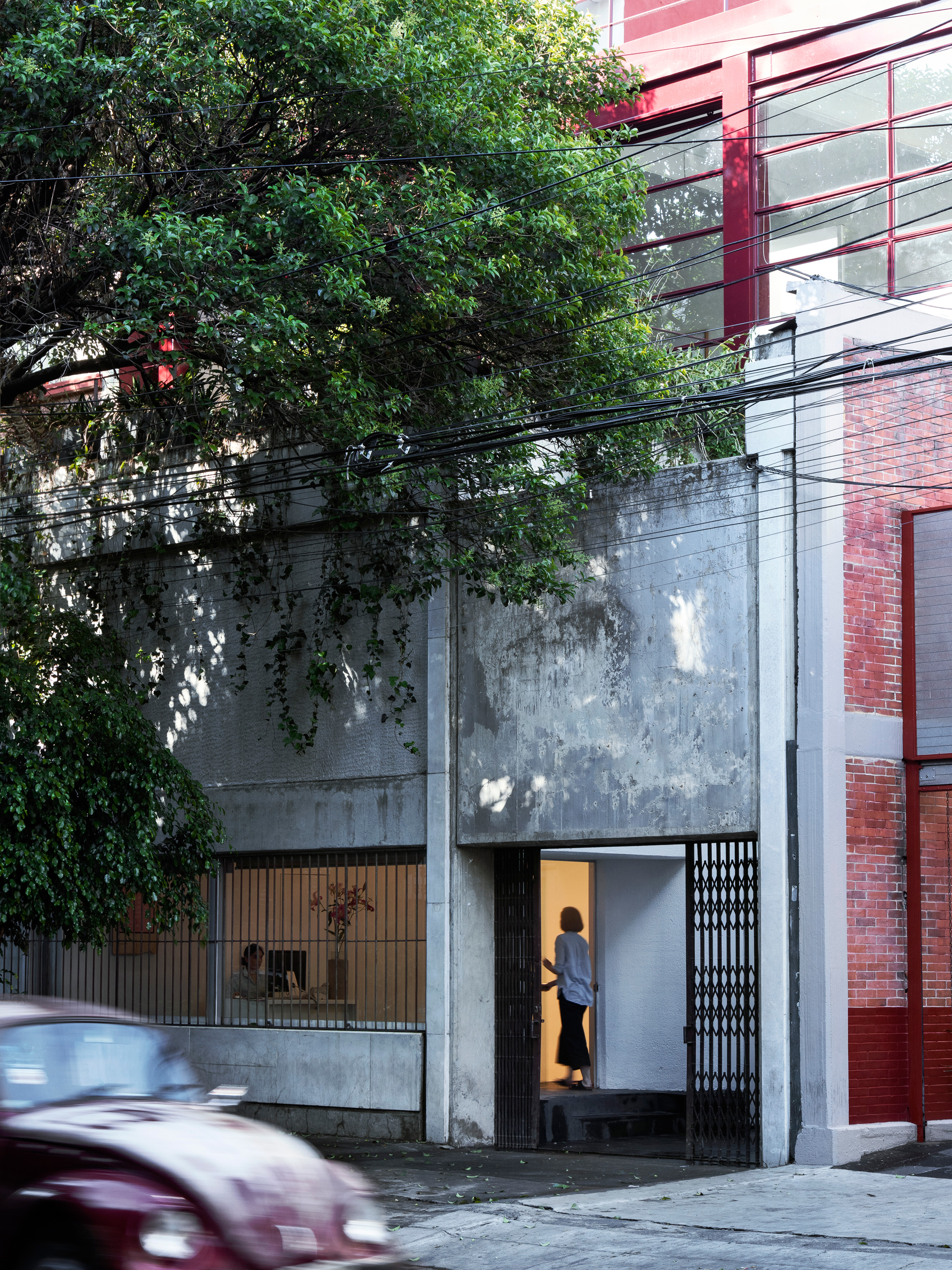 OMA, Mexico City
"And in 2015 I went back to Mexico and, along with Kerstin (Erdmann) and Cristobal (Riestra), their son, took over the running of the gallery. We wanted to get a new space, a brutalist building which had been a record shop, but also a landmark for culture, in the city. The German architect Max von Werz reworked it into quite a dynamic space. It's right in the center of the arts scene in Mexico city, in a very urban landscape that's also part of the regeneration of the Mexico City restaurant scene, so we get a lot of visitors passing through."
OMR has also worked with Artspace, and has become one of our most respected gallery partners over recenct years. To mark this fruitful working relationship, we've invited Ana, alongside a few other key people at OMR, to pick their favorite works from the gallery's selection on Artspace. Ana has picked the first five artworks here.
TROIKA - Irma Watched Over by Machines, 2020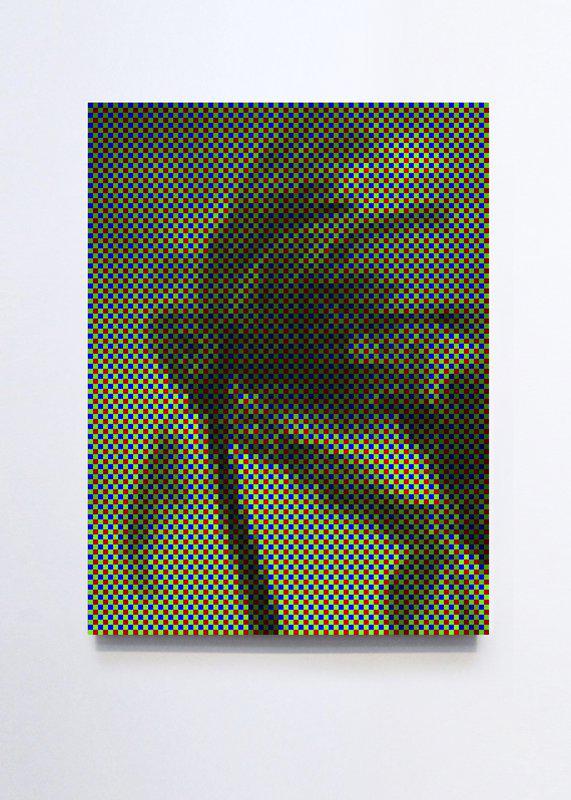 What I love about these paintings is that at first you just see a green painting of palm trees. But when you get close you see the technique and it almost gets close to Optical art. It's painted in just three colors and square paintings. All of the work is about technology and humankind.
With this series they talk about Hurricane Irma. Troika made stills from the videos in the CCTV cameras which caught the hurricane on video. This piece is partly about how the camera captures the image, and then how humans capture and study images. It goes into specific things about the nature of the human eye. It's beautiful, the color is amazing and you get different perspectives if you get near it or look at it from afar. It's just a little piece of nature but it really goes very deep because it tells you a lot about how humankind perceives technology and how technology perceives human kind. I was in the studio when they were painting some of those squares. It was like watching an alchemist at work. They take a lot of time doing it. It was so interesting, different and wonderful.
GABRIEL RICO - I have anticipated you VI (The object, constructor of the social, expelled from the social world, attributes to a transcendent world what is, however, not divine), 2021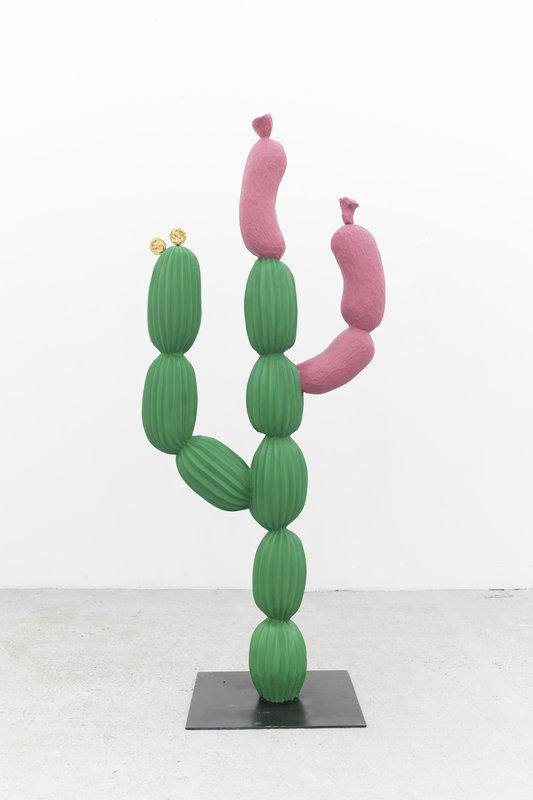 It's definitely one of my top works in the inventory. Gabriel is such an amazing artist, one of a kind, original. People are so surprised when they see his artworks. - like, why is there a cactus with sausages?
There are two things that make me love the work. Firstly, the very original approach he has. He's into physics, and into philosophy and always thinking of the relationship between nature and humankind. And that's why we see the cactus with the sausage. He talks about consumerism, he talks about very contemporary topics for human kind. And always our relationship with nature.
But the other thing I love about his work is his love of craftsmanship. He's from an artisanal center in Mexico and he really puts attention into the production of pieces in his hometown.
He works with the very best people but he doesn't approach them as a contemporary international artist who wants them to produce for him. He learns from them and he respects his work and gives them credit for that. He admires the work these craftsmen do. So this piece is made of handcrafted wood. I love the bold colors. It's fun but it touches subjects that are really important.
GABRIEL RICO - The second cause is meant to be an explanation of the first (Páramo, Forest), 2021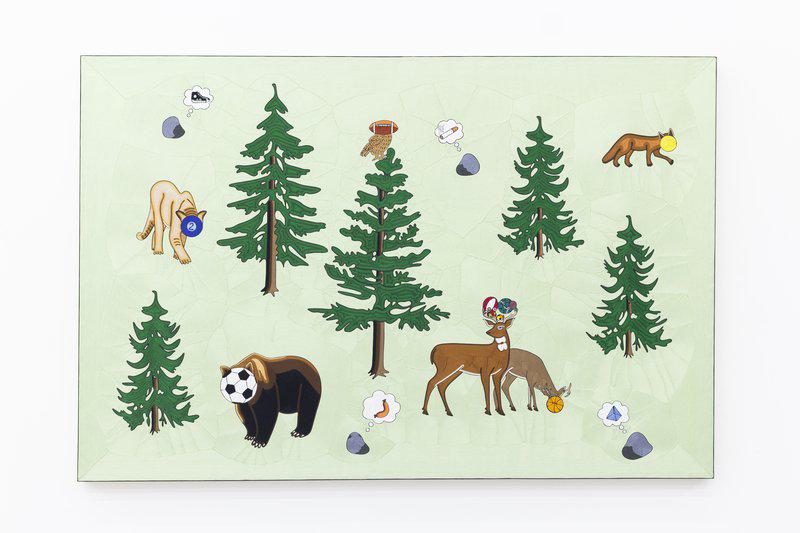 This reminds me of Gabriel's recent solo show at the gallery where he recreated a forest, full of his collection of branches which you walked through, and then came across two deer at the center - which you can see in this artwork. He works a lot with taxidermy. But he also works with the most kitsch things: footballs, basketballs, along with the taxidermy which is kind of very basic and was a huge shock for people coming into the space.
You feel like you're in a forest and then you see the deer with the balls which represent humankind with consumerism almost invading nature. In his work, sometimes we invade nature sometimes we get along with it. It's beautiful. People think it's silk, but it's hand-crafted cotton thread. You can really see how long it takes to create this. He drives ten hours to this community in the Sierra, getting lost in the mountains along the way! They don't even speak Spanish there, and he sort of quarantines there for a long time in order to produce these works.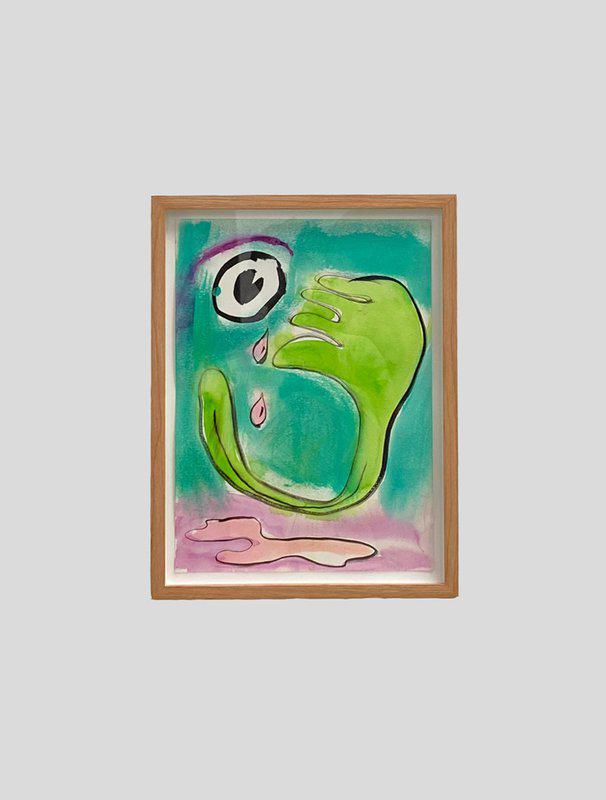 I think Pia is one of the top Mexican artists of her generation. She is relatively young, 40-years-old, with an already established career. She's very connected to a lot of institutions including Guggenheim and Palais de Tokyo so that really makes her super strong. This is one of my favorites of hers, and is part of a body of work she put in a show just before the pandemic.
We invited her for the Art Week which brings a lot of people from abroad. She showed textile works and sculpture. But for this show she wanted to go back to her roots as a painter. She did an amazing exhibition with around twenty paintings. This one is a small format piece. It's called Happy/Sad because she was in the middle of new motherhood with her second child, but at the same time her father was becoming very sick. After the show her father passed away so it was sad, but the process of preparing the show put her in a happy sad moment. It's something I can relate to very much.
CANDIDA HÖFER - Hospicio Cabañas Capilla Tolsá from Daniel Buren work in situ Guadalajara I, 2015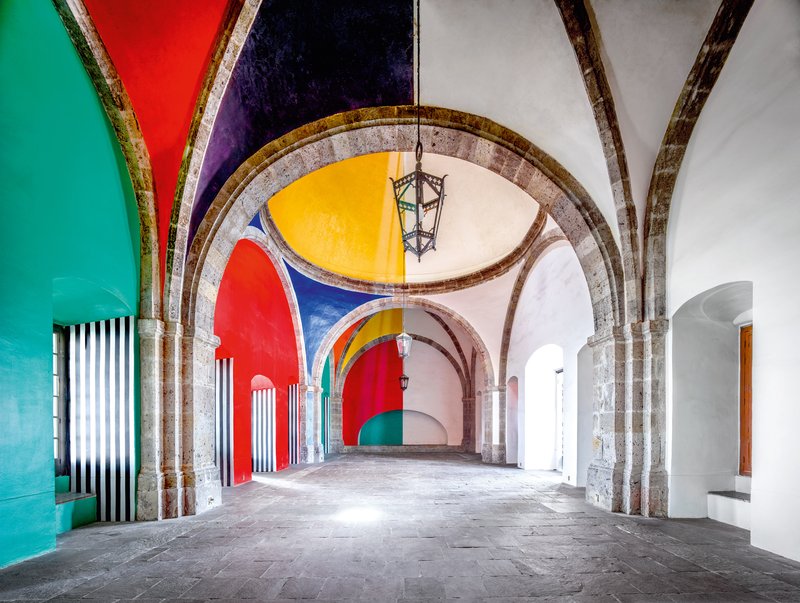 Candida has been working with the gallery for many years and she is obviously a very established artist. This is one of her most important projects. She had photographed every opera house and library and museum in Europe. We were promoting and selling her work but also often saying to her, Candida you're really such a good artist in the way that you see architecture and transmit it into your art - you should come to Mexico and see the churches and libraries we have. This was an ongoing conversation for many years, and then in 2015 she came to Mexico and traveled for three or four months with her husband and the gallery founders, visiting cities that have an amazing architectural heritage. It was hard to get permission to go into these buildings. I remember we often would have to ask for tables, or things for her to stand on in order for her to get into the correct position to take the picture.
This one in particular is a very historical and important place. She was there because of its architecture and the importance of the site. But when she went in she was shocked to find a Daniel Buren installation. She was not aware beforehand and, also Daniel is a friend of hers. So this is essentially a work inside another work. It's Candida working with the architecture and landscape, but also this beautiful installation which gives a lot of power and color to the photograph. The fact that it's a contemporary artist, a very important site and bold colors really makes this work for me.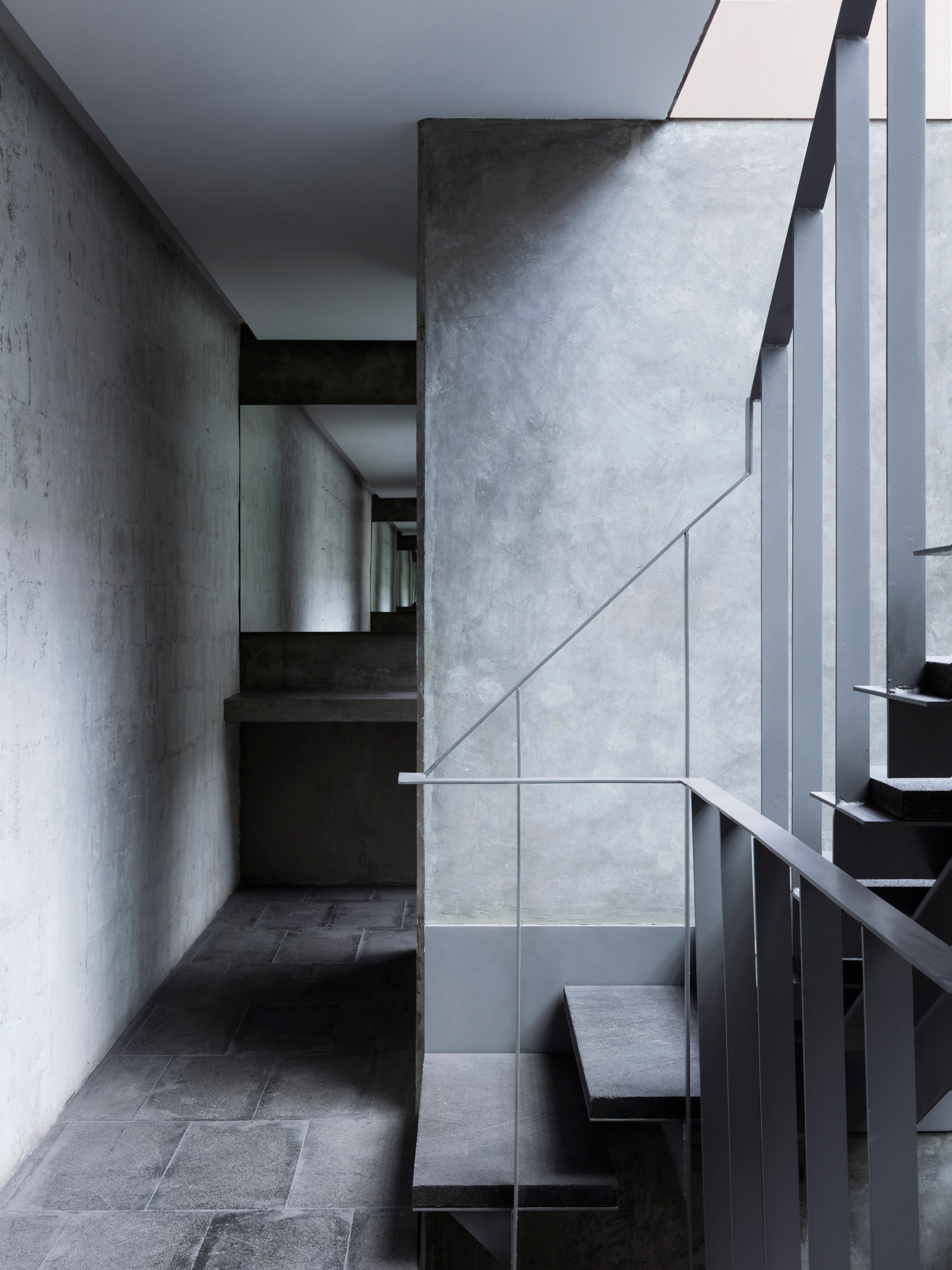 The stairs at OMR, Mexico City
Fernanda González-Angulo, director's assistant. "My job interview for OMR was in December 2019, right when SUPERFLEX's first exhibition was in our space and the piece that amazed me the most was Free Beer, (2007). Not only were the colors really attractive to me, but I also needed to know its meaning. That day, when I arrived home, I got the amazing news that I got the assistant job and I was so excited I spent my Christmas holidays reading about the whole OMR program and the first artwork I searched for was this one by SUPERFLEX. I understood it meant 'free' as a matter of liberty - specifically free speech - not price value. I thought it was brilliant that the Danish collective developed a recipe with students of Copenhagen IT University to brew their own Free Beer or create a derivative of the recipe. Free Beer is for anyone who is up to making it."
Fernanda González-Angulo, director's assistant. "When I first encountered Artur Lescher's work, my initial thought was 'This is what elegance looks like.' His works are so polished and finely executed, but at the same time they have a really beautiful and deep reason for being. In the specific case of Lescher's pendulums, the artist knows how to capture the essence of gravity and the human need of defying it. Many great thinkers in history have reflected and created scientific and philosophical theories around the pendulum, starting with Galileo in the 16th Century while watching the swaying of a chandelier inside the cathedral of Pisa. Pendulums have always been and always will be fascinating to the human mind."

CANDIDA HÖFER - Passage II, 2015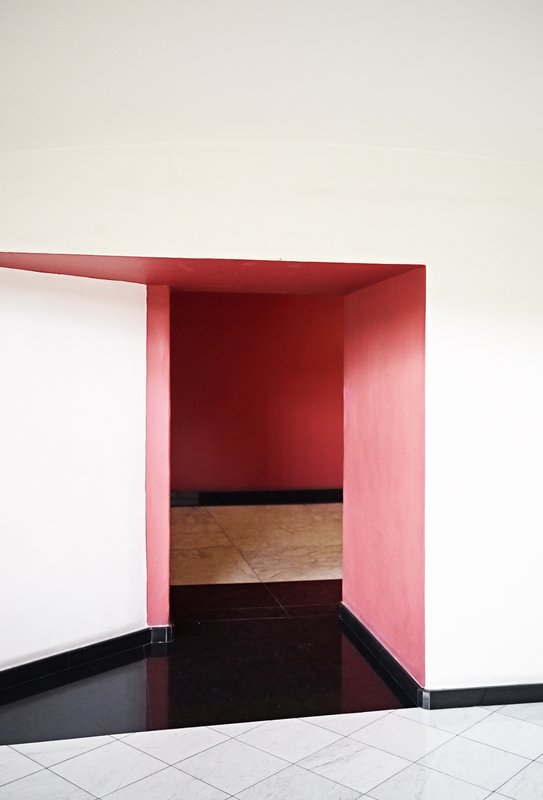 Jacob Flood, head of communications and content. "Candida Höfer is well known for her large-format, highly stylized and intricately composed digital c-prints of architectural spaces, but she also carries with her a hand-held point and shoot camera to capture behind the scenes moments. Printed in a smaller format than her monumental works, these shots are intimate takes of lesser seen moments. With more movement and looseness in her composition, these photos break from the rigid symmetry that has become so indicative of her style. They are a special moment between the artist, her camara, and the space they inhabit."


GABRIEL RICO - The second cause is meant to be an explanation of the first (Biznaga), 2020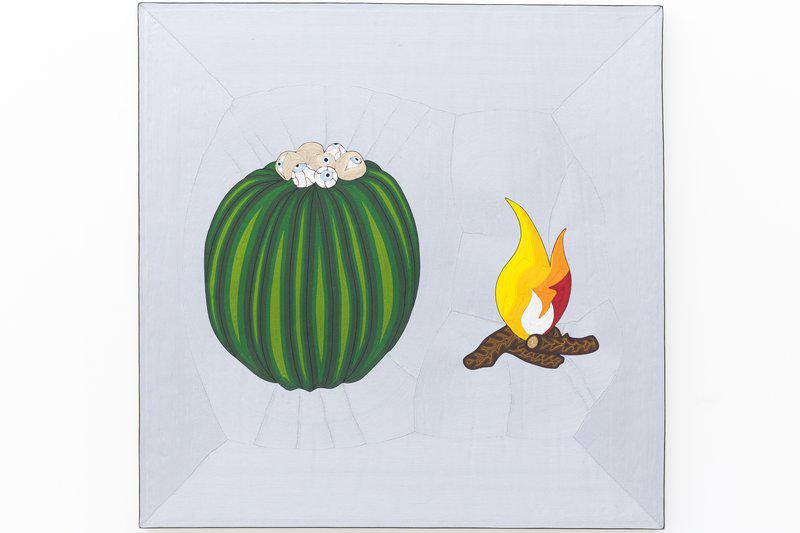 "Every piece from this series is a true delight to look at. The artist transferred his sculptural vision to a two-dimensional piece with a technique called Nierika, crafted by the Wixarikas or Huicholes in San Andrés Cohamiata. The technique is used to represent the gods and visions of the group's shamans. I understand these artworks may seem polemic to some, and even I found myself in a dilemma at one point; though now I see it as the artist portraying his own aesthetic, while at the same time showing a deep respect and appreciation to the generational technique and providing it a new space of contemplation and divulgation, inserting it into the context of contemporary art. These pieces were elaborated in the family workshop of the master Manolo Castro Montoya 'Muwieritemay'."

TROIKA - Evolutionary Composite, 2021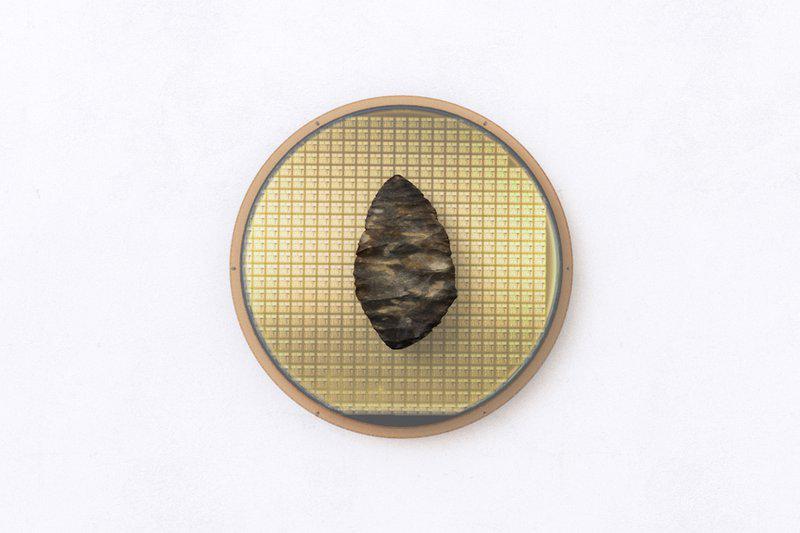 The artist group Troika is currently presenting these artworks in their third solo show in OMR titled, To See a World Through a Grain of Salt. In the exhibition, Salt is the main character as an essential part of human history development. What interested me the most about Evolutionary Composite is that the artist group summarized much of the theme of their exhibition with these pieces, creating a perfect balance and example of an ancient tool versus a new one. Both contain silicate and both were made to cover human needs; one for hunting and defense and the other for connection and communication. A brilliant way to visually portray and bridge the millions of years of humanity's evolution."