Gemini has always left a little room for the artist. Perhaps America's most prestigious publisher of limited editions and multiples, Gemini G.E.L. (those final letters stand for Graphic Editions Limited) go out of their way to ensure a subject's work is reproduced to the most exacting standards.
At Gemini, the artists do all of the drawing or carving themselves directly onto the printing element, be it limestone, copper plate, woodblock or otherwise. The artist stays at the Gemini workshop until a "RTP" (Right to Print) is achieved. Once the printing is completed, the artist returns to the workshop to examine and sign the edition. Each print is signed and numbered by the artist as well as embossed with the Gemini insignia, or "chop".
Founded in Los Angeles in 1966, Gemini has produced work by such artists as Frank Stella, Ed Ruscha, David Hockney, Cecily Brown, Man Ray, Robert Rauschenberg, and Julie Mehretu, to name just a few.
Needless to say, Gemini is among Artspace's most treasured and trusted partners, and as we mark our tenth anniversary we've very proud to invite the Gemini owners Sidney B. Felsen, Suzanne Felsen, Joni Moisant Weyl, Ellen Grinstein and Ayn Grinstein, to pick ten works from their archives, all available on Artspace. You can choose one for yourself from Gemini's inventory on Artspace, here.
Sidney B. Felsen, Co-Founder, Gemini G.E.L., selected Scene by Philip Guston Shortly before his death in June 1980, Philip Guston collaborated with Gemini on a suite of twenty-five lithographs, and Scene has always been a particular favorite of mine. All of the images perfectly manifest the bold, figurative style of Guston's late work, and, like his late paintings and drawings, the Gemini editions are brooding ruminations of Guston's personal life. Our collaboration with Philip began in November 1979, when master printer Serge Lozingot and I visited Philip's studio in Woodstock, New York.  Due to Guston's poor health, the Gemini studio was essentially transported to the artist's studio, with Gemini providing aluminum litho plates and transfer papers for Guston to draw and experiment with at his leisure. Guston approached this printmaking project with great enthusiasm and was enormously productive, drawing 40 images in all between December 1979 to February 1980, from which 25 were ultimately resolved, printed and published.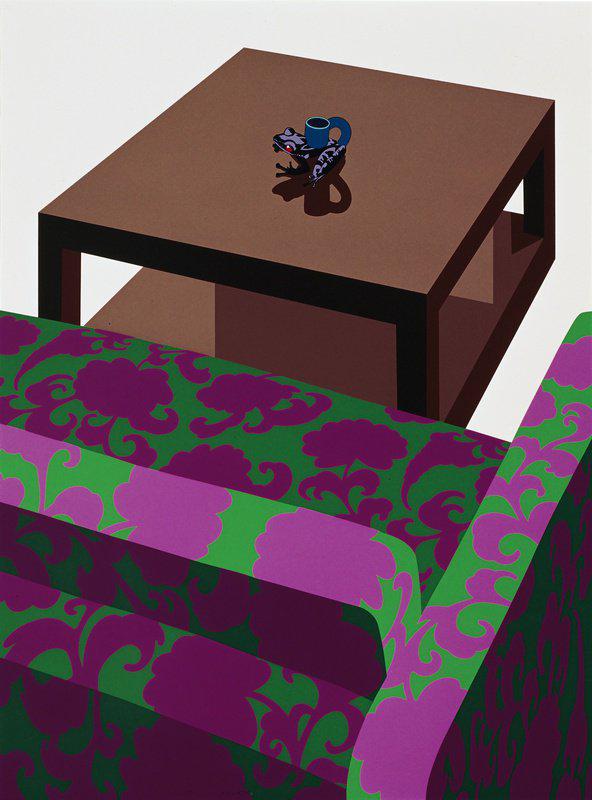 Sidney B. Felsen, Co-Founder, Gemini G.E.L., selected Frog Cup by Ken Price Ken Price is known for his brightly-colored ceramic cups, bowls, biomorphic sculptures and drawings, and his Gemini editions offer an exceptional indication of the breadth of Ken's career. Since his first solo exhibition at Ferus Gallery in Los Angeles in 1960, his work was consistently innovative and inventive. Ken was born in Los Angeles in 1935 and studied at Otis Art Institute in the late 1950s under Peter Voulkos, who is widely credited with translating an abstract expressionist vision into the material of clay. It is around that time that Ken and I first met, and we became "ceramic buddies."  Ken always pushed the boundaries of traditional ceramic techniques, using unconventional materials such as auto enamel and paint, and crafting unusual, sensual, and often erotic shapes. Also skilled at drawing, Kenny was remarkably able to render his whimsical three-dimension clay creations on paper.   In Frog Cup, a "creature cup" is situated inside a vibrantly-decorated 1970s-era room. Taking advantage of the dense, clearly-defined forms achievable in screenprinting, this print includes a wildly-patterned sofa contrasted with a solid, brown table. Placed on these hugely oversized pieces of furniture, Price's intimately-scaled cups definitely hold their own.
ROBERT RAUSCHENBERG - Gull Grid , 1993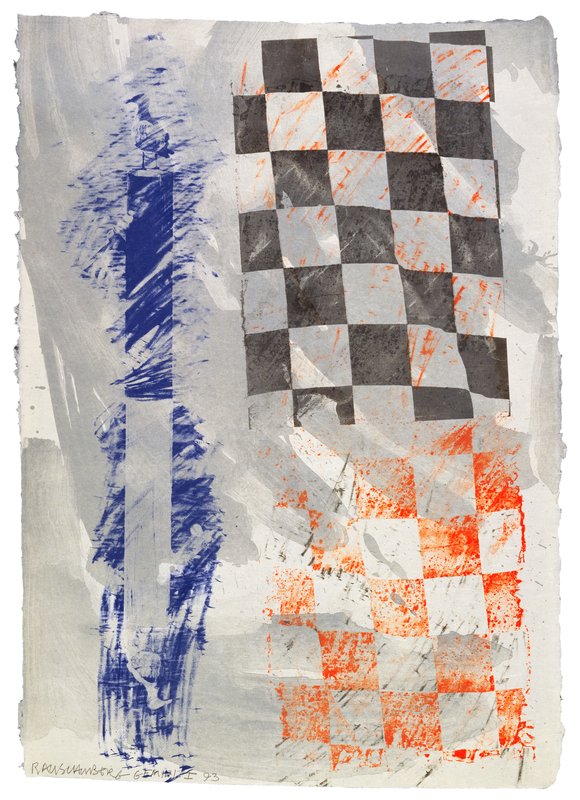 Joni Moisant Weyl, Co-Owner, Gemini G.E.L., selected Grid Gull, by Robert Rauschenberg Robert Rauschenberg set the tone for the Gemini workshop with his arrival in 1967, and he spent the next 40 years collaborating on stunning and diverse bodies of work. Bob described his iconic first lithograph with Gemini, "Booster," as a "self portrait of inner man," but in truth each and every artwork he made was a window into his soul and a mirror onto our world. Rauschenberg worked with unlimited energy and no boundaries, with a supreme curiosity and ability in all printmaking media.  This gorgeous, silvery print is on a very beautiful handmade sheet of Japanese Washing paper, and is a print I've always loved. It may be because I have a specific memory of when Bob took the photograph of the gull.  Bob, my husband Sidney Felsen, and I were in Newport Beach, California, sipping Jack Daniels at a dockside bar, waiting for Bob's opening at a local art event. This bird came along and absolutely wouldn't move until Bob picked up his camera and snapped his portrait!
ELIZABETH MURRAY - Skyline , 1995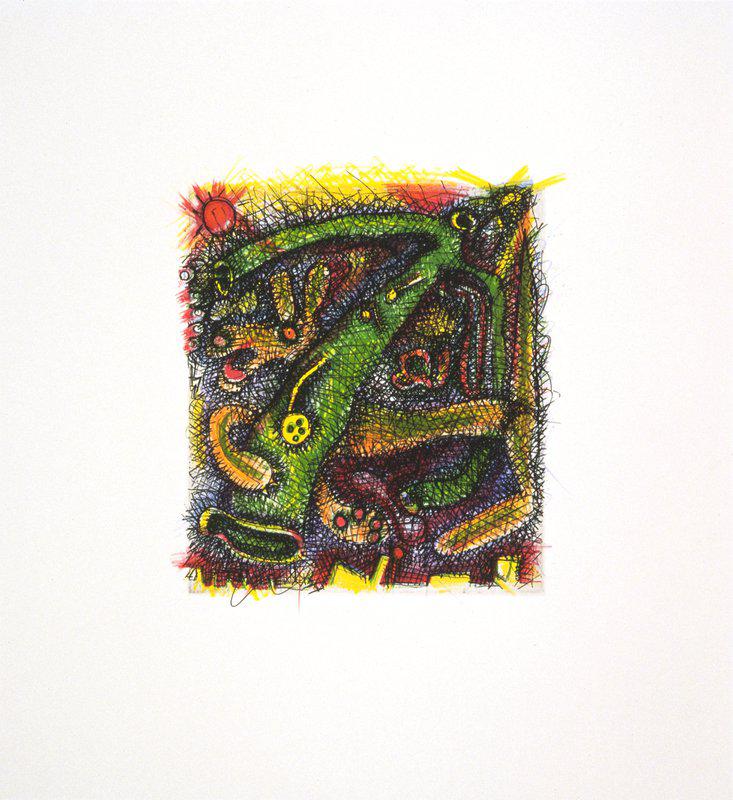 Joni Moisant Weyl, Co-Owner, Gemini G.E.L., selected Skyline, by Elizabeth Murray This charming print by Elizabeth Murray is a classic example of her work and very affordably priced. Uniquely her own and in no way derivative, Murray's work is indebted to artists such as Philip Guston, Henri Matisse and Paul Cezanne. Murray's art is serious but has whimsy; it is personally domestic yet open to broader interpretations. Murray whirls into motion ordinary objects – shoes, cups, tables, dogs, and more – and brings them to the precipice of abstraction, creating a vocabulary of imagery distanced from the obvious yet sufficiently reigned in to be familiar.
ED RUSCHA - Main Street , 1991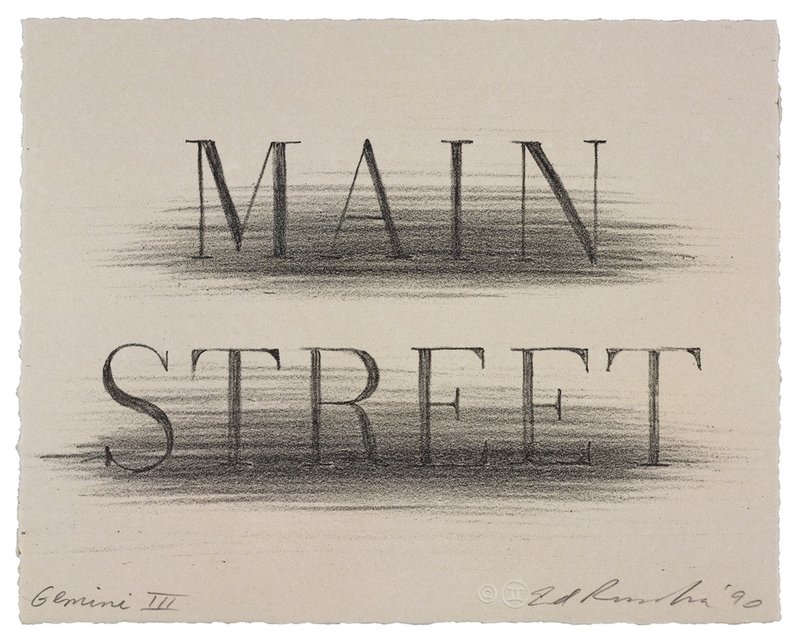 Ayn Grinstein, Co-Owner, Gemini G.E.L., selected Main Street, by Ed Ruscha This seemingly simplistic print by Ed Ruscha gives the false impression that it is easily replicable but the beauty of Ruscha's work is that the words are always perfectly composed. The precision in this work makes it unbelievably perfect.
RICHARD SERRA - Junction #12 , 2010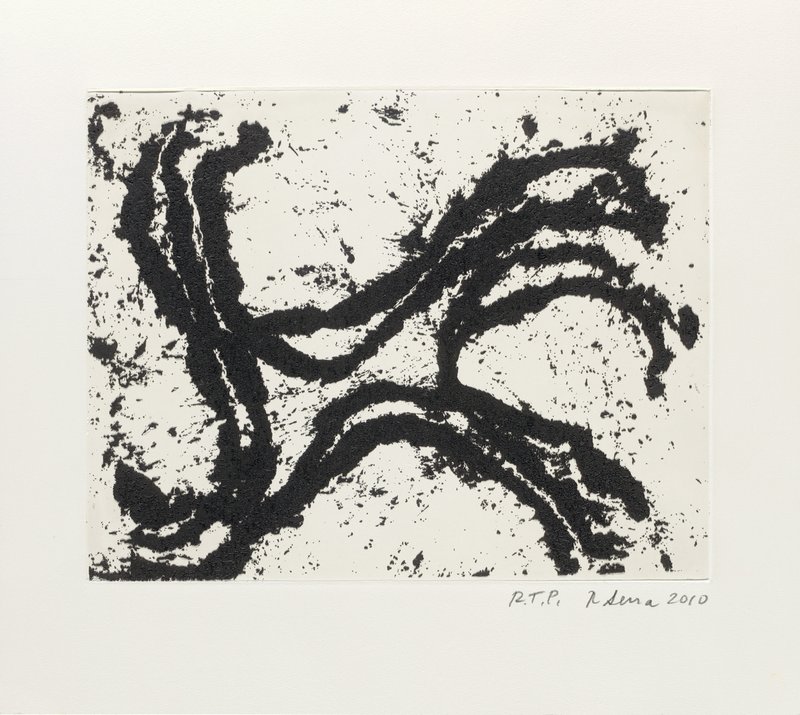 Ayn Grinstein, Co-Owner, Gemini G.E.L., selected Junction #12, by Richard Serra Richard Serra's work is always extremely striking and memorable because of his surfaces and technique, and his dedication to this carries forward in his printmaking endeavors. His Junctions are printed off of deeply etched copper plates, making the dimensionality of his prints feel incredibly sculptural and ultimately tying together the dualities of Serra's works on paper and his monumental sculptures.
ANALIA SABAN - Broken Vase No. 4, 2016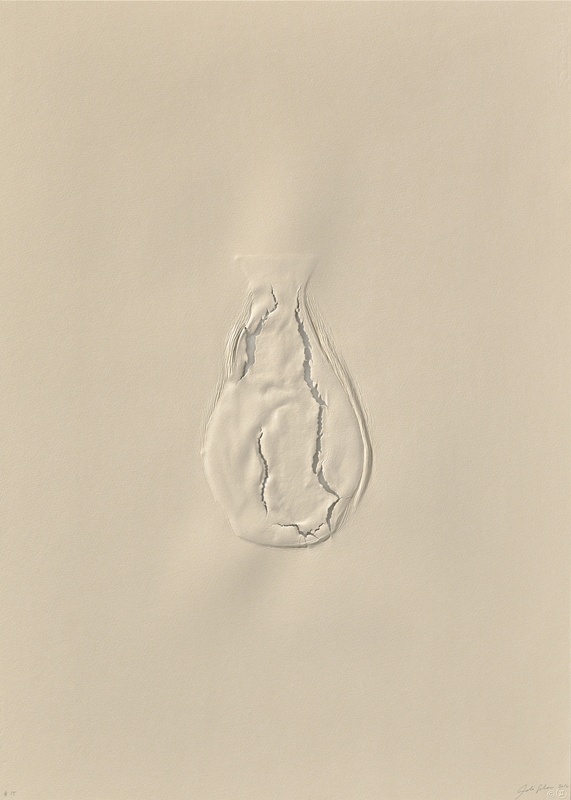 Suzanne Felsen, Co-Owner, Gemini G.E.L., selected Broken Vase No. 4, by Analia Saban The Broken Vase series was spurred both by Saban's time as an Artist in Residence at the Getty Research Institute as well as her captivation with the machinery used to make prints at Gemini G.E.L. Each impression was made by filling one of five different stencils, made in the shape of Greek urns, with a clear acrylic medium applied directly onto paper. The medium was allowed to partially dry, and the entire sheet was then inserted into a hydraulic press originally designed for blind embossing. Inside the press, under the vertical pressure, the paper was crushed against the thick outline of the vase, producing varying forms of cracks, bubbles, and buckling. The resulting sculptural effect is entirely unpredictable and therefore vastly different from impression to impression.
JOHN BALDESSARI - Octagon , 2016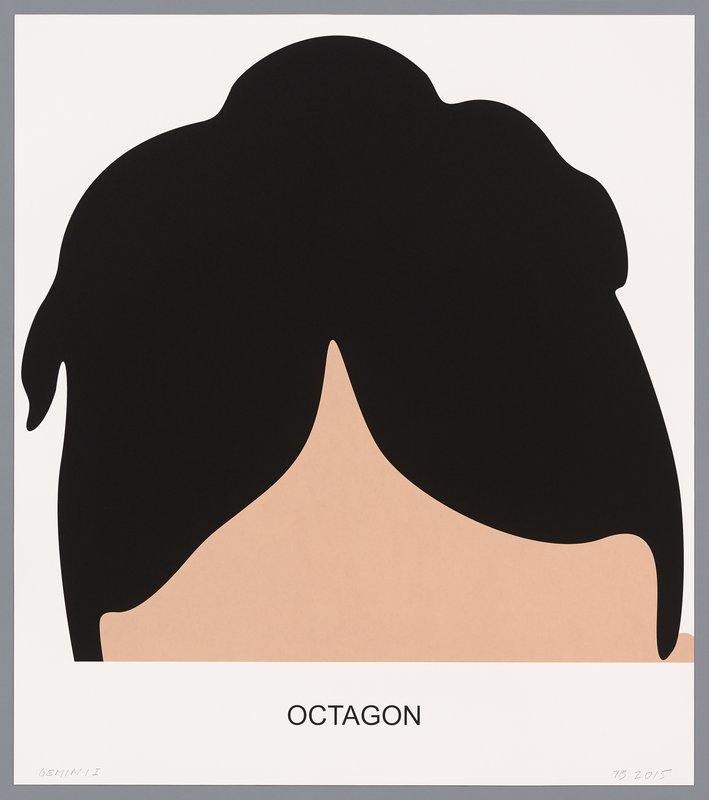 Suzanne Felsen, co-owner, Gemini G.E.L., selected Octagon, by John Baldessari Paul Cézanne painted his wife Hortense twenty-nine times, and in the Fall of 2015, a stunning exhibition of twenty-five of these portraits was presented by New York's Metropolitan Museum. John Baldessari, in studying the catalogue, was attracted to the similarities and differences in Madame Cézanne's appearance – and in particular her hairstyles – and he playfully chose to abstract them into a series of 8 screen prints titled Madame Cezanne's Hairdos . Removing all the details of her face, the hair is exaggerated in its shape and scale. My favorite from the series, Octagon , has a bold, graphic quality – almost Warhol-like in appearance – and yet it is "classic" Baldessari, with text, in Baldessari's iconic typeface, placed beneath the imagery.
ALLEN GINSBERG - Ballad of the Skeletons , 1996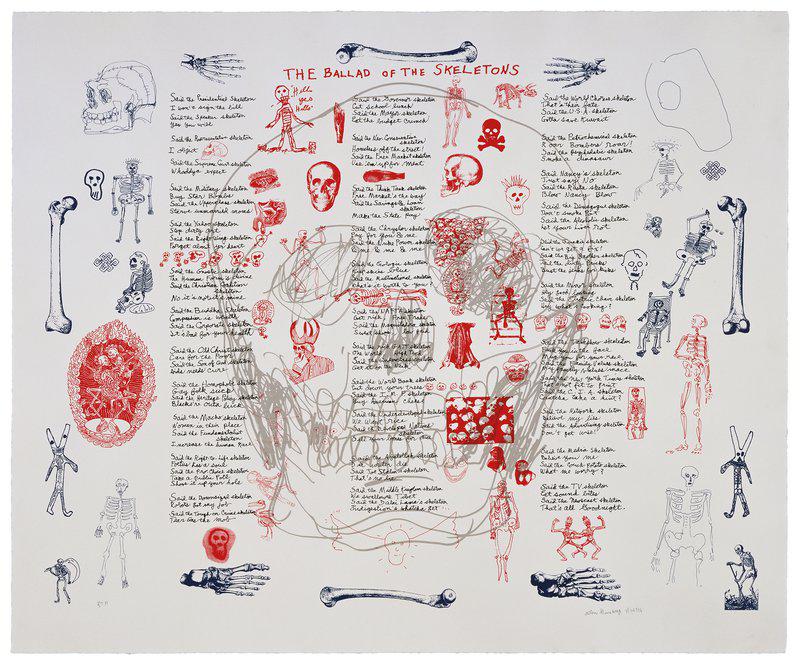 Ellen Grinstein, Co-Owner, Gemini G.E.L., selected Ballad of the Skeletons, by Allen Ginsberg Allen Ginsberg's Ballad of the Skeletons is the intersection of all creativity. Ginsburg wrote the poem, Ballad of the Skeletons , and my father, Stanley Grinstein, encouraged Ginsberg to create an edition print of it at Gemini. On the print you can see skeletons and bones; several are the results of contributions by artists and creative luminaries who visited Allen while he was working in the Gemini artists' studio. David Hockney, Ed Ruscha, George Condo, Julian Schnabel, Hiro Yamagata, William Burroughs, John Giorno, Wim Wenders and others made delightful additions to the imagery.
Paul McCartney, along with composer Phillip Glass, composed a song based on Ginsberg's poem, and a CD of that music and Ginsberg's reading of the poem accompanies the purchase of this print. This intersection of music and art, in addition to the collaboration of people who respected each other, makes this the perfect piece orchestrated by one of Gemini's founders, my father, Stanley Grinstein.
Ellen Grinstein, Co-Owner, Gemini G.E.L., selected Puzzled #5 , by Frank Gehry. The extraordinarily innovative, award-winning architect Frank Gehry has been making prints and sculptures with the Los Angeles-based artists' workshop Gemini G.E.L. for over a decade. Although not actual preparatory sketches, his prints most often depict various architectural projects – some recently completed as well as some unrealized.
His Puzzled #5 is from a series of lithographs emanating from work on an unrealized building project begun in cooperation with the musician and activist Bono. It was to be a "pop-up" building for (Product) Red which strives to eliminate AIDS in Africa. Gehry liked the idea of asking a question with the building – putting forth a puzzle – and he believed the most important question was how to solve the AIDS crisis in Africa.
The buildings were to be constructed of painted plywood, with photography wallpapered to the surface, applied in a manner similar to billboards. As Gehry worked on the models for this project, he began drawing puzzled imagery onto Mylars, and this led to the Gemini print collaboration. A Grinstein family friend (my mother Elyse worked for Frank in the late 1970s), one of Frank's earliest buildings includes an addition to the Gemini G.E.L. workshop which was completed in 1979.
You can see more from Gemini's wonderful selection of editions on Artspace, here.