While we cheer on our favorite athletes competing in Rio de Janeiro this month, German-born artist Marc Ohrem-Leclef sees a much darker, destructive narrative unfolding. The New York-based artist traveled to Brazil between 2012 and 2016 to document the residents in Rio's favelas , or blighted neighborhoods, as their homes were destroyed to make way for sports facilities, housing, and infrastructure required by the 2014 World Cup and the 2016 Olympic Games.
Though some residents resisted eviction, more than 4,000 families were forcibly removed from their homes, separated from their relatives and neighbors, and relocated. In advance of his three-person show at New York's Baxter St. gallery (opening August 17th,) Ohrem-Leclef describes how Olympic Favela —a project that includes a series of photographs, a film, and a book—humanizes the victims of the Rio Olympics as they express their desperation and fear as well as their unwavering strength and optimism.
Artspace works directly with Marc Ohrem-Leclef as part of our Artist Direct program. Learn more about the artist here.
How did Olympic Favela come to fruition?
The seed for the idea was planted when I heard about large scale evictions ahead of the Beijing Olympics. The restructuring of urban development that happened and the moving of large sections of the population (typically people who are poor) stuck in the back of my head and simmered for years. Then when I heard about similar things happening in the favelas in Rio, I was curious to see what it was that made people fight so hard to stay in their homes.
I wanted to make portraits of people. To humanize and make relatable the people who live in favelas, the favelados. Even though they know better, upper-middle-class people in Brazil still often have a disregard for people who live in favelas. It's harder to get a job when you give an address located in a favela. It's a hard place to leave and elevate your life from.
I knew right away that I didn't want to get into news-type documentation of the actual eviction moments, which were documented to some degree by news photographers. My interest was to see, Who are the effected people? Who are the people fighting the evictions? How can I, on top of producing a portrait, create a series of images that represent the favelados in a moment of strength, and in a moment of resistance, and in a moment of pride? I wanted to create an image that pulls them out of that passive moment which I think tends to be pervasive in news media.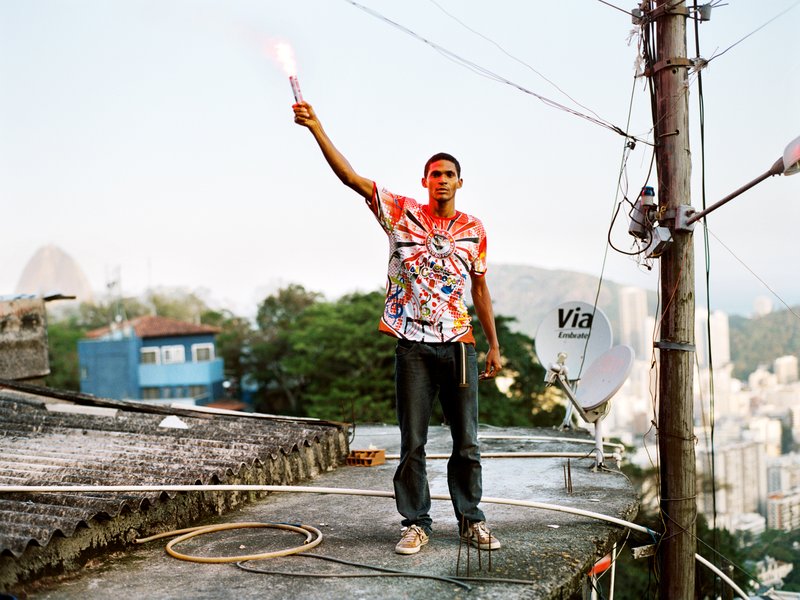 Victor, Santa Marta, Rio de Janeiro is available on Artspace for $2,500

Some of your most provocative images are portraits of residents holding torches. The torches are actually emergency flares, which to me, represent desperation, an urgent cry for help. But at the same time, the people who hold these flares seem resolute, unwavering, even powerful despite their vulnerability. And of course, given the context, it's hard not to associate the emergency flare with the Olympic torch. What do the flares mean to you?
Before going to Rio, I started doing image research to find out which gestures, in most countries, represent a moment of resistance, of victory, of emergency, of displacement. It became clear that the raised fist, whether it's holding a sword or a flag or a torch, is a powerful symbol. The torch is this beautiful intersector between all those things that you mentioned. It is the symbol of the Olympic Games, which was a very conscious choice. It is an emergency torch that signifies that help is needed.
I had literally no idea if the concept of the torches would resonate with the residents. One of the most beautiful parts of the process was that I never really had to explain the idea or pitch much to the residents… they understood it already. In Rio, the ideals of the Olympic Games, the realities on the ground, and the resistance, were reflected in how people represented themselves.
Can you talk a little bit about one or two of the subjects of the flare portraits?
The family holding the torch in Favela Vila Autódromo are in front of building that they still occupied, but you can tell there had been evictions all around. For a long time they resisted, staying there in terrible conditions—which involved living in a constant construction zone that was like a war zone, where electricity was on and off, water was on and off. The last time I left them I thought, there's no way they can stay. But they did. They were able to stay in the area, which is especially important because they have a special needs child who needs frequent medical care, and there is a clinic very near by.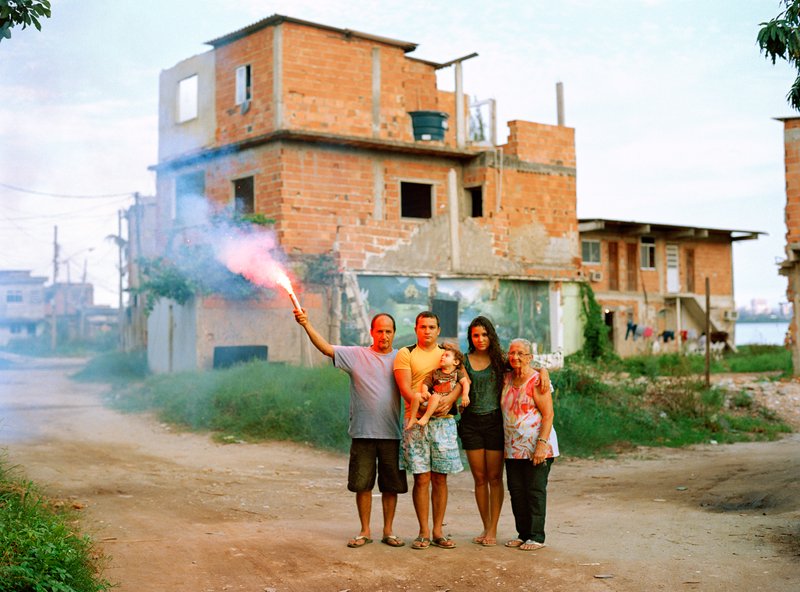 Bruno with his father and grandmother, his wife, and his son, Favela Vila Autódromo, Rio de Janeiro is available on Artspace

The photo of the fisherman, Seu' Barão, and his son is from the same favela. Seu' Barão lived with his three sons in a house directly on the shore of the lagoon where the photo was taken. He had held out for a long time because he knew that the harder he tried to stay, the more likely the city would up their offer in terms of compensation or housing. But also, his heart was in that lagoon. He had lived there for 30 years. He and his sons fished all day—that was how they made their living.
He was removed sometime at the end of 2015.  It was heartbreaking to see because Seu' Barão and his three sons all got separated into different apartments which were not near each other. A few months after, one of his sons was shot dead in the location the city moved him too. So the argument could be made that he would still be alive if he hadn't been removed from Favela Villa Autódromo.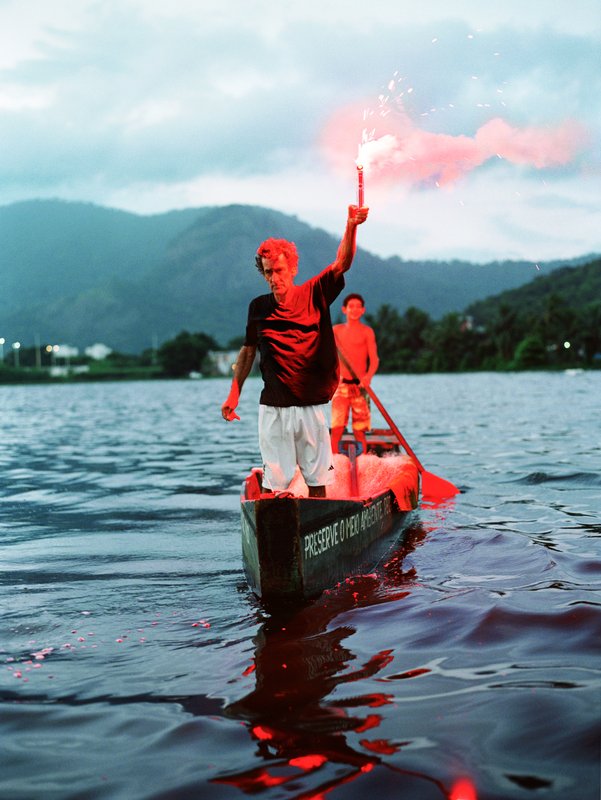 Seu' Barão and Tiago, Favela Vila Autódromo, Rio de Janeiro is available on Artspace for $2,500

These two stories are on opposite ends of the spectrum of victories and defeats that I witnessed in one location. They're also two really strong characters in terms of how they handled trying to stay in their homes.
Do you see your work as a form of activism?
This question brings me back to a moment in Rio when I made contact with a very large Brazilian NGO. The director looked at a photograph I had taken and then he looked at me and said, "Oh, you're an activist." I had never considered that. I said, "Am I?" and he pointed to the photograph and said "Yes, I think you are." For me, the project in the beginning was a means of portraying people who are not visible. The image of the torch was to create some sort of awareness of what they're going through. Whether that would make me an activist was something that I really hadn't considered or cared much for, but I suppose that after witnessing what these people went through over four years, the work has an aspect that is actvist.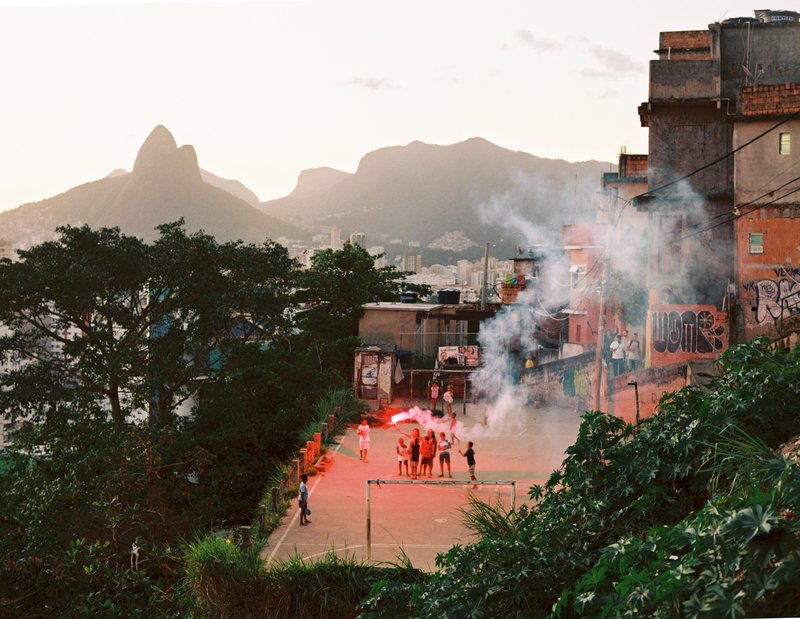 Suzana with her sons and neighbors, Cantagalo, Rio de Janieiro is available on Artpsace for $2,500
On your website, you include screenshots of Google Earth and Google Street view that show the aftermath of the evictions. The contrast between your colorful photographs and the gray, lifeless landscapes on Google is startling. You mention that for a while, the names of the favelas remained superimposed over the map, eventhough they had physically been removed—but Google has since removed the names.
At the request of the city government, Google started removing favela names from their maps about five years ago. Now, with the beginning of the Games, Google launched a 360-degree video project as a PR blitz [called "Rio: Beyond the Map" ] that gives viewers an inside glimpse of Rio's remaining favelas. That's the irony. The whole thing is just a reflection of how the upper class likes to eradicate the people living in poor communities yet thrive on the culture that emanates from those communities.
You're in a three-person show at Baxter St in the Lower East Side, opening August 17th. Can you tell me what you're showing?
I'll be showing a group of images from Olympic Favela and also a short film I made with the same title. The film will be shown in the gallery and there will also be a screening in the backyard, which seems appropriate.
Olympic Favela is also a book. How do you feel your work changes as it's translated from the sequential pages of the book to the walls of a gallery, and vice versa?
Seeing the images on the wall in a frame, or not in a frame, gives them a different role. The torch images I usually like to show in a big size because it translates their impact most powerfully. Whereas the portraits are meant to foster an intimate moment between the viewer and the subject, so I maintain a smaller format even when they're on the wall. I think there is a certain power that emanates from a portrait—it gains a kind of strength as a persona.
The beauty of the book is that it's a timeless home for the photographs to live and for the people to be represented. But it also has restrictions. It's more about the act at looking at , rather than looking at them looking at you and you looking back at them, which happens in the gallery space more.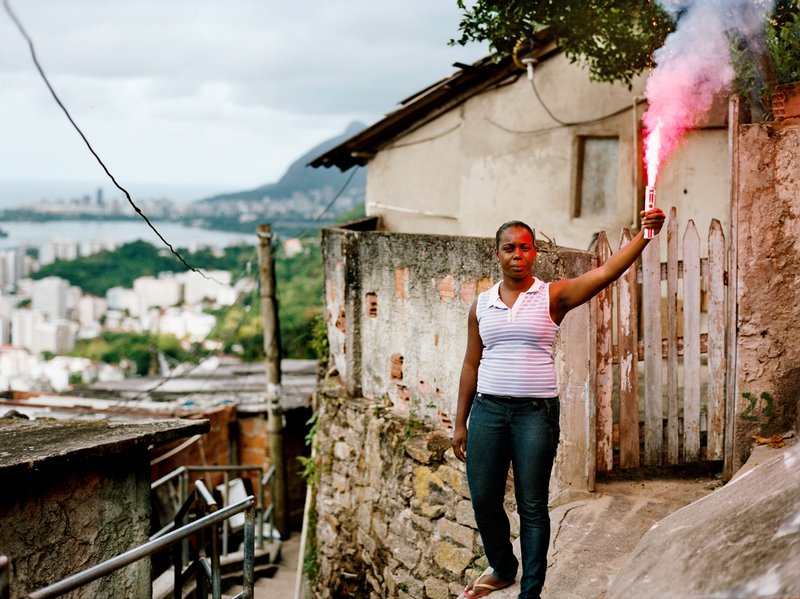 Fabiana, Santa Marta, Rio de Janeiro is available on Artpsace for $2,500


So now, four years after you started the project in Rio, the Olympics are finally here. How do you think the evicted residents that you worked with will respond?
We have to keep in mind that the country has gone down such a terrible spiral of political and economic/financial chaos that I think people are exasperated. I think they're hungry to celebrate this event. That was one of the biggest realizations for me. Despite the terrible pressure these people were under for months and years, they somehow maintained a beautiful grace and uplifted spirit. To me, that seems very Brazilian. Otherwise I couldn't explain how they were able to keep this beauty and positivity in their lives.
Will you watch the Olympics on television?
I'm torn. But I'll probably take a peek.
[related-works-module]