Valeria Napoleone, the Italian-born, London-and New York-based collector and patron, isn't the sort of person who leaves the art world as she finds it. "Art history belongs to everyone," she says, "not just Caucasian males." With Napoleone's help, art history books will include plenty of artists beyond that tight social strata in the years to come.
Thanks in part to Napoleone's support, the Black-British artist Anthea Hamilton earned a nomination for the 2016 Turner Prize. Napoleone's continued backing of the innovative, non-profit gallery Studio Voltaire has helped the British capital's art scene retain its wild side, and via her philanthropic initiative Valeria Napoleone XX, she has managed to support and raise the profile and representation of female artists in the fine-art firmament, such as the writer and multidisciplinary Californian artist Rindon Johnson, and the American painter, photographer and multimedia practitioner, Carol Shadford.
In her significant, personal collection, well-known blue-chip names such as Lisa Yuskavage , Tomma Abts , Ghada Amer , Anne Imhof and Shirin Neshat , side alongside up-and-coming artists, as well as many wonderful pieces of contemporary design – some especially commissioned for the seven-storey Kensington & Chelsea home in London she moved into with her financier husband Gregorio and three children Federico, Gregorio and Letizia in November 2020.
She believes her collection and patronage can help widen women's access to the upper echelons of the art world. Napoleone's cause might sound like an ongoing battle, yet like her near-namesake, she appears to be a natural-born victor.
"I'm a feminist, believing in equal opportunities," she has said. "From the very first piece, I told myself: 'I'm going to create a collection only of female voices. I want to create a choir of voices of females who have been unheard, who have been silenced.'"
Yet how about her own, interior voice? How does she pair the personal aesthetic choices and peccadilloes that lie at the heart of artistic appreciation with her public role as a fine-art champion? In this exclusive  Artspace interview, Napoleone opens up on how, for her, collecting and campaigning go hand-in-hand. First though, she sets the scene.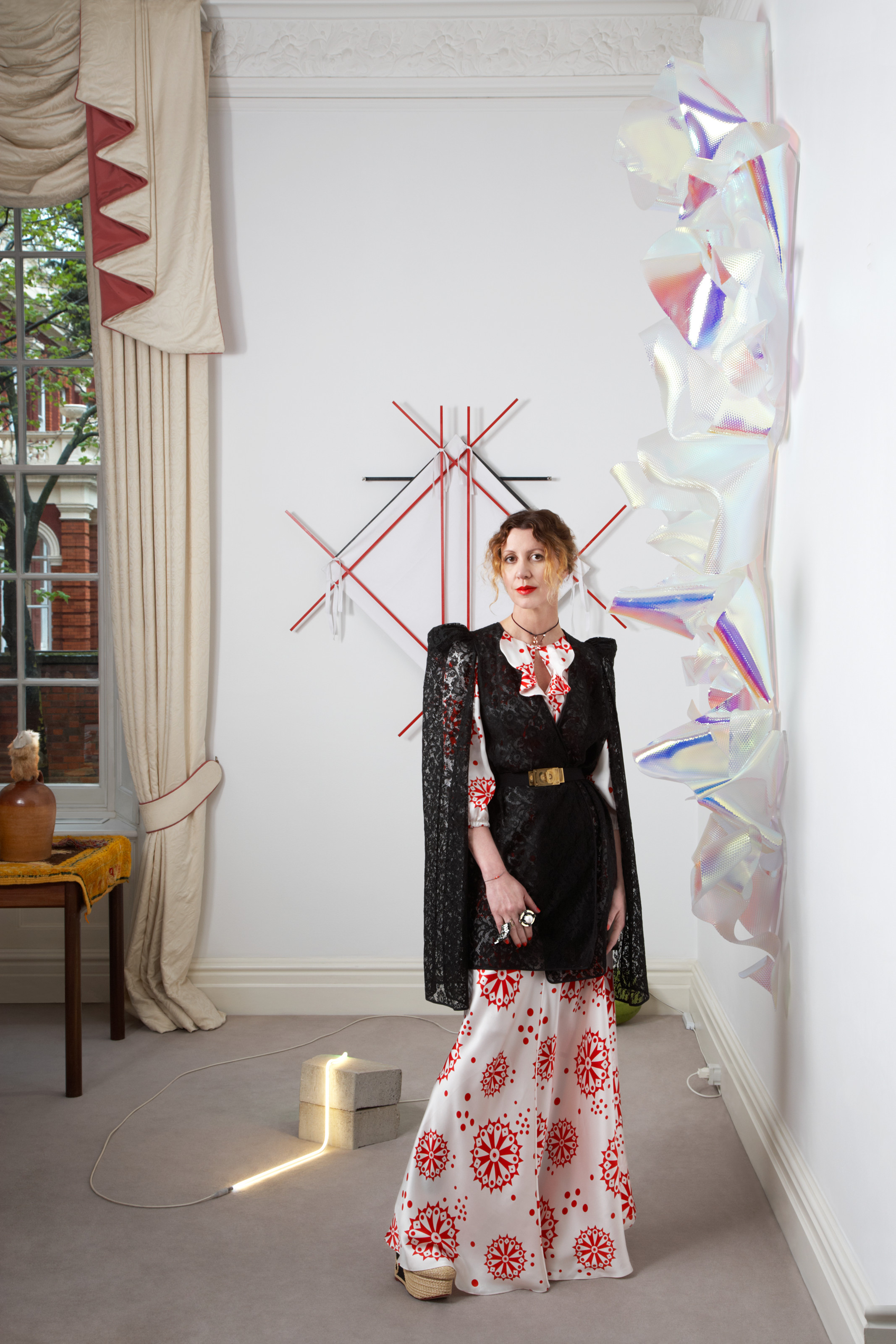 Valeria Napoleone with works from her collection
Her own, domestic setting "We have a new house we moved into in November and so everything is newly installed. It's been a work in progress for the past nine years! It's been intense but a lot of fun as well. It is so fresh to see your collection in a different environment and this house has been designed to accommodate art. It has a lot of natural light, we have nice large walls and we also have beautiful niches on the staircase which make an interesting way to hang art on the staircases. The house is over seven floors so it has a lot of space for a lot of art! And that encourages you to walk up and down the stairs. The architecture really speaks to the art. It's as if it's another work of art. The artworks connect and have a conversation.
"When I moved in it was plain, no art. It was so beautiful I almost thought to myself why should I put art in it? I was enjoying the blank walls, this blank architecture. It was actually quite interesting for a few days. I thought 'I wonder if I could live without anything?' But I knew I couldn't!"

The art on the walls of her childhood home "That's an interesting question as I really think it's key to what I'm doing now. My parents were into antiques. They were not connoisseurs by any means, but they decorated their homes with pieces from the 1500s and 1600s. One piece from my childhood that really took my heart was a piece of furniture dating back to the 1500s -  a kind of bench designed to contain a bride's wedding dress. It had incredibly carved legs and was absolutely beautiful.
"So there was that as well as paintings, tapestries, a lot of objects, textiles and furniture.  The walls were not white, they were the orangey color of Venetian plaster. There was a lot of color and material. As an Italian I loved pieces that dealt with that – pieces that had presence and materiality.
"But they were 'objects' because the artists were not present - they were all long dead. So when I discovered contemporary art in New York City in the 1990s I got really excited about the fact that you could meet the artist and discuss the artwork.  There was no more speculating about the intention of the artist, you could just ask them! And that interaction with the artist was the most extraordinary discovery I had when I started looking at contemporary art."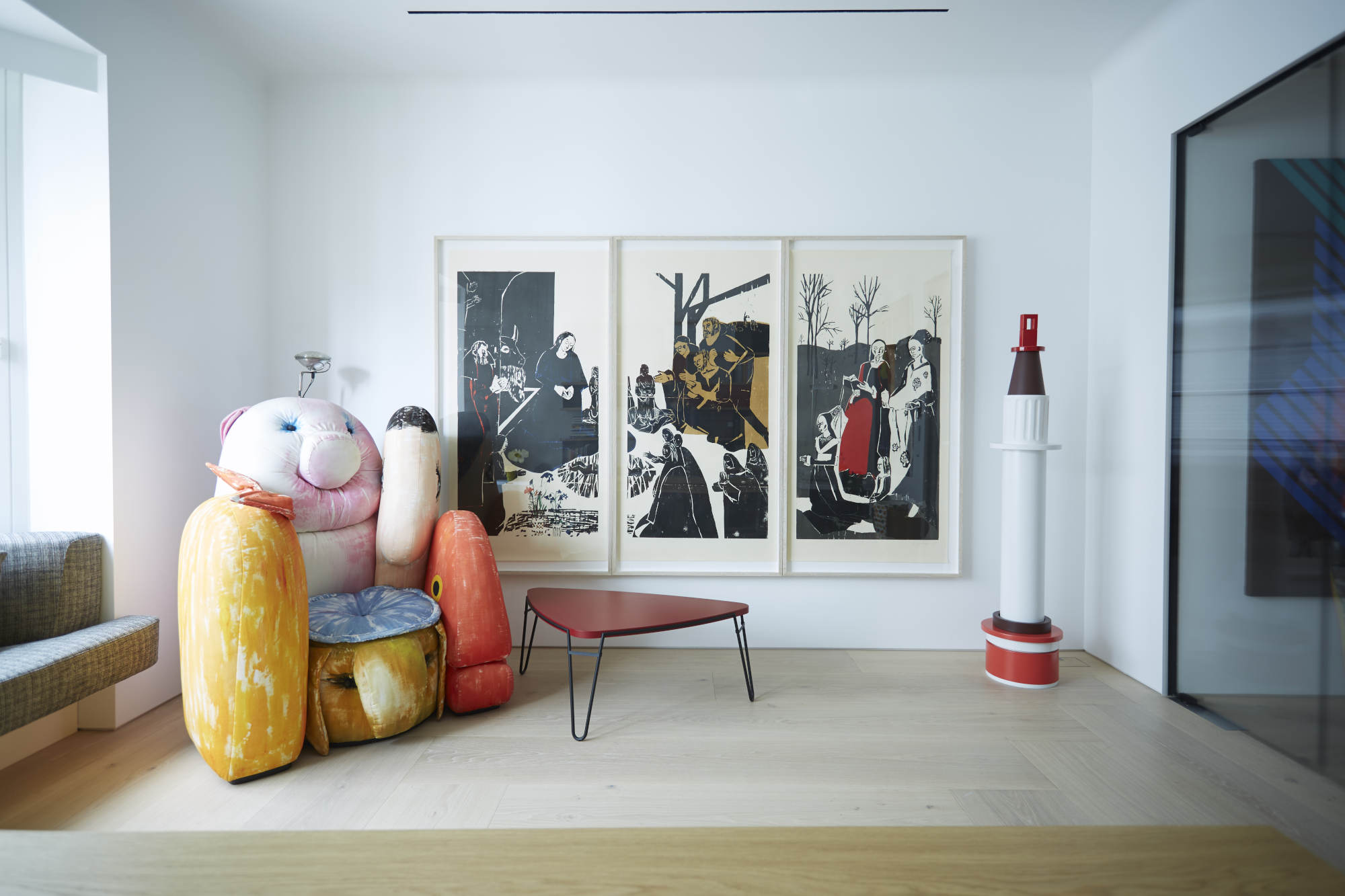 Works from Valeria Napoleone's collection
The first show that blew her mind "When I started navigating the New York contemporary art world there were a few places that were really key to me, but the very first important one was an artist run space that's still around, called Pierogi. At the time it was called Pierogi 2000. It was in Williamsburg, which was a real no man's land in the 1990s. It was a real adventure going there. Joe Amrhein, who is still a director, had these Flat Files of artists in drawers. You would open the drawers and go through these pieces. I spent many afternoons in there. I bought what I believe was the very first piece in my collection by Carol Shadford. She had this series of black and white photographs of soap bubbles, about 40 cms by 40 cms. From afar you see an abstract image, but then, when you get closer, you see it's an image of a woman; a face, a bust, a body. I really fell for this piece. And it got me thinking about women and domesticity. I still have it. It's a small piece but it really set the tone for my collecting. I remember at that moment, telling myself that I would create a collection of female voices of artists who have been sidelined or silenced in the history of art. It was really that immediate. It was a great investment because it has such a strong connection to what I collect now."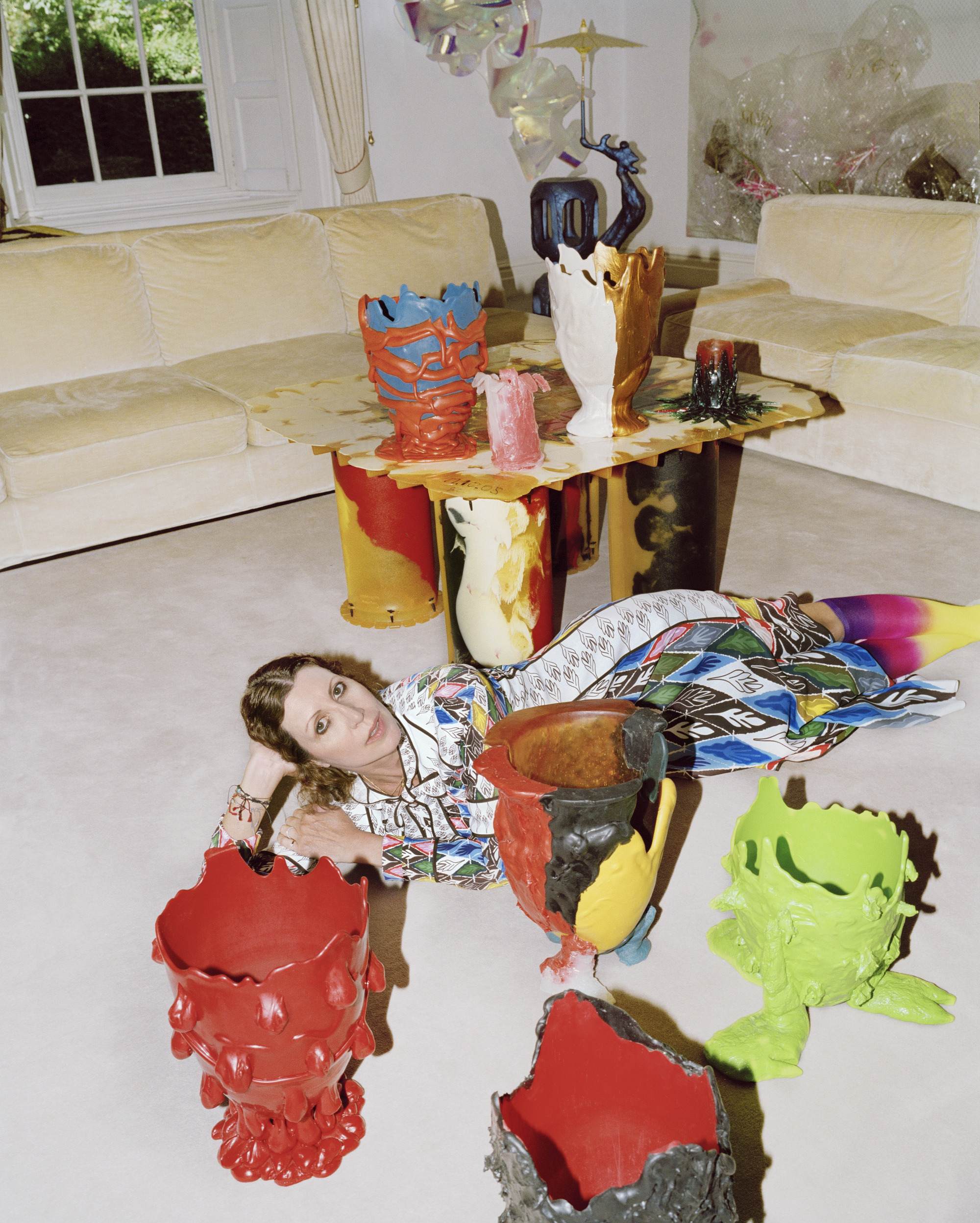 Valeria Napoleone with works from her collection
The impetus to collect "It all started in New York in 1995 after I finished my journalism studies. I was looking to do something creative. I was looking at museum studies and gallery administration and at that moment I was really looking at contemporary art with more and more curiosity. I was getting into the gallery scene so I thought: 'let's get into this programme and I spent two years doing nothing but listening and looking and navigating and trying to understand how this strange world functions, and who does what for what.' That was a very important year in my life as a collector. In the programme there were guest speakers and faculty members gallerists, dealers collectors and it proved really very important to the way I now collect and how I approach my collecting activity. There were great mentors back in those days.
"A generation of artists like Cindy Sherman and Barbara Kruger were getting lots of attention and I was very excited. I remember seeing the Liza Lou installation filled with beads at Jeffrey Deitch and that really intrigued me. I couldn't understand why the art books I studied were full of men. I became very aware of the fact that women were sidelined and not supported in commercial galleries and museums. So suddenly all these new languages by women making art were exciting to me.
"All these elements played a big role in getting me into deciding to create a collection of female voices in the arts. I also knew that nobody else was doing it. It was not a strategy as such, it was more something that was in me, and it came from my heart, from my passion."
What people might make of her, by looking at her collection "I think people looking at my collection would know think I'm an adventurous person, and hopefully courageous. That I'm quite outspoken - like the pieces themselves; that I follow my own vision and that, I think, I'm very personable."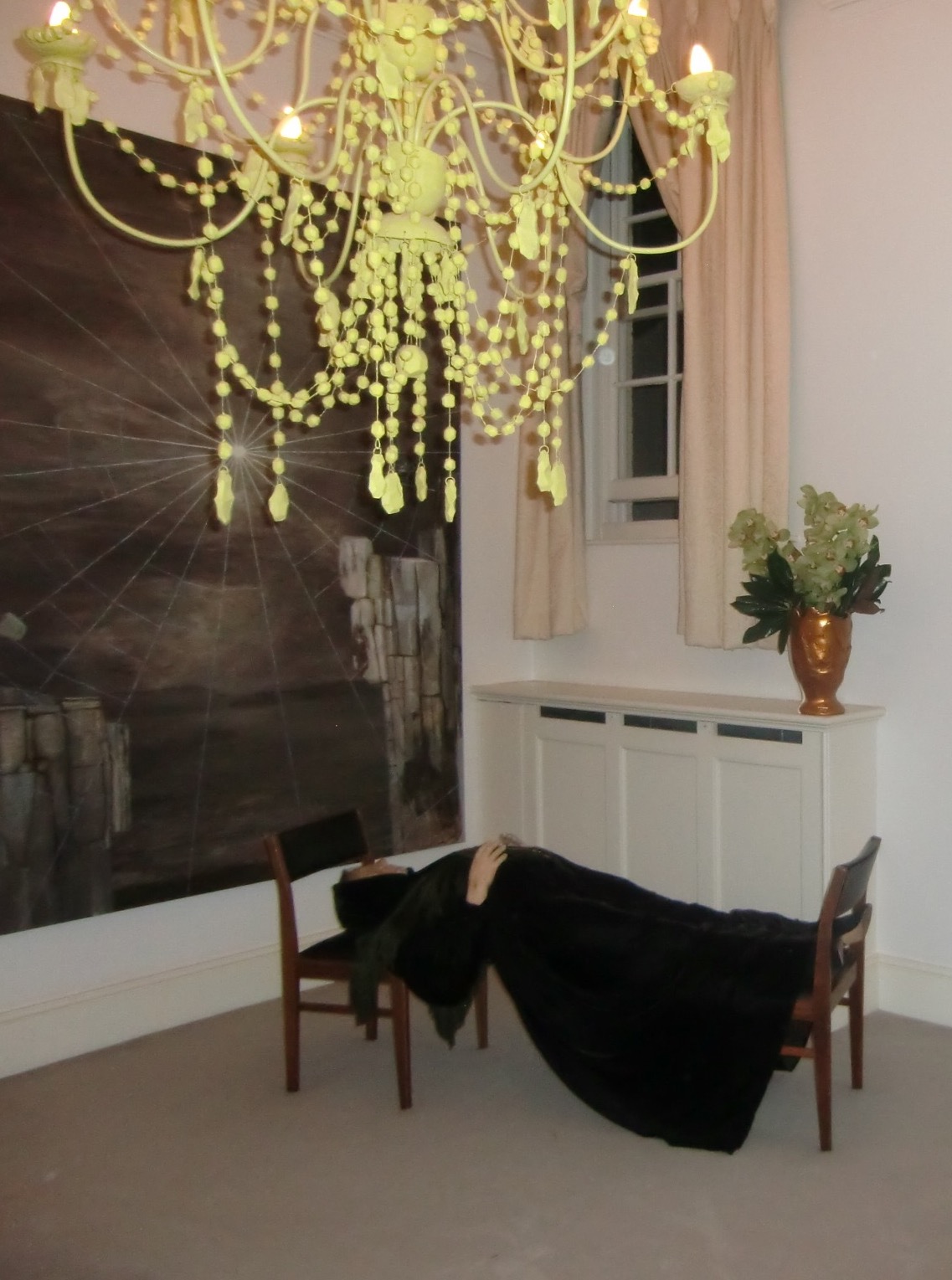 Madame Blavatsky by Goshka Macuga
The artwork everyone has an opinion on "Actually there are three. One is Goshka Macuga's Madame Blavatsky – the sculpture of her lying between two chairs. For many years it was installed in the entrance hall of our apartment in London. People got scared, they got confused. I once had the parent of a friend of my daughter come to collect his child from a playdate; he walked in and he was rendered speechless. I said to him, 'we are paying our respects to my grandmother.' I looked at his face and I had to quickly tell him that I was joking and that it's not a real woman!
"Another is Lisa Yuskavage's True Blonde. It is a beautiful woman in the guise of a Playboy Bunny, sitting on the sofa. However, from my father-in-law to my friends, everybody comments on it!
"The third piece is 100% Stupid by Lily van der Stokker. Everybody loves to be photographed under it. It's quite an approachable piece - superficially speaking it's little flowers and text. That has been very popular with guests throughout the years. It's a piece that I could not easily substitute with something else. I'm installing it again but not in this house. It's a good lobby piece. I will install it in the entrance hallway of our apartment in New York next month, so that people just land in our apartment and they see this. It's a piece from the Nineties and it relates back to graffiti art -  it's quite a tough piece."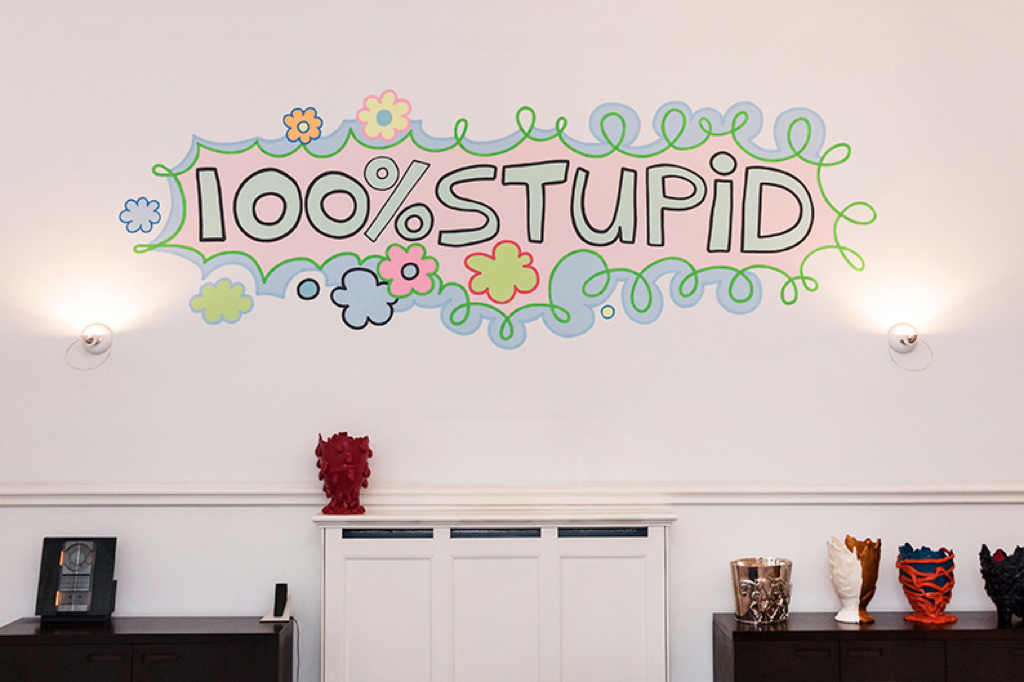 100% Stupid by Lily van der Stokker
The one that got away "I was at my dear friend Barbara Weiss's gallery and I was looking at the work of Rebecca Morris. And there was an early spray-painted piece that I really loved. But someone else, a well-known collector from Germany, also wanted it. Barbara said to me, 'how do you feel about it?' And I said to her, 'don't worry Barbara, make her happy. I will choose another one.' I was really very relaxed about it and I found an incredible other piece. But this is the one that sticks in my head and I still think about it. I don't think I would let it go so easily now. I think I'm too generous to people. You know collectors are so greedy and so territorial. I have experiences of people not being so gracious to me as I have been to them. I needed to learn that. And I'm still learning!"
The piece she still wants "An installation by Cady Noland from the Nineties. I think they really expand the canon of art. Yes they are political, but they go beyond that. They really are able to tell a story in such a different way and the Nineties are very important moments for me. Artists like Nancy Dwyer, who I have in my collection, and Karen Sylvester and Laurie Simmons fall into this category too. I think they really pushed the boundaries back then. They really were very experimental and radical in that way. And I don't see so much of that nowadays. It was a moment where really they couldn't give a damn about having a career or selling the work. It was about making art that was subverting the status quo or whatever was going on and they wanted to do that. I listened to Nancy Dwyer giving a talk at a school and she said well you know we were not thinking about a career. We were not even making art to sell. We would cringe at the idea of selling things. We wanted to make art because we wanted to say something. That's how I think it should be."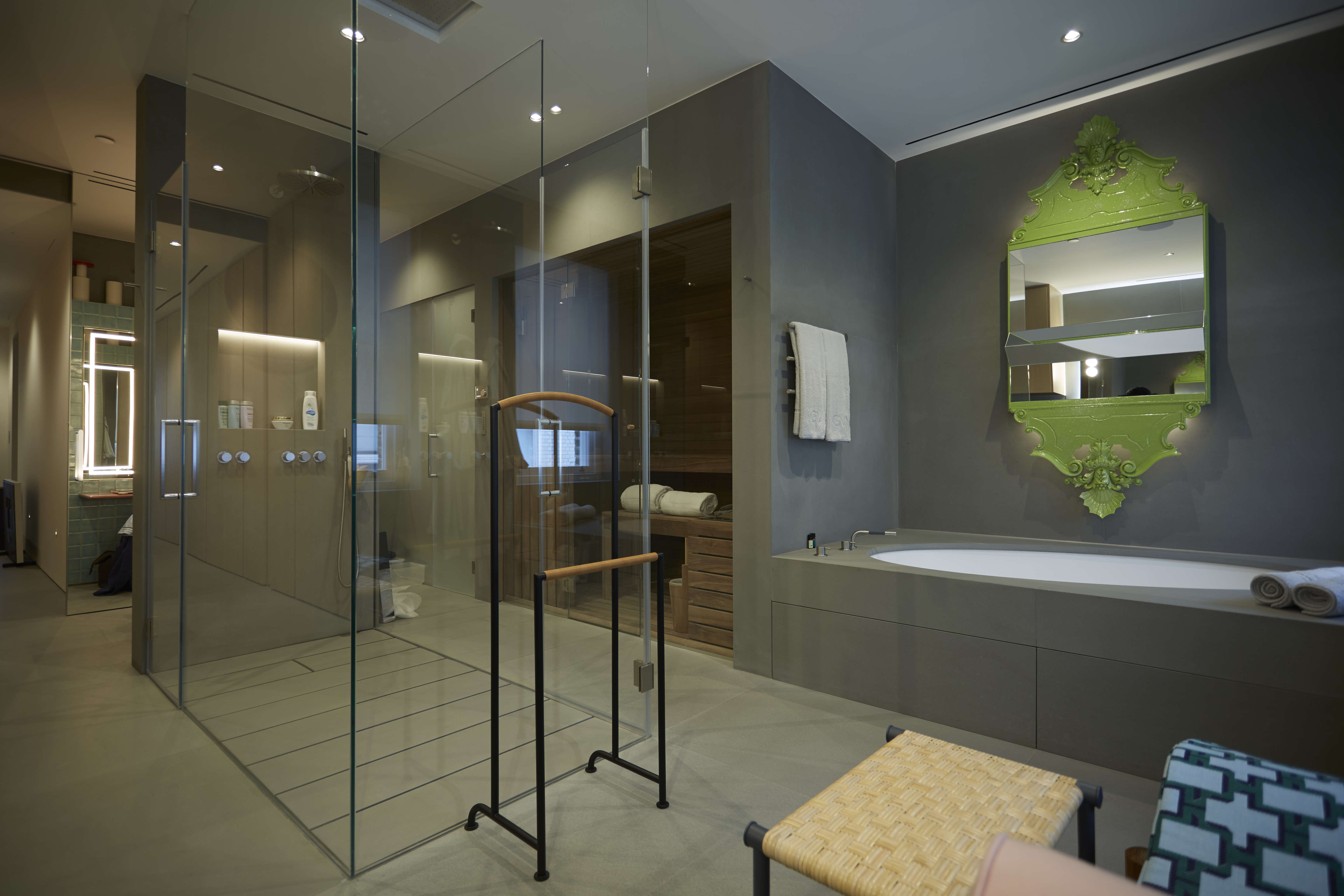 Valeria Napoleone's bathroom, with her Nanda Vigo mirror
The art in her bathroom "In my bathroom I have a mirror designed by Nanda Vigo - an architect, designer and artist – like many women she had three careers and was not recognised in any of them! She was the companion of Piero Manzoni until he passed away.  She died two years ago at the age of 90. There are mirrors and lights that I commissioned from her, about five years ago and so these are unique pieces. The mirror is on top of a stone wall on top of my bath tub. It's a very big, baroque looking mirror. My vanity cabinet in my bathroom is designed by Nathalie Du Pasquier, commissioned especially for this house. It's all in ceramic with ceramic totemic figures - very beautiful. In my bedroom I sleep in a bed that Nanda Vigo designed in the 1970s. In front of it I have an installation by Nathalie Du Pasquier with a wall painting, cabinet and a very big fire place in white marble that she designed for the house."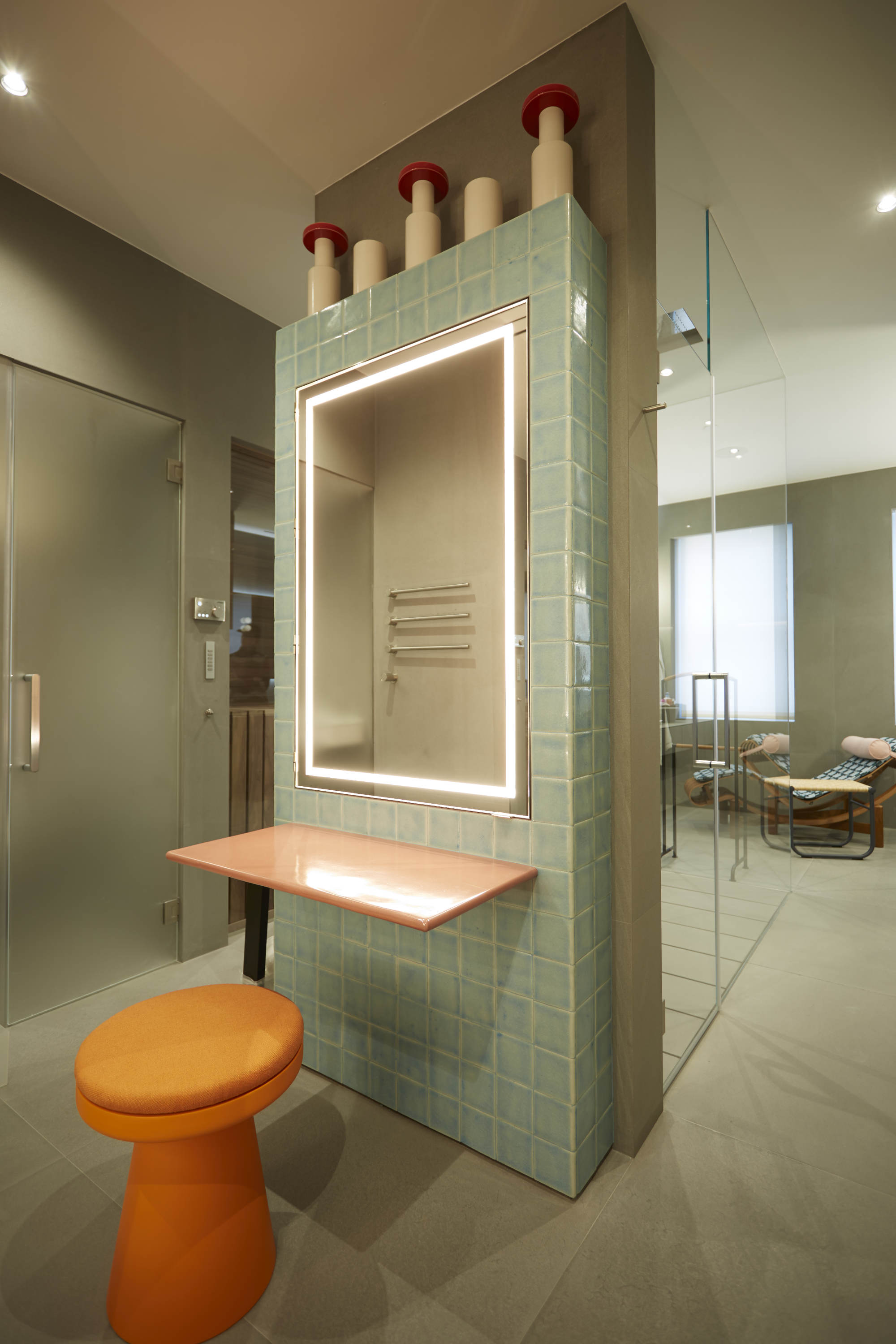 Valeria Napoleone's bathroom with her Nathalie Du Pasquier vanity cabinet
A word of advice "If you want to start collecting I would say wait until you know what your taste is. See as much as you can, so you figure out what you like and what you love. And then buy what you love. But research before you start buying. Be as knowledgeable as you can. Talk to galleries, artists, curators. Because building a private collection is all about your taste, your vision - it's not about ticking the boxes.
"And also do not underestimate the power of limitation – especially when it comes to budget. This changes every year along your life. When I started collecting in the 90s you could buy a large, amazing, and meaningful piece by a contemporary artist for 4,000 dollars.
"And I always have a long wish list of artists to which I'm always adding new names. It's really kept me so focused in keeping a sense of priorities and what is important for my collection."

Who shares her taste? "My identical twin sister. She lives in New York she's a handbag designer and an accessory designer and she's my alter ego. We are both creative but in different ways. She shares my taste and she really sees art the same way I see it. We share the same outlook on life but from different perspectives. She's very much inspired by all the artists she meets through me and they all love her. She missed her calling as an artist I think!"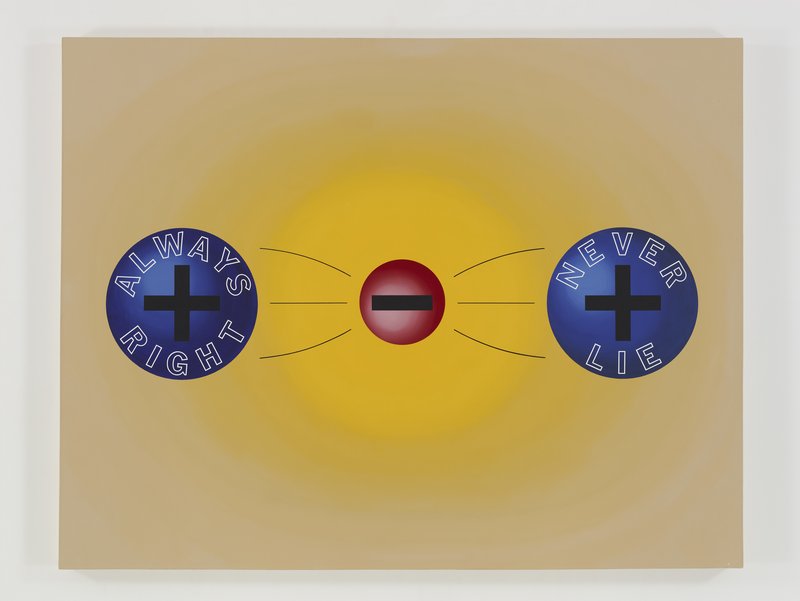 Chemical Bond (1989) by Nancy Dwyer
The piece that reflects where she is now "It is a piece by Nancy Dwyer called Chemical Bond from 1989. I bought it a few years back. I believe my collection is quite conceptual and for me that really is as good as it gets."
The artwork she'll leave to someone she loves "I would love my daughter to have a painting by Margherita Manzelli that is really very dear to my heart. It was in one of the first exhibitions I saw in New York City at CRG Gallery alongside Sandra Scolnik and Kiki Lamers.  It's one of a few pieces I started collecting that really reminds me of my taste back then. It's a young girl sitting on a stool with a very disturbed look - a beautiful piece. Maybe she wouldn't like it but I would like her to have that. My daughter has Downs Syndrome and some things are key for me to relate to her in terms of strong woman and courageous women."
[Napoleone-module]