If there's one phrase that can sum up the internet's collective response to a person looking, feeling, and living her best, it's "YASSS QUEEN." What began in '80s drag ball culture, took over the internet after a fan shouted it to Lady Gaga in a video that went viral, and has now become an anthem for women supporting women, Yasss Queen is now also the unofficial theme of an exhibition featuring fashion and art at the New Orleans Museum of Art (NOMA).
Curated by Sofia Hedman and Serge Martynov of Museea and produced by Barrett Barrera Projects, which manages a significant portion of Alexander McQueen's work, "A Queen Within" spins off of "Yasss Queen's" roots in drag culture by exploring fashion "not in terms of trends, but instead with the feminist understanding of clothing as performance, identity as performance, and gender as performance," according to Barrett Barrera Projects's Jessica Baran.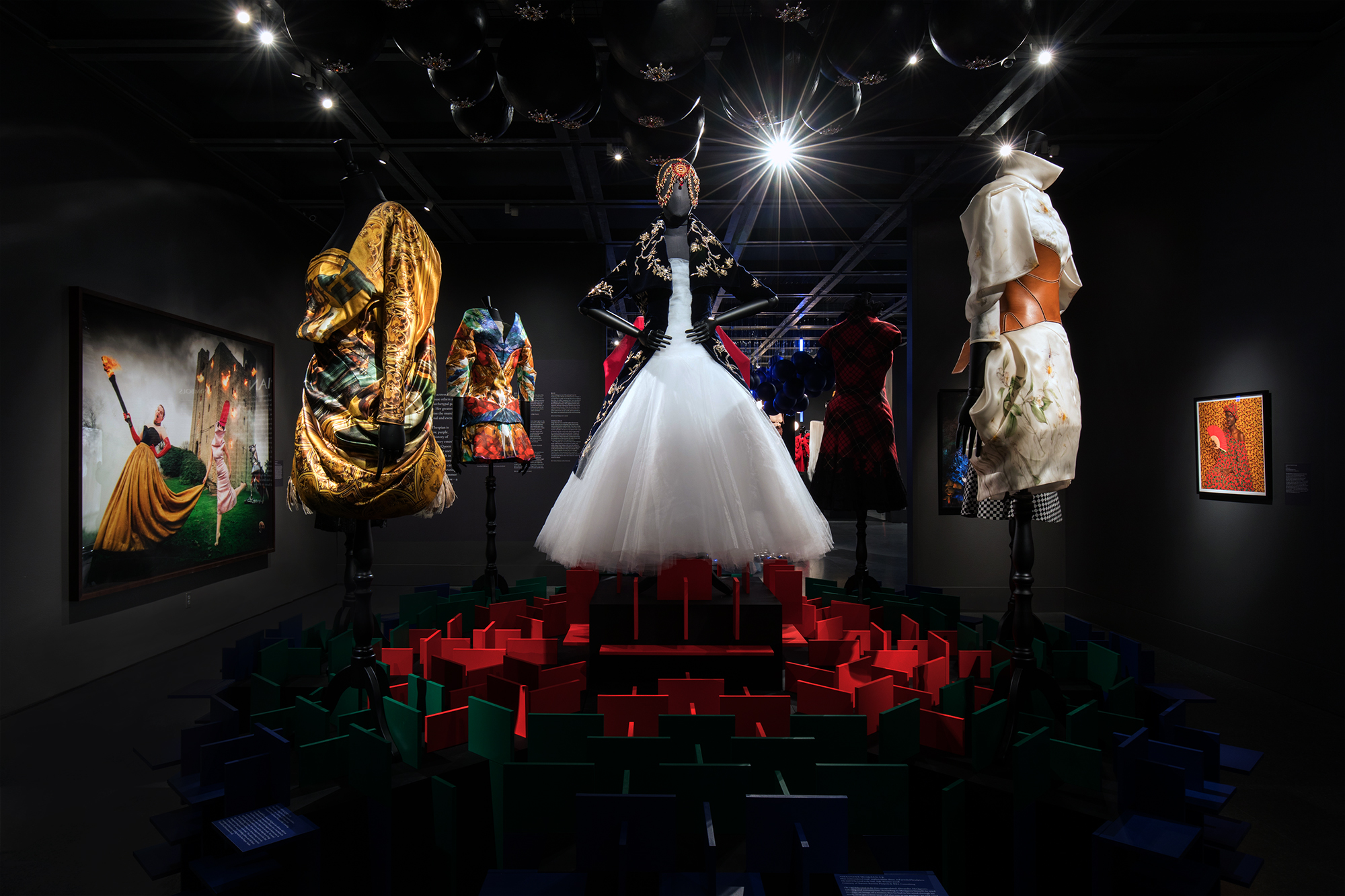 "A Queen Within" installation view. Image courtesy of the New Orleans Museum of Art.
With the internet still reeling over threads donned at the Met Gala a few nights ago, it's not hard to understand the objective of Barrett Barrera and Museea, who aimed to blur the boundaries between fashion and artistic expression on the behalf of the designer, and identity projection on the behalf of the wearer. The exhibition is organized around seven archetypes that characterize the idea of "queen": Sage, Magician, Enchantress, Explorer, Mother Earth, Heroine, and Thespian, each complicated by the nuances of the exhibited objects that comprise them.
"The show shatters the symbol of femininity into a complicated idea," NOMA's curator of decorative arts and design Mel Buchanan tells Artspace. "Each viewer sees themself as embodying one of these archetypes, and it's empowering." The show takes a non-hierarchical view of culture, and the works on view come from a variety of sources—from giants like Alexander McQueen and Gucci to younger up-and-coming designers like 69 and Gypsy Sport to more accessible brands like Adidas and Reformation to visual artists like Maïmouna Guerresi, David LaChappelle, and Raúl de Nieves. What does seem to be a through line in much of the work, however, is a disavowal of status quo fashion and all of the stereotypes, expectations, and standards that come with it.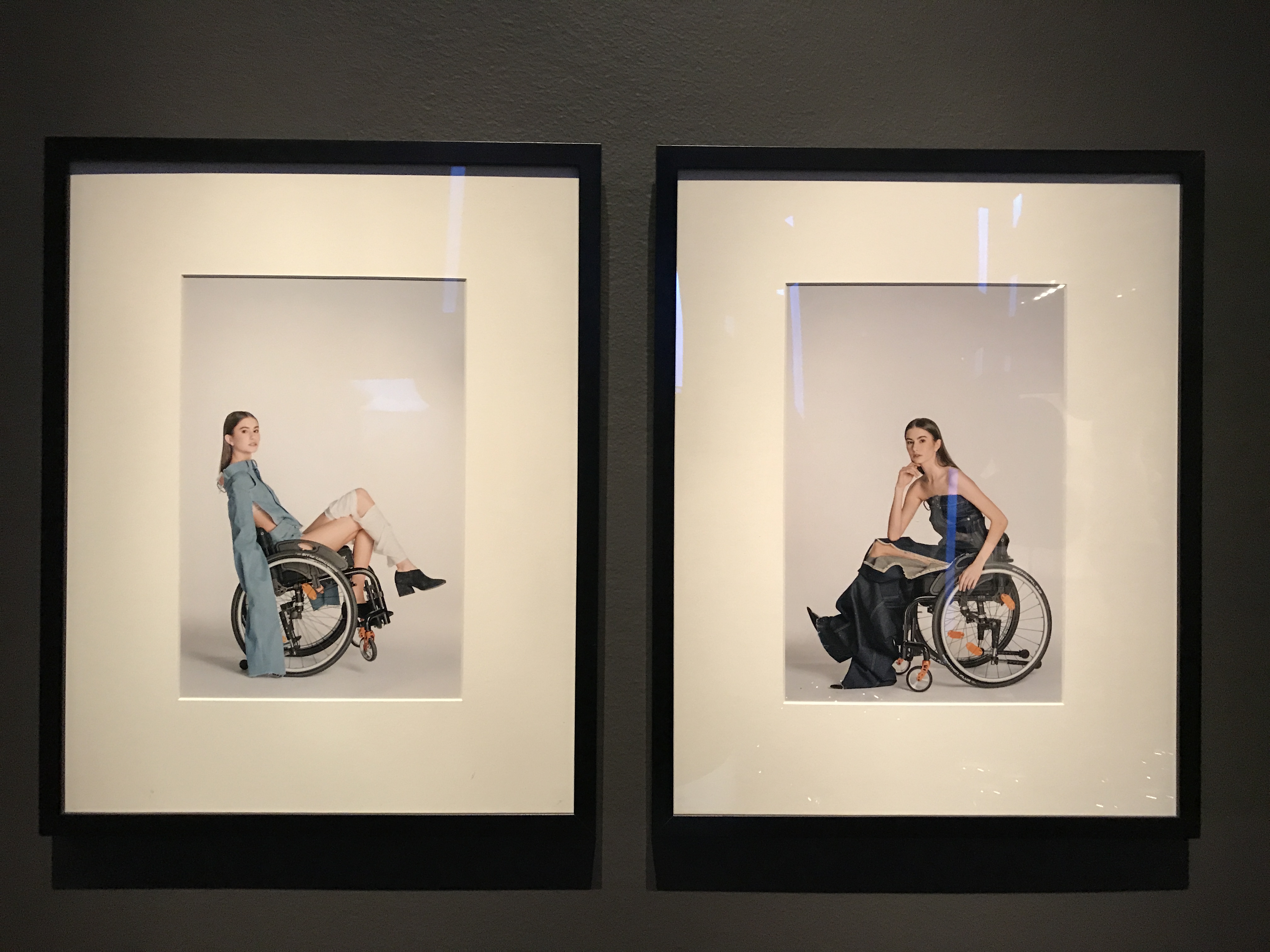 Louise Linderoth, Have a Seat, 2017
"The Queen as a curatorial concept is an avenue to think about fashion in a new way," says Buchanan. "Body types, beauty standards, gender expectations, ethnicity and race—these are all questioned by a lot of the artists and designers in this show." Physical ability is also taken into account. Tommy Hilfigers's seemingly run-of-the-mill flannel has magnetic fasteners in place of buttons or clasps, enabling those of all fine motor abilities to wear the garment and dress themselves. On a similar token, Swedish designer Louise Linderoth, who uses a wheelchair due to a spinal injury, "investigates the way jeans are worn in a static seated position," as the standing body has historically been used as a base to create clothes. And a promotional video by CuteCircuit demonstrates how deaf people experience live music in real time by feeling corresponding vibrations through a tech-enabled "Sound Shirt."
While designers like Hildriger, Linderoth, and CuteCircuit design for underrepresented bodies, June Canedo and Joanne Petit-Frére illustrate how bodies—and the stereotypes that apply to them—can be misrepresented. Brazilian-born photographer Canedo's portraits of Brazilian women on the beach were taken in 2014 during the World Cup in Rio de Janeiro, when international news coverage portrayed Brazilian women as sexualized and characterized by beauty standards unachievable by the majority of Brazilian (or any) women. Also presented in the exhibition as photography, the work of Joanne Petit-Frére involves braided hair sculptures influenced in part by mathematics and African culture. (If you're wondering why Frére's name sounds familiar, you might be remembering a media controversy from last year when an architectural braided crown she made for singer Solange was photoshopped out of an Evening Standard cover story. Solange received an apology after posting about it on social media with a caption referencing her own song: "Don't Touch My Hair.") "A Queen Within" challenges the fashion industry—and media culture at large—to take a look at not only how it portrays women in the media, but also at how it selectively omits the portrayal of certain people from the media.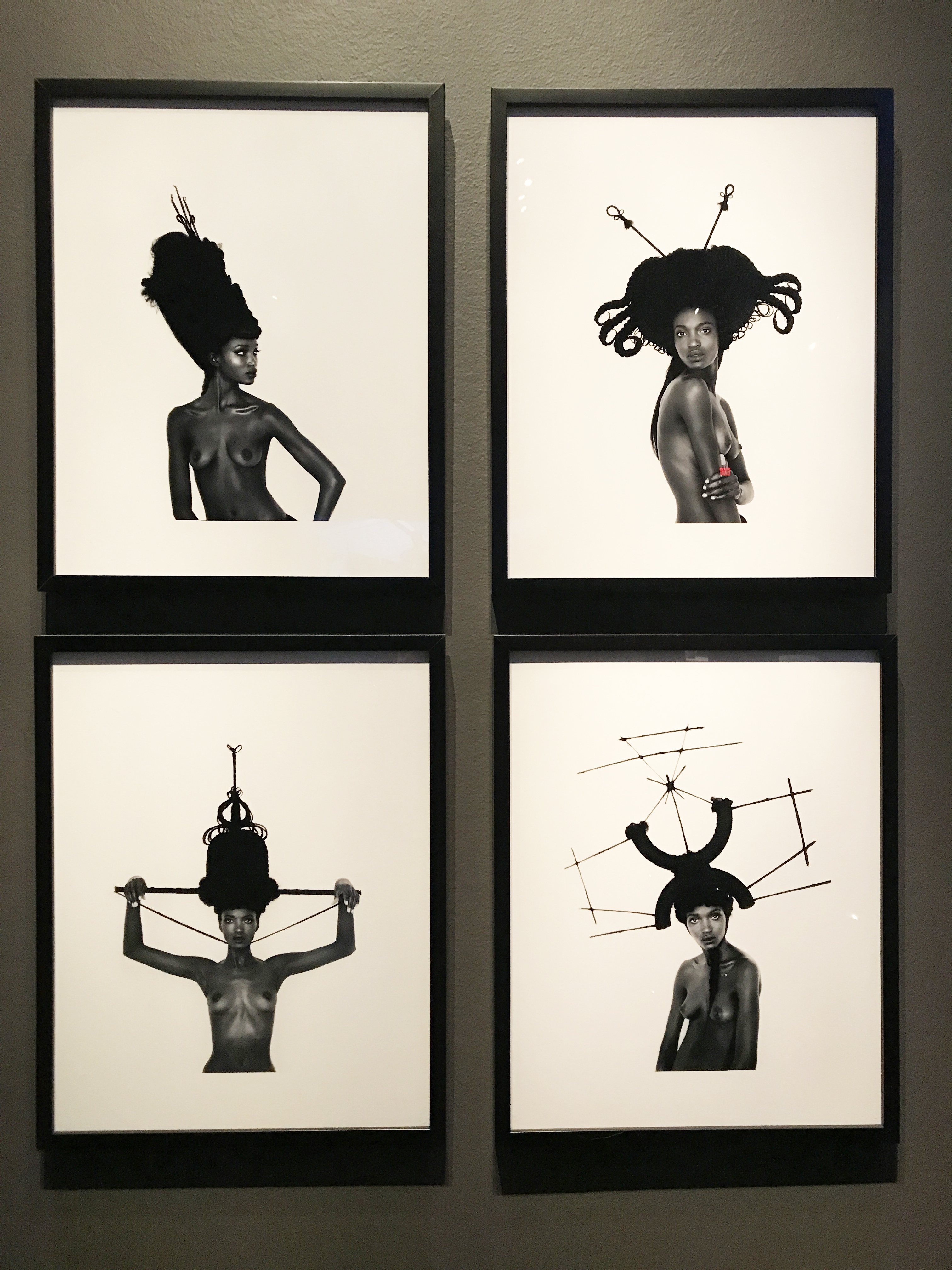 Joanne Petit-Frére, Bishop Please and Butterfly Effect
And while the majority of "A Queen Within" deals with how identity is performed through and represented by clothing, it doesn't gloss over the fact that the less sexy aspect of the fashion industry—how clothes are made—is also ripe for political and ethical conversation. Brands like Reformation and Adidas—relatively accessible to a mass market—are not often represented by museum exhibitions, especially not alongside designers like Alexander McQueen. But the curators wanted to provide examples of how designers engage with activism on the production side of the business: Reformation makes clothing using deadstock, or fabric remnants that other designers have no use for; Adidas made a series of sneakers using plastic recycled from ocean pollution.
One of the most challenging aspects of curating an exhibition about fashion is figuring out how to exhibit apparel in an engaging way. Though exhibiting clothing on mannequins has its benefits (one wall text references the idea that avatars allow a designer's work to be seen without being influenced by the "genetic make-up," or gender/ethnicity/personality/body type of a model), it also has its drawbacks. Because clothing is (usually) made to be worn, some of the most captivating aspects of this exhibition are in video format.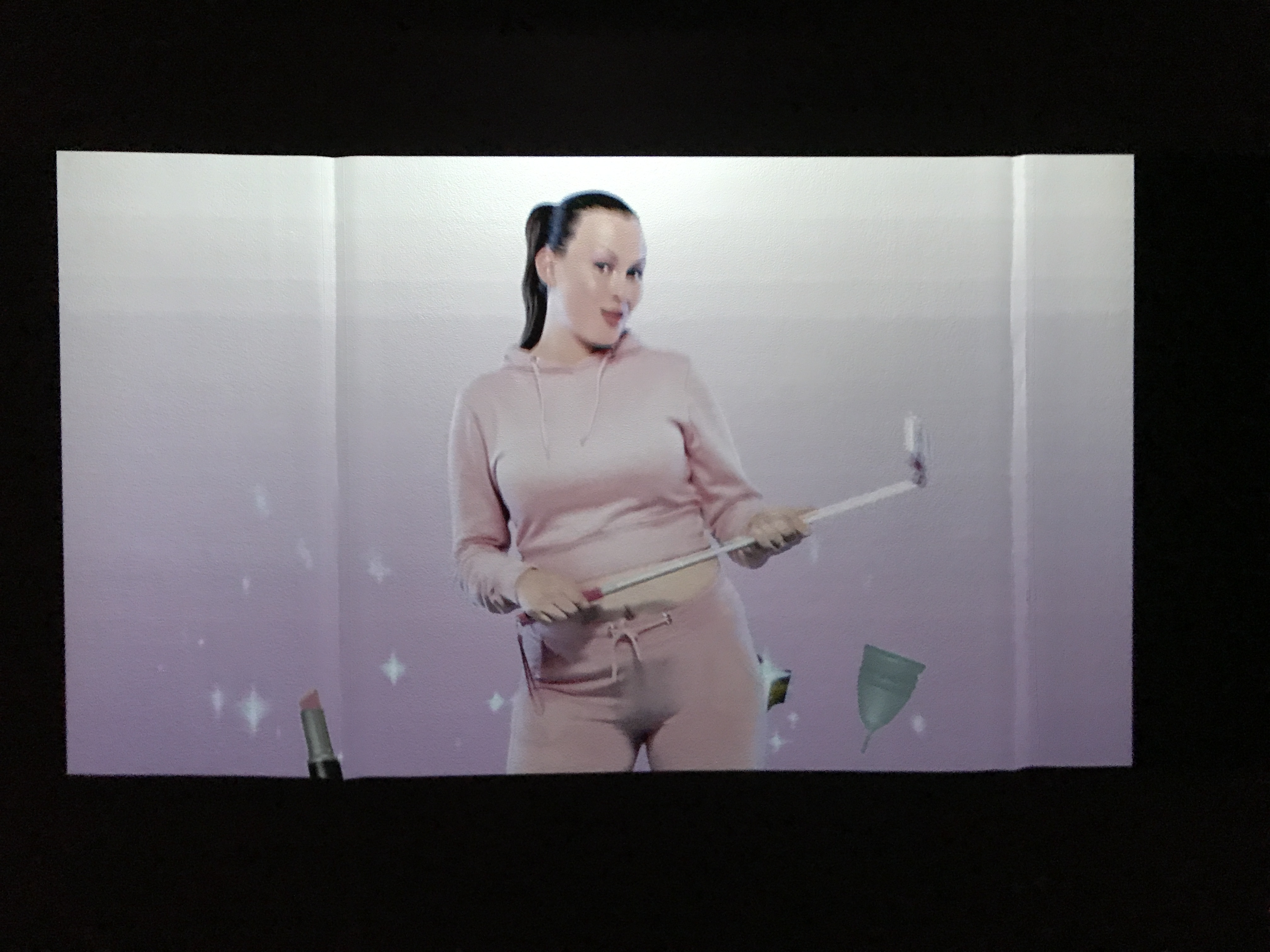 Arvida Byström/Maja Malou Lyse, Selfie Stick Aerobics Film, 2015
Arvida Byström and Maja Malou Lyse's Selfie Stick Aerobics Film is pretty much what it sounds like—an instructional video on how to take selfies, using the motivational tone of a workout video. Sporting pink sweat suits and collaged over digitally rendered pink backgrounds with floating lollypops, lipsticks, and menstrual cups, the artists aren't criticizing selfie culture in a pejorative way; instead they see the selfie "as an effective medium for self-expression and a tool for resisting the male-dominated media culture," according to Lyse via the Huffington Post. "The conversation surrounding selfies is inherently gendered—critics call out selfies for being vain, superficial and narcissistic—these are also adjectives often used to describe young girls and terms heavily associated with feminine identities." Also presented as a projection is Chromat's Spring/Summer 2018 runway show footage. The brand, which designs swimwear and athletic wear "for strong, powerful women, femmes and non-binary #ChromatBABES," according to the website, uses runway models with a wide range of body types.
Though we would have loved to have seen "A Queen Within" reflect a broader understanding of femininity (to include transgender and male bodies, for example) and to acknowledge drag culture (a few wigs designed by Charlie Le Mindu, who has a history of working with drag performers, is just about the only reference—and it's a meager one), "A Queen Within" culls a refreshingly non-hierarchical cross section of artists and designers who remind us that fashion is never neutral. While the exhibition is only on view until May 28th, it's likely to travel—and it's worth a look-see if it comes to a museum near you.
RELATED ARTICLES:
"A Total Rebuke of Fashion": A Q&A with Women's History Museum, On View at Gavin Brown's Enterprise
Vogue Legend Grace Coddington on Her Semi-Secret Life as a Gimlet-Eyed Artist
How the Trace Foundation Helps Tibetan Artisans Find Global Audiences