For Dana Schutz, the painting is a world, an actual place, a set of distinct spaces, relations, and landscapes.

Try and dig a little into the specifics of who, what, how, and where, and you may get lost in that world, stretching for a narrative that may transport you somewhere you understand. To do so however, would be foolhardy.
The Brooklyn-based painter and sculptor constructs complex scenarios, often depicting figures in impossible or invented situations, to reveal the ambiguities of life.
"I'm really interested in structuring things, because there's content in how things are structured but it's being built as the painting's being built," she has said. "It's not there in the beginning. You're kind of working against it. The painting is reorganizing itself as it's being painted."

The faces in her landscapes – "not necessarily totally human, kind of humanoid," as she describes them - are wistful, concerned, and observant.

Paint is shaken off the brush and lands on the canvas in colorful explosions. The forms of her abstracted, distracted characters encroach and sometimes kick at the edges of her luminous canvases.

Her sculptures and paintings seem to co-exist in slightly uncertain harmony. Schutz says the sculptures are looser than her paintings.

"With a painting, you're aware of its edge. It contains space," she says. "Painting always has a framing edge, which has its own tension. If you put something there, it has a certain kind of reading because of its relation to the edge. A sculpture doesn't have these things."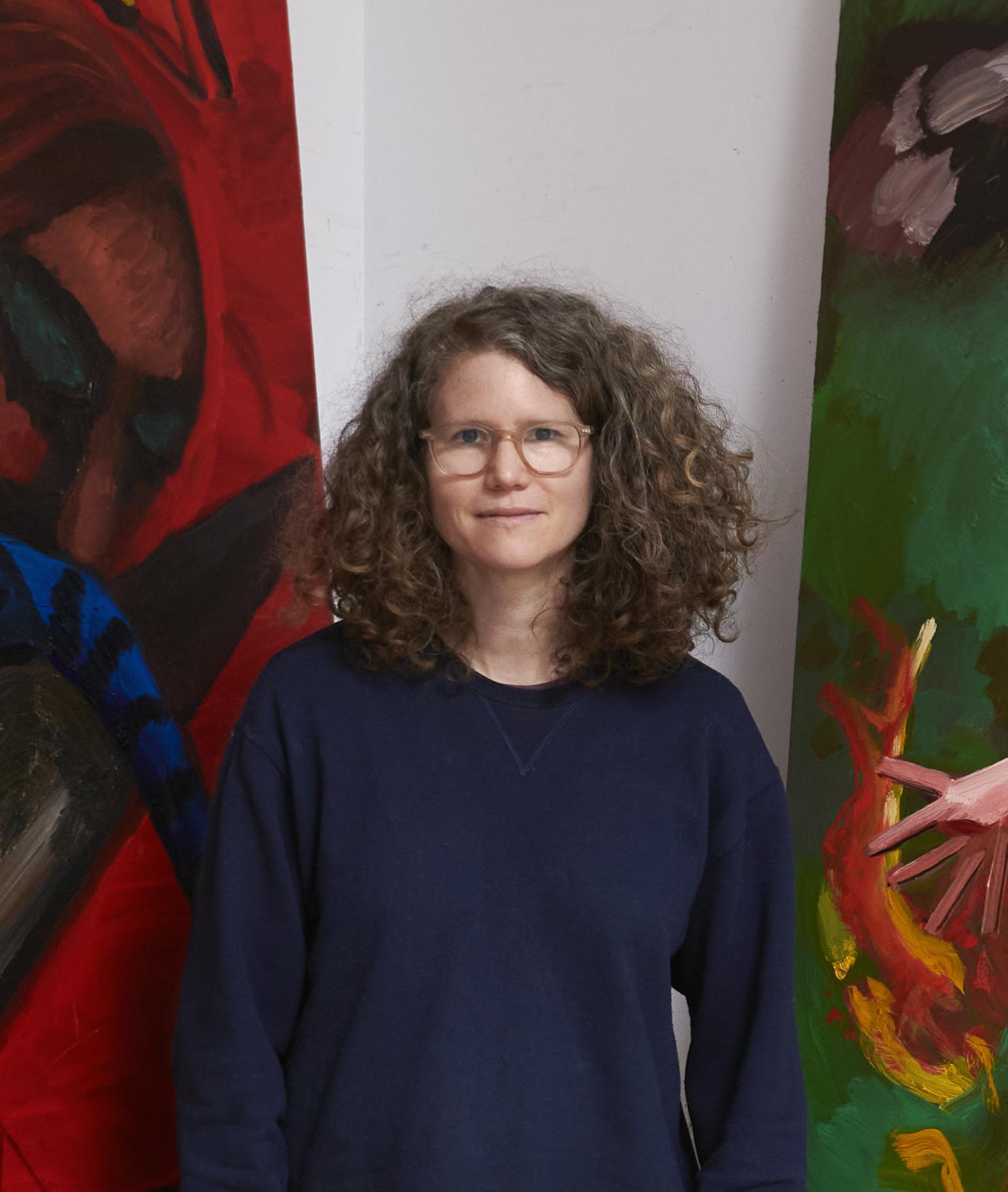 Dana Schutz - photographed by Jason Schmidt

Schutz grew up in a suburb of Detroit called Livonia. Her mom was a middle school art teacher, her father a guidance counsellor. She decided she wanted to become an artist at the age of 14.

"I remember it was career day at school and you had to fill out a questionnaire to find out what you would be best suited for. My test told me that I would make an excellent bricklayer, which only confirmed my bleak outlook."

It's been a remarkable journey since, reaching a career high point this year with two ecstatically received shows at the Louisiana Museum of Modern Art, Denmark – a show described by Apollo Magazine as "one of the best exhibitions in Europe," and another at Musée d'Art Moderne de Paris. On November 2, she opened Jupiter's Lottery, a show of new work at Zwirner, New York. The New York Times summed it up succinctly when it declared: "Dana Schutz gives you hope that painting will endure to the end of our species," and that Schutz is our leading painter of oil-on-canvas allegories."

This month she releases a new Phaidon & Artspace edition Line Painter, 2023. The edition – limited to 50 signed prints (with 10AP, 6PP, BAT, 2HC) - is a 13-color silkscreen, etching, and aquatint. It is signed, numbered and dated on the front by Dana Schutz in graphite pencil and includes a hardcover copy of Schutz's new monograph published by Phaidon.
At the end of an incredibly busy year Dana Schutz was kind enough to make time to answer a few questions about the new edition.

DANA SCHUTZ - Line Painter, 2023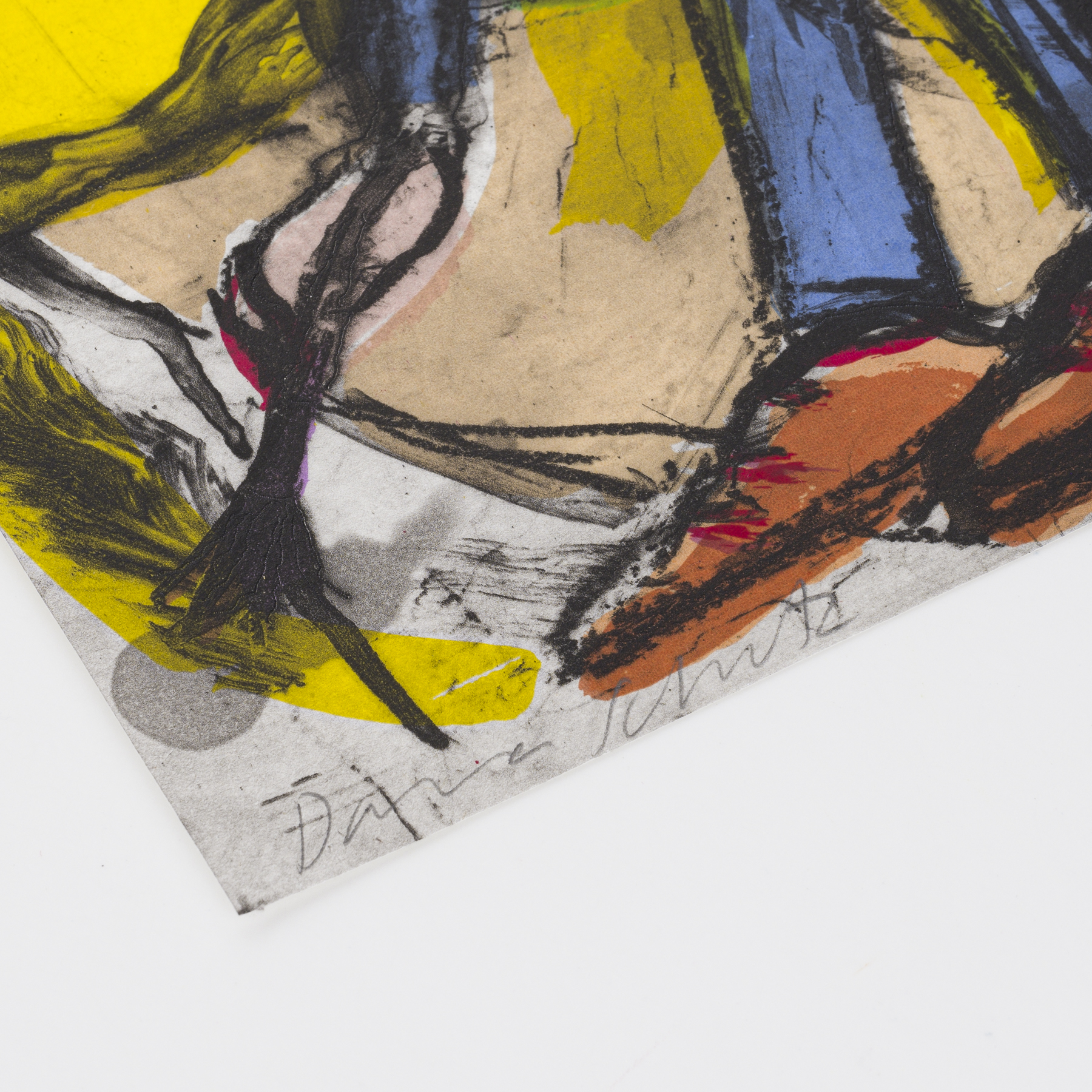 Photography Garrett Carroll
What do you remember about making the source image for this edition and can you tell us where the title came from? The subject for this etching came from a feeling that I had on the walk to the studio - a kind of awareness of the outside and inside and the feeling of the sun in the morning on the street. The figure is painting a line on the road and also divided by a line.
Your expression of facial features - the jawline, the eyes and nose is notable in your work – can you tell us what inspires your interpretation of these features? The expression on the left is masklike and the figure on the right has perhaps more consciousness as they are making eye contact with the viewer.
The positioning and depiction of the bodies in your work is often full of movement and a kind of tension, yet there's often a kind of grace to them - especially in this edition. What do you think inspires this 'chaos' in human form? The scenarios often involve a certain amount of compression as they are in deliberate proximity to the framing edge. The paintings can be relatively gestural, but the pictorial structure is dominant and often a big part of the conception of the subject.
How do the characters on your canvases reveal themselves to you? Do you know who they are before you create them, or do they slowly make themselves known to you as you work? I can have an idea of who I think they should be, but they can be surprising and change in the act of painting.
The edition image is printed 'full bleed'; is this a conscious decision? Are you working with space and the idea of the edge or border? I think the full bleed feels closer to a painting or a gouache on paper and it seemed to suit the subject.
Who is the main character in this edition and what brought them here? The main character is a two-headed monster out for a walk. They seemed right for the book as they felt perhaps like an author and also a contradiction.
DANA SCHUTZ - Line Painter, 2023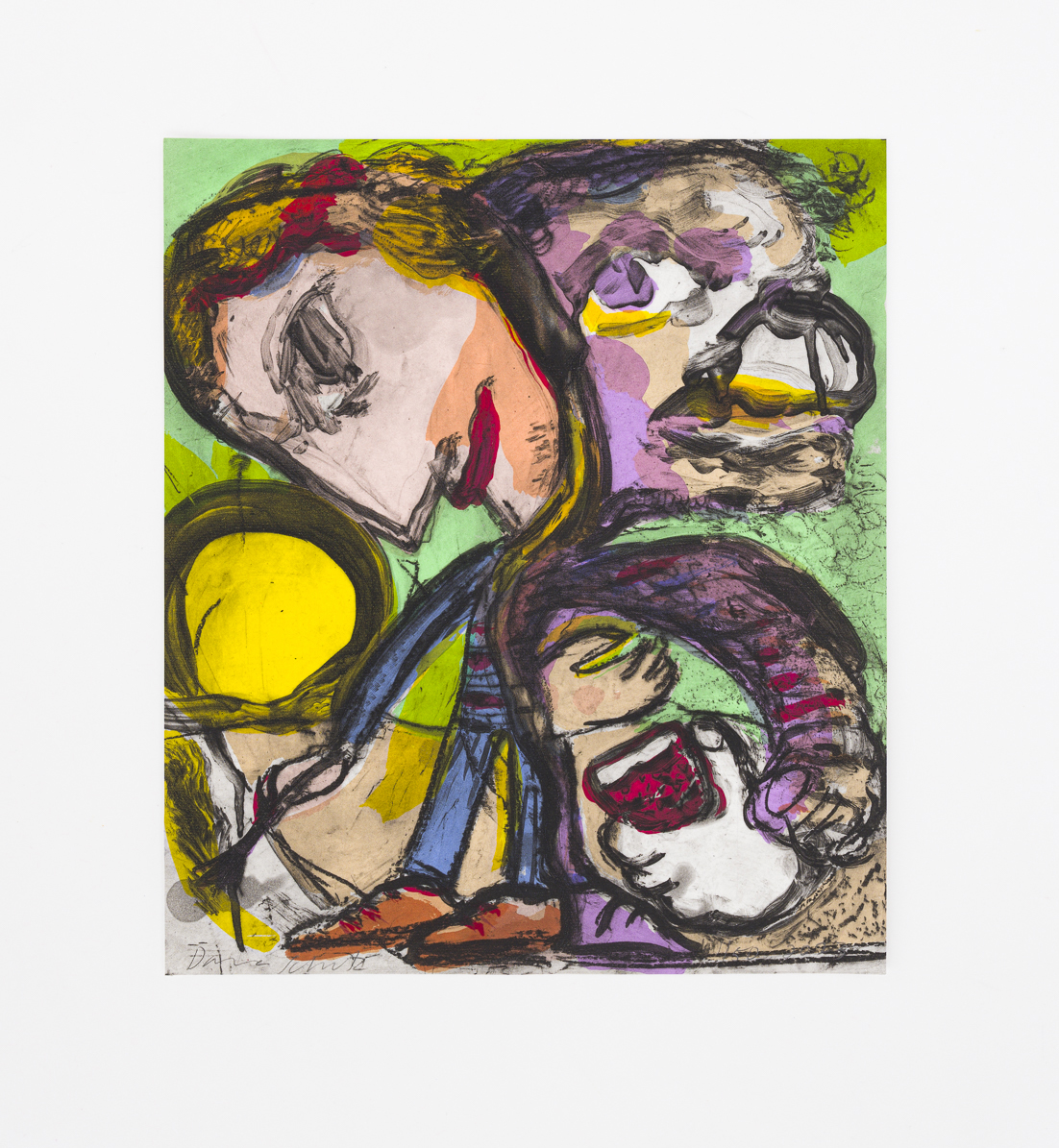 Photography Garrett Carroll
Dana Schutz's work is held in numerous public collections, including the Whitney Museum of American Art, New York; Solomon R. Guggenheim Museum, New York; San Francisco Museum of Modern Art; Museum of Contemporary Art, Los Angeles; Hammer Museum, Los Angeles; The Metropolitan Museum of Art, New York; The Museum of Modern Art, New York; Los Angeles County Museum of Art; Institute of Contemporary Art, Boston; and Museum of Fine Arts, Boston, among many others.
DANA SCHUTZ - Line Painter, 2023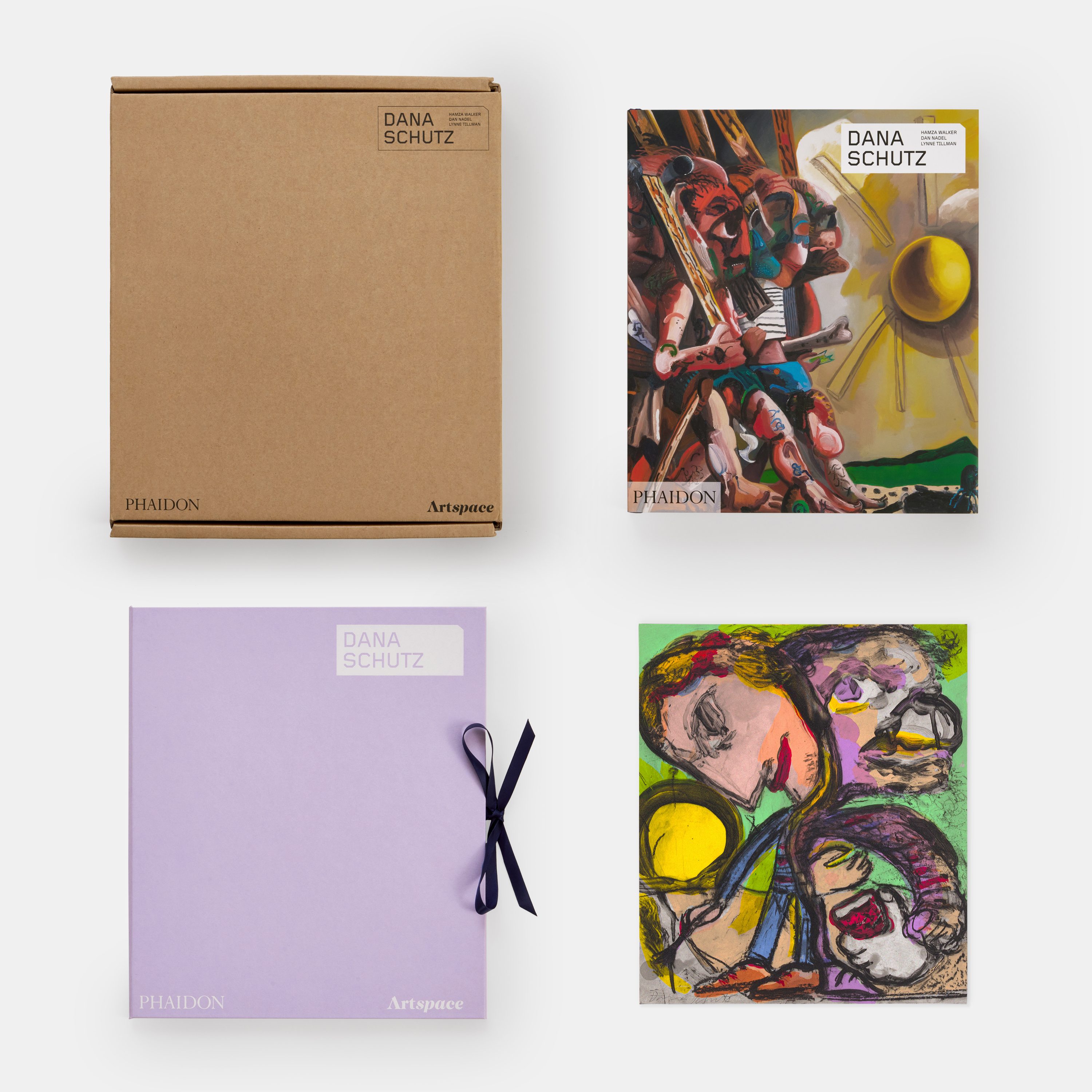 Photography Cantina