In the late 1960s, Lynda Benglis unleashed gooey industrial potions like polyurethane and liquid latex in galleries to create hybrid painting-sculptures that oozed across walls and floors. Her early works openly defied the neat, boxy forms of Minimalist art , helping to usher in the movement known as Post-Minimalism , but they were also informed by Benglis's early personal experience with mutable, fluid forms: her waterfront childhood in the port town of Lake Charles, Louisiana, on the Calcasieu River, as well as her subsequent scuba-diving expeditions near Los Angeles.
Since then she has come to use water itself, in gravity-defying outdoor sculptures of bronze, stainless steel, and cast polyurethane that are also working fountains. A group of them are now on view in "Lynda Benglis: Water Sources," a show at Storm King Art Center (through November 8) organized by the sculpture park's director and chief curator David R. Collens and curator Nora Lawrence .
Fresh off a plane from Southeastern Italy, where she had been touring limestone caves and visiting the ruins of Pompeii in the Naples National Archeological Museum , Benglis spoke to Artspace deputy editor Karen Rosenberg about the exhibition at Storm King, her long history of exploring the water, and some pivotal moments from her early career.
The fountains, which you've been making since the early '80s, are the core of your new show at Storm King.  How do they relate to your other works, especially the polyurethane and latex pours? There's the liquid element, of course, but the fountain is also a very traditional sculptural object—so unlike most of your work, in that sense.
These ideas of the pour and the ideas of the fountain were one and the same to me—I just wanted the water to extend the idea of the pours.
I've always been involved with waves, and the movement of the sea. I can remember, coming from Lake Charles, being in boats with my father who took me fishing. I grew up having a boat, a long 35-footer wooden Thompson—it was quite a boat, and I could use it anytime I wanted. I knew the waterways in and around Lake Charles, including the intercoastal canal and all the bayous. One of the things that always fascinated me was that feeling of the wave and the surge of the sea, and later scuba diving—I learned that in California in the '70s.
So I really understood why my art was the way it was, and I realized that a lot of my art had to do with the unconscious, and feelings of buoyancy, upside-down or not. And I of course knew about the Greenbergian thing, how he would take the paintings and put them this way and then that way.
What's the role of the water in these works, which are already so connected to liquid movement and sensation? What does it add?
It is the extension of the piece; it is the performer. It extends the viewer's perception of what is happening, and the gravity. The form deals with a certain kind of gravity—you feel it, physically.
For this show you reworked some of your earlier fountains, including the first fountain you made, The Wave of the World , a commission for the 1984 Louisiana World Exposition. At Storm King, you built a kind of shell or skin over the original piece. Why did you decide to do that?
Recently I saw some Bernini fountains, and there was one in particular about the sea—there were snails and creatures of the sea on top of other things. That's a bit like what I was doing. Also, it reminded me of how when I was a little girl in the Mediterranean, I saw these crustaceans—the kids showed me how to crack them open on the rocks, and we ate them.
That's an interesting reference, because Bernini is known for his fountains, including the famous Fountain of the Four Rivers in Rome. Beyond the crustacean imagery, were you thinking about his fountains—or other historical examples—when you made yours?
No, it was only afterwards. But I've always been under this feeling of the Baroque, and it's not an accident that it was created there, where there is a sea, where there are caves. I was just in Italy just north and south of Naples, and all along the coast there are incredible caves.
Speaking of Naples and that volcanic region, your pours are often often compared to flowing lava.
Absolutely. I was told about these things and it wasn't until much later, in Hawaii, that I saw them. They were just like the foam—when I pigmented the foam pieces black, they looked exactly the same.
There's a wonderful tension, in your work, between natural and artificial references. Some of the fountains look like volcanic emissions, but others could be mushroom clouds. Four pieces at Storm King, in fact, are titled after nuclear explosions.
I was four to five years old when these detonations were happening, and it was on the newsreels. I was also very interested in the crawfish mounds, mud being dug up—I saw the crawfish actually digging the mound, spitting out the clay and the mud.
When I first started doing the pours, I felt that it was coming from my body. When I was doing the large pours, in installations all over the country, it was as if my whole body was involved. It was an explosion, so to speak. An eruption.
Your art is highly referential, if not exactly representational. You often talk about the importance of "illusion." Do you see yourself as an abstract artist?
With planar sculpture, usually the subject matter is abstract and it's not nearly as interesting as something that has the movement of gesture, the material, that is pushing it in such a way that it calls to mind other things. That's what I'm interested in, because I find the development of abstraction really limited.
Years ago, illusion and allusion were so talked-about. Barbara Rose moderated a panel once, and [Frank] Stella would say things like, "I just turned two-by-fours on their sides," and [Donald] Judd would say, "I just have to order any color I want on the phone." All these artists I respected were out on a limb, in a very Rococo way. I thought, well, there's much more to abstraction and the development of sculpture and painting, where it could go. I began to think the rules are made to be broken.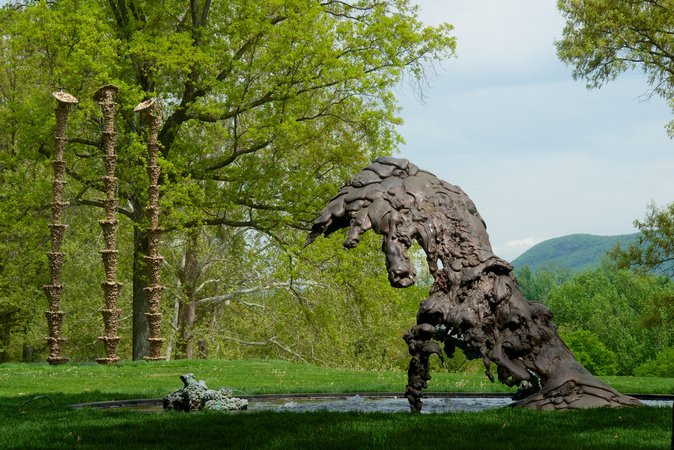 Lynda Benglis, Crescendo , 2015. Courtesy the artist and Cheim & Read, New York. © Lynda Benglis / Licensed by VAGA, New York, NY. Background: Bounty , 2014, private collection; Fruited Plane , 2014, and Amber Waves , 2014, courtesy the artist and Cheim & Read, New York. © Lynda Benglis / Licensed by VAGA, New York, NY. Photograph by Jerry L. Thompson.
Who were some other formative influences from that time, during the first stirrings of Post-Minimalism?
I knew [Isamu] Noguchi, and I really respected him because anything he did was very exact, in the way that [Sir Anthony] Caro was very exact. He wasn't like Tony Smith—Tony Smith was terrific, but the Americans were very different. I realized when I was there at Storm King, how different my sculptures looked from anything that was there.
It's true; your work looks nothing like the works Storm King is known for—the Calder, the Serra , the di Suveros ….
I love the di Suveros. I've always loved the whole space, and what people have done there, the way they place the sculptures so intuitively.
Color is fairly subdued in this show, with a significant exception: the cluster of bright fuchsia cast-polyurethane fountains known as the Pink Ladies. How do you decide when to use it?
Pink is a very floral, lush color. You think, no color is quite as seductive as this color is in nature. There are so many beautiful pink flowers—rhododendrons, azaleas, camillias.
I'm a purist, when it comes to the right color for the right form. I hate that kind of matte coloration of bronze, the painting of metal. Metal is metal, and plastic is plastic. The plastics with different refractive indexes reflect all the different colors around them, but also within them—you have a rainbow of colors. Under yellow light, you can see a purple plastic sometimes. So all these things are relative to their environment and the material. I can't easily just do coloration; I have to think about it, and I move into it because of a form.
Your relationship to color is interesting, because you've said that you think of what you do as painting.
It's a painterly thing, in the Bernard Berenson sense. Painterliness developed as a categorical thing, to understand what artists were doing with the human figure and landscape. I've kind of coined the word "configurative," with figuration; that's how I've thought of my work. Also the gestural aspects have been very important to me. But the gestural aspects have to do with what the material can do, what I can orchestrate, how I can cantilever that foam. If there were a huge space, and if I had machines to mix the thing, it would become something else.
Working with gesture in such a physical, expansive way, one that was associated with male artists like Pollock and Serra, ruffled some feathers early in your career.
There was a crisis when I had to withdraw from the Whitney , because Marcia Tucker could not trust my judgment when I said I could do something in situ, and I saw that other artists were doing it and they happened to be male. So I was aware of this particular situation.
What I did was make two large latex paintings that the Whitney could choose, for the opening of their exhibition "Anti-Illusion: Procedures/Materials" [1969]. They were going to do a ramp so they could fit the painting in, because everybody else complained—Serra complained because he was doing the piece in the corner pouring the metal, and Ryman complained because he had a white piece right next to that. When they put my piece right next to those two pieces, I got pushed out. Marcia said, we have a great place for you, the entrance of the Whitney. Where they wanted to put me was against the wall, and they built a ramp, and I said, "No thank you," and had to withdraw. I had to do it, because it was meant to be experienced by walking around it and I had to be true to what I believed.
What do you think are some of the challenges ambitious young artists face today?
Generally, there's more money in the art world for production. This makes art look very important, and that it can deal with different scales, and a lot of young artists have access to this money even before they're known. I think it's terrific that this can happen, that you can make very sophisticated pieces, and it does have to do with the fact that a lot of information is being shared so a lot of people can also take shortcuts.
I know that I had to go through every bit of the painful stuff that I went through, and I look back and I'm almost embarrassed about what I did and the clumsiness of it. But I think a lot of those things are building blocks for what I did. I don't know if the art world is that same art world anymore. It came out of the streets, so to speak—we never wanted to be rich or famous, it just happened that we got on some kind of swinging vine and got somewhere. I had fun doing it. I still have fun doing it. We shouldn't take ourselves so seriously, really.
On that note, your famous Artforum advertisement of 1974, Centerfold , scandalized an art world that took itself ultra-seriously. You appeared as a kind of porn star, naked and suntanned and flaunting a giant dildo.
I wanted to allude to both sexes, and the only way I felt I could do that was to do it myself. And I had to pretend that I wasn't myself, which I've always done anyway, to get anywhere. I never thought of it as masturbating and I never thought of Freud, but now I see that people did think of it that way, because it was double-ended. You don't think of every nuance, but you think of an idea.
In the museum in Naples, you could see all these dripping phalluses. These were obviously men drawing pornography. So a woman is involved with pornography—so what?
That piece was transgressive not just because it was pornographic, but because you adopted a macho swagger long associated with male artists—and did so in the magazine's ad space, as a kind of critique of rampant commercialism and self-promotion.
Essentially, it was the woman taking the position of power, and empowering myself with money that I didn't have, and I paid for it anyway. The symbol of power for the women critics was the pen, incidentally, and the pen was their phallus too.
I had help doing it. First I went around photographing men; I wanted them to be on my pedestal. I studied pornography, I studied pinups. And I thought that there was nothing quite like this, so that's what I tried to do. I tried to do something that looked back at you—the way that, some have said, art should do.