This June, Artspace is proud to present The Center Benefit Auction , in support of The Lesbian, Gay, Bisexual & Transgender Community Center (The Center) in New York City. A wide range of artists have contributed works to support this NYC institution, including Garrett Chingery .
Chingery's paintings may look figurative, but they go quite deeper than mere surface impressions. The New York artist, who has been working within his chosen medium since the age of 16, explores the psyche via his brush, examining the notion of the self in the physical and non-physical world in his beautiful, beguiling pictures.
Employing conventional paints, and also less familiar media, such as fabric, glue and plaster, Garrett Chingery builds up layers of meaning and inference in his pictures, which can be favorably compared with the work of Walter Robinson , Julian Schnabel or Eric Fischl . Chingery has had several solo exhibitions in the NYC area, including a show presented by the prominent contemporary art collector Aby Rosen.
Over the pandemic Chingery painted workers in hazmat suits and socially distanced figures, as well as a series on New York City streetlife, and a number of still-life floral studies.
Nevertheless, he still found time to create, Night Faeries, an enchanting work for this Pride Month auction, benefitting the Lesbian, Gay, Bisexual & Transgender Community Center in New York City.
In this interview, published to coincide with the Center's auction, Chingery discusses his work, his projects for the future and the pivotal role this NYC institution has played in his own life.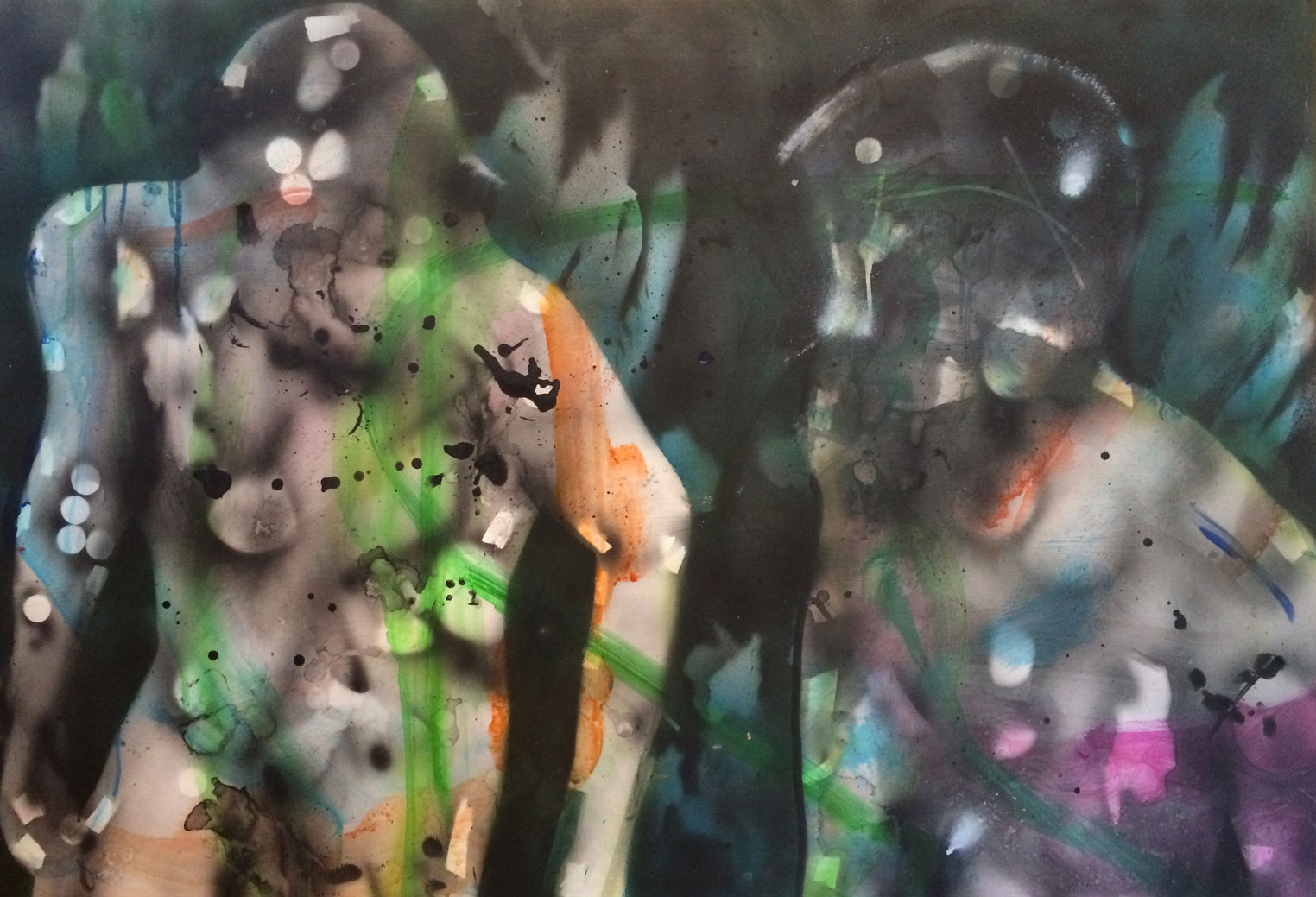 Garrett Chingery - Night Faeries
How would you describe what you do? I would describe myself as a representational painter; someone who works with recognizable imagery as opposed to abstraction. I often use the human figure as the primary element in my work, and have recently introduced animal life into the paintings as well. Thematically, some of my interests include psychological states of mind, the relationship of one's self to the world, surrealism and mystery.
How do you begin and how do you end a work? I typically begin a painting with some sort of photographic image as source material and use that as a starting point. Sometimes the finished painting very closely resembles the reference, and other times not so much. I intuitively know when a painting is done- I have a sense that I've said what I want to say within it and then I stop.
Who or what is your biggest single influence, inspiration and or motivation? The act of painting allows me to go to a place that I cannot achieve otherwise and it gives me a sense of satisfaction, contentment, and I think most importantly - purpose. It is the lens through which I show others how I see and feel the world around me.
What is the one thing you're unhappy with in your work and the one thing that you're OK with? Overall, I'm happy with my artistic output, but I definitely wish I had a larger workspace, which I definitely think would benefit the expansion of my creativity. When you're working in tight surroundings, I find it tends to inhibit risk taking, which is important for the growth of any artist. I can only work on a few pieces at a time and cannot hang a lot of my work around me, which makes it difficult to see where I've been and where I may want to go.
What does The Center auction mean to you? I have a lot of love for The Center. It provides a safe haven and a physical space for the LGBTQ community to gather, to celebrate and to grow - and I cannot overstate how incredibly important that is. Many of us have experienced hate and prejudice at some point throughout our lives, and The Center is the place where we can come and find acceptance and life affirming identity. I personally have spent many a night here at a meeting or an event and have benefited greatly from it. So I am thrilled to be able to be asked to participate in this year's auction fundraiser!
Tell us about the piece you have in the auction The piece that I am contributing to the auction is a painting entitled Night Faeries . It depicts two ephemeral looking silhouettes with wings facing each other and engaged in some sort of communication. Their individual identities are obscured in favor of a photogram-like treatment that shows their bodies radiating a mysterious energy in the form of irregular circles and ellipses. I hope this painting finds a wonderful new home through the auction.
What are you most looking forward to at the moment? The thing that I am most looking forward to is the launch of a new project that I am calling THE ARK. It is a series of wild and domestic animals portraits that I have been hard at work on since the beginning of the year and will be available soon through my website, and also visible through my Instagram account @garrettchingery .
They are beautifully painted and very detailed original images on 11" x 14" panels that I am offering for the amazingly affordable price of $200 each. I can't wait for people to see them - now everyone can be the owner of an original Garrett Chingery painting!
Go here to find out more about the auction . Established in 1983 as a result of the AIDS crisis, New York City's Lesbian, Gay, Bisexual & Transgender Community Center has grown and evolved over the last four decades, creating and delivering services that empower people to lead healthy, successful lives. The Center continues to serve the LGBTQ community through virtual support services, launched almost immediately after the building closed due to the COVID-19 pandemic. The Center offers a wide range of services including virtual one-on-one counseling; substance use treatment and support groups; virtual youth drop-in space; online arts and culture programming; health insurance navigation and a virtual "front desk" to respond to community inquiries. To show your support, please consider placing a bid.
[Garret-module]