The principle of filling one's life with color for personal benefit exists somewhere in the grey area between interior design, new age healing and psychology. In this contested environment, green is related to general wellbeing, yellow promotes health, red is energising. Whether any of this has any evidential basis is moot, but the psychologically stimulating, beneficial effects of color are undeniable and explain why it has been such a crucial part of artistic expression. Kandinsky saw color as "a power which directly influences the soul," while Bertrand Russell distinguished between the color that common sense dictates an object has, and the color that actually shows how it appears to the eye. Matisse saw color's power as being "to express light – not the physical phenomenon, but the only light that really exists, that in the artist's brain." Paul Klee went further, seeing color as a convergence point – "the place where our brain and the universe meet." So as we head into the months of shorter days, longer nights and a darker landscape, bring the light into your collection and take refuge in some of the most colorful work from the Artspace archive.

Popel Coumou - Untitled (PC94), 2015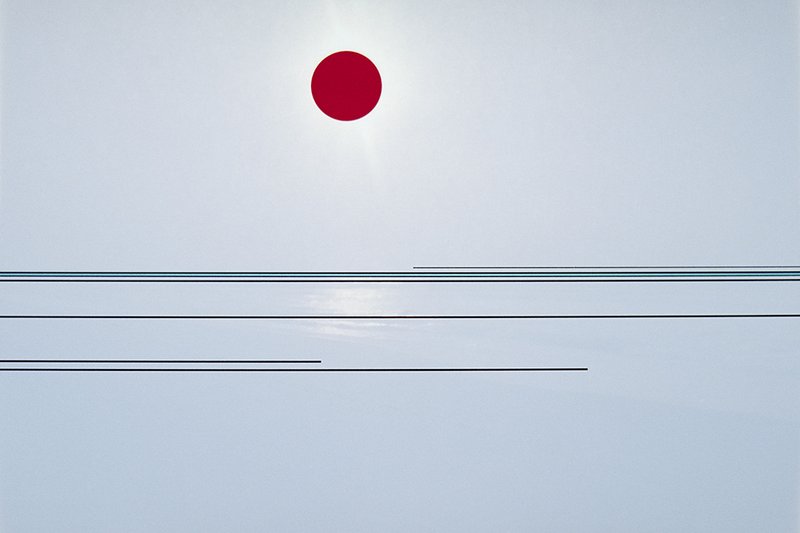 Dutch visual artist Popel Coumou uses analogue photography to capture carefully constructed, hyper-real scenes that she has collaged together, with her career taking in outdoor projected installations and commissioned work for the likes of Air France and Hermès. Her biography talks of how her work "has moved on to a more metaphysical plane. Here diffused light and stark geometry describe grand thoughts and delicate musings in an abstract language that is uniquely her own." In reality, this has meant work that captures the glowing, supernatural quality that color takes on when light floods through it – in this case, her flat, abstracted portrait of the horizon is brightly lit from behind to create a corona effect around the symbolic sun. The end result is something more intense than a regular color, with the burning intensity of natural sunlight.

Serge Hamad - Temporal Perception 91, 2018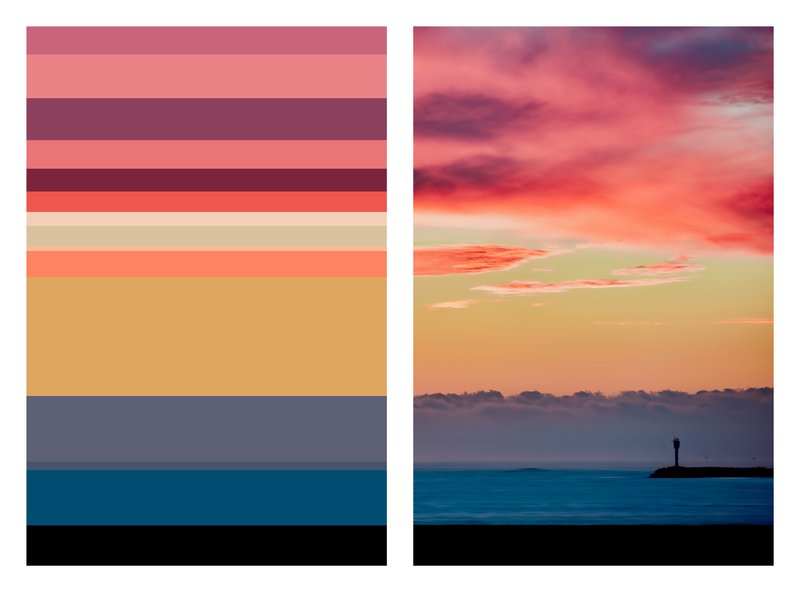 Based in New York, Serge Hamad is a self-taught, French-Algerian artist whose earliest work saw him documenting warzones from Iraq to the Balkans. He traces his immersion in the power of deep color to an incident at age 4, when he inadvertently damaged a butterfly's wings while studying them. His father gave him a camera so on subsequent occasions he could capture them harmlessly. While much of his work has focused on raising awareness around civil rights issues (especially in his Iranian wife's home country), his pure art pieces have abstracted the lines and deep tones of waterside horizons. "I trained my eyes to seek abstraction in the chaos that nature displays," he writes. "Once I find it, I compose and capture the scene that I then abstractly melt into a 'Temporal Perception'.  Each artwork when seen for the first time at a glimpse, seems to be an entity. The colors and geometric lines form a unit. It's just when our brain starts to analyze our vision that we understand how we lost our childhood."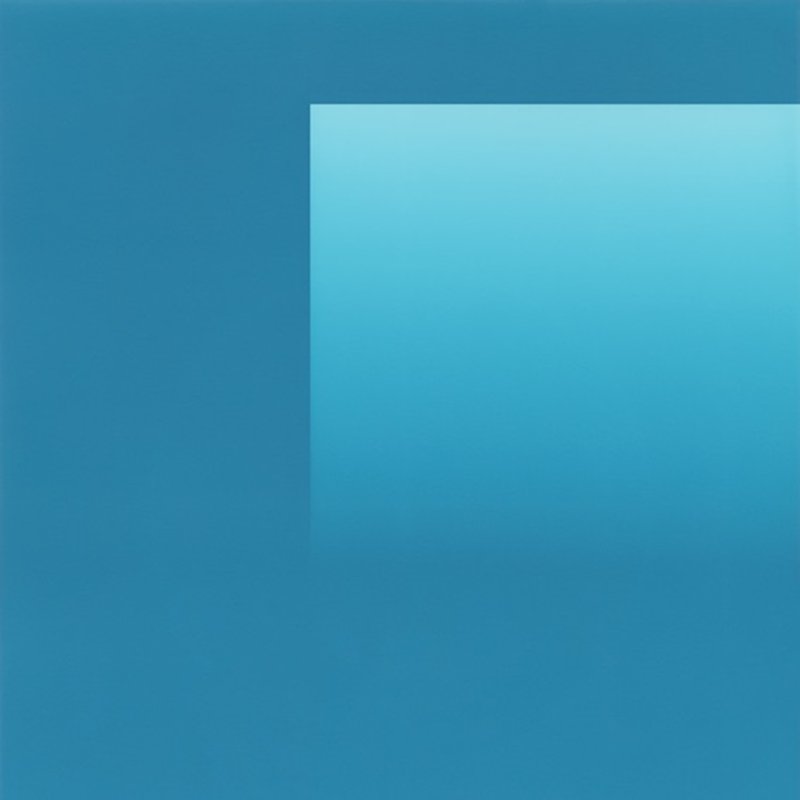 Jo Bradford terms herself 'a colorist', creating images via a process of cameraless photography. Based in the wild, untamed landscape of Dartmoor in South-West England, her work marries formal simplicity with technical complexity. Her different cameraless techniques – luminograms, photograms and cliché verre prints – use variants on darkroom techniques to convert fleeting exposures into images via a precise use of chemical formulae and light sensitive emulsion. "My work has a visual simplicity that belies the complex process of creation," she writes. "In my daily ventures into the art and science of trapping colored light directly on paper, I am striving for a visual and physical means of experiencing the rich intensity of prismatic color and keeping it for posterity."
Angela Bulloch - Horizontal Technicolour: Stills with Negative Space, 2002
According to her biography, the work of Angela Bulloch "spans many forms, all of which manifest a fascination with systems, patterns and rules, and the creative territory between mathematics and aesthetics." Although born in Ontario, Canada, she graduated from Goldsmiths College in the UK in 1988 and was grouped in with the Young British Artists movement. Her work has looked at the way that color, shape and process combine: her Drawing Machines responded interactively to movements within the gallery to create grids and lines; the Stacks series built vertical structures of rhomboids with powder coated steel surfaces, turning the reflection and absorption of light into a dynamic color; other works depict dense recreations of the night sky and its light patterns. But perhaps her best-known works are her 'pixel boxes', three-dimensional structures holding flickering and changing colored lights, dimmed and brightened into a vast array of color combinations. This C-print photograph captures one moment in their sequence and comes in an edition of 80.


Ross Bleckner - Untitled, 2009
Ross Bleckner is one of the quintessential New York artists of the modern era. Born in Brooklyn, he spent the late Seventies living in the same Tribeca building as both Julian Schnabel and the Mudd Club. He was even the punchline in an episode of Sex and The City where Samantha sleeps with a man on his offer to show her his newly acquired Bleckner painting. As the AIDS crisis continued throughout the 1980s his paintings began to explore the shapes and colors of cells and biological structures, work which saw him, in 1995, become the youngest ever artist to have a major solo show in the Rotunda of New York's Guggenheim. This last decade has seen a major resurgence of interest in his work – at one point in 2016 his art was showing in six major exhibitions simultaneously, including his first solo show in the middle east at Leila Heller Dubai. This piece from 1999 uses a brighter palate than much of his work, but is a classic example of his ideas and mastery of shape, pattern and light. It comes in an edition of 100, signed by the artist.

Meredith Allen - Toledo Road (Spiderman), 2002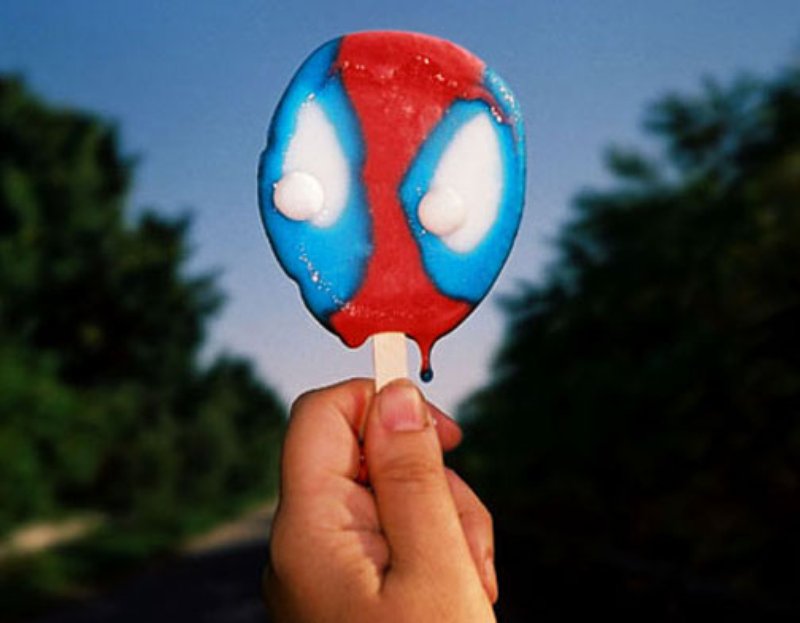 Courtesy Amy Simon Fine Art, Estate of Meredith Allen
Photographer Meredith Allen was born in 1964 and her most famous series of work, Melting Ice Pops was imbued with the popping color and cartoonish optimism of the period she grew up in. Each image captured a dripping, melting moment in the decline and fall of an ice-pop cartoon face, the photographer's own hand holding up the confectionery (and frequently getting drenched in the lurid, synthetic colors of the lolly as it dripped down). Vivid blue skies served as a backdrop, each shot perfectly capturing a fleeting moment on a summer's day. Other work looked at coin-operated children's rides from outside stores and plush animals sealed in plastic bags. Allen taught at Rutgers University and the New School and remarked that "my photography depicts the ever-changing landscape of the world around me.  I look for opportunities to introduce a new context to my surroundings."
[fullcolor-module]