In 1976 Durk Dehner came across a poster in a Manhattan motorcycle bar. The Canadian-born publisher, filmmaker and businessman was so taken with the picture, he took it down from the wall, and went on to uncover contact details for the artist who created the work: Tom of Finland (born Touko Laaksonen).
Dehner wrote to Tom, the two met in Los Angeles in 1978, and they went on to found the Tom of Finland Company, and later the nonprofit Tom of Finland Foundation (ToFF). Dehner continues to preserve and promote Tom's work. Yet, he has a keen eye for works by other artists, and (fortunately) no longer has to slip posters off bar walls to get to see images he likes.
"In being invited by Artspace to participate in selecting ten works of art that I would choose to have in my home, well at first, I was rather overwhelmed," he admits. "In the end I selected from a range of works including artist friends, queer artists, male figurative artists and, of course, Tom of Finland."
JACK PIERSON - Miles at Sunset, 2017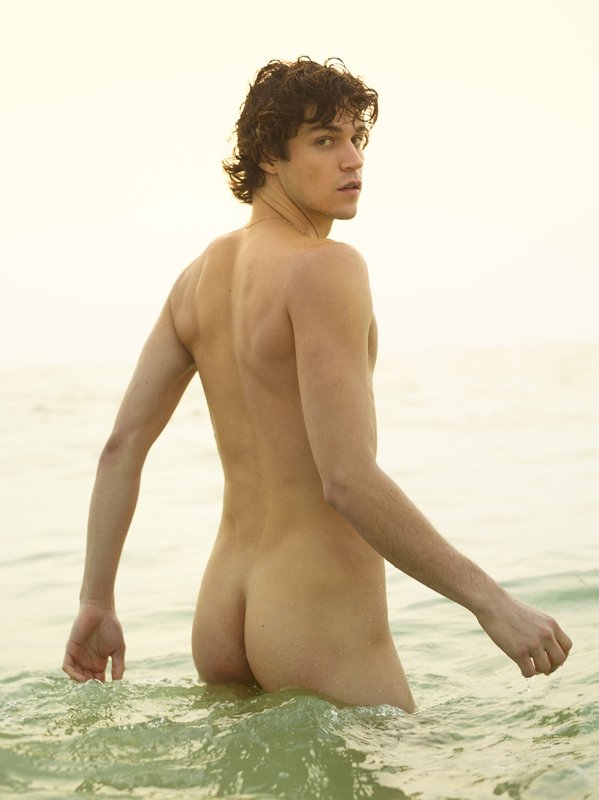 To me this work has a questioning sense of what is going on inside the model's mind. The muted color tones produce a calming effect on the viewer. The youth and beauty of the model is also easy on the eyes.
CATHERINE OPIE - Pig Pen (1993) Untitled #9 (2013), 2021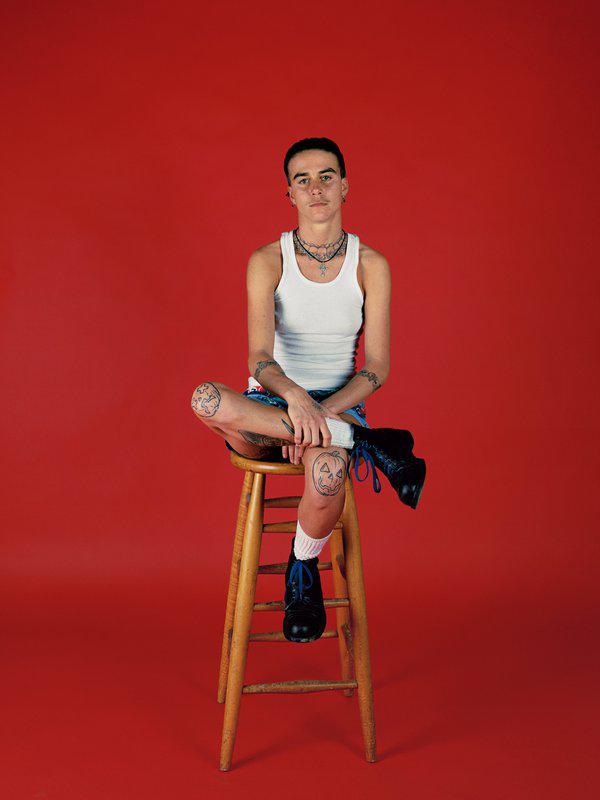 I absolutely love the brilliance of the red. The subject, the muse Pig Pen takes me back to fond memories of the beginnings of the piercing and tattoo subculture of Los Angeles. It pleases me to have the muse just sitting at ease for the camera, which of course is Catherine Opie. The exactness of Catherine's eye in shooting displays her mastery of the instrument.


CATHERINE OPIE - Dyke Deck, 1995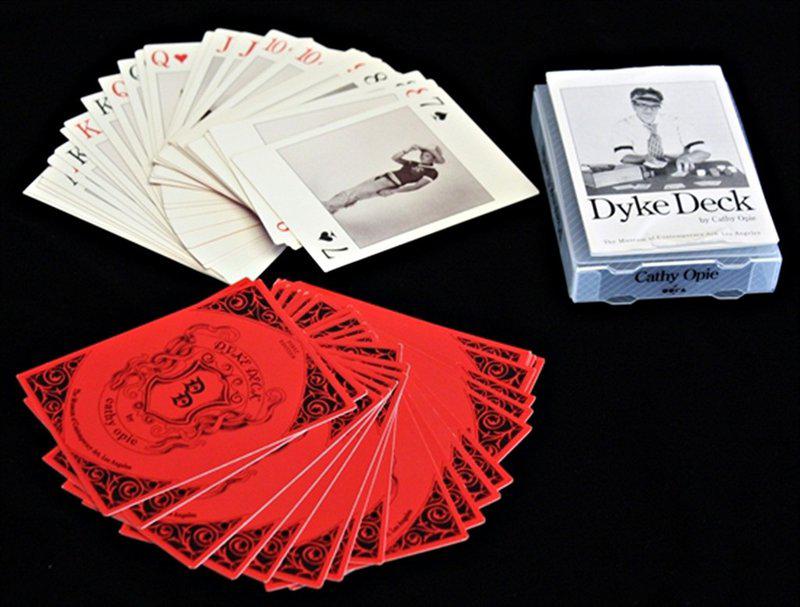 There have been different variations of gay men's playing cards over the years but one that is dedicated to our lesbian sisters is very special. The way this project was done with playing cards really makes it a unique art document. I come from Alberta, the land of the rough-and-tumble, and these black-and-white portraits are striking.
MARK BEARD - [Bruce Sargeant (1898 - 1938)] Three Men Undressing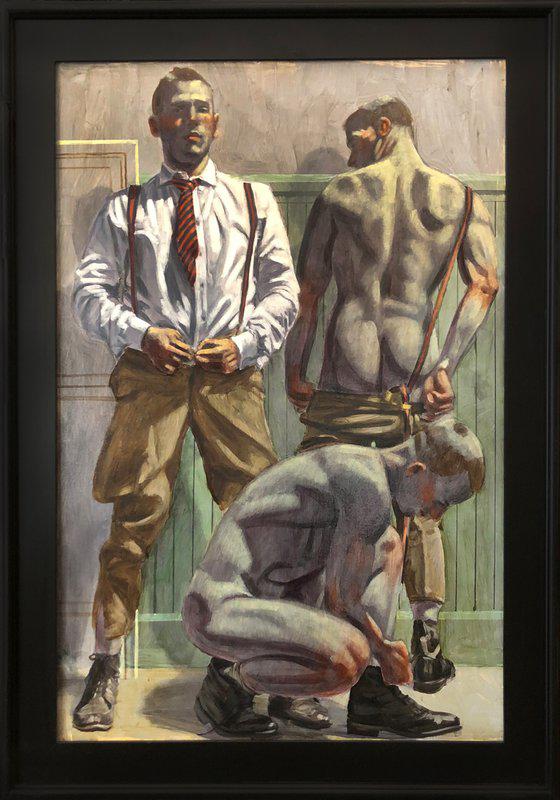 The entire Bruce Sargent [Beard's long-running pseudonym] series is so wonderfully nostalgic. Mark Beard captures the non-permissiveness of works that involved men that bordered on lewd behavior. His craft is amazing, and I would be pleased to have any of his works as additions to our house collection.
BRUCE LABRUCE - Extra Crunchy, 1996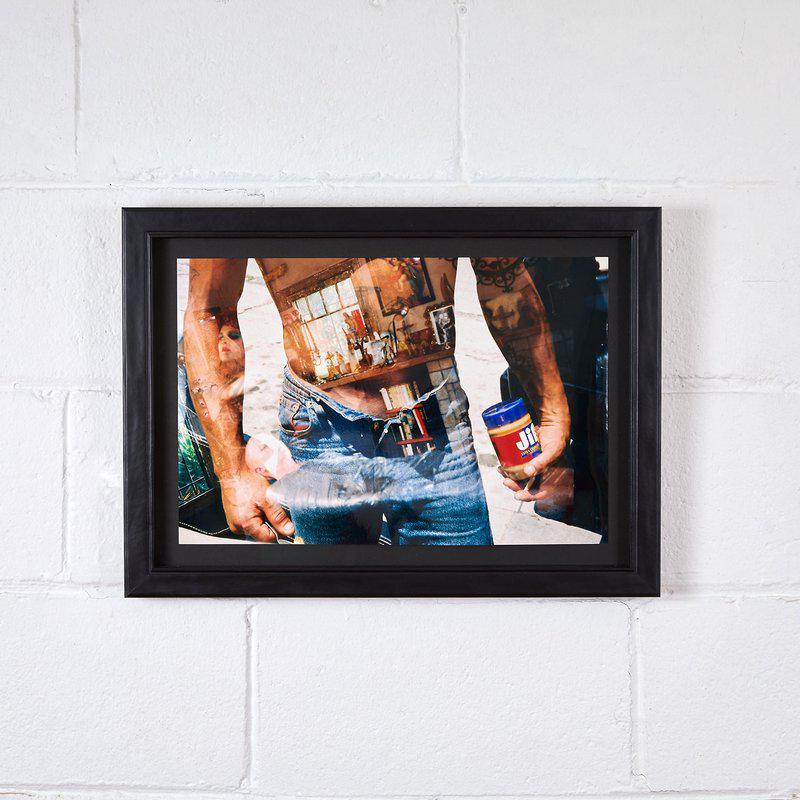 For starters I am a fellow Canadian and a big fan of Bruce's. I found this particular work a brilliant commentary on erotica and pornography. I admire how he frames his works in relation to societal norms.
TOM OF FINLAND - (designed by Joakim Andreasson) Untitled, 2014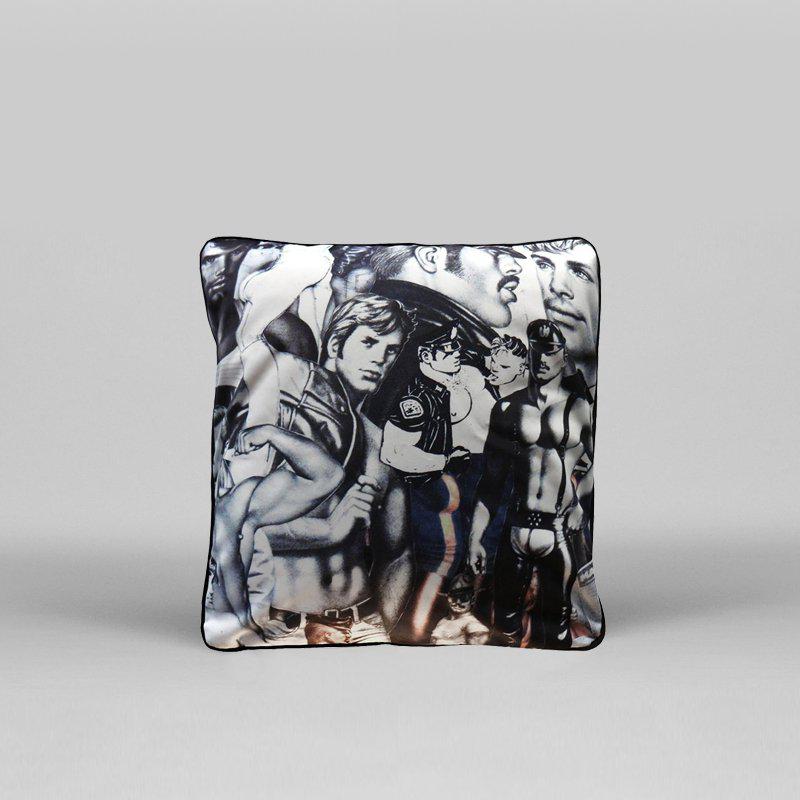 I selected the third pillow in the offering because I really liked how the designer collaged the figures together. In the decorative arts I find it very appealing when an art pillow gets to stand on its own framed in a sofa or chair.
TOM OF FINLAND - Jonathan Johnson x Tom of Finland FLYING COCK Ring in Rhodium Plated Brass, 2017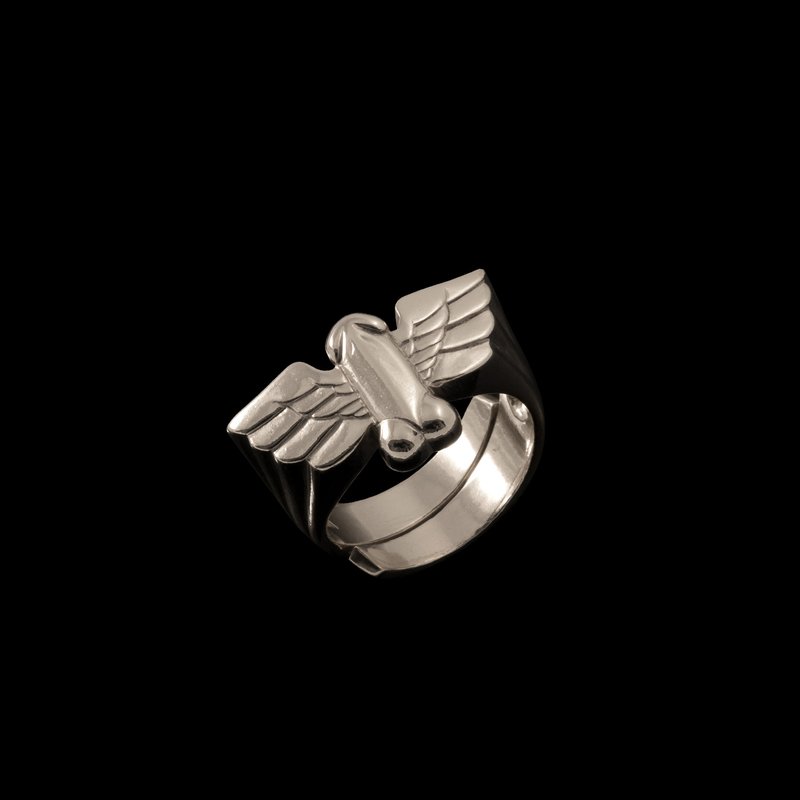 In the mid 1960s, Tom came to the realization that it was time for him to design his own uniform that reflected his sense of male sexuality with a major touch of humor embodied within the concept. That is where the Flying Cock came to be, and Tom adorned his character's lapels and caps with this motif. Jonathan Johnson is a master jeweler and does an excellent job of interpreting Tom's work in his own creations.
TOM OF FINLAND - VirtuvianMan, 1979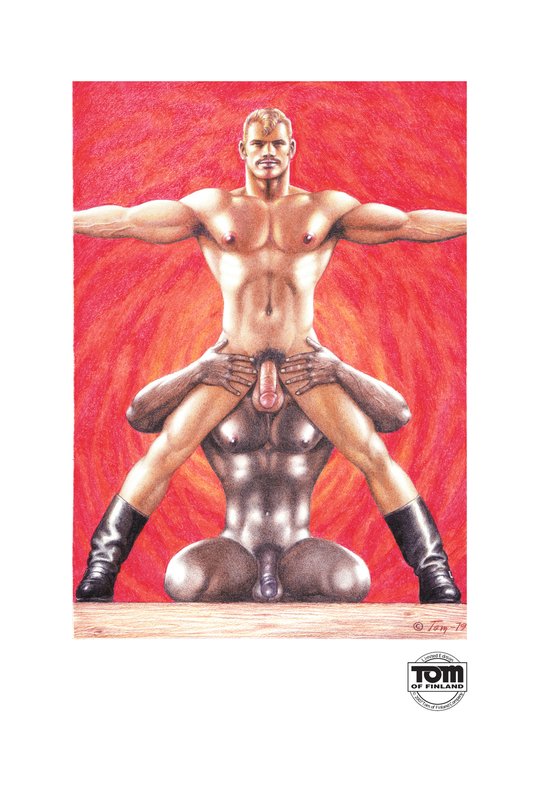 Tom of Finland is well known for his interracial couplings. He rarely named his works but this one he did and it honors the source of his inspiration: Leonardo da Vinci. Tom examined masterworks in developing his skills in drawing. I especially like this piece for it holds elements of the classics, his love of men, and a joyful psychedelic flare.
TOM OF FINLAND - Uniformed 'Tom's Men' in Stable, 1986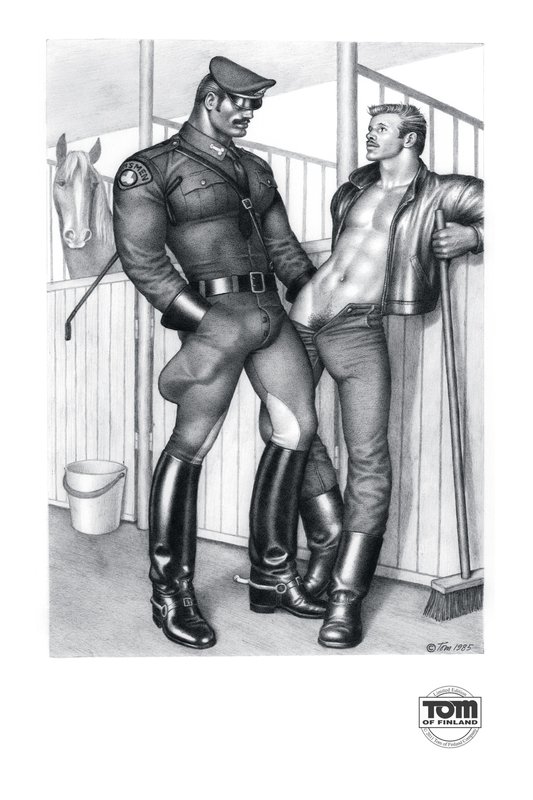 This is one of my favorite works; Tom's technique was never more refined than in this era. You can feel the fabric of the uniform and the communication between the two men through their body language and gaze. Now this would be a favorite of the nearly 2,500 Tom of Finland finished works the Foundation has catalogued from five decades of Tom's career!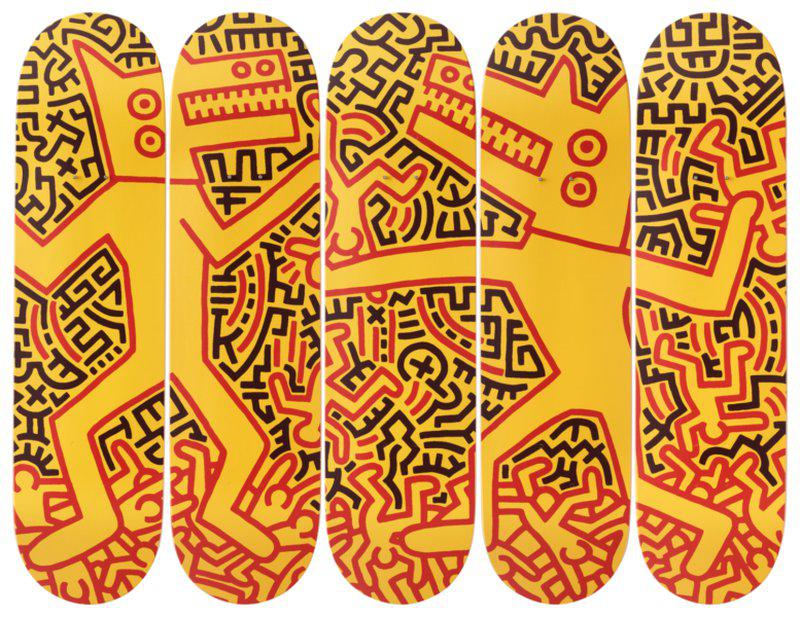 Keith and I lived in New York at the same time and I remember him creating his site-specific installation in the bathroom at the Lesbian, Gay, Bisexual & Transgender Community Center. His work is timeless – almost primordial. An artist shaman true to his native culture: QUEER.


JOSEF HOFFMAN - Vintage Coffee Table, 1930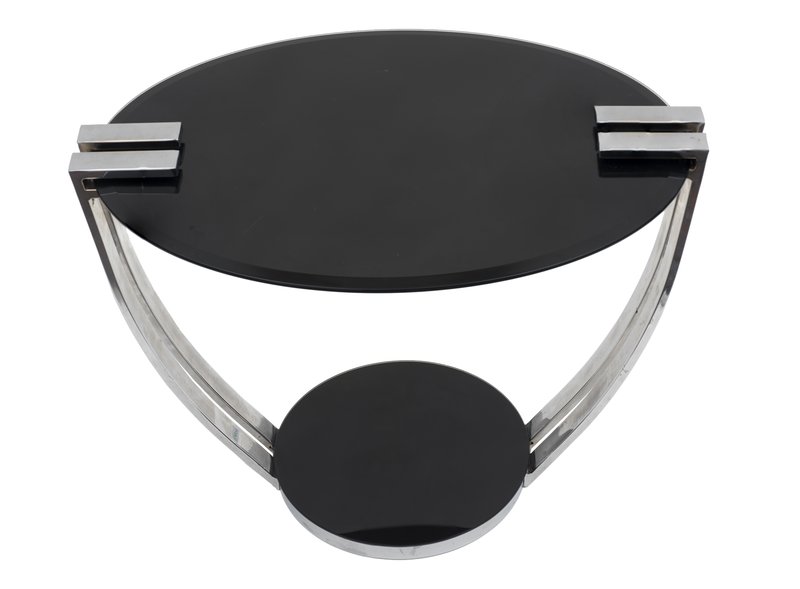 I have been a collector of Art Deco furnishings for most of my adult life, when I spotted the Josef Hoffmann vintage coffee table I just said 'yes'. The piece is such a perfect example of his geometric styling. It was really informative learning about the movement he started and how it has endured.