The writer, curator and filmmaker James Crump is no idle admirer. In his work, he has managed to combine a deep, scholarly appreciation with a highly personal level of engagement.
Crump earned a Master of Arts and Ph.D in history of art respectively at Indiana University and University of New Mexico. He has collaborated with a host of museums and galleries, including Martin-Gropius-Bau, Berlin, the Hammer Museum, Los Angeles,the Grey Art Gallery of NYU, Princeton University Art Museum, and Huis Marseille, Amsterdam.
Ahead of the publication of his new book, Breuer's Bohemia: The Architect, His Circle, and Midcentury Houses in New England, he has selected five works from the Artspace archive suitable for his own paired down domestic environment by "artists whose careers I avidly follow."
Crump explains that these are, "individuals I have personally met or with whom I have a close relationship whose output aligns with the rigor of these object-driven aesthetic parameters."
Crump, who has organized exhibitions and published books with James Welling, Doug and Mike Starn, Nan Goldin,Ross Bleckner, Lynn Davis, and the estates of Robert Mapplethorpe,Carlo Mollino,Willem de Kooning, Garry Winogrand, and Walker Evans says that "not only could I live with them but my sense is each of these works would dialogue with the architecture, art and design within- and around which they would be newly situated."
All of the pieces are postwar, in keeping with Crump's field of expertise. "My professional training was in the history of art, a field in which I focused chiefly on post-1945 art with a special emphasis on the history of photography," he explains. "Early on, I had a very strong interest in the life and work of Joseph Beuys. The Berlin Wall had fallen in 1989 and there was a strong resurgence of interest in Beuys' work just as I was beginning graduate school around 1990. I spent the summers of 1991 and 1994 studying in Germany and in that time I met Friedhelm Mennekes in Cologne, a Jesuit priest who had known Beuys well and had engaged the artist in dialogue about the spiritual in art and healing the collective German psyche following the war.
"Those trips abroad were illuminating and provided me with an unprecedented opportunity to not only experience Beuys' work of the late 1960s to the 1980s firsthand, but to learn a lot more about his influence as a progenitor of a new generation of artists worldwide: Sigmar Polke for example, Blinky Palermo, Katharina Sieverding and Anselm Kiefer, and by extension and proximity Gerhard Richter, Bernd and Hilla Becher and Richard Serra who, for me, seemed to be everywhere at once in that epic period between 1969 and 1973, years bracketed by the groundbreaking exhibition When Attitudes Become Form and the death of Robert Smithson (who was included in that exhibition), who with fellow land artists Michael Heizer, Walter De Maria and Nancy Holt had already captured my fascination which continues to this day." His first choice, a Tom Burr work, is a fitting inclusion, as Smithson was a key influence on Burr's work.
TOM BURR - Untitled (Bouncing Balls), 2010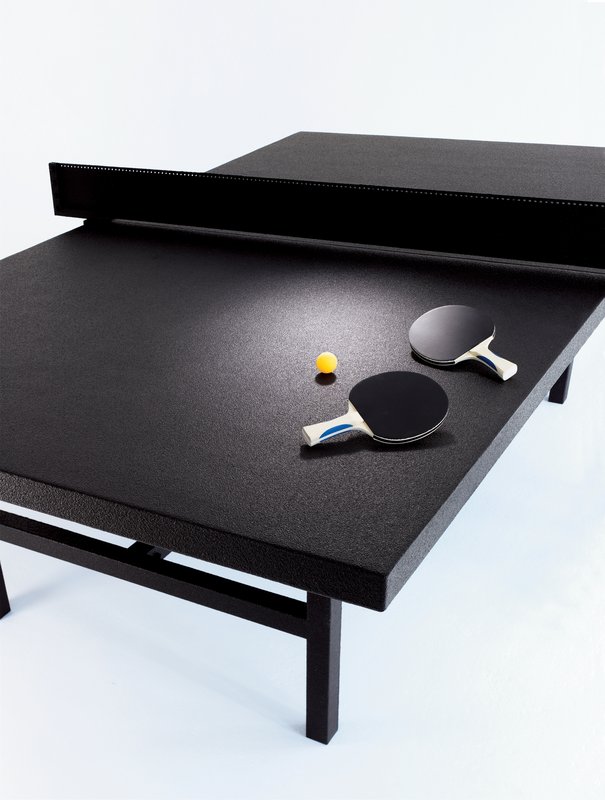 "Beuys had a long reach, but importantly his work and that of his most visible students helped me to begin appreciating their multidisciplinary approach to art making with a panoply of materials and processes in which photography often played a role," Crump goes on. "This led me, in my late twenties and early thirties, to look seriously at the artists associated with Minimalism, Postminimalism and Conceptual art. I was seriously drawn to Donald Judd and made my first visit to Judd's Marfa, Texas compound shortly after the artist's death in 1994. The same year, I made my first visit to De Maria's The Lightning Field near Quemado, New Mexico. A year later, I first met the Italian art historian, curator and impresario Germano Celant who, later, I would get to know better, but suffice it here to say his published work introduced me to the concept of Arte Povera and the many artists advocated by him over decades." Celant not only championed Arte Povera, but also later Italian contemporary artists, such as Maurizio Cattelan, Crump's second choice.
MAURIZIO CATTELAN - L.O.V.E. SOUVENIR di MILANO, 2015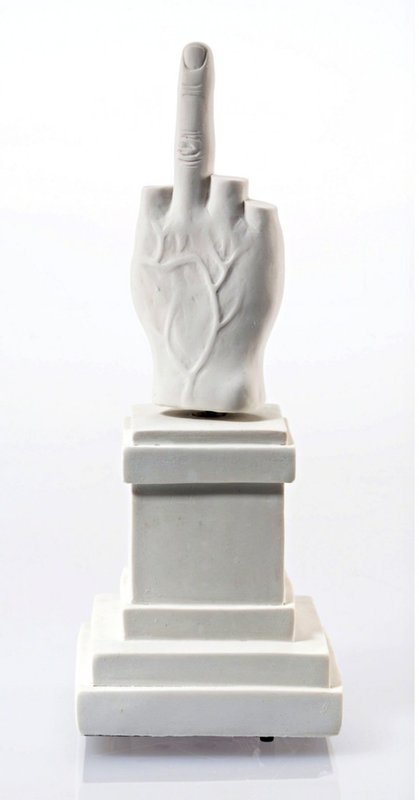 "I was living in Santa Fe and became obsessed with the work of Agnes Martin, James Lee Byars, Bruce Nauman and Ed Ruscha all of whom were living nearby," Crump continues. "Photography was still my chief focus and I spent years marveling at Richter's and Polke's paintings and photoworks and through them the now famous artists associated with the Bechers and the Düsseldorf academy, the Thomases: Struth, Ruff and Demand and Candida Höfer, Andreas Gursky, Axel Hütte, Elger Esser and others. The American artist Lewis Baltz's photographs, especially his Prototypes, were for me an important link to many diverse artists working across mediums, Jo Baer, Robert Ryman, Tony Smith, Sol LeWitt and Carl Andre to name a few." We could add the Swiss-born Oliver Mosset to this list, who combines abstraction and minimalism with challenging views on artistic authorship.
OLIVER MOSSET - Without title, 2018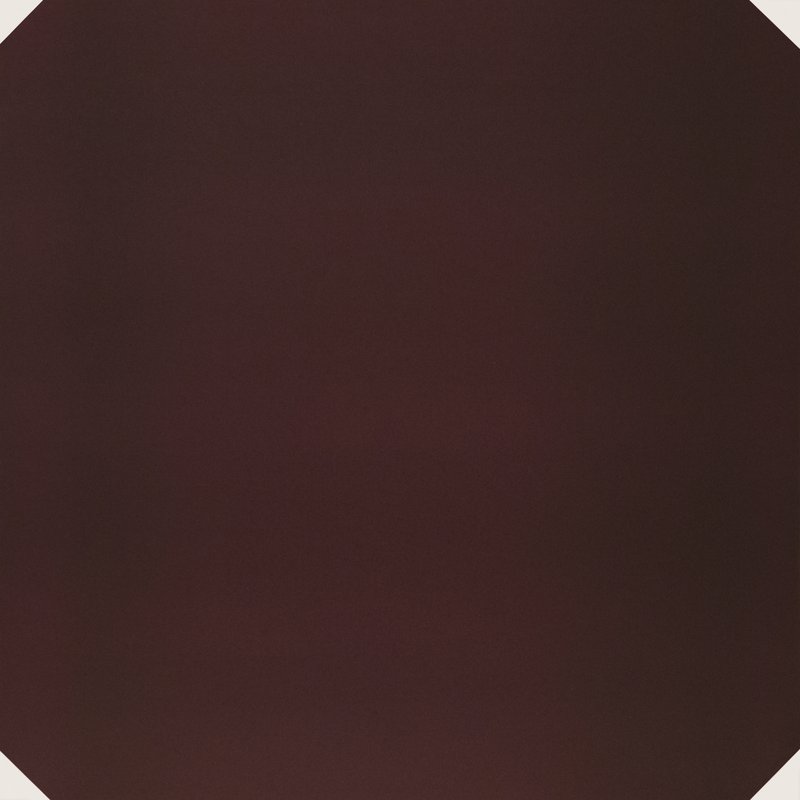 "Likewise, the Japanese artist and architect Hiroshi Sugimoto made similar connections possible, particularly with his Seascapes and Theatres, to abstract, monochromatic paintings by Ad Reinhardt, for instance, Yves Klein and Piero Manzoni. My research into the collector, patron and curator Sam Wagstaff's work brought me closer to other related artists, Anne Truitt, Robert Morris, Dan Flavin, Ellsworth Kelly and Richard Tuttle to name just a few." A prime piece of Sugimoto, exemplifies this aspect of Crump's tastes.
HIROSHI SUGIMOTO - Boden Sea, Uttwil, 2007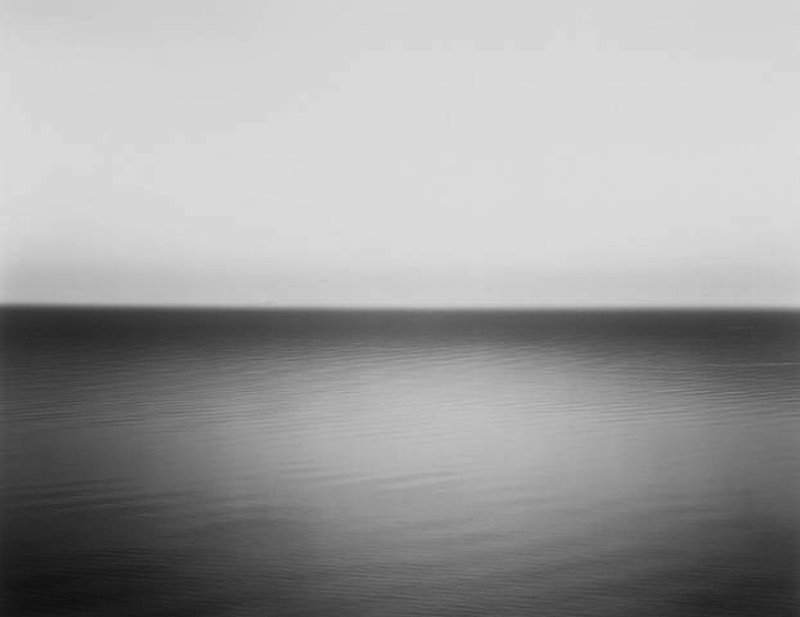 "The point of all this is to say that as a filmmaker, art historian and curator I have had the good fortune to spend my days looking at, thinking about, or writing on art for the last thirty years. My professional life has thankfully allowed me to meet, interview and spend time with scores of artists. These personal and professional encounters with art and artists have formed in me an aesthetic sensibility that over the years has not widened but rather narrowed and become more refined with experience.
"A kind of distillation of taste, it has more recently been aided in no small way by meeting my partner, Ronnie Sassoon who, as an art historian and collector, shared many overlapping aesthetic interests with me but, more importantly, she introduced me to her very concentrated collection of Arte Povera and Group Zero art assembled over a quarter century and the relational aesthetics she has employed living with this collection in iconic midcentury architecture by a who's who of modernism: Richard Neutra, Marcel Breuer, Harold Levitt and others.
"These seemingly disparate movements in art pursued over decades have coalesced into a shared passion and sometimes obsession. As minimalists, with pared down environments in which works of art are meant to breathe and to be lived with, the pressing question about allowing any new work into this pantheon has always been: can we live with it?" Surely when it comes to Wade Guyton, Crump's fifth and final choice, the answer has to be an emphatic yes.
WADE GUYTON - X (Untitled, WG1210), 2018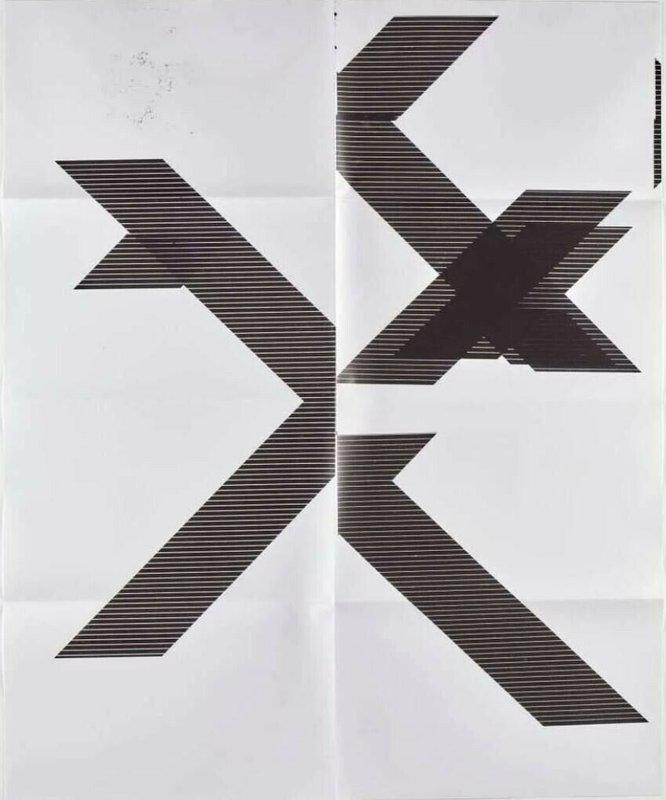 The iconic twentieth-century architect Marcel Breuer was a prolific designer of residential architecture, which is often overshadowed by his early renown as a Bauhaus furniture maker and his large-scale projects. Breuer's Bohemia surveys the houses he designed in Connecticut and Massachusetts from the 1950s through the '70s, many of which were commissioned by a few culturally progressive clients—chiefly Rufus and Leslie Stillman and Andrew and Jamie Gagarin—who coalesced around him into a dynamic social circle. Included in this scene were prominent cultural figures such as Alexander Calder,
Arthur Miller, Francine du Plessix Gray, Philip Roth, and William Styron, and more, marking a unique intersection of postwar architecture, art, and letters.
The publication of James Crump's latest book, Breuer's Bohemia By Monacelli Press this month coincides with the feature-length documentary of the same name and which explores Breuer's explosive residential practice on the East Coast. Through original research and interviews, the voices of principal characters from Breuer's circle and notable figures from the field of architecture help tell the story of Breuer's collaborations with his friends and clients, breathing new life into the history of the rich cultural atmosphere of which they all played a vital part.
Heavily illustrated with vintage and contemporary photographs as well as rarely seen archival materials, Breuer's Bohemia is a unique glimpse of a twentieth-century milieu that produced an aesthetic, intellectual, and sometimes sybaritic community during a fertile period of American design and culture. You can get it here.