We took a look at the estimated auction prices for some of our favorite artists—and then we found way more affordable alternatives. Collect some of the most sought-after names, for a fraction of the price.


MASSIMO VITALI
STEAL: Le Provençal (2015), $2,281 or as low as $176/mo
SPLURGE: Papeete Beach Regatta (2004), estimated $20,000 – 30,000 by Christies


Though most of us would see Massimo Vitali's European beachscapes as an escapist aspiration for summer vacations, the Italian artist has a sociological approach to his work, one that locates the coast as as the ultimate setting to observe human nature. (For more on Vitali's approach, read our recent interview with the artist.) Vitali's vibrant prints generally go for tens-of-thousands of dollars a pop and are very large (like, 180-by-220-inches-large), excluding many fans from collecting his work either becuase it's out of price-range, or simply too big to accomodate. But this smaller print, Le Provençal, measuring 9.84 by 14.33 inches and priced at $2281 (pardon the strange numbers—we're translating from metric and Euro here!), is perfect for collectors who'd like a piece of Vitali without sacrificing an entire wall (or savings account.)
THOMAS RUFF
STEAL: Nudes ree07 (2001), $4,000 or as low as $352/mo
SPLURGE: Nudes ay02 (2004), estimated $20,000 – 30,000 by Christies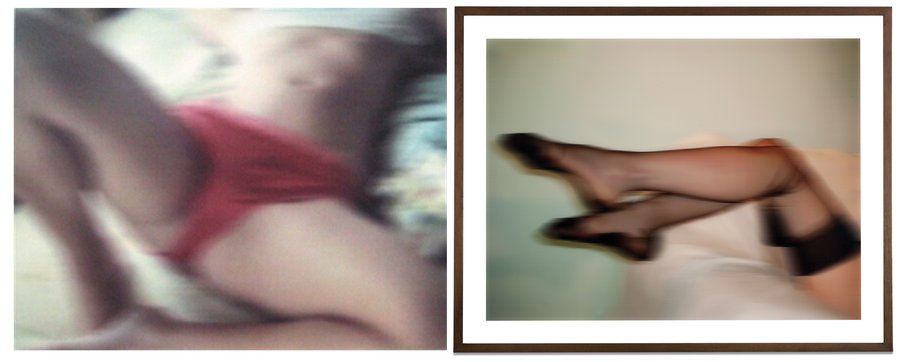 If you feel like a bit of a voyuer when looking at Thomas Ruff's Nudes series, you're not alone. Ruff, one among the most influential living photographers today, created this series by obscuring pornography found online to comment on voyeurism, exhibitionism, and sex mediated by the screen. The German artist has broken boundaries all along his career, starting in the 1980s with straight photographery, to employing found images in the '90s, to, more recently, using 3D imagery. As technology shifts and transforms, so does Ruff's work, reflecting a deep and commited interest in the ways in which we see images. (For more on Ruff, check out our close look at his career, or read our 2013 interview with the artist.) The two images shown above are from the same series, made in the same time period, and are the same size—the one on the left has a larger edition number, which accounts for its more accessible price.
ANDY WARHOL
STEAL: Soup Can Bag (1966), $4,500 or as low as $396/mo
SPLURGE: Chicken & Dumplings (1969), estimated $15,000 – 25,000 by Christies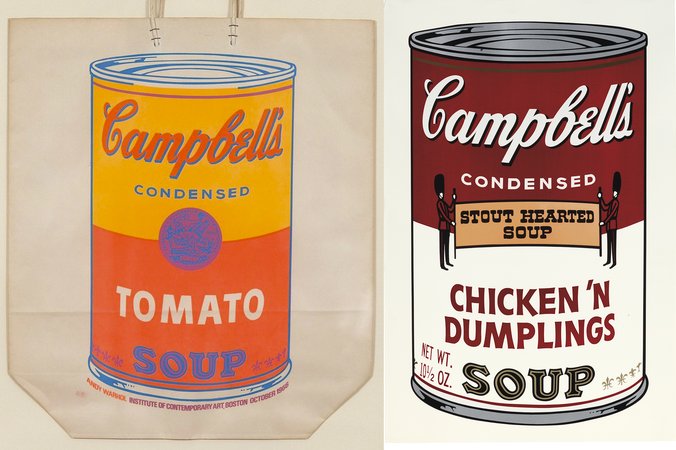 "I used to drink it," said Andy Warhol once of Campbell's soup. "I used to have the same lunch every day, for 20 years, I guess, the same thing over and over again." In Warhol's signature medium, silkscreen, the artist reproduced the can over and over again, mimicking the repition and uniformity of advertising, changing only the label graphic on each one. In 1966, to commemorate an exhibition dedicated to Warhol at the Instute of Contemporary Art, Boston, a series of screen-printed shopping bags were produced—a reflection and manifestation of the collapse between fine art and commerce that made Warhol the famous artist he's known as today.
WOLFGANG TILLMANS
STEAL: Freischwimmer TFL 150 (2013), $300 or as low as $21/mo
SPLURGE: Freischwimmer #81 (2005), estimated $102,408 – 153,612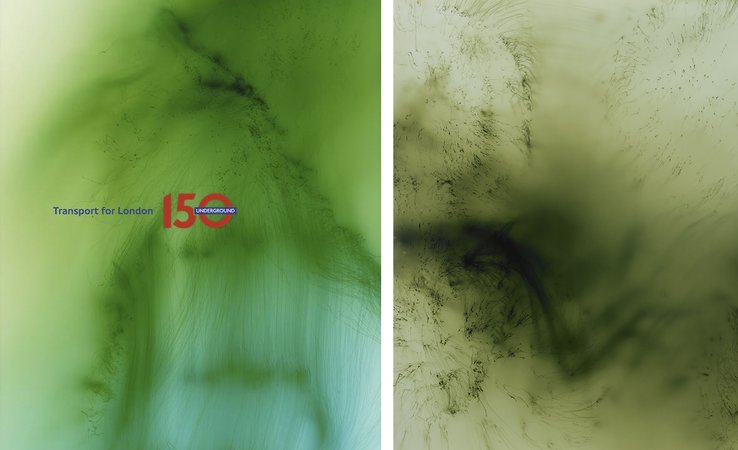 For Wolfgang Tillman's Freischwimmer series, the artist produced non-representational photographs without the use of a camera or a negative. Instead, the German artist created the images in the darkroom, using the chemicals and processes unique to photography, without injecting any of the content or subject matter that make photography reflective of reality. While artworks from this series are in high demand (and come with a hefty price), this artwork commissioned for the London Underground's commemorative 150th anniversary is a (very) accessable alternative for $300. When Tillman was comissioned to make this work, he explained that he thought of the act of traveling in a Tube car, and more specifically, his mental state in the moment—his mind drifts from urban life to a quiet, imaginative world. We can't help but get a little lost in his work, too.