At Artspace, we like to add a little depth. While we offer some of the best paintings, prints and photography currently available, we also enable collectors to branch out into three dimensions, with skateboard decks, vinyl figures, tabletop decorations, as well as furniture, ceramics and interior decor and design items.
Over the past couple of years, in our Art For Home interviews, we have invited artists, photographers, ]curators, designers and architects to select objects from Artspace. Often they chose fine artworks, yet on many other occasions they have plucked equally tasteful works from the design store.
This shouldn't come as any surprise. The line between fine and applied art is thin, with many painters, sculptors and conceptual artists creating works that fit the home as well as the gallery setting. Fionna Banner's Table Stops are a continuation of the artist's text works, and a great piece of ceramic home decor; while Keith Haring's Monster skateboard decks look as good on the wall as they do rail sliding outside the mall.
With this in mind, we've collected together a few of the more popular pieces chosen by our interviewees and we'll be bringing you more items from our design store in the weeks ahead. For now though, read on to discover what these aesthetes would place in their own homes.
WALTER MARTIN and PALOMA MUNOZ - Grave Dance - chosen by interior designer Matthew Patrick Smyth
I love the sense of this. It almost looks like a Wes Anderson movie and when you look at it you can take off from there. It's a movie in there! I love that everything's in the snow. Snow just cleans up everything, so the mystery is even more to the forefront. I just came by it by accident on Artspace. I was just surfing and it caught my eye. I did some research on the rest of their work and wow, how lucky somebody would be to have a collection of their pieces!
Each one is unnerving, with this background of tranquillity and freshness. I love it when art takes an outside the box concept of where it is. I think this is one of the most interesting pieces I've found. That's the nice thing about looking for art because you never know what you're going to come across and what you're going to find. It's that sense of surfing through and tripping on something. It takes you in different directions that you never thought you'd go in.
SOPHIE BOCHER – Tango 2020 - chosen by interior designer Christopher La Guardia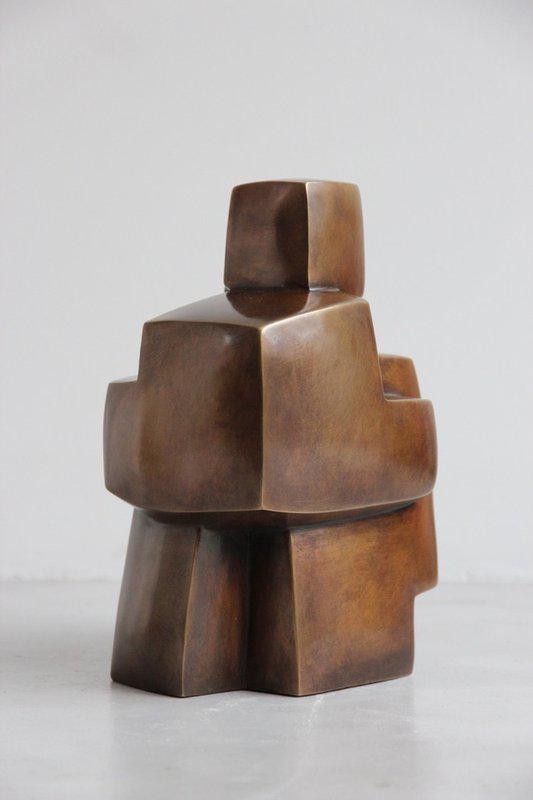 "I love this little sculpture by Sophie Bocher. It reminds me of the large-scale pieces that we often use outdoors in the landscape. Bronze is one of my favorite materials, so this hits some nice notes for me. The pillowed shapes speak both of something architectural and in an abstract way of the human figure. So I think of many things when looking at this piece, I would love to have it on my desk in the office."
FIONA BANNER - Table Stops, 2000 - chosen by Paul Gulati of Universal Design Studio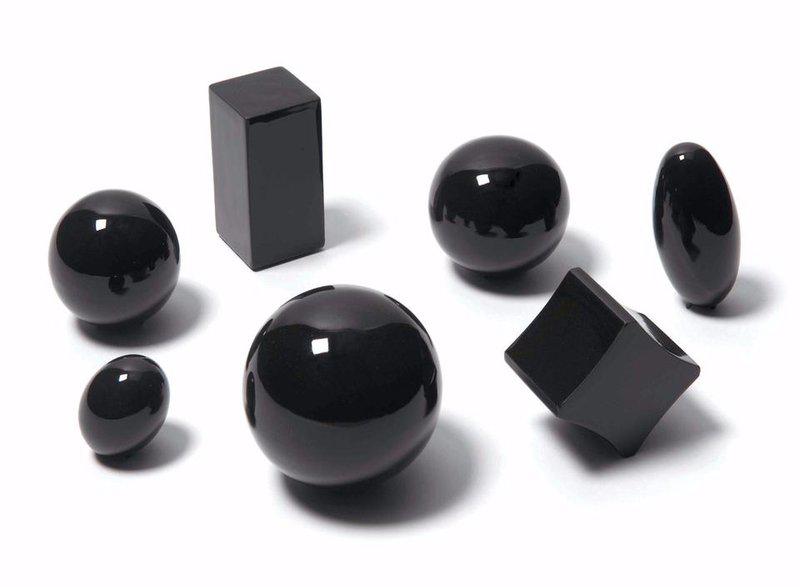 "This is a series of beautiful objects that are varied in form but effectively the same sign. They each represent a full stop and given their simplicity as symbols - in comparison to a letter - show that out of context - pulled from their function in a line of text - they are indecipherable as symbols. Context is perhaps the most important consideration in our work and this piece foregrounds the importance of context and the possibility to re-read artifacts or architectural elements when they are taken out of context."
KEITH HARING - Monsters, 2019 - chosen by Tom Of Finland president Durk Dehner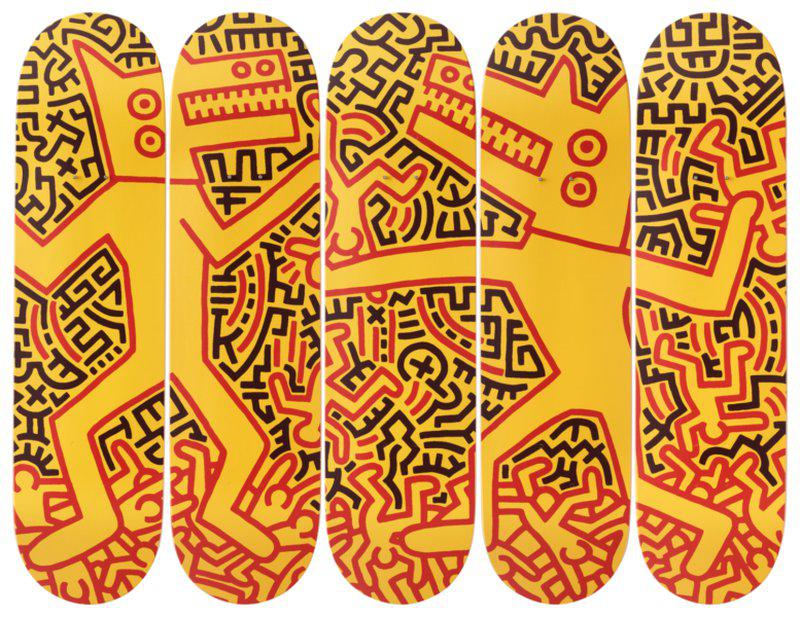 Keith and I lived in New York at the same time and I remember him creating his site-specific installation in the bathroom at the Lesbian, Gay, Bisexual & Transgender Community Center. His work is timeless – almost primordial. An artist shaman true to his native culture: QUEER.
JIMMIE DURHAM - Over the Mountain, 2020 - chosen by writer and graphic designer Monica Nelson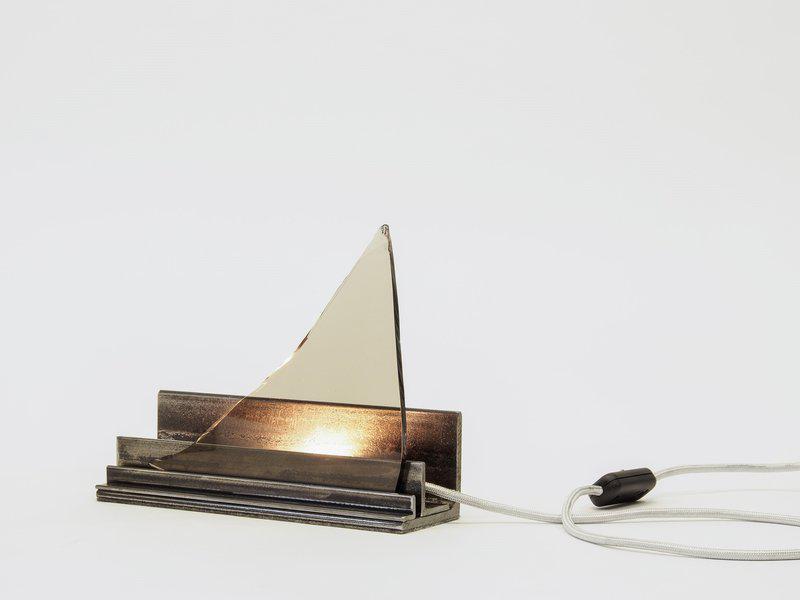 This piece is by the design collective LABINAC, which Durham founded with his partner Maria Thereza Alves. The about page for the collective reads "What a planet we live on. / Trees, rocks, animals, including ourselves and just the water and the air, make it a place of constant delight. / A place of luxury. / River otters make clearings on the banks of rivers which they use as slides for slipping into the water for no reason other than enjoyment. / Luxury."
A Cherokee from Arkansas, Durham's work centers craft and assemblage with text and everyday objects. He, often ironically, points to historical rhetoric and the limitations of language. This piece; a lamp, a shard of glass lit from below, feels like a relic that cannot be diminished.
JENNY HOLZER – IN A DREAM YOU SAW A WAY TO SURVIVE AND YOU WERE FULL OF JOY - chosen by photo artist Cig Harvey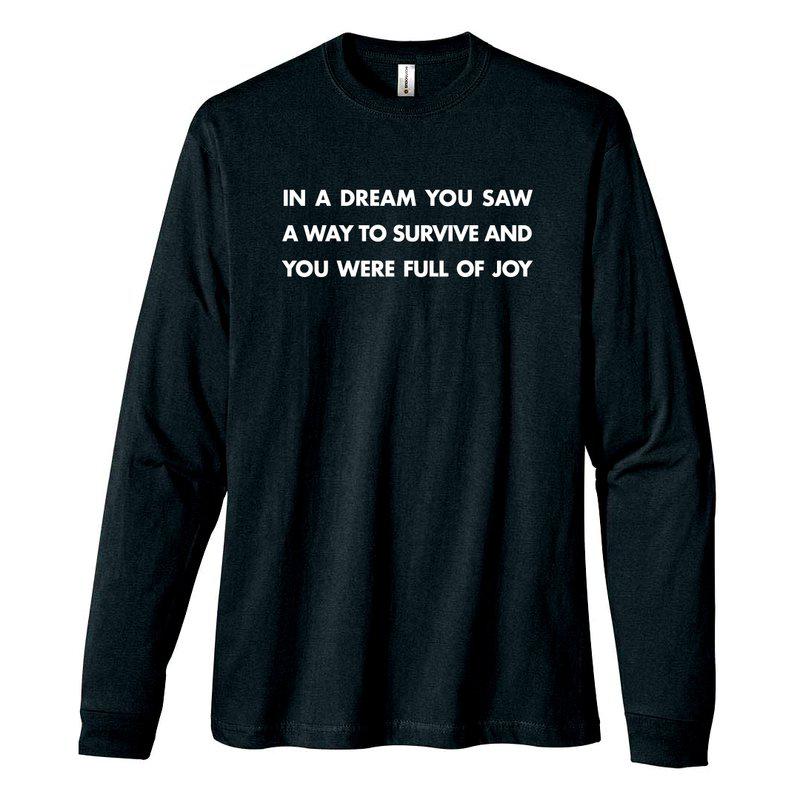 It was a tough choice. But I love her truisms, her affirmations. They're funny but really powerful. I'm always searching for a way to make words more visual and I love how she does that. I love this idea of 'in a dream you saw a way to survive'. It's honest but also cutting; it involves humor, it involves 'smart'.
What I love about that tee shirt is that it's of the everyday. It's ordinary. I like this idea that we can make art from the everyday, and that's what it's all about, that it's about the senses, the feelings and the difficult business of being human.
My central theme is about the senses and what it is to be human, but my work is very much based in reality. I have to get up at 5am and see that light. It has to exist for me in the real world. I love that in Jenny Holzer's work, art is not this thing that is over there, it's a part of our lives. It's accessible to all. I really push against that idea that if something can have widespread appeal then it's somehow lesser. I hate that kind of snobbery. She is a breath of fresh air.
Take a look in the Artspace design store to get somea fresh ideas for your home decor.