Artists rarely need much of an excuse to celebrate. As Andy Warhol put it, "one's company, two's a crowd, and three is a party." Indeed, the line between fine artwork and well-crafted party implement is sometimes a little blurred. In his recent book the fashion designer Paul Smith recalls visiting the London studio of the 20th century painter, Euan Uglow. Smith was handed a glass of wine by Uglow and was, the designer recalls, "blown away" by the vessel the artist used. "The base of the glass was a tap," Smith writes. "'I dropped it,' Euan said, 'so I repaired it.'"
Rest assured, the Artspace gift suggestions below are not as hastily reassembled as Uglow's faucet-wineglass readymade, though they're equally artful, and a great way to introduce a level of contemporary playfulness into yours and your friends' tea parties, aperitifs and cocktail hours. Choose from West Coast tequila coasters, golden ceramic candlesticks, or a 10th century, Italian Radical Architecture teapot. Your loved-ones will certainly appreciate the selection, and may well invite you around to enjoy these party starters in person – talk about a gift that keeps on giving...


DANIEL ALLEN COHEN – Tequila and Mezcal Coasters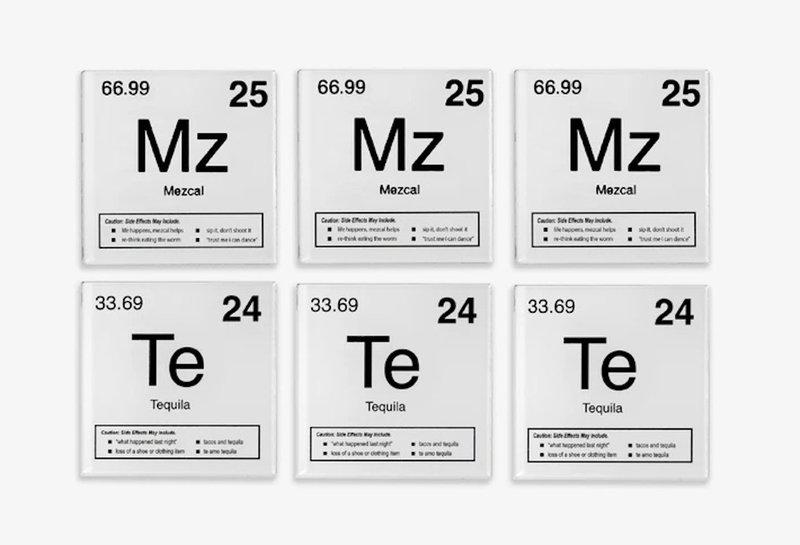 Daniel Allen Cohen is a California-based artist who, working under his alias This Is Addictive, has created multiple pieces of work riffing on the naughty things in life. Forbes sung his praises as the artist who 'turns vices into art' while Hypebeast saw his work as 'conveying tongue-in-cheek commentary on American youth culture and the modern vices we engage in.' Drugs, affluence and fame have all been critiqued through Cohen's work, most notably his Periodic Table of Drugs series, a parodic recreation of the formal Table but with illicit narcotics substituted for the usual elements. An extension of this table is found in his set of six tequila and mezcal coasters, meticulously detailing the properties, side-effects and impacts of your drink of choice on a clean, typographically-formal tile from the periodic table. The only thing left is to choose your poison – Te or Mz.


NIR HOD – The Night You Left Coasters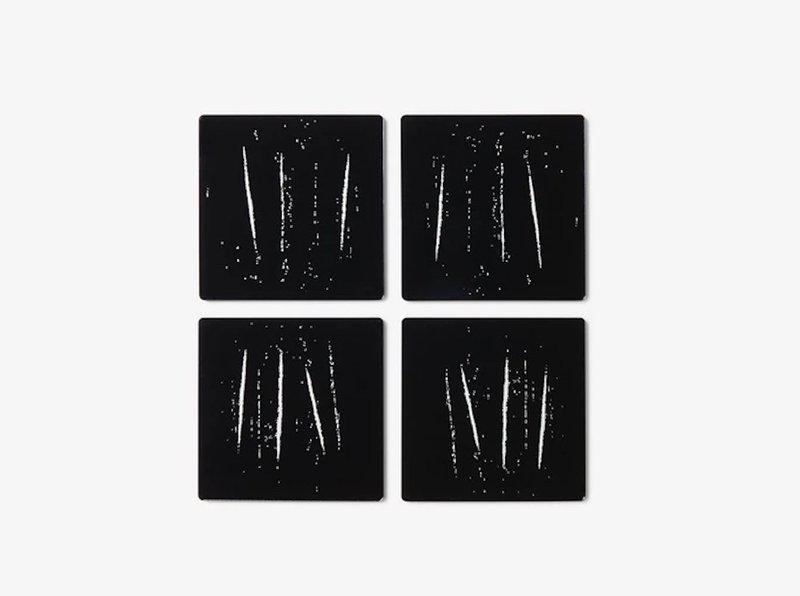 Nir Hod is a New York-based Israeli artist who went from being a surf- and BMX-obsessed high school dropout to an art school graduate obsessed with the Renaissance. After moving to New York in 1999, he developed his practice, eventually producing large scale, often literally reflective works, at one point working with a Bronx-based team who could replicate a chroming technique developed by the US Navy. These small pieces produced by the artist with Prospect NY again capture Hod's eye for surface, texture and detail, with the velvet-backed acrylic coasters appearing to be smeared in chopped out lines and cocaine residue. The trompe l'oeil objects come in pink, red, black, silver or gold finishes, measure 4" x 4" and are a set of four pieces.



ADRIAN OLABUENAGA X MOCA – Snowdome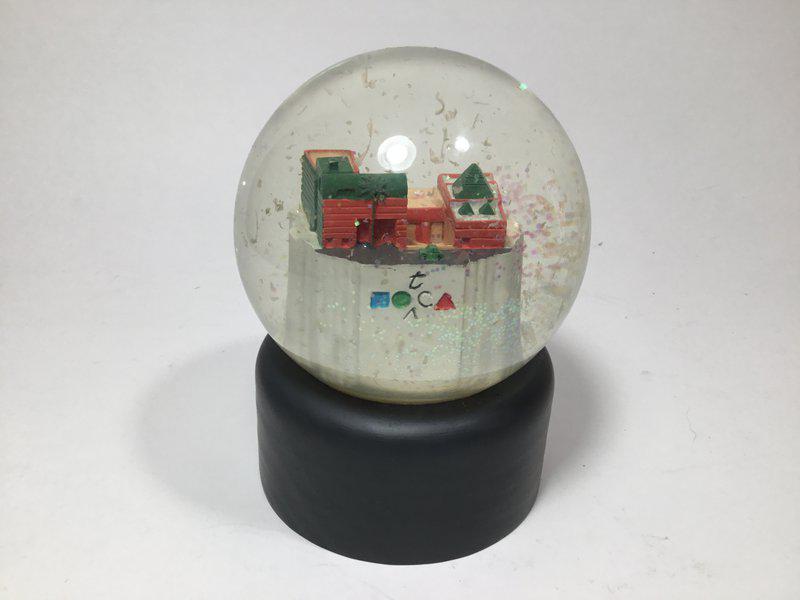 The snowdome's history dates back to the end of the 19th Century when an Austrian surgical instrument manufacturer called Erwin Perzy invented the schneekugel or snow globe. The trinket arrived in the United States in 1927, and has been a fixture of festive decoration and Christmas scenes ever since. However, their ubiquity has led more discerning Christmas-lovers to seek out higher-end and rarer examples of the form – while Austria is still considered the key producer of original artisan snowdomes, artists have also produced sought after models.
A case in point is this beautiful glass and metal dome, originally made to commemorate the opening of the Museum of Contemporary Art (MoCA) in Los Angeles in 1980. Limited to just 100 pieces, the snow dome was made by ACME Studios co-founder Adrian Olabuenga and depicts the museum's building surviving an earthquake. In a fitting nod to the spirit of Los Angeles, the dome substitutes 'snow' for glitter, making this a Christmas scene like no other.
ZVEZDIN'S WORKSHOP – Garden of Eden Painted Candlestickes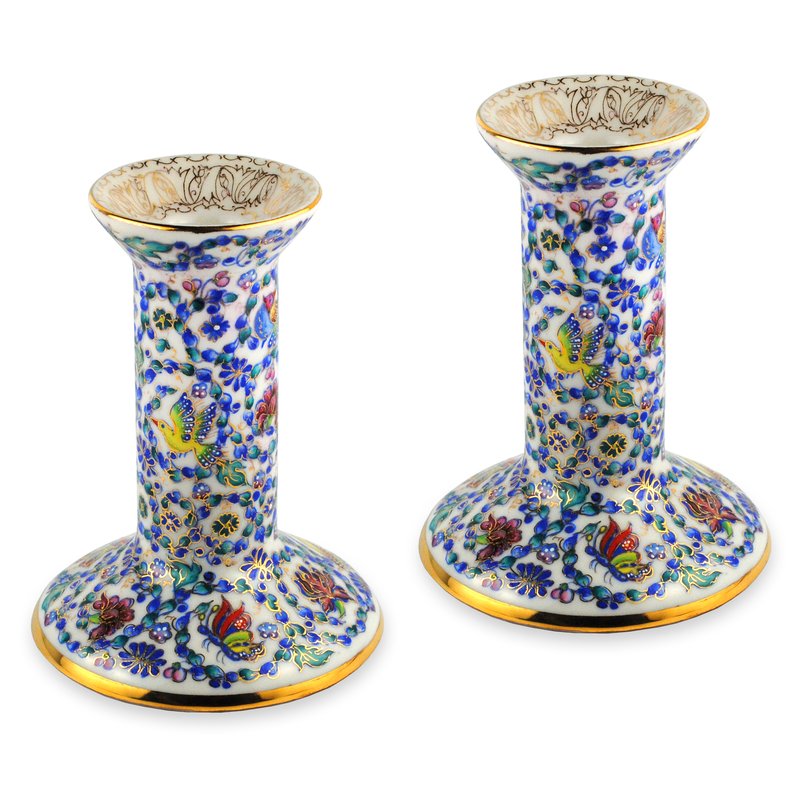 One of the major trends of the last decade has been the revival of interest in – and appreciation of – traditional crafts, with everything from hand-thrown ceramics to Japanese sashiko stitching finding new audiences and practitioners. One of the best examples of this devotion to tradition is found at Zvezdin's Workshop in Russia. Founded by Israeli-Russian ceramicist and artist Alexander Zvedin in 1998, the workshop produces hand-painted items of porcelain Judaica (items relating to the Jewish faith). The porcelain is imported to the country from Limoges, France, before a skilled team of painters – including Zvezdin's daughter – decorates the items with special ceramic dyes. Some of these contain 18kt gold, with the painted pieces then fired at high temperatures up to six times to ensure that the dye is permanently baked into the porcelain surface. This laborious process means that each finished piece of Judaica can take up to two weeks to complete. This pair of candlesticks have been produced by this process, and come with an intricate design inspired by the Garden of Eden, standing 4.5" high.

ANDREA BRANZI – GIOTTO 15-piece Tea Set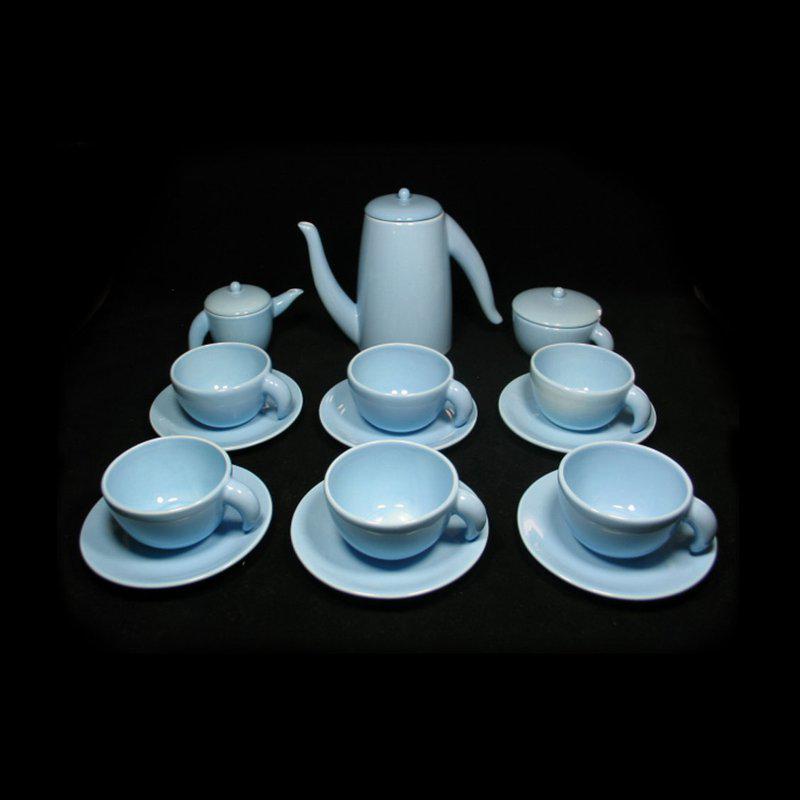 Born in 1938 in Florence, Andrea Branzi has become one of the leading promoters of the Italian Radical Architecture movement. From the mid-Seventies he was involved with Alchimia, a design movement conceived as a laboratory of experimental industrial design. A true polymath, he worked across architecture, design, urban planning and cultural curation, while producing books and working with magazines and taking academic postings. In 1983 he was one of the founders of the Domus Academy, the first international post-graduate school of design, and his work resides in galleries including the Pompidou, The Met, the V&A and the Vitra Design Museum. This tea set is a 15-piece original, designed by Branzi in 1991. The fully ceramic set was only produced in an edition of 50 as part of the GIOTTO line. Many of the GIOTTO items never got beyond prototype or sample stage, increasing their scarcity. This is a chance to own a genuine piece of Italian design history.
To view these gift choices, and many more, browse Artspace's 2021 Holiday collection here.