So much happened this year––some of it good, some of it the same banal churn of expensive stuff. Instead of trying to put a label on 2018 (the year of... well, who knows), or trying to rank things from best to worst, we decided to describe some of this year's hot-and-not moments via senior superlatives. So, if the art world was your highschool, this is what the 2018 yearbook would look like.
Most Gossiped About:
BANKSY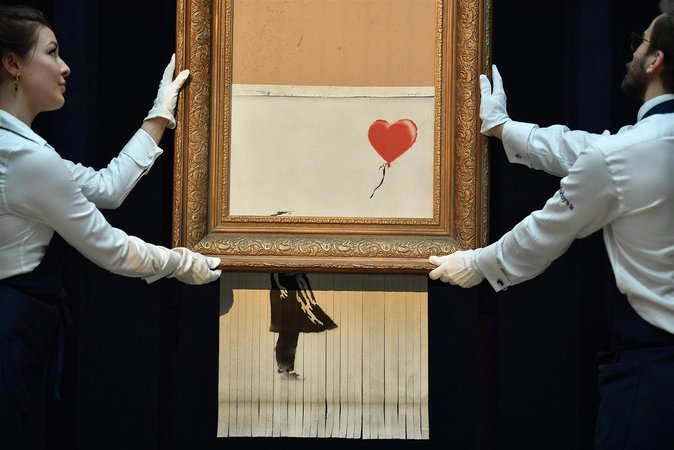 Banksy's Girl With a Balloon self-shredding, image via NBC News.
Among art-world cognoscenti, it seemed like Banksy had lapsed into predictable, crowd-pleasing street art, whose counter-cultural messages are sold for millions of dollars at auction. But in 2018, he burst back into the cultural arena when his Girl with Balloon piece self-destructed after selling for $1.4 million dollars, a move that many speculated would only increase the art's value. Conspiracy theories quickly flooded the discourse-sphere. Did Banksy trick Sotheby's, or were they in on the joke? Was it even a good joke?
"Look," wrote critic Ben Davis, "I kinda like Banksy. I know that's not really a cool position to stake out." But, for Davis, it didn't matter whether or not the piece was staged: the artist had tricked Sotheby's (and their hyper-wealthy audience) either way. "Being in on it puts the auction house in the awkward position of having lied to any of the rich people who would have set their heart on the work… On the other hand, having not been in on the prank makes Sotheby's look incompetent." Sarah Hoover, artist liaison at Gagosian Gallery, was less amused. As she said in conversation with writer Erin Schwartz, "What a place of privilege you have to be in to literally destroy your work publicly as it's being sold, and then [it's] worth more afterwards. Only a white dude could get away with that kind of thing. I think it really defines a lot of what turns people off about the art world."
RELATED ARTICLE: Exit Through the Grift Shop: On Banksy and Brett Kavanaugh
Best Dressed:
ECKHAUS LATTA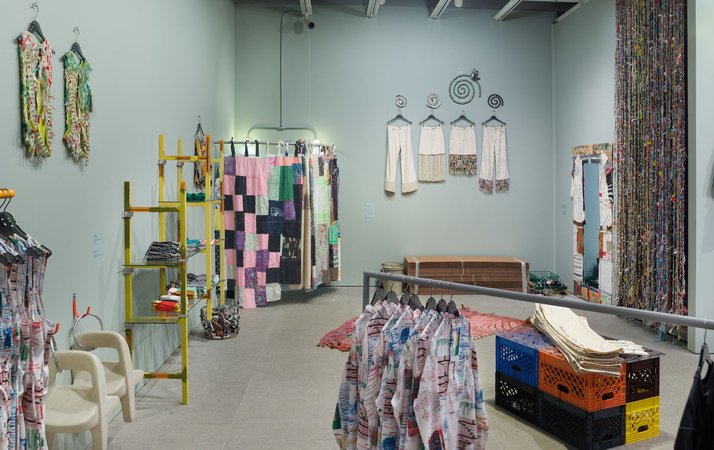 Installation shot of "Possessed" by Eckhaus Latta, image via the Whitney Museum.
For the museum's first fashion-related show in 21 years, the Whitney Museum did a two-person show with Mike Eckhaus and Zoe Latta, better known by their fashion brand, Eckhaus Latta. In an anti-fashion aesthetic, which would influence brands like Women's History Museum, Eckhaus Latta's garments are used against their original function. See: a burgundy dress shredded and stringy to expose the wearer's nipples; a plaid dress that makes up for spaghetti straps with bare shoulders and overabundant sleeves. The designers set up a pop-up shop in the museum lobby this past Fall, and, as would be the case in an H&M but also a commercial gallery, everything was for sale. "Prices," reported writer Fiona Duncan, ranged "from $60 for upcycled, hand-dyed T-shirts to thousands of dollars for beaded pieces."
But like all "underground" fashion brands, Eckhaus Latta's power comes from its presentation of cool-hunting marketed as community, or maybe it's the other way around. As with artist collective/company Bernadette Corporation, the aim is to question the lines between commerce and high art, if such a line still exists. A friend said that the show was "like Bernadette Corporation but less fun. Cool clothes though."
Class Clown:
SARAH LUCAS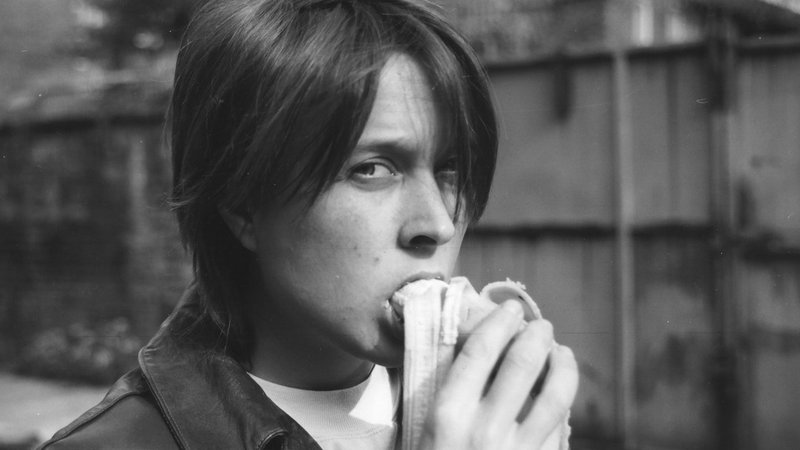 Eating a Banana by Sarah Lucas (1990), image via the Tate Museum.
A toilet that looks like it's made of pee; a mattress decorated with genitalia made of fruit. As writer Kaitlin Phillips pointed out in Artforum, "The genius of this psychosexual iconography lay in its bawdy simplicity; sex can be as banal as a fruit basket. Lucas would continue to deftly boil the human form down to its sex organs, rendered in fruits, vegetables, and found objects, emphasizing compositionally the slouch and slump." Lucas's work is funny in the way a bad pun is: the joke is funny precisely because it's too obvious. Lucas, like her fellow YBA artist and former collaborator Tracey Emin, have been lumped wholesale into the feminist movement––and while Lucas is a feminist artist, it is worth also seeing her intentions for what they are. To quote Phillips again, "The critic Quinn Latimer correctly referred to this as Lucas's impulse to 'ventriloquize masculinity,' but there's a thin line between this brand of feminism and that of the classic game girl, intent on beating the boys at their own game."
RELATED ARTICLE: Sarah Lucas's Work is One Big Dick Joke—And That Rules
"Best" Smile:
ANDY WARHOL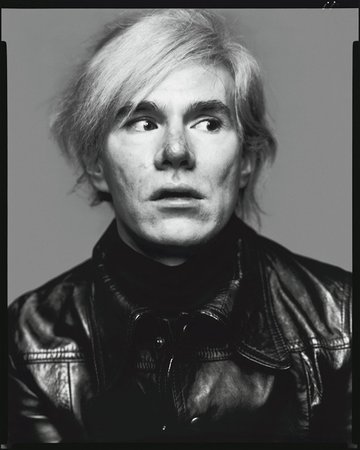 Andy Warhol in 1969, image via the New Yorker.
Andy Warhol apparently hated getting photographed, which is maybe why he photographed people instead. Warhol––who was also the subject of a major Whitney retrospective this year––was frequently photographed holding a camera next to his face, as if to say, "Take a picture of me and I'll take a picture of you." He was also famously obsessed with famous and mysterious smiles. In 1962, Warhol created a work called Marilyn's Lips, a diptych reproducing the star's mouth 168 times. By 1975, Warhol had generated three limited-edition albums of lip images, printing or collaging 60 different pairs of lips onto the pages. If, per market logic, something gains value in proportion to its rarity, then no wonder Andy smiled so rarely.
Most Likely to Become a Gazillionaire:
DAVID HOCKNEY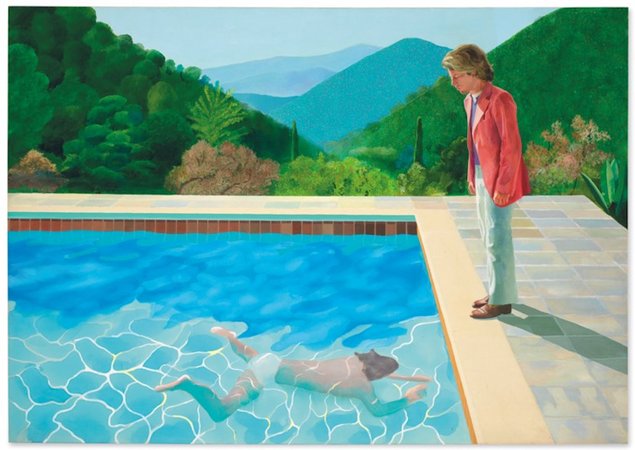 Portrait of an Artist (Pool with Two Figures) by David Hockney, image via Christie's.
Congrats to octogenarian Pop Artist David Hockney, whose Portrait of an Artist (Pool with Two Figures) (1972) was the most expensive work sold by a living artist in 2018. Hockney smashed the previous record for most expensive work sold by a living artist, held, perhaps unsurprisingly, by Jeff Koons, whose Balloon Dog sold for $58.4 million in 2013. So what makes this piece so valuable?
It's partly timing. Hockney is a famous Pop Artist––he had major museum retrospectives at the Metropolitan Museum of Art, the Tate, and the Centre Pompidou this past year––and has also very much influenced the current (and in vogue) generation of figurative painters. But as Emma Specter pointed out in GARAGE magazine, Hockney's painting might be worth so much because it's so Instagrammable. The piece "is simply rendered and pleasing to the eye; dominated by cool blue and verdant green, the painting is as Instagram-friendly as your most recent jaunt to the Soho House rooftop pool… Indeed, the most popular color shades on Instagram—bright blue, teal, soothing pastel-pink—are the same as the painting's color palette."
Most Likely to be Mistaken for a Teacher:
ADRIAN PIPER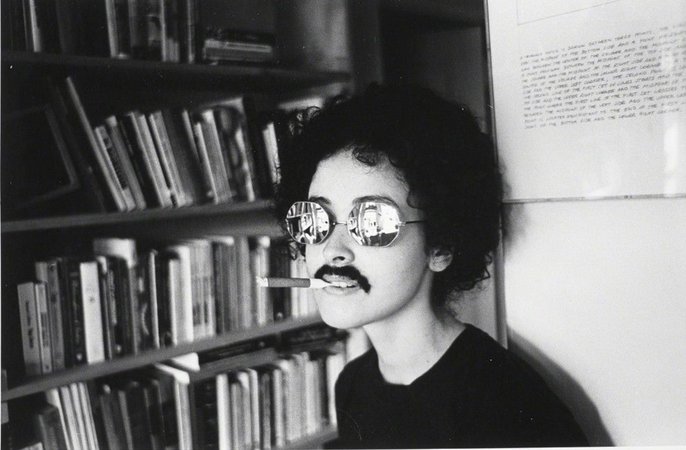 Adrian Piper, The Mythic Being-Sol's Drawing #1–5, 1974, image via the Walker Art Center.
Adrian Piper is perhaps best known as a visual artist. Her work was the subject of a major retrospective titled "Adrian Piper: A Synthesis of Intuitions, 1965-2016" at the Museum of Modern Art this past year. But in addition to being a (very deservedly) famous artist, Piper is also a Kant scholar, and has taught philosophy at major institutions across the U.S. She received a master's in philosophy from Harvard in 1977, followed by a Ph.D in 1981.
Piper has, for instance, marked 1967 as the year that she began to "carve up objects spatiotemporally, into infinite series, progressions and variations," a statement which reflects her thorough Kant scholarship. That being said, Piper's interests are hardly limited to metaphysics. As she pointed out in an interview titled "Critique of Pure Racism"––a riff the "Critique of Pure Reason," Kant's famous philosophy tract––Piper pointed out that, as an artist, her aim was not just to analyze racism, but to force viewers to confront their own racism.
Most Likely to be Late to Graduation:
HILMA AF KLINT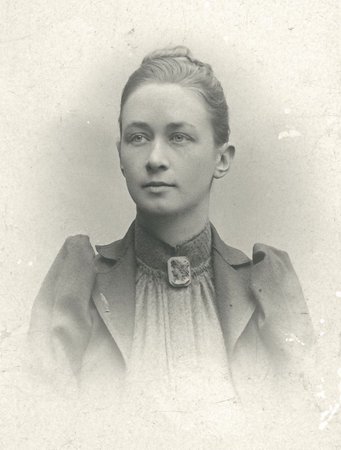 Hilma af Klint c. 1900, image via Wikipedia.
Hilma af Klint, as they say, may be late, but she's always on time. "Hilma af Klint: Paintings for the Future," which opened at the Guggenheim Museum this fall, was the first major solo exhibition in the United States for af Klint, an artist who was born in Sweden in 1862 and died in 1944, right before the close of World War II. Despite the quality of af Klint's art––her modernist work predated the "official" start of Modern Art, which was supposedly initiated by Wassily Kandinsky––her work is only just being "discovered" within the United States. This is, in part, because she's a woman, but it is also because af Klint asked that her work not be shown until 20 years after her death, fully aware that modernism (and the world more generally) was a boy's club and wasn't ready for her art. We can only hope that we are ready for it now.
Most Likely to Succeed:
LEILAH WEINRAUB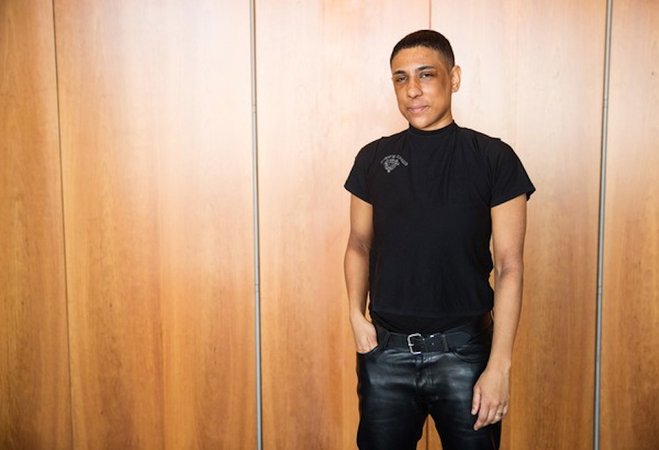 Leilah Weinraub, image via Zimbio.
It's hard to imagine Vetement sweatshirts selling for $600 or teenagers lining up in subzero weather to buy Supreme hoodies without the precedent set by Hood By Air, which enjoyed both massive critical and commercial success before going on hiatus in 2017. When former C.E.O. Leilah Weinraub started there, "No one was focusing on menswear, at all," as she pointed out in an interview with GARAGE. "No one cared about men or their bodies, or if they had, I don't know, personalities." Weinraub's sensitivity to people's characters and faith in her own intuition very much informed Shakedown, which many have called "the movie of the year." In the early 2000s, Weinraub began working as the "video lady" at Shakedown, an underground black lesbian strip club in Los Angeles. The footage she shot while working there eventually became her film, Shakedown, which tells the story of the club through its emcees and performers. "The first day that I was there," she says, "I was like, this obviously is going to be a movie; it needs to be a movie; everyone in the room was just like, a huge star."
Most Likely to Get Expelled the Day Before Graduation:
BOYD RICE

Boyd Rice, image via Heathen Harvest.
In 2018, Boyd Rice was just another white bro trying to pass off his fascism as cultural provacateuriship. After Greenspon Gallery recently canceled his two-person show with Darja Bajagić, Rice denied being a Nazi. But research quickly revealed that Rice has confirmed long-standing ties to white supremacist groups and fascist icons like Charles Manson and Anton LaVey in addition to using his own work to disseminate fascist propaganda. A Youtube video shows Rice appearing on Race and Reason, a TV show hosted by Tom Metzger, former Klan Wizard and founder of the White Aryan Resistance (WAR). When Metzger asks Rice if industrial music can serve as "a new propaganda instrument emerging for White Aryans," Rice agrees. And if this weren't enough––Rice's art sucks! Giant, mediocre "cubist" works. To quote Ariana Grande, "thank u, next."
RELATED ARTICLE: How Art World Fascists Like Boyd Rice Co-Opt Sixties Counterculture—And Get Gallery Shows Despite Being Nazis
Most Likely to Pass In Your Homework as His Own:
RICHARD PRINCE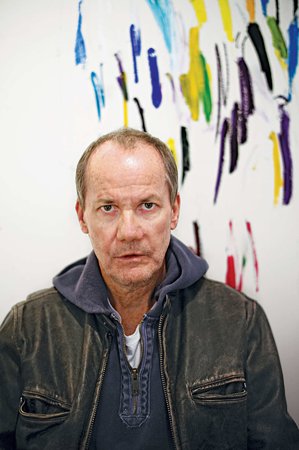 Richard Prince, image via Vulture magazine.
Picking up where saints and Hollywood actors left off, contemporary artists have assumed (or have been asked to fill) individualism, modeling it back to us. In the seventies, Richard Prince famously began rejecting this trope by rephotographing an ad of the Marlboro Man, kickstarting an art career based on questioning whether or not appropriation can ever be authorship. This practice has, of course, landed Prince into a fair share of legal trouble as well. In March 2011, federal judge Deborah A. Batts ruled that Prince had violated the law by using another photographer's work as the basis of his own. Prince has also been ensnared in a series of lawsuits since "New Portraits," his 2014 show at Gagosian Gallery, which "repurposed" screenshots of Instagram.
For years, Richard Prince has been ensnared in lawsuits surrounding work in his 2014 show at Gagosian, "New Portraits," which repurposed screenshots of Instagram posts as large inkjet paintings on canvas. This year, Prince enlisted a series of art world heavy-hitters, including New Museum Director Lisa Phillips, to argue that the 2014 show constituted fair use. Good luck, Richie!
Best at Shop Class:
GRANT WOOD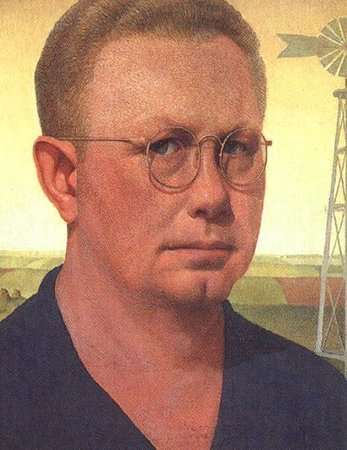 Self-Portrait by Grant Wood (1932), image via Wikipedia.
Grant Wood's weird, dour paintings had a Whitney retrospective this year, but he is perhaps best known for American Gothic (1930), whose ambiguously related (father and daughter? Husband and wife?) couple became symbolic of the Great Depression and America more generally. But before becoming a well-known painter and proponent of Regionalism, Grant was an apprentice at a local metal shop. After graduating from Washington High school in 1910, he enrolled in The Handicraft Guild, an art school run entirely by women. Throughout his painting career, Grant would frequently hire out these handicraft skills to make money. He designed the corn-themed decor (which included a chandelier!) for a hotel dining room, and helped produce stained glass buildings in Munich.
[related-works-module]
RELATED ARTICLES:
Streaming: 10 Art-Related Movies (and TV Shows) to Binge Watch Over the Holidays
Gritty and the "Madness of Accelerating Entropy": An Interview with Artforum Editor-in-Chief David Velasco
An Interview with Eco-Philosopher Timothy Morton on Art and the Hyperobject