As always, this year's Art Basel Miami contains a lot of art. Some of it is great, some of it is not. Luckily, Bill Cournoyer, founder of The Meeting—an art advisory firm and private exhibition space in New York City––has waded through the crowds to show you which works are worth really spending time with. Cournoyer has spent the past 20 years collecting established and emerging artists, so we were pleased to have his discerning eye––and, of course, were big fans of the Keith Haring piece he highlighted.
GÜNTHER FÖRG
Unititled, 1998
Almine Rech, New York
€300,000-400,000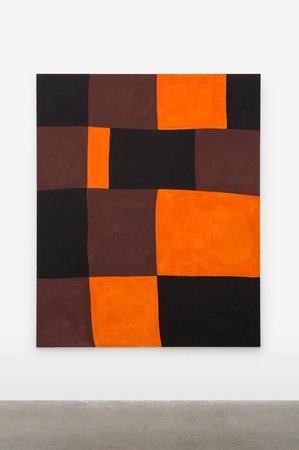 Günther Förg's painting Untitled (1998) reflects his interest in architecture, abstraction, and the influence of minimalism on his practice. I was excited to see this painting because I haven't seen many from this body of work. The building blocks of his unusual color combinations and evident brushstrokes result in a monumental work.
KEITH HARING
Silence = Death, 1989
Acrylic on canvas
Lévy Gorvy, NY, NY
$8,500,000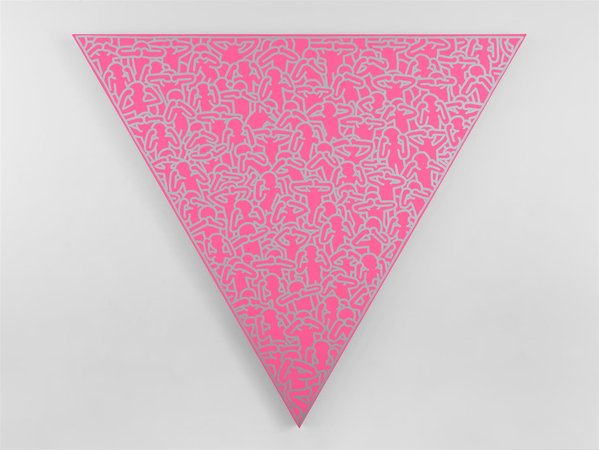 I moved to New York in 1987 when Keith Haring was already an art world sensation. That year ACT-UP, the AIDS activist organization, was started. Silence=Death (1989) was their most important protest logo. Keith Haring's masterpiece Silence=Death is a stunning tribute to those affected by the AIDS crisis and personal reflection of the artist's struggle with the disease. What's remarkable about the painting is that despite the dark subject matter and its personal relevance to Haring, there remains a sense of hope in its existence.
MICHAEL KREBBER
Perfect––damn, wasn't that a great surprise?, 2001,
Galerie Nagel Draxler, Berlin, Cologne, Germany
Price on Request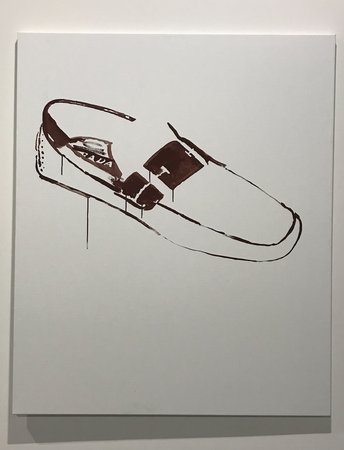 Michael Krebber's painting Perfect – damn, wasn't that a great surprise? (2001) was first exhibited at Maureen Paley in 2001. The exhibition is one of my favorite Krebber shows, and I believe, one of his most important. The paintings were Krebber at his most "figurative" although they still exhibited a tremendous amount of restraint, as he is well known for. I remember artists' reactions to the paintings and realized then how influential he was becoming. I think I can safely say that for Krebber "less is more." The longer you look at the image and brushstrokes, more is revealed.
ELLEN CANTOR
American Dream, circa 1990
PPOW, NY, NY
Institutions only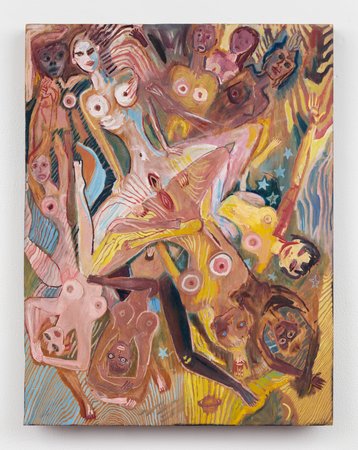 Ellen Cantor was a special artist with a uniquely personal vision. Her work was focused on the ideas of female representation. She explored the relationship between life and make-believe, virtue and vice, all through her own interpretation of feminism. She appropriated imagery remembered from her childhood from sources like Disney alongside overt sexual imagery. I love American Beauty because of its feminine aesthetic and feminist expression of desire. It's magical.
PETER HALLEY
Traffik, 2018
Stuart Shave, London
$220,000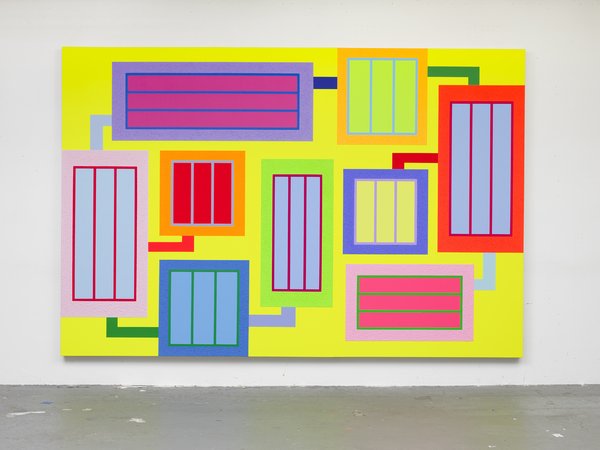 I've always admired how Peter Halley identified his subject matter and motifs early in his career. I am also fascinated by how contemporary and relevant his work feels today. His ideas represented by the "cells" and "conduits" reflect the issues of today as much as they did in the '80s when they were first created. Traffik (2018) is a powerful representation of his recent work. I love the use of his signature fluorescent colors as well as the systems he continues to portray.
WILLIAM N. COPLEY
Why Are You Staring, 1986,
Paul Kasmin Gallery, New york
$275,000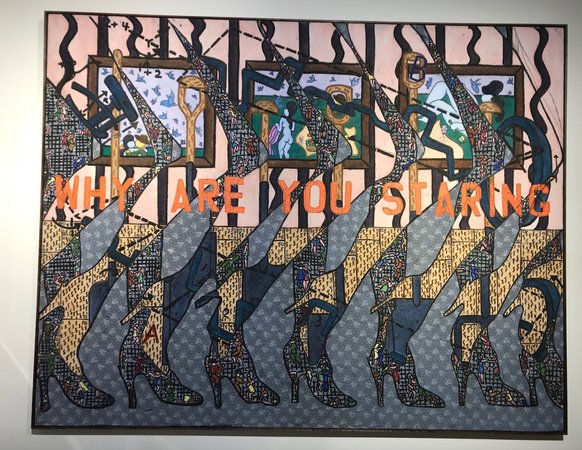 This past summer I read William N. Copley's book Reflection on a Past Life. I especially liked the part about his experiences within the nascent art scene in Hollywood, CA, and of course, the anecdotes surrounding his gallery and the artists within his circle. The painting Why Are You Staring (1986) is from his later body of work when he started to depict erotic or pornographic subject matter, depending on one's interpretation. This work struck me as particularly relevant some 32 years later with its confrontational and voyeuristic imagery. The ICA Miami just opened a small exhibition of his earliest works from the 1950's.
BARBARA KRUGER
Cuando ellos hacen negocios hacen historia (When they do business they make history), 1986
Gelatin silver print
Sprüth Magers, Berlin
$575,000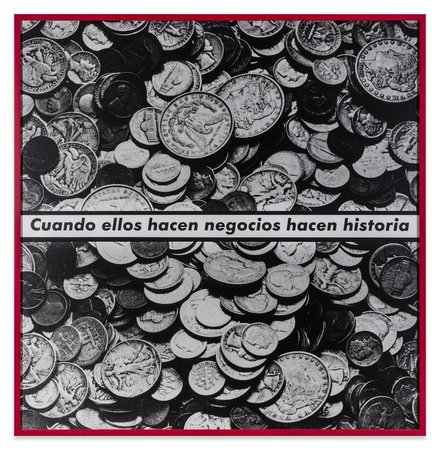 Barbara Kruger's work feels as powerful today as it did in the '80s. Cuando ellos hacen negocios hacen historia (When they do business they make history) (1986) struck me as a very appropriate piece not only for an art fair in Miami but also for our time. The old story of politics and money and hot topics like immigration all come to mind. Sometimes artists are uncannily sensitive to events and their effect on the general culture before the rest of us.
MICHEL MAJERUS
Untitled, 2000
Matthew Marks, New York
Price on request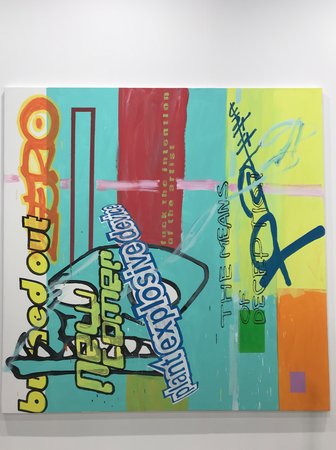 I've been a fan of Majerus's works since the early 2000s. I was always fascinated by the feeling of speed and time in his work, as well as the reflection of the information age in his paintings. He was a trailblazer in that regard. His use of color, abstraction, and appropriation enhances these tendencies. Untitled (2000) is an excellent example of his work. It feels like you're traveling with him through the virtual world.
EGAN FRANTZ
Painting #7, 2018
Galerie Nagel Draxler, Cologne and Berlin
$20,000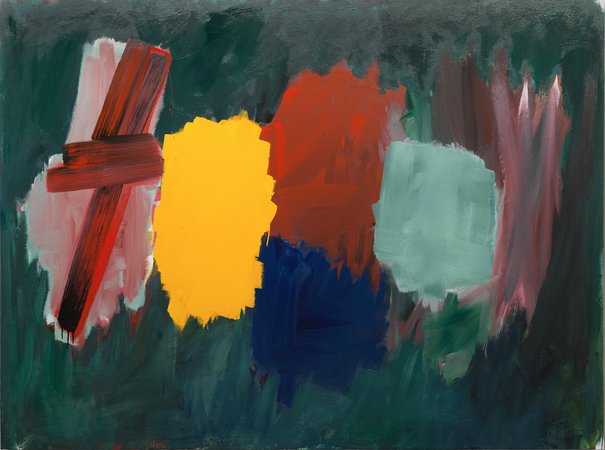 Egan Frantz's new paintings don't reflect a new direction as much as a new interpretation of his work. As the artist stated in a recent press release, these are "Paintings with a capital P."
[related-works-module]
RELATED ARTICLES:
New Kids on the Block: 4 New Exhibitors at Untitled Art, Miami Beach Worth Checking Out
The Best Artworks at Untitled Art, Miami Beach 2018
From Judy Chicago's Fireworks to Softshell Crab BLTs: Escape Basel's Booth Mania With These Events (and Restaurant Recs)