Just in time for the international holiday tradition of vegging, we've scoured Netflix and Amazon Prime for the 10 best art documentaries to watch as you succumb to overfed, tipsy, small-talk-exhausted torpor. The following films will satisfy your impulse to curl up and not move any of your limbs for several hours, while subtly tricking your brain into learning new (and really interesting!) things about art, artists, and collectors. Here they are, in no particular order—happy binging!
Beltracchi: The Art of Forgery (2014) on Netflix


If you don't know the story of the master forger Wolfgang Beltracchi, prepare to have your mind blown. The German painter speaks candidly about forging hundreds of paintings that he sold to prominent buyers—including the actor Steve Martin—making himself and his wife millions in the process. (His charismatic, unpredictable turn in the court case that ultimately took him down transfixed Europe, and transformed him into a populist antihero.) This fascinating documentary gives insight into a deceptive but brilliant mind, and without being overt or decided, subtly challenges dominant notions of authenticity, forgery, and honesty.
Ai Weiwei: Never Sorry (2012) on Netflix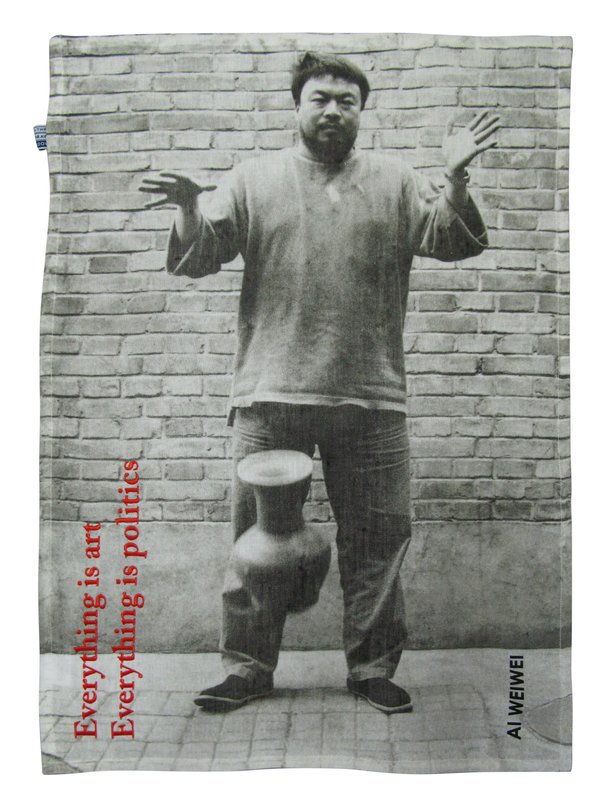 Ai Weiwei's Dropping a Han Dynasty Urn Tea Towel is available on Artspace for $50
China's most famous artist is also its most outspoken critic—a position that infamously led him to be beaten by state interrogators, jailed without due process, and then placed under continual surveillance (and a travel ban), all for questioning the government through his art. While working as a journalist in China, the first-time director Alison Klayman captures a detailed portrait of the controversial Ai Weiwei until in the midst of his heated clashes with police and government officials while preparing for a shows at the Haus der Kust in Munich and the Tate Modern.
The Cardboard Bernini (2012) on Amazon Prime


Is artist James Grashow insane or brilliant? The documentary follows him as he spends four years building a giant water fountain including 15-foot-tall men, an ocean, and an anthropomorphized city—entirely out of cardboard. Spoiler alert: Cardboard disintegrates in water.
Exit Through the Gift Shop (2010) on Netflix


Chances are, you're already seen this one. The film is arguably responsible for the commercial success of Mr. Brainwash, a Los-Angeles based Frenchman who transforms from a Banksy fan-boy to a well-known "street artist" throughout the course of this almost unbelievable documentary. Directed by Banksy himself, the film is required viewing—and, now that 6 years have sped by since it's release, re-viewing.
Our City of Dreams (2008) on Amazon Prime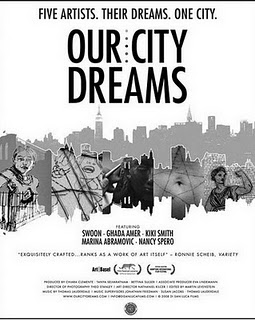 Filmmaker Chiara Clemente (daughter of artist Francesco ) profiles five successful women artists living and working in New York: Swoon , Ghada Amer , Kiki Smith , Marina Abramovic , Nancy Spero. Shot over the course of two years, each artist—in varied stages of their careers—encounter challenges and triumphs and give the viewer an inside glimpse into what it's like for women artists to find their ways in the big city.
What Remains: The Life and Work of Sally Mann (2005) on Amazon Prime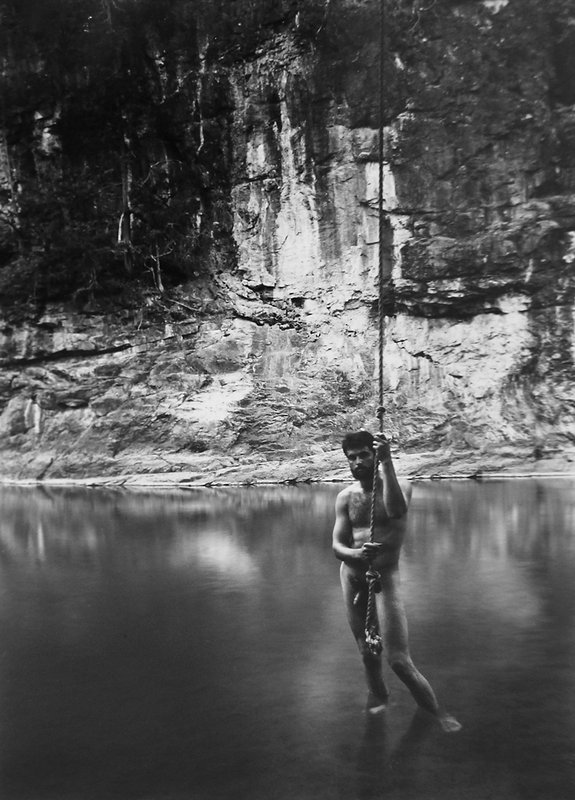 Sally Mann's Larry is available on Artspace for $1,400
This intimate documentary is a must-see for anyone remotely interested in the celebrated and controversial work of Sally Mann —the artist who achieved notoriety by capturing frank, complex nudes of her young children—or in photography in general. Filmed over five years at the artist's farm in Virginia, What Remains allows the viewer to enter Mann's world, and her mind, as she shares her thought process while she prepares a series on the theme of death and decay.
Harry Who and the Chicago Imagists (2014) on Amazon Prime


This beautifully animated documentary highlights a potent yet oft-overlooked group of artists working in the '60s and '70s who called themselves the Chicago Imagists. Characterized by figurative painting and image-making with overt sexuality, caricature, campy humor, and the grotesque, the movement willfully defied the cool dismissal of low-culture subjects that permeated Pop art at the time. (The group, fellow travelers of the Hairy Who , counted in its ranks such artists as Ed Paschke and Christina Ramberg, who are experiencing a surge in interest today.)
Peggy Guggenheim: Art Addict (2015) on Amazon Prime Chronicling the most powerful woman in the history of the art world, this star-studded documentary follows the journey of a bold collector and socialite who went against the grain to pursue a life of love—both for the art that she collected, and the men (including Jackson Pollock and Max Ernst) who satisfied her voracious sexual appetite.
Sky Ladder (2016) on Netflix


Sky Ladder follows artist Cai Guo-Qiang as he creates his most ambitious project to date: a 500-meter ladder to the sky. The Chinese artist is known from his spectacular pyrotechnic displays, which are filmed here with sublime beauty. This film is probably the most visually stunning on our list.
The 100 Years Show (2015) on Netflix

The darlings of Geometric abstraction — Josef Albers , Ellsworth Kelly , Kenneth Noland, Frank Stella , etc.—are men. But just because we don't know about the women artists who were working alongside these giants doesn't mean they didn't exist. The 100 Years Show chronicles the 99-year-old Cuban-born, New York-based geometric abstractionist Carmen Herrera as she enjoys success for the first time late in life. Her charm is irresistible and, over the course of the quick 45 minutes of the film, your heart will definitely be warmed (not unlike the microwaved leftovers you're sure to be eating for days to come).