Though artists are obviously the ones making the (art) world go 'round, curators are the ones we have to thank for making their work visible, intellegable, and in context. They shape the way we look at art, talk about art, and experience art. We've already identified the eight "super-curators" who have already influenced today's big exhibitions —but who are the next rising wave of curators who will shape what our museums will look like tomorrow? Here we look at seven exciting curators (or curating duos), cover what they've been up to so far in their (mostly short) careers, and share why we think they're worth watching in 2017 and 2018.
GABI NGCOBO
Last year's Berlin Biennale, curated by the artist collective DIS , was highly contested (critics called it an "ultra-sarcastic," politically insensitive show that ignored prescient issues like the European immigration crises in favor of the "ultra-slick" commercial aesthetics of post-internet art). This means that now all eyes are on Gabi Ngcobo—the South African curator selected to curate the 10th Berlin Biennale opening in the summer of 2018. If there's anyone who can revamp the Biennale with a socially conscious and politically informed exhibition, it's Ngcobo. She first cut her teeth as a founding member of the Johannesburg-based experimental collective NGO (Nothing Gets Organized) and Center for Historical Reenactments. Following in the footsteps of famed curators like Okwui Enwezor , Ngcobo describes her curatorial process as a de-colonizing endeavor, in which "decolonizing means creating new configurations of knowledge and power." In 2016 she co-curated the 32nd Bienal de São Paulo, which was praised for its nuanced discourse surrounding ecology and climate change, and Brazil's tumultuous and uncertain political climate. We can't wait to see what else this rising star has up her sleeve.
RELATED: Secrets to Post-Internet Success from DIS's Scary Berlin Biennale
NADIM SAMMAN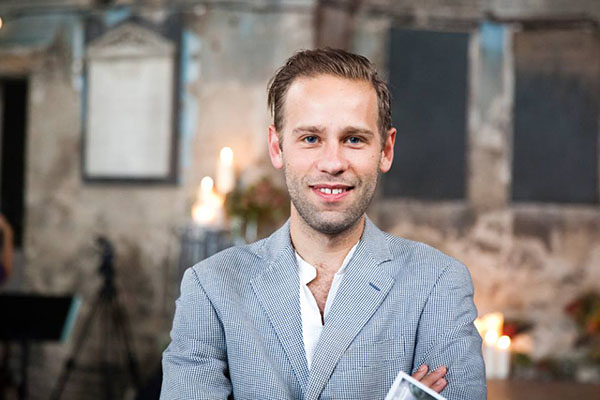 In 1999 Maurizio Cattelan placed an ad in Artforum for the "6th Caribbean Biennial." The biennial was, of course, completely fictional, and the only works of "art" featured were publicity photos of the artist and his friends ( Olafur Elíasson and Pipilotti Rist ) on vacation. In 2014, British curator Nadmin Samman seemed to take Cattelan's critique of biennial culture to a new extreme in "Treasure of Lima: A Buried Exhibition." His real exhibition took place on a remote island off the coast of Costa Rica and required viewers to use a secret treasure map to locate artworks, or rather "buried treasure," by 39 renowned artists. This year Samman curated the Fifth Moscow International Biennale for Young Art, which focused on works that dealt with ecological collapse, network society, and the information age. Samman's experimental and spectacular exhibition techniques just might give super-star curators like Hans Ulrich Obrist a run for their money in the future.
RELATED: Curator Hans Ulrich Obrist on What Makes Painting an "Urgent" Medium Today
BONAVENTURE SOH BEJENG NDIKUNG
The art-world tends to favor the right side of the brain, and many of its members would consider themselves science- and math-adverse. But Cameroon-born curator Bonaventure Soh Bejeng Ndikung is breaking all the molds: he is both an independent curator and a biotechnologist. After gaining degrees in Food Biotechnology, Medical Biotechnology, and Biophysics (all actual fields of study whether you've heard of them or not), Ndikung casually founded the non-profit art space SAVVY Contemporary Berlin, a space dedicated to displaying "Western" and "non-Western" art on equal terms, along with SAVVY Journal, the first bilingual e-journal for contemporary African Art criticism.  This year Ndikung was elected curator-at-large for Documenta 14 in Athens and Kassel, which has already garnered a reputation for its experimental, conceptual and intentionally deceiving curatorial techniques—a reputation Ndikung is sure to uphold.
YVONNE FARRELL & SHELLEY McNAMARA
Though we may think of curators as being restricted to the realm of fine art, "starchitects" have seeped into contemporary art discourse (think Peter Marino ); after all, architects indeed have always been "curators" of space and urban life. This year Yvonne Farell and Shelley McNamara, founders of the Dublin-based Grafton Architects firm, have been named curators for the 2018 Venice Architecture Bienniale. Unlike most "starchitects" though, the duo has dedicated their practice to reinvigorating university campuses through experimental design, like when they suspended the Milan's Bocconi University above ground to create an interplay between space, light and the city around it. Next year at the bienniale, Farrell and McNarma will continue to address last year's theme of "how architecture can solve global issues," but this time, will more closely consider architecture's impact on the urban space it inhabits, a consideration that has been surprisingly (and embarrassingly) been absent from architectural discourse.
NAIMA J. KEITH
Rising from intern to associate curator at the Studio Museum in Harlem , Naim J. Keith has succeeded in her mission to secure a place for contemporary art of the African Diaspora within the Western canon. In early 2016, Keith was named deputy director of exhibitions and programs at the California African-American Museum (CAAM), where she's already drawn a younger admission crowd through social media and marketing revamps. Keith has also exhibited local artists like Kenyatta A.C. Hinkle, who, in line with the #SayHerName social media movement, makes performances and artworks that raise awareness about black female victims of police brutality and racism in the U.S. If Hinke's exhibition is representative of changes to come, then CAAM might soon become a contender within Los Angeles's already expansive host of contemporary art museums.
CHRISTOPER Y. LEW & MIA LOCKS
As the co-curators of the controversial Whitney Biennial this year, Christopher Y. Lew and Mia Locks are two people who we can't help but watch closely in the coming years. While we might never fully know what the ethical motives were behind Lew and Lock's decision to exhibit Dana Schutz 's abstract painting of Emmitt Till's open casket, we will hopefully see some resolution to this hotly debated topic in whatever exhibitions they curate next. Despite the controversy, the curators have also received ecstatic praise for their ability to represent, in a balanced and inclusive way, the disparate and varied movements of our current time in art history. Both Lew and Locks previously held steady positions at MoMA PS1, where Locks co-curated "Greater New York" in 2015, arguably one of the most influential survey shows of our decade. It's also worth noting that the two were also some of the youngest to curate the Whitney biennial (Lew, 34 years old and Locks, 32 years old). The question becomes now, did the Whitney Biennial make or break their careers?
RUBA KATRIB
Ruba Katrib. Photo: Mike Vorrasi
Ruba Katrib is a curator who's actually making a difference in and outside the art world. The daughter of two Syrian immigrants, Katrib was hired as curator of SculptureCenter in 2012 and has since truly put the Long Island institution at the center of the international stage. In 2015 Katrib curated Anthea Hamilton 's first solo show "Lichen! Libido! Chastity!" at SculptureCenter, which was subsequently nominated for the Turner Prize in 2016. This year, she collaborated with a group of Congolese plantation workers (known as Cercle d'Art des Travailleurs de Plantation Congolaise) to produce a series of chocolate sculptures. The proceeds generated by these workers-cum-artists is reinvested into the workers' communal project to buy back the land they inhabit from the planation owners. (For more on this complex project, see our quick review of its exhibition in the Armory Show. ) If that list of achievements still leaves you unimpressed, know that Katrib was also an early crucial figure in contextualizing digital art, curating the first retrospective of net-artist Cory Arcangel in 2010. Make sure to see Katrib's upcoming show, "Charlotte Prodger: Subtotal " opening May 1st, which explores the Situationalist notion of dérive in space through digital technology.

RELATED ARTICLES:
8 Super-Curators You Need to Know, From Massimiliano to HUO
MCA Chicago Curator Naomi Beckwith on How to Spot Rising Stars
Massimiliano Gioni on His Venice Biennale Show, and "Trying to See More"