Celebrating its 14th anniversary in Miami Beach, PULSE art fair remains one of the most appealing fairs to visit during Miami Art Week for young and emerging collectors. The seminal fair offers an opportunity to dip your toes into aesthetically pleasing, contemporary works, and rarely crosses the border into overly conceptual. Some 70 galleries––the vast majority hailing from international locales––brought along a series of dynamic, colorful works: in fact, this year's fair suggested that bold, vibrant hues are dominating within the emerging art market. In addition, several solo artist projects were presented at this year's fair, including Ann Lewis' One in Five of Us (2016), an installation that hung roughly 20 pairs of underwear––some stained and soiled––as a commentary on rape culture and the #MeToo movement.
While this year's fair had a boundless selection of well-priced works, these eight artists made quite an impact––and with the vast majority priced well under $10,000, offer a value-based opportunity for the novice collector.
PATTY SUAU
Quiero hacer contigo lo que la primavera hace con las cerezas (TK)
National YoungArts Foundation
$1,200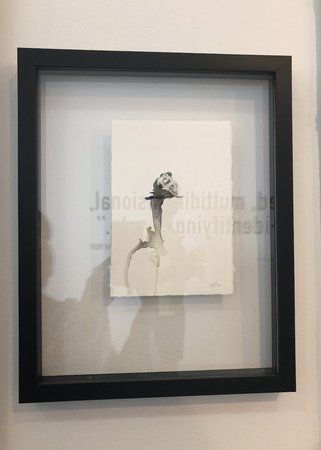 Located toward the back of the southern annex of PULSE art fair, the National YoungArts Foundation stacked its booth with works by alumni artists. Patty Suau, a visual artist that often works under the alias TINYFKNPIX, explores intimacy and eroticism in miniature illustrations. Utilizing a substantial amount of black space, at first glance Suau's works depict nothing more than a splash of paint––but upon closer inspection, a pair of lovers are spotted in a gripping, all-consuming embrace.

MELINDA LASZCZYNSKI
Swoon (2018)
Galleri Urbane
$1,200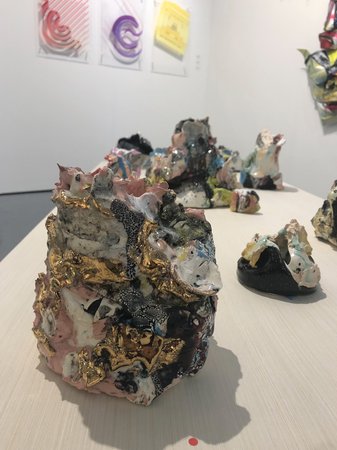 Located in Dallas, Galleri Urbane has long worked with Melinda Laszczynski, whose practice includes both painting and ceramics. A natural extension of her paintings, Laszczynski's ceramics practice is relatively new for the artist, who only recently began experimenting with the medium just six months ago. The resulting works are born out of a desire to experiment with material and form. Formless, textured, and dripping with layered paint, they're reminiscent of some of the most coveted ceramic works of today.
JENNIFER AMENT
Think (2018)
Phylogeny Contemporary
$350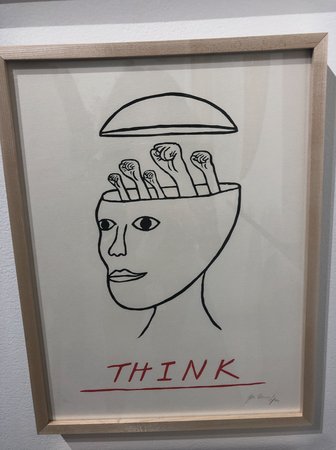 Seattle-based artist Jennifer Amant's practice spans from commercial illustration to activism; the artist often dedicates a substantial portion of her time to organizations like the ACLU, and frequently crusades for migrant and women's rights. A member of Artists for Progress, Ament is particularly inspired by Seattle's music scene: many of the works on display at PULSE, in fact, were originally designed for an album cover. One of our favorite works, Think (2018), features fists raised in solidarity and exploding out of a woman's head. Ament's linecut on paper works are additionally extremely well-priced, with most being offered between $300 to $650.
TSKOKU MAELA
Appropriate IV: The Last Stand (2018)
Christopher Moller Gallery
$4,600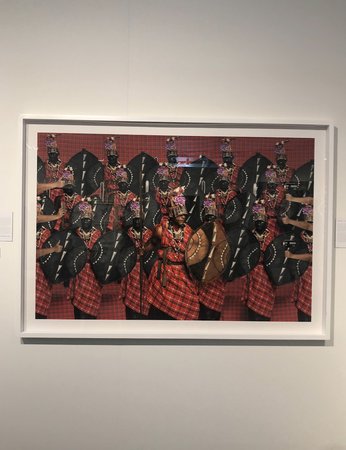 Back in 2016, Tsoku Maela traveled to Nairobi, Kenya and encountered the local Maasai tribe. He noted that the stereotypes assigned to indigenous African tribes were, on their face, present within the tribe's customs, and recalled a 2012 Louis Vuitton collection that appropriated their native tribal prints for costly scarves and hats. Appropriate IV: The Last Stand (2018) is a meditation on that experience: featuring repetitive images of a tribe member decked in tartan and traditional garb, the work aims to address the gaze with which most foreign tourists and visitors to Africa interpret the traditions of its indigenous peoples.
SUPER FUTURE KID
Hocus Pocus Puss (2018)
Mindy Solomon Gallery
$2,500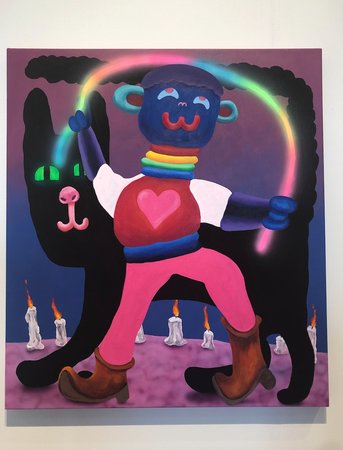 Super Future Kid's neon-hued paintings and sculptures evoke childhood play, with a palette of colors that electrify the canvas and bring life to otherwise downturned figures. Born in East Berlin in the 1970s, the artist is driven by an urge to reinvent: Super Future Kid is, of course, an alias for the U.K.-based artist, and she recently told Juxtapoz that her real name "exists in a parallel world and belongs to a lady making watercolors of flowers." Though her works are priced as though she were an emerging artist, Super Future Kid has recently received a tremendous amount of buzz. "I discovered her on Instagram," gallerist Mindy Solomon says, "and I'm thrilled to be representing her as her career begins to take off." Hocus Pocus Puss (2018)––one of our favorite works at the booth––depicts a neon-blue figure with an upturned grin.
TREY EGAN
Live for the Life (2018)
K Contemporary
$6,300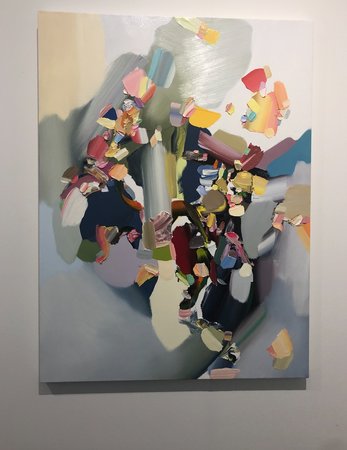 We were particularly drawn to Trey Egan's brilliant use of color––the artist deftly layers saturated pastels with muted grey and blue tones––and creates abstract works that appear almost dreamlike and seem to erupt from the canvas. At PULSE, check out Live for the Life (2018), an imposing canvas that showcases the artist's energetic propensity with paint. Interestingly, Egan is often inspired by trance and electronic music, which allows him to channel his emotion into the work at hand.
IAN HEALY
Contraband (2018)
Galerie Youn
Price upon request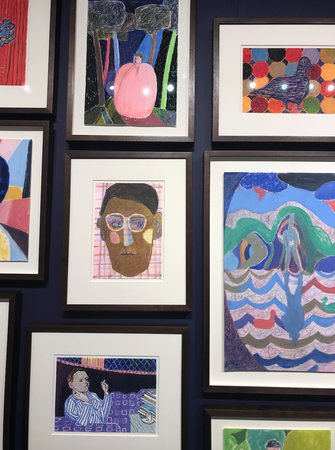 "The moment I saw his work, I knew I had to meet him," says Alan Merriam, a partner at Montreal's Galerie Youn. After coming across Ian Healy's work on Instagram, Merriam immediately flew to Edinburgh to meet the Irish-born artist, whose practice channels a storybook aesthetic to explore self-preservation. The works on offer at PULSE were directly inspired by the struggle to protect the Lithuanian language, and features an array of imaginative characters superimposed into colorful backdrops. Healy, a mid-career artist, primarily shows work outside the U.S.; PULSE represents a rare opportunity to add his work to your collection.
TIM GARWOOD
Tugboat (2018)
Sim Smith
$1800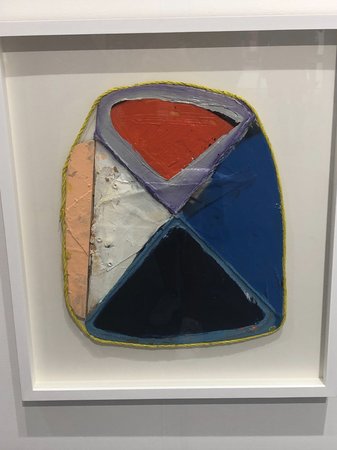 London-based painter Tim Garwood is one of Sim Smith's gallery's most sought-after contemporary artists. Working primarily with found objects, Garwood often employs metal, old canvas and paint to create works that spring from the canvas in an almost three-dimensional work. Driven by play, Garwood's Tugboat (2018) fuses primary shades of blue and red with a dusty pink and deep midnight, to create a geometric abstraction that incorporates metal, rope, and burlap. According to director and owner Sim Smith, Garwood prices have consistently climbed over the 10-year span of their engagement. "He is certainly one of our bestsellers," she says.
RELATED ARTICLES:
New Kids On The Block: 4 New Exhibitors At Untitled Art, Miami Beach Worth Checking Out
The Best Artworks At Untitled Art, Miami Beach 2018
From Judy Chicago's Fireworks To Softshell Crab BLTs: Escape Basel's Booth Mania With These Events (And Restaurant Recs)