ARtLast week, the international art world descended upon New York for the second edition of Frieze New York, with galleries from London to Ljubljana setting up shop in the infamous Frieze Tent, designed by architects-of-the-moment SO-IL (Solid Objectives Idenburg Liu), on Randall's Island. Art fairs are the natural habitat of all things big and shiny, so it comes as little surprise that mirrors emerged as a dominant theme at Frieze, appearing at what seemed like every one of the fair's 180 booths. Here are a few of our favorites: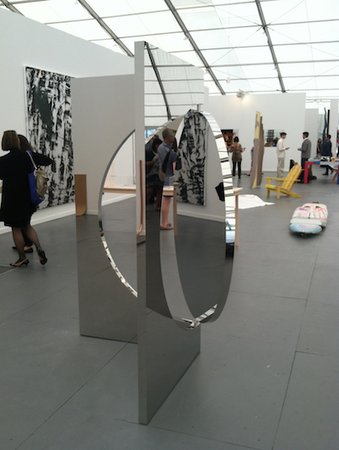 Berlin-based gallery Johann König's booth featured a freestanding sculpture of interpenetrating mirrors by Jeppe Hein, something of a signature for the artist (a similar one popped up last year at the Frieze New York sculpture park).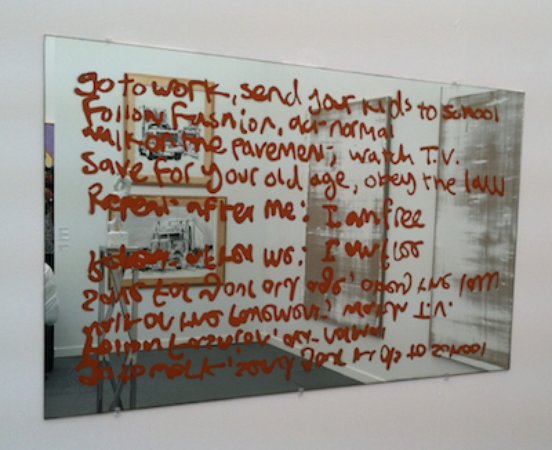 Paris gallery Praz Delavallade brought new works by Sam Durantfeaturing bold messages scrawled on wall-mounted mirrors.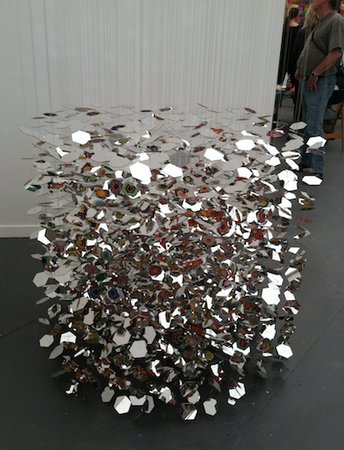 At the shared booth of London's greengrassi and New York's Andrew Kreps Gallery, a cluster of two sided discs (one mirrored, one bearing kaleidoscopic patterns of bright color) by Pae White was suspended from the ceiling.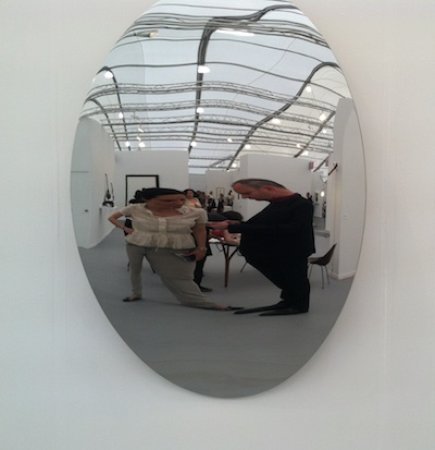 London's Lisson Gallery brought a large-scale convex mirror sculpture by Anish Kapoor, which distorted its surroundings.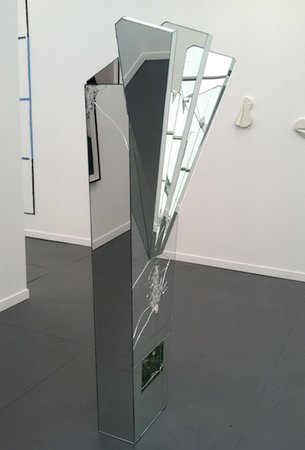 Stuart Shave Modern Art brought a sculpture made of cracked mirrored surfaces by David Altmejd that was at once totemic and futuristic.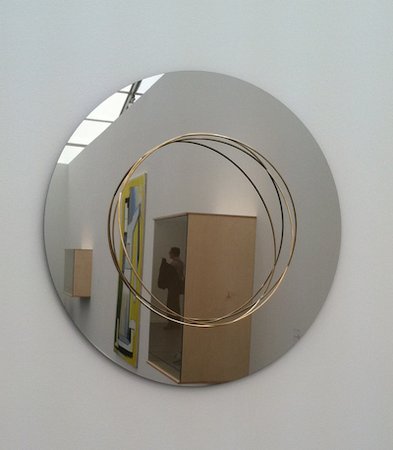 Mirrors by Olafur Eliasson lined the booth walls of New York's Tanya Bonakdar Gallery.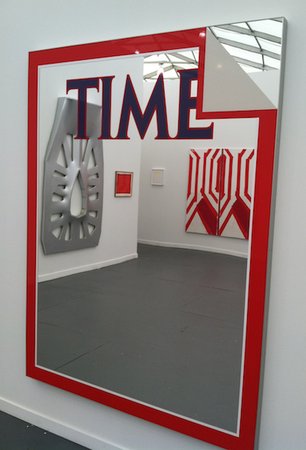 At the booth of Paris's Galerie Frank Elbaz, Mungo Thomson seemed to playfully allude to a 2006 issue of Time magazine that declared the person of the year to be "You."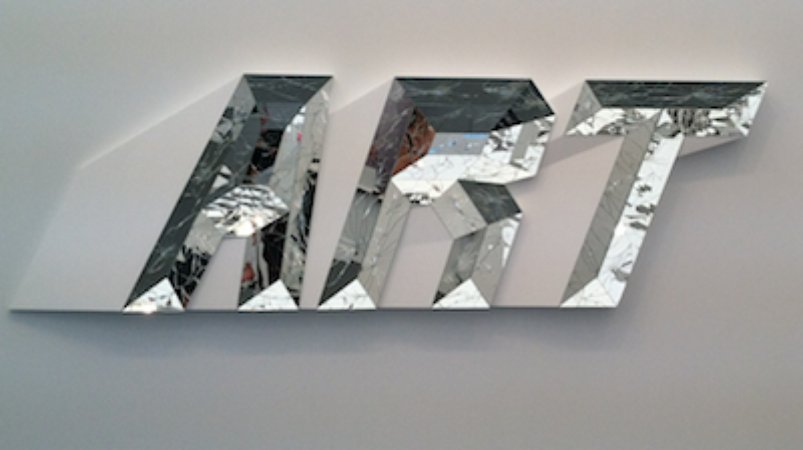 In case anyone forgot why they were wandering around the fair, Doug Aitken's text-based sculpture at the booth of 303 Gallery displayed a helpful reminder.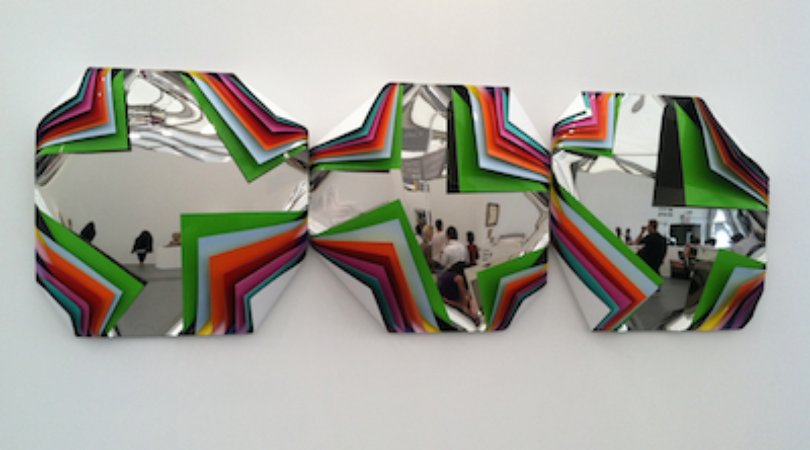 London's Sadie Coles HQ brought a set of sculptures by Jim Lambie that paired mirrors with brightly colored enamel.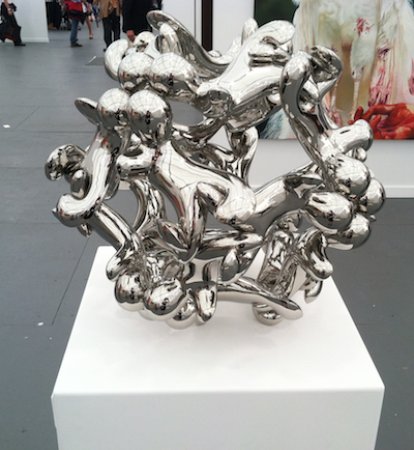 Paul Kasmin Gallery featured a surrealist-tinged, mirror-polished sculpture by Brazilian artist Saint Clair Cemins.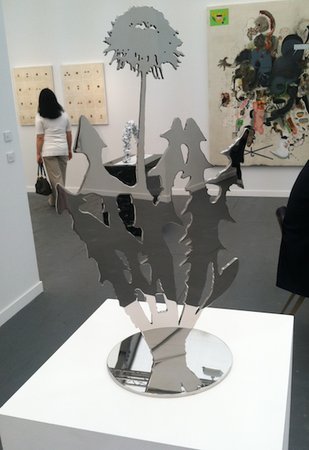 Another pedestal-bound mirror sculpture was found at the booth of Alison Jacques Gallery, where Paul Morrison featured a mirrored dandelion, a new take on botanical illustration (a recurring theme in Morrison's work.)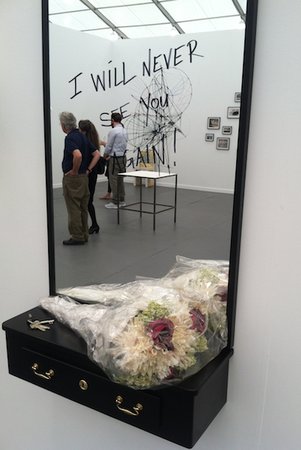 Galeri Nicolai Wallner brought an installation by Elmgreen and Dragset that was equal parts melodramatic and mournful.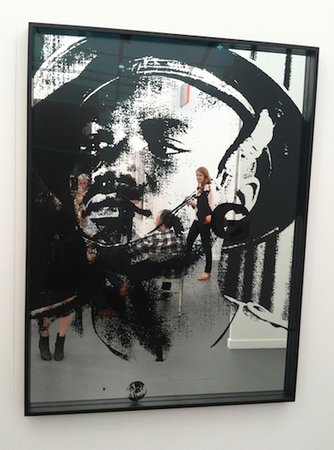 Finally, at the booth of Chicago's Shane Campbell Gallery, a screenprinted mirror by Adam Pendleton.