Four reasons to collect Kerry James Marshall 's Untitled (Man) :
1. Kerry James Marshall 's exuberant works depict black figures in everyday situations, in order to subvert stereotypes and challenge the predominately white Western canon. "When you go to an art museum," he told the Los Angeles Times, "the thing you're least likely to encounter is a picture of a black person. When it comes to ideas about art and about beauty, the black figure is absent."
2. After decades of producing monumental and influential work, Marshall is accomplishing his aforementioned goal. "Kerry James Marshall: Mastery," his first major career survey, is now on view at Museum of Contemporary Art Los Angeles . The exhibition was previously on view at the Met Bruer and Museum of Contemporary Art Chicago .
3. Untitled (Man) is a follow-up to Marshall's Satisfied Man (2015) , which is currently in the Met and MoMA's permanent collection. You'll want to act fast—just like Satisfied Man , this woodcut was produced in an incredibly small run of 15, signed and numbered by Marshall himself.
4. Even though Marshall is well known for his grandiose paintings, he's no stranger to woodcuts. He has utilized the medium throughout his career, and has made some pieces as small as a drink coaster and others so large they span from floor to ceiling.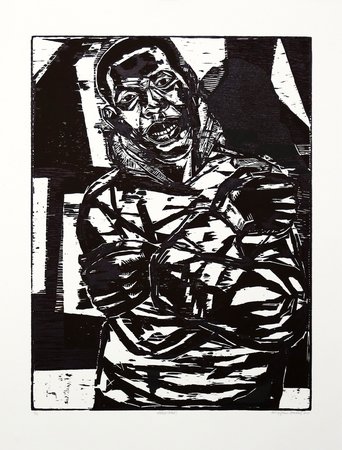 Kerry James Marshall's Untitled (Man is available on Artspace for $13,526 or as low as $1055/month
[related-works-module]