Here's four reasons to collect Vincent Dermody 's Stamp Out Good Sportsmanship:
1) Vincent Dermody is a pioneer of Chicago's artist-run gallery scene, co-founding the freewheeling curatorial collective Law Office in the late 1990s. Mixing the lowbrow with the heady, their shows featured future superstars Amanda Ross-Ho , Laura Owens , and Scott Reeder among others.
2) He was also an early member of Lucky Pierre, an experimental performance group that remixed pop-culture touchstones in order to create minimal and absurdist productions. For one of their earliest performances, Dermody helped staged a dinner party drama based off of transcripts from the legendary TV show COPS .
3) Dermody's reach has expanded far outside Chicago, recently showing at Greenpoint, Brooklyn's tiny-but-ambitious EDDYSROOM, at Mexico City's Anonymous Gallery , and at the University of Sarjah in the United Arab Emirates.
4) Dermody's popular "Spirit Jugs" feature colorful concrete oozing down the surface of old beer growlers, embedding an array of kitschy knickknacks in the process. Looking like a possible set piece from Fraggle Rock , these jugs definitely give off otherworldly vibes. "The tops are sealed with corks," Dermody described to Artspace , "to keep the magic in."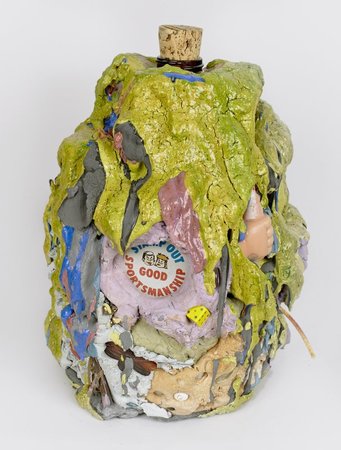 Vincent Dermody's Stamp Out Good Sportsmanship is no longer available on Artspace
[related-works-module]