Here's what you need to know to access Petra Cortright's net-loving limited edition 360 Spirit Car—no password required.
1. A poster child of Post-Internet art, Cortright is best known for her work with the materials of contemporary digital culture—including GIFs, webpages, and videos—that she often distributes using massively popular channels like YouTube.
2. Cortright first gained widespread attention for her 2007 video vvebcam, featuring the young artist dancing and performing for her computer's webcam while playing with the built-in effects in a piece that has been heralded as both a prime example of digital-era feminism and a telling prefiguration of the rise of selfie culture.
3. The Los Angeles-based artist is now started to bring her creations into the physical world, with a series of digitally printed paintings made up of layered bits of images sourced from all manner of Internet ephemera during marathon web binges.
4. For this special edition with the Rotterdam gallery All Together Now, Cortright altered the stock phrases of a product from the personalized memorabilia site thingsremembered.com, adding in hashtags to create a subtle meditation on the ways our online lives are becoming increasingly real.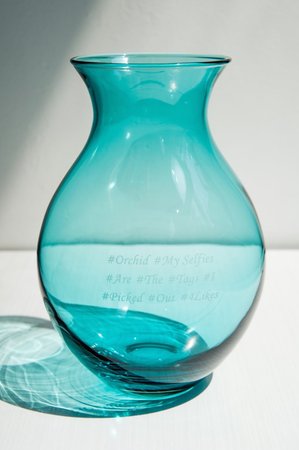 360 Spirit Car, 2015