Clouds have captured the imagination of many an artist, from John Constable to Alfred Stieglitz to Spencer Finch . Some celebrate the dreaminess of these natural yet otherworldly phenomena; others take a scientific interest, or a formal one. The artists in this collection have delved into these clusters of water vapor with widely divergent results; compare, for example, the installation/performance pieces by Tomás Saraceno and Berndnaut Smilde and the sculptural treatments by Heather Rowe and Carol Jackson. Read on for more about how artists have approached clouds as images.
MAREPE
Doce Céu De Santo Antônio (Santo Antônio's Sweet Sky) , 2001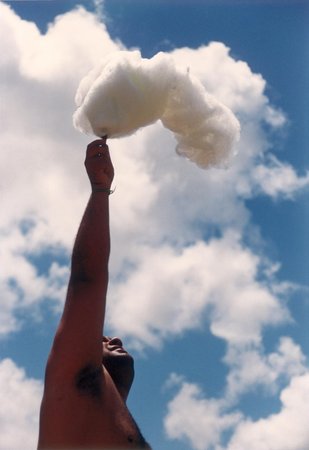 In Doce Céu de Santo Antônio (Santo Antônio's Sweet Sky) , Marepe is photographed standing outdoors, one arm raised, holding a stick of white cotton candy and pointing it up to the blue sky of his hometown Santo Antônio de Jesus in Brazil. In the image, the cotton candy's form almost blends with the white, puffy clouds in the bright blue sky, and Marepe appears exultant or triumphant. The work is a playful reference to childhood and memory, recurring subjects in Marepe's work. It also alludes to the artist's sweet, personal relationship to his home town.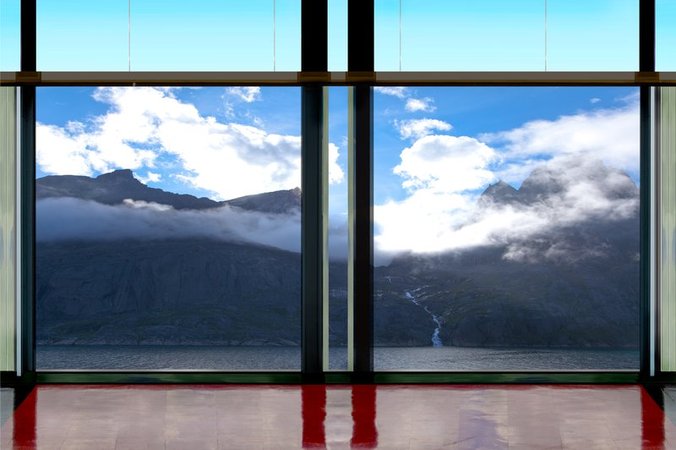 Often turning to public places and outdoor settings for his subject matter, Peters creates thematic series of works that capture minor shifts in lighting, composition, and time of day to create poignant portraits of a location. In this image from his 2013 series Prince , Peters captures a stunning landscape within the architectural frame of an interior.
TOMÁS SARACENO
Cloud Cities , 2012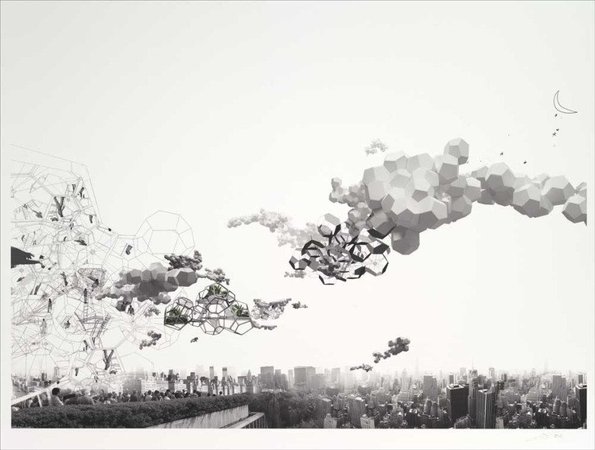 This print by Tomás Saraceno is based on his 2012 installation on the roof of the Metropolitan Museum of Art , Cloud City . In this work, Saraceno imagines his complex arrangement of polyhedrons floating through the sky over the museum and Central Park.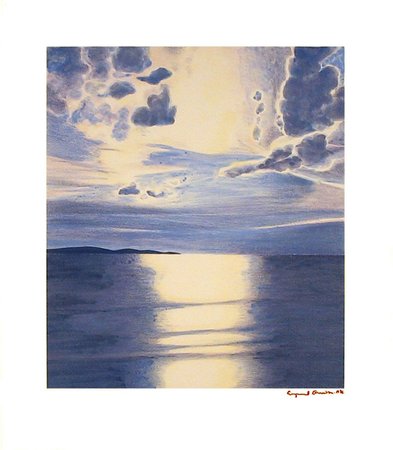 April Gornik has been a seminal member of New York's thriving art scene since the late 1970s. Dominated by sky and devoid of people, Gornik's dramatic landscapes—luminously lit and eerie—demand a powerful emotional response. Stylistically mature and graceful, her work reflects an artist confident with her talent, channeling an assuredness that is manifested in her breathtaking panoramas.
BERNDNAUT SMILDE
Nimbus , 2012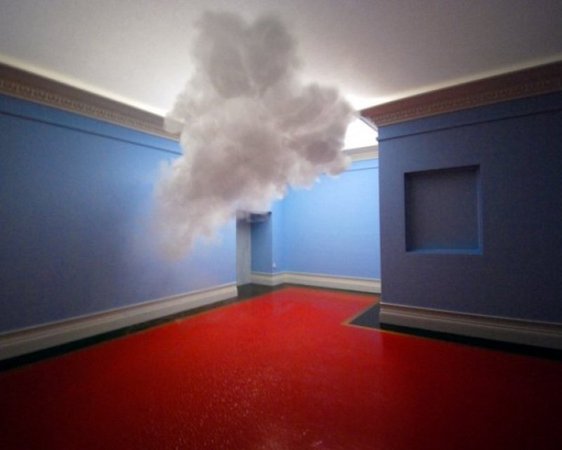 Dutch artist Berndnaut Smilde is best known for creating clouds out of smoke and moisture in indoor spaces—from grand museum halls to emptied storage facilities—and then photographing their fleeting existences. His Nimbus series, recognized by Time magazine as one of the "Top Ten Inventions of 2012," exemplifies his broader interest in the liminal space between construction and deconstruction. "I'm really interested in work that exists in between reality and representation in a way that doesn't really function in the end. So as for the clouds, they're just there—they're building up but at the same time they're falling apart," states the artist.
HEATHER ROWE
Untitled (Luminous Cloud) , 2014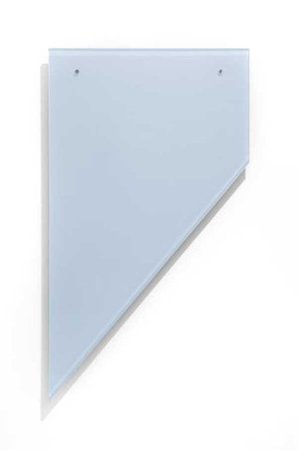 Working with the concepts of social space and dislocation, the architecturally inspired works of Heather Rowe blur the line between structure and framework. Often created using mirrored or reflective surfaces and materials, Rowe's installation pieces contain complex layers of spatial and optical experience, pushing the boundaries of design and function. This guillotine-shaped Plexiglas piece, Untitled (Luminous Cloud), creates a subtle tension between sharp dimensions and ethereal color.
CAROL JACKSON
Paradise Lost , 2013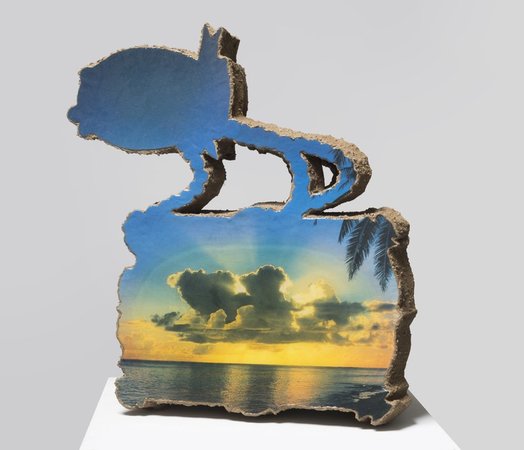 Carol Jackson's absurd combinations often appear to be kitsch, but upon close inspection reveal unexpected incongruities. The work questions of our complicity with commercial signs and the narratives of desire, fantasy, belonging, and otherness the signs evoke. Jackson's art attracts viewers with its recognizable elements while simultaneously repelling them with the bizarreness of her combinations. Inspired by the idea that "the future belongs to ghosts," Jackson's practice renders familiar landscapes strange.
AN-MY LÊ
Amphibious Landing, Gulf of Thailand , 2010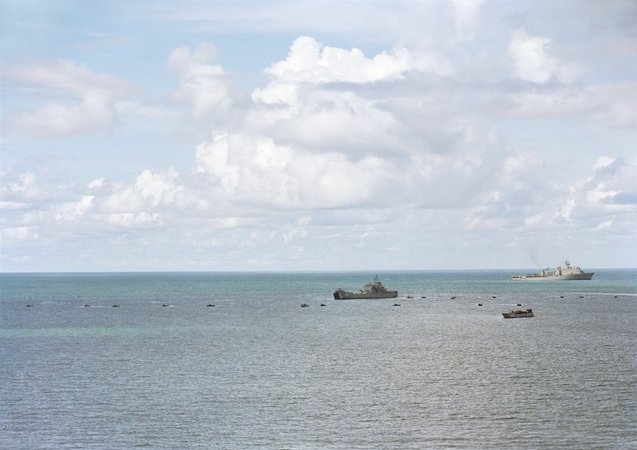 Through a practice of documentary and staged photography, Vietnamese artist An-My Lê's work meditates on the intersection between natural landscape and the battlefield. Amphibious Landing, Gulf of Thailand depicts the shift of a tropical shoreline from tranquil to violent, shedding light on the visual, psychological and environmental effects of war.
NOBUYOSHI ARAKI
It Was Once A Paradise , 2011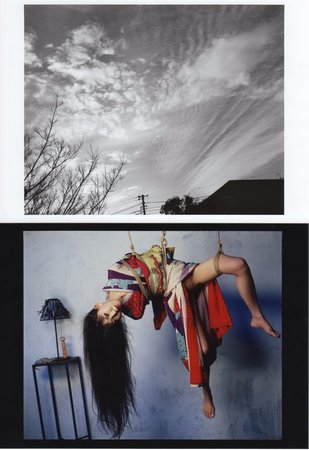 Nobuyoshi Araki, born in Tokyo in 1940, is one of Japan's most well-known and controversial photographers. Araki studied photography and filmmaking at Chiba University, where he developed an interest in Italian Neo-Realist and French Nouvelle Vague films, in particular the works of the directors Cari Theodor Dreyer and Robert Bresson. This influence is clear Araki's diaristic, erotically charged works, which are equally influenced by Japan's urbanization and newfound commercialism after the Second World War, as well as in the artist's stylistic references to Japanese toys, Karaoke bars, and other aspects of contemporary Japanese culture. In It Was Once A Paradise , Nobuyoshi Araki juxtaposes two images on top of one another, offering artistic commentary on man versus nature. This work was produced in an edition of 10.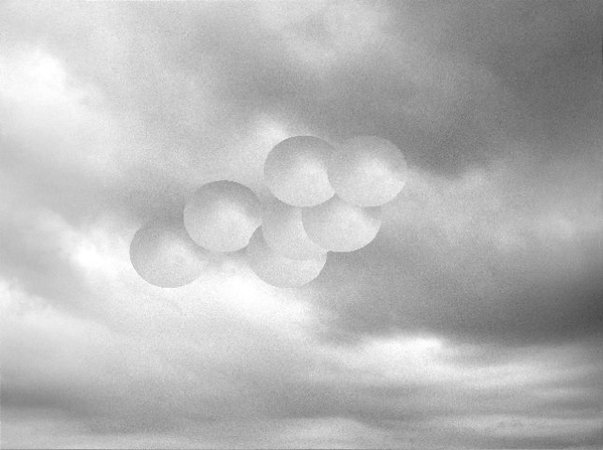 This inkjet pint by Ernesto Neto is reminiscent of the artist's otherworldly installations and environments. Here, Neto's characteristic spheres and biomorphic forms and rendered in two-dimensions against a dramatic cloudscape.
KRAGGY
An experiment with rising elements , 2012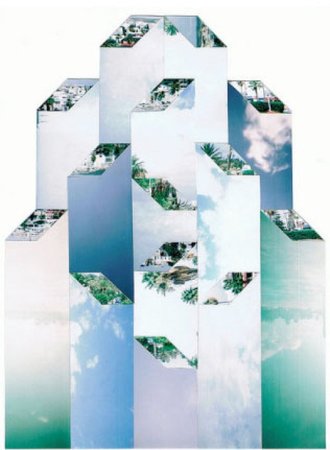 With a love for typography and cut-out collage, Kraggy transforms a picturesque scene of blues and greens into a seemingly three-dimensional geometric construction. The arrangement suggests a sense of movement, its upwardly thrusting elements reminiscent of skyscrapers or foliage.
JULIÃO SARMENTO
American Landscape-3 , 2004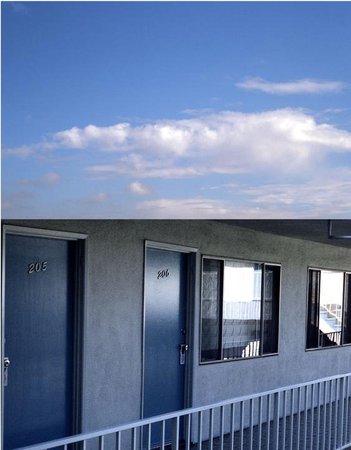 In this photo collage, Julião Sarmento juxtaposes a cloudy blue sky with a motel exterior, pitting the pure and the slightly seedy up against each other. With both images removed from their context, and slightly skewed, they engage in a mysterious dialogue that evokes elements of surrealism.