Lauded as the world's newest art capital in recent memory, Hong Kong is currently in the midst of the fourth annual edition of Art Basel Hong Kong (on view through Saturday 3/27). As you make your eastward trek to this harbor city, take our word that you won't go hungry while art hunting in Hong Kong, a metropolis equally recognized for its innovative, international food scene and its highly cosmopolitan gastronomic tradition (think dim sum and night markets). If you're looking for a meal to savor during this week's art fair, these five picks from Phaidon'sWallpaper* City Guide: Hong Kong should fit the bill and fill your stomach.
MOTT 32
4-4a Des Voeux Road, T 2885 8688, www.mott32.com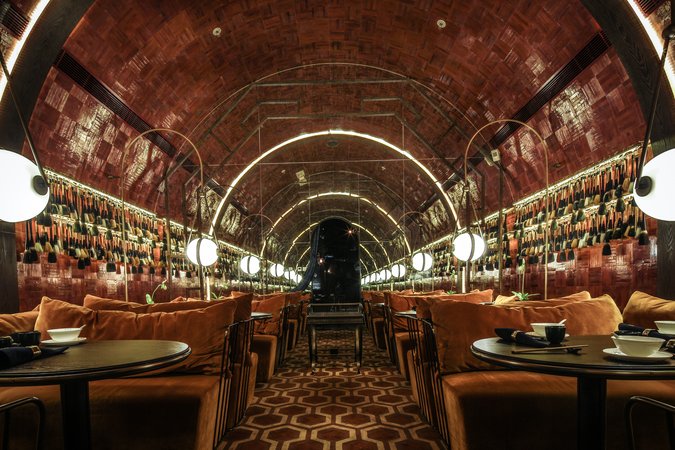 Photo credit: Joyce Wang
This restaurant doesn't initially seem like a bastion of tradition. A spiral staircase opens on to a dark, cavernous juxtaposition of old-school China and Western gothic, in which antique chandeliers illuminate calligraphy-etched concrete and metallic cow skulls. Sit for a while, though, and familiar Hong Kong touches emerge. Despite the edgy veneer, Mott 32 is respectful of the city's culinary heritage, its menu full of Cantonese comfort dishes attaining new heights through painstakingly sourced ingredients. The char siu (barbecued pork) is butter-like in consistency, and a similar devotion to quality is apparent on the cocktail list, where such standards as an Old Fashioned are garnished with fresh flavors including shiso and goji berry.
AMMO
Lower Level, Asia Society Hong Kong Center, 9 Justice Drive, T 2537 9888, www.ammo.com.hk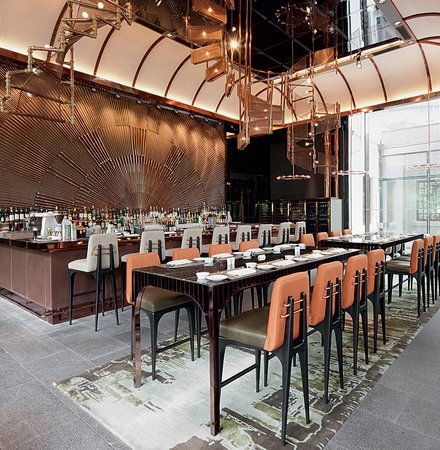 Photo credit: Marcel Lam
Think tanks aren't known for generating a buzz, but the New York-based Asia Society turned that idea on its head with the 2012 opening of its Hong Kong outpost, set in a revitalized cluster of former British military buildings in Admiralty. Arguably the center's crown jewel, bar/restaurant Ammo plays on the complex's past as an explosives warehouse, due to an interior that's heavy on ashen shades and metallic finishes, such as the massive copper ribs that seem to prop up the ceiling. The menu, overseen by local prodigy Tony Cheng, is a traditional take on European cuisine (handmade pastas, tapas) in a city better known for its questionable fusions. Things get more adventurous on the cocktail list, which includes only-in-HK creations—try the Shēn Chá, a blend of house-infused ginseng gin with Kamm & Sons botanical spirit, orange, lemon, rhubarb and rosehip cordial, and rhubarb bitters.
DUDDELL'S
Level 3, 1 Duddell Street, T 2525 9191, www.duddells.co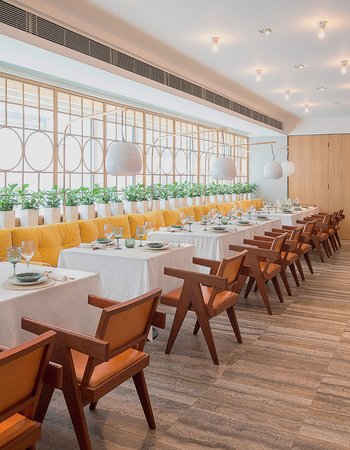 Photo credit: Marcel Lam
No single venue can claim to have it all, but that hasn't stopped Duddell's from trying. The property's list of ambitions include thriving art space, buzzing bar, and supplier of fine Cantonese cuisine, in a city with no shortage of contenders to all three crowns. On a recent visit we took in a mixed-media art exhibition; surveyed the financial district from a verdant terrace, gin-based cocktail in hand; and indulged in what might be the definitive versions of local delicacies like braised pork belly and fried lobster. All this in Ilse Crawford's lovely multi-storey space, which combines natural wood, travertine, and vintage flourishes. Small wonder that Duddell's has become a nexus of the city's creative network.
RONIN
8 On Wo Lane, T 2547 5263, www.roninhk.com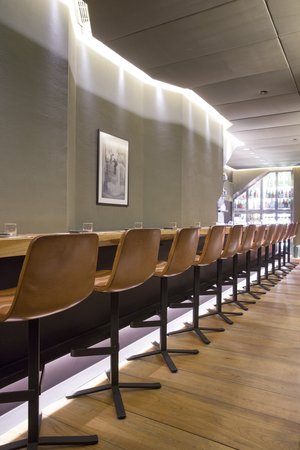 Photo credit: Marcel Lam
Having generated one of the city's biggest culinary buzzes in recent memory when they established Yardbird (T 2547 9273), the same team has made lightning strike twice with this take on the Japanese izakaya. Tucked away behind a blank slate door, Ronin plays refined sibling to its raucous sister venue, and is dominated by dim lighting and a long, stately wooden bar. That said, the vibe is anything but distant: reggae spills out of the stereo, and a range of fine sakes and shochu flows freely. The real highlight, however, is the food. While the small portions make it unwise to turn up too hungry, they also encourage the savoring of top-notch techniques. Dishes like flower crab with uni (sea urchin roe) deftly blend local and imported produce.
OZONE
118th Floor, ICC, 1 Austin Road West, T 2263 2270, www.ritzcarlton.com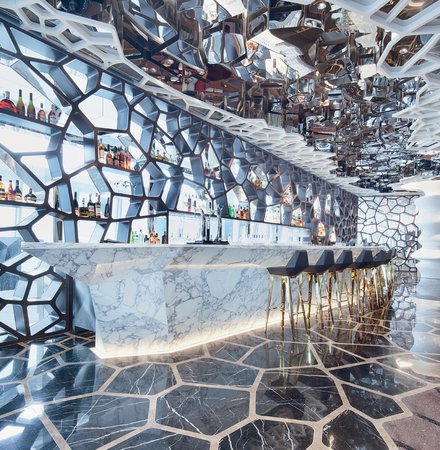 Photo credit: Marcel Lam
In a city where soaring skyscrapers are de rigueur, The Ritz-Carlton atop West Kowloon's ICC is the jewel in the crown, staking its claim to be the loftiest hotel in the world, with the highest bar on the planet. Its 118th-floor Ozone bar is a destination in itself, not least for the outdoor terrace and the stunning 360-degree views across Hong Kong Island, Victoria Harbor, and the South China Sea. The high-energy interior, with its edgy white honeycomb-patterned partitioning and ceiling, was designed by Japanese firm Wonderwall. If the excitement gets too much, head down 15 floors to the chocolate-centric Café 103 to indulge in delicious sweet and savory cocoa-infused treats, along with drinks and afternoon tea.