As if one needs any greater indication of Andy Warhol's influence on pop culture, the artist has appeared as a film and television character 30 times since his death in 1987—and that's on top of his own real-life film career, which includes 87 directing credits, over 60 appearances in documentaries, a handful of commercials, and even a famous turn on "The Love Boat." But posthumous interpretations of the Pop legend have been anything but identical copies, with his onscreen persona taking many forms in everything from biopics to black comedies. Warhol, an ardent admirer of theatricality (as well as its cool, clinical inverse), would probably have have liked that idea. Here are a few of his many guises on the big and little screen.
BASQUIAT, 1996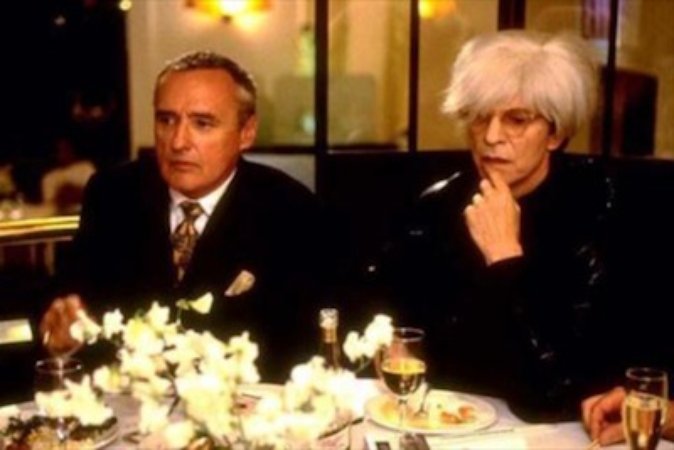 David Bowie had an advantage for his portrayal of the Warhol in the film Basquiat: unlike many who have tried to recapture Warhol's idiosyncratic demeanor, Bowie actually knew him (as did director Julian Schnabel). The film chronicles the career of the young Neo-Expressionist painter Jean-Michel Basquiat, whom Warhol mentored after the younger artist showed him samples of his work at a restaurant. The two collaborated on work throughout the 1980s until Warhol's death, quickly followed by a despondent Basquiat's overdose. Bowie's blank-faced, stoic Andy would be nearly perfect were it not for his thick English accent—barely masked even by his tight-lipped line readings. However, in a genius bit of authenticity, the wigs Bowie dons are actually Warhol's own.
FACTORY GIRL, 2006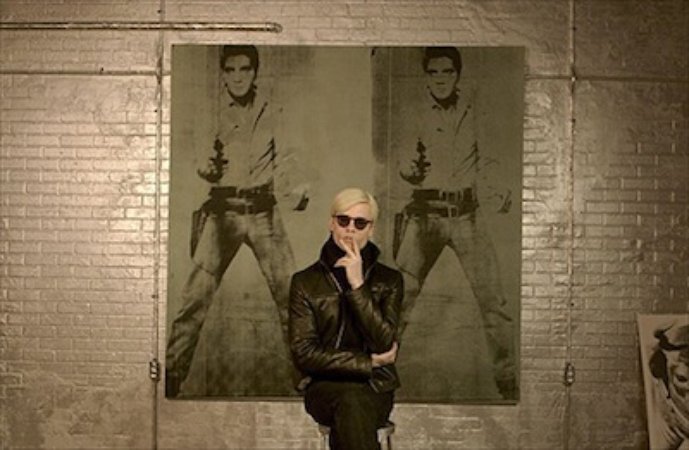 The controversial biopic of Edie Sedgwick paints Warhol in a far less kindly light: as the mentor-turned-corruptor of the "It Girl" socialite (played by Sienna Miller). This somewhat soulless Warhol, portrayed by Guy Pearce, drawls, crosses his arms, and smiles deviously, all while manipulating the vulnerable young muse who starred in many of his films. "Some say your work is pornographic," an interviewer asks Pearce's Warhol. "Isn't that great?" he mock-innocently answers, finger at his lips. But believing that the conventionally handsome Pearce passes as the unconventionally alluring artist can also feel like a stretch. Factory Girl angered many close to Sedgwick and the original Factory circle for its storyline and depictions—mainly of her lover "Billy Quinn," a thinly disguised Bob Dylan. 
I SHOT ANDY WARHOL, 1996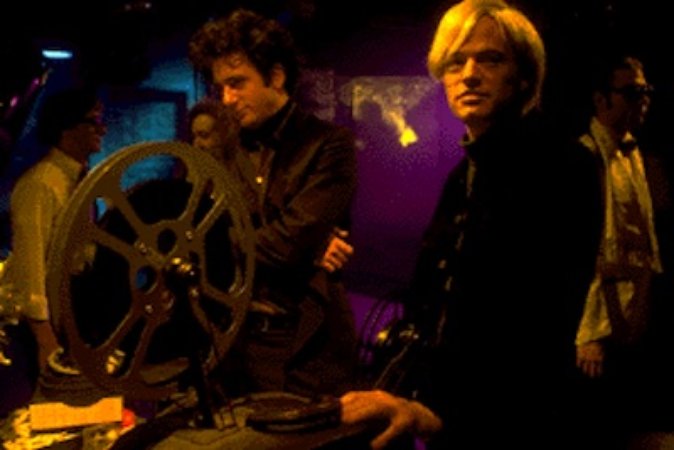 British character actor Jared Harris plays Warhol in this biopic about Valerie Solanas (Lili Taylor), a 1960s feminist radical—a member of S.C.U.M., or the Society for Cutting Up Men—who notoriously shot the artist after he refused to produce her screenplay. Harris's Warhol is at once aloof and vulnerable in this acclaimed performance, stuttering and then stoic. Directed by Mary Harron (of American Psycho), the film uses reproductions of Warhol's paintings and silk-screens, which then had to be destroyed after filming. This rendition is by far the darkest of the fictional accounts of Warhol's life: after the shooting, Warhol was known to be edgy and paranoid, harboring a lifelong fear of Solanas, who died one year after him.
"THE SIMPSONS" IN "MOM AND POP ART," 1999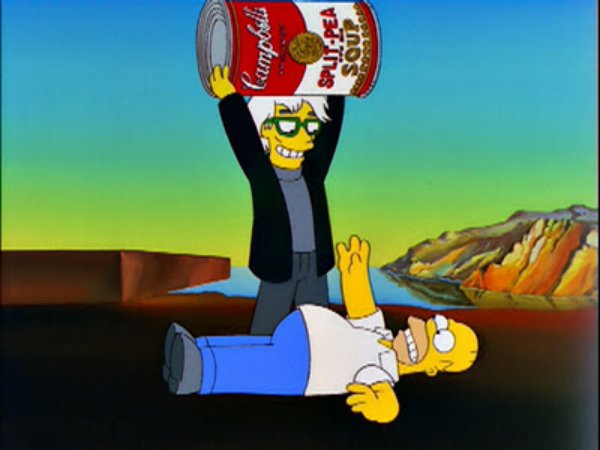 Feeling inadequate after a visit to the Springfield Art Museum, Homer has a nightmare about various artworks attacking him. An angry (and yes, yellow) Andy voiced by Hank Azaria starts pummeling Homer with Campbell's soup cans yelling, "Soup's on, fat boy!" With Warhol menacingly above him, wielding a life-size soup can, Homer finally wakes up. There's nothing more Pop than getting turned into a cartoon cameo—in the heyday of the Simpsons, no less. However, Warhol's appearance is far from the most notable art reference on the episode. That would have to be a brief cameo by Jasper Johns, voiced by the famed artist himself, that shows him pilfering canapes (and light bulbs) from a gallery opening. 
DEATH BECOMES HER, 1992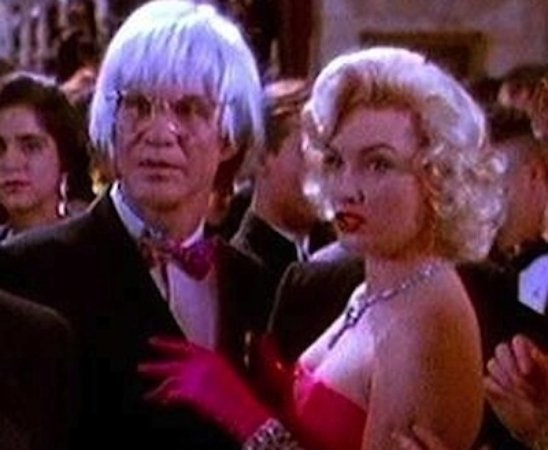 Andy Warhol makes an unexpected and pointed appearance in this black comedy. Actress Madeline Ashton (played by Meryl Streep) and writer Helen Sharp (Goldie Hawn) have feuded for years over the same nebbish-y mortician (Bruce Willis). But when the aging rivals find out about an exclusive elixir for rich and famous clientele that will restore them to their younger, beautiful selves forever—as long as they promise to disappear after 10 years of fame—chaos ensues. In one scene, the women find themselves at a secret gathering for "clients" who have had the time-defying treatment: a mélange of famous actors and artists appear who were believed to have died young. In one of the best gags, Warhol (played by Bob Swain) appears partying next to Marilyn Monroe.