In Cindy Sherman's famedUntitled Film Stills series, most of the 69 photographs depict the artist as a archetypal character known from the movies: a housewife, a femme fatale, a working girl, and everything in between—all evoking the ways the cinema has the tendency to objectify women. But one photo in this early body of work from 1977-1980 stands out as particularly grim. That would be Untitled Film Still #30.
In this piece, Sherman portrays herself in disturbing guise of a woman who has been battered, the closely-cropped frame of the photo showing just her head as she looks out at the viewer, bewildered and crying, with her makeup running down her cheeks (which are still in the process of bruising). It's so different from the sexy librarians and Sandra Dee-like teenagers that Sherman portrays in the rest of the series—where a noirish peril may lurk outside the camera, alluded to by worried glances, but violence is never visible—that this photograph seems to be an anomaly. But it isn't.
Instead, Untitled Film Still #30 is the most overt appearance of a disturbing, downright horrific strand of Sherman's work that the artist will pick up and run with in future series, often to disconcerting effect. In honor of "Untitled Horrors," an exhibition of Sherman's darker photography currently on view at the Moderna Museet, here is a guide to Sherman's most disturbing images. 
WOMEN IN DISTRESS (1981)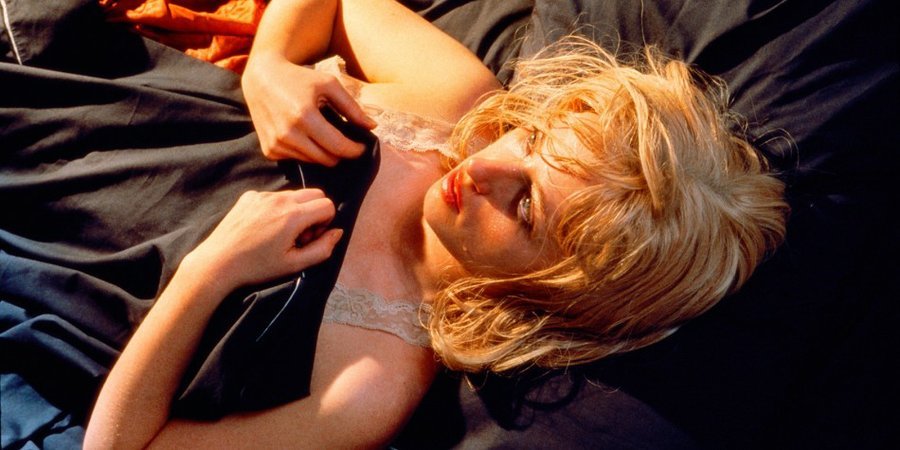 Untitled #93 (1981)
In 1981, Artforum commissioned Sherman to create two-page spreads for their magazine. What Sherman gave them was the Centerfolds series, for which Sherman photographed herself in intimate, compromised positions that radiate with internal despair. Though the series never actually says what Sherman's characters are so upset about, there are implications of rape or abuse, almost certainly at the hands of men. In Untitled #89, for instance, Sherman appears as a wife lying in bed. Her robe is hiked up, and she seems distraught—it could be the aftermath of rape, but the viewer can never be sure.
The editors of Artforum, it turns out, weren't so sure about the photographs themselves. Whereas many scholars now characterize Sherman's work as being feminist (the artist herself denies any ideological agenda), Artforum passed on the Centerfolds, worried that their readers "might get the wrong idea." In response, Sherman made the Pink Robe photographs, for which she covered her nude body with a pink robe and stared directly at the viewer to subvert the male gaze. 
FAIRY TALES FROM THE CRYPT (1985-1989)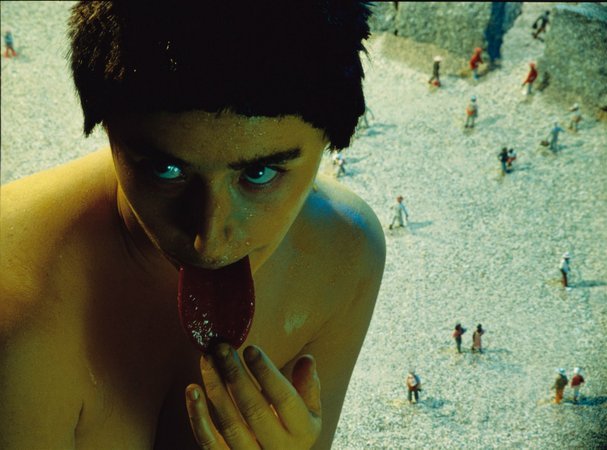 Untitled #150 (1985) 
Sherman's Fairy Tales photographs still befuddle critics, and not just because Goldilocks never makes an appearance. These photographs find Sherman moving into the grotesque, with pictures of beasts and images of the artist appearing to be dead, at times with a pig's face where hers should be. The photographs are unsettling, so disturbing that Vanity Fair (the publication that commissioned the works) never published them. Sherman took it one step further with her Disasters series, in which her own presence completely disappears to instead frame abhorrent landscapes of what appears to be rotting food and vomit, suggesting sites of violence and, as the title would have it, mass disaster. 
SEX AND DEATH (1989-1992)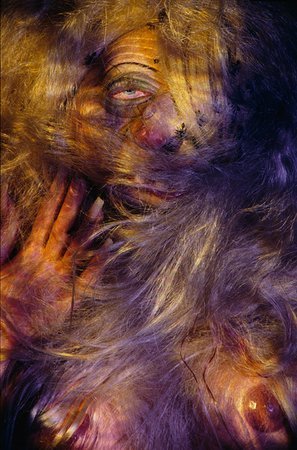 Untitled #191 (1989)
When Andres Serrano's Piss Christ and Jeff Koons's pornographic Made in Heaven series drew wrath from the NEA, the art world took the puritanical scrutiny as a challenge to make even more controversial work. Naturally, 1989 marked a return to horror for Sherman with her Sex photographs, which are anything but sexy. For these photographs, the artist continued to stay out of the work, instead making anatomical mannequins her subjects. The photographs recall Hans Bellmer's Surrealist images of contorted dolls by going one step further—Sherman glued pubic hair to the dolls, and forced them into grossly sexual positions. In some pictures, for instance, the dolls have sausages in places that they don't belong.
PURE HORROR (1994-1997)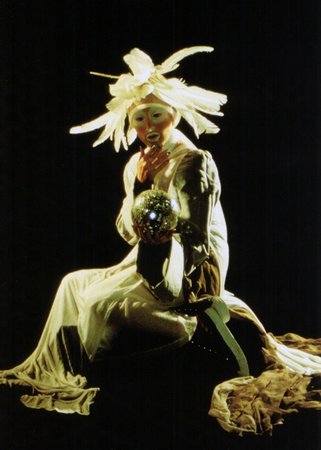 Untitled #296 (1994)
Upon the initial unveiling of Sherman's Horror photographs, her supporters were uneasy about the direction, and it's not hard to see why. Her images of babies wearing creepy masks and garishly colored dolls are the stuff of David Lynch's nightmares, but the visceral impact felt when seeing these photographs is entirely intentional. With her Horror photographs, Sherman explored suffering and the human potential for violence using a Goya-like shock factor. Today these works are considered an underappreciated area of her oeuvre, and are gaining more and more interest from curators, who see them as shaking Sherman free from the over-familiarity viewers have with her more famous work.  
CLOWNING AROUND (2003-2004)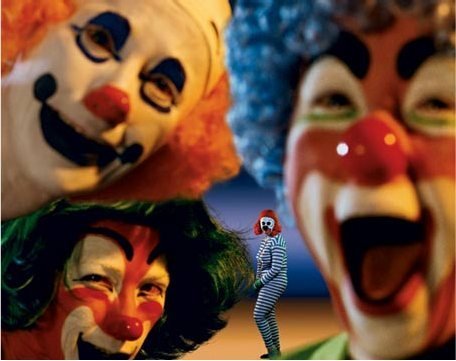 Untitled #491 (2004) 
After 9/11, Sherman found in a state that she imagined was akin to that of circus clowns—"psychotically happy," even when extremely sad. With that sentiment in mind, it was only natural that Sherman decided to mime the creepy entertainers for her Clowns series. The photographs were Sherman's first to be shot using digital cameras, and Sherman heightens the disturbing quality of big-top shows by using a computer to add garish swathes of color and superimpose images of clowns on top of one another. The clown photographs may be Sherman at her darkest—the colors are light and whimsical, but the ideas are hefty and downright disturbing.