As the world's freshest art lovers primp and preen to show up and out at the 47th edition of Art Basel, we flip through the glossies of fashion history in search of the top designers who have spun thread into gallery worthy works of art. Showcasing inspirations from Pop Art, Cubism, Surrealism, Abstraction, and even Greco-Roman classicism, these designers have and continue to ally with artists across the decades.
From Phaidon's newly updated comprehensive compendium The Fashion Book, here are ten designers with an art-historical edge that will get you primed for this season's hottest fair.      
SONIA DELAUNAY
Embroidered "Simultaneous" Coat Created for Gloria Swanson
1923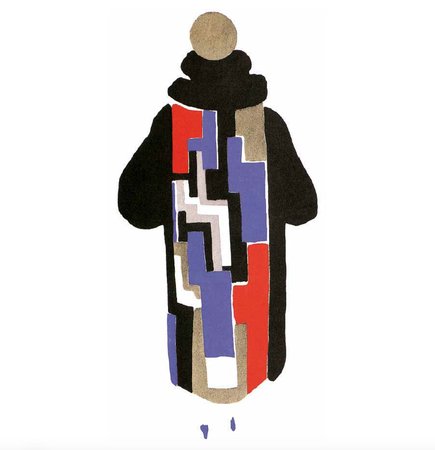 Brilliantly colored and sharply patterned geometric designs are lavishly displayed on this "simultaneous" coat. Sonia Delaunay, a leading Parisian artist of Orphism, a movement that developed out of Cubism and made color the primary means of artistic expression, has here merged art with fashion. In 1912 she began a series of non-figurative paintings called Contrastes simultanés, combining geometric forms with bright, prismatic hues. This work was based on the theory of the simultaneous contrast of colors of the nineteenth century chemist Michel-Eugène Chevreul. Her simultaneous fashions had their origins in these paintings, since she molded the fabric to the shape of the garment to ensure that the application of the colors remained intact. Her new concept of fabric pattern, whereby the cut and decoration of the garment were created at the same time, perfectly complemented the unstructured clothes of the 1920s.
MAN RAY
Lips on Lips
1930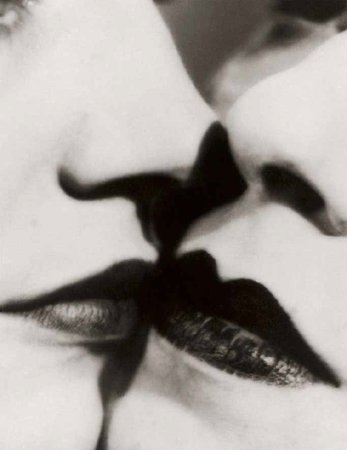 Photographer Man Ray was one of the central figures in the Surrealist movement in Paris. He was fascinated by women's lips as objects of desire. Other artists and fashion designers have ventured to portray the lips of Surrealism: Dalí designed a sofa modelled on Mae West's lips, Saint Laurent created a "Lip Dress", and Elsa Schiaparelli used lips as a pocket (the hand inserted between them). In 1921 Man Ray left New York for Paris, where he took up photography to finance his painting. An introduction to Poiret, who was looking for a different sort of photographer, brought him into fashion, a field that united his experimentation with a commercial product. In the 1920s his work for Vogue and Harper's Bazaar extended fashion photography from posed formality into the sphere of collaborative art. He asserted that, "inspiration, not information, the force that binds all creative acts" is at the root of great fashion.
AUGUSTA (AUGUSTABERNARD) BERNARD
Bias-Cut Dress
1934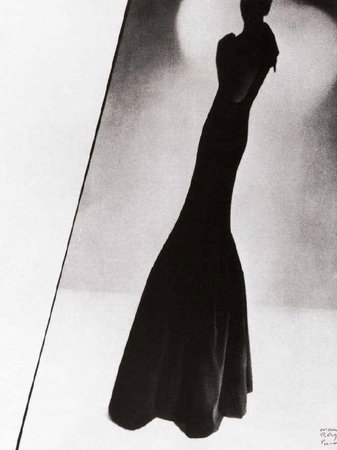 During the 1930s there was a revival of interest in classical art and an evening gown was an especially suitable garment for re-creating the flowing movement of the draperies of Ancient Greek statues. It is this sculptural form and the long, floating line billowing out at the bottom that Man Ray captures in his photograph. Augusta Bernard enjoyed a successful career during the first half of the 1930s. A neoclassical evening gown she designed in 1932 was chosen by Vogue as the most beautiful dress of that year. Augusta Bernard belonged to that eminent band of couturières between the two World Wars, which included Chanel, Vionnet, Schiaparelli, Louiseboulanger, and the Callot Soeurs. Like Vionnet, she was a technician with a mastery of the bias cut. By cutting the fabric of the dress on the cross-grain, she achieved a fluidity that gave the evening gown great elasticity and a refined, draping quality.
ELSA SCHIAPARELLI
"Desk Suit"
1936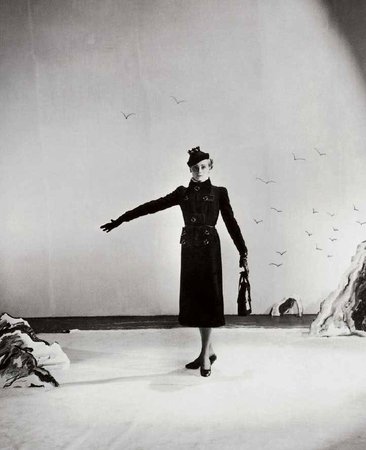 Is the woman wearing this "Desk Suit," designed by Elsa Schiaparelli in 1936, going to the office or the beach? The suit features a vertical series of true and false pockets, embroidered to look like desk drawers with buttons for knobs. Dress designing for Schiaparelli was an art, and this suit is based on two Surrealist drawings by Salvador Dalí entitled City of Drawers and Venus de Milo of Drawers. Flourishing in the 1920s and 1930s, Surrealism reacted against the rational and formal real world, and substituting instead fantasy and a dream world. Having influence on fashion and in particular Schiaparelli during the 1930s, the designer's smart, sophisticated, witty clothes took the fashion world by storm. She commissioned some of the best artists of the period, such as Salvador Dalí, Jean Cocteau, and Christian Bérard, to design fabrics and embroideries for her.
ANNE-MARIE BERETTA
Leather "B" Coats
1980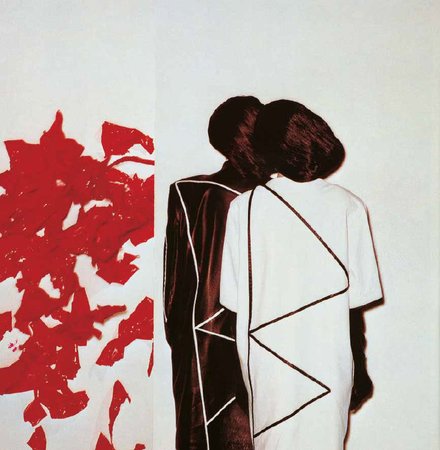 In an abstract, graphic, red, white, and black scheme, two leather coats are trimmed with Bs to signify the work of Anne-Marie Beretta. Her trademark is a play on proportions, from wide-collared coats to mid-calf-length trousers and asymmetrical lines, used here to break the conformity of these coats. The upper part of each letter is larger, throwing the emphasis onto the shoulders and thereby minimizing the widths of the models' hips. Beretta has used these techniques for many different collections, including ski-wear, but when she opened her own boutique in 1975 it was with businesslike tailoring, similar in style to those collections she has since designed for the Italian label, MaxMara. Beretta wanted to pursue a career in fashion from an early age—by the time she was eighteen she was designing for Jacques Esterel and Antonio Castillo. In 1974 she established her own label.
JEAN-CHARLES DE CASTELBAJAC
"Jeans" Dress
1984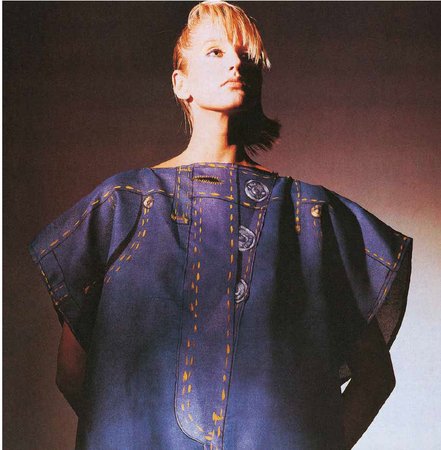 The deadpan expression on the model's face contradicts Jean-Charles de Castelbajac's joke: a square-cut dress that imitates the front-opening of a huge pair of blue jeans. His simple, enveloping clothes remain true to the uncut cloth. Thick, felt-like fabrics have preoccupied him since he was at boarding school, where he cut his first garment out of a blanket. He was one of France's new age of ready-to-wear designers in the 1960s and has worked with Pop Art themes such as Warhol's Campbell's soup can, which he printed onto a cylindrical dress in 1984. Inspired by the work of Paco Rabanne and Pierre Cardin, which he said surpassed the work of artists working on the theme of futurism, he has been called "the space-age Bonnie Cashin." In 2006 the Victoria & Albert Museum, London, featured a display that showed the variety of his work that included jackets made from toys, parachute ballgowns, and Pop Art dresses.
JEAN-LOUIS SCHERRER
Print Dress and Straw Hat
1989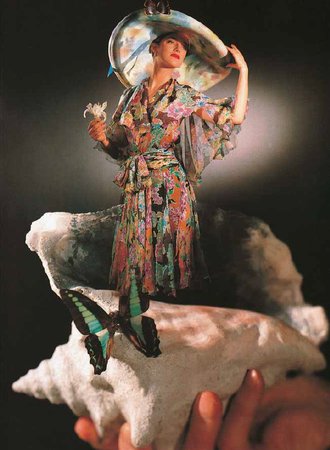 This fantasy world of a Botticelli woman rising from a shell serves as the ideal medium for the revelation of a silk-chiffon dress with a waterfall collar and butterfly cape. Its luxurious yet dramatic qualities adorn Jean-Louis Scherrer's refined classicism. Scherrer moved into haute couture when, after the petrol crisis in the 1970s, he provided the wives of affluent Arabs with longer, covered-up fashions that satisfied the modesty requirements dictated by Islamic laws, while also proclaiming their wealth. Parisian ballrooms have witnessed Scherrer's sumptuous embroideries and glittering silks since he started as Christian Dior's assistant, after an accident finished his career as a dancer at the age of twenty. After Dior's death and the choice of Saint Laurent as his successor, Scherrer left and opened his own business in 1962.
KOJI TATSUNO
Backstage at Koji Tatsuno's Catwalk Show
1992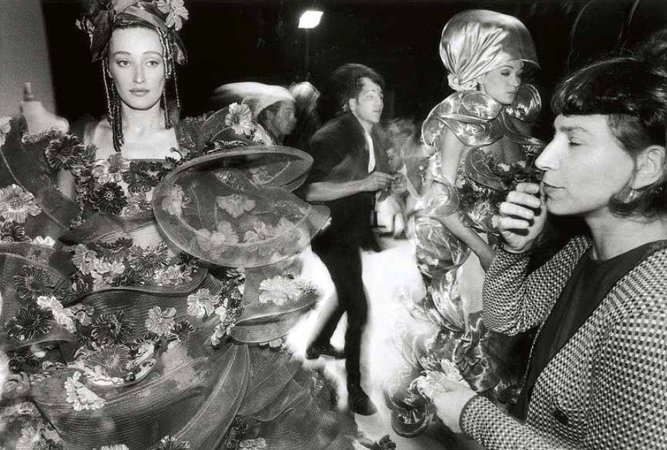 Dress? Costume? Sculpture? Amid the acceleration backstage, the models stand motionless in orchestrated coils of fine mesh, trimmed with rows of flowers. Like sculptural relief, these lyrical compositions reflect Tatsuno's synthesis of modern technology and folkcraft. He has spent his career experimenting with rare craft techniques, initially from his bespoke tailoring establishment in London's Mayfair and now from his small gallery at the Palais-Royal in Paris. Completely self-taught in the most English art of tailoring, Tatsuno arrived in London as an antique art dealer in 1982. He co-launched the design label Culture Shock, based on the 1980s temperament of avant-garde Japanese fashion. Disillusioned by what he calls the "corrupt and ephemeral," Tatsuno went on to pursue a more cerebral approach to fashion, developing his label in 1987, financially backed by Yohji Yamamoto.
DEBORAH MILNER
Gauze Coat
1997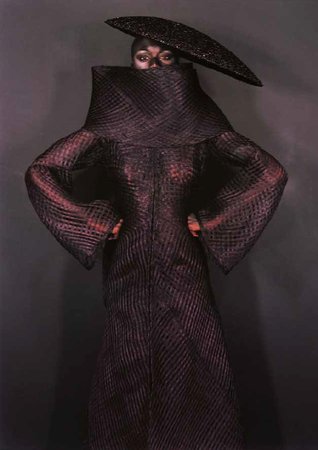 Deborah Milner's clothes are sculptural fantasies that defy the term "fashion." Indeed, this gauzy, full-length black coat featuring Milner's signature—a superb sweeping cowl neck and intricate textiles—could probably stand alone in an art gallery. Milner says, "My work  ranges from the avant-garde to the quite classic." One of her former tutors describes her as having, "revived the art of couture by adapting her skills to work with everyday materials." These include net, tape, film, and coated wire. Milner had a strict Methodist upbringing and countered it by enrolling at art college where she discovered fashion. She began with a small couture studio in 1991, specializing in one-off, avant-garde fashion pieces for, among others, milliner Philip Treacy, who used them as foils for his climactic headgear. Here, his ergonomic glittered ellipse equals Milner's semi-sheer coat for drama.
HAIDER ACKERMANN
Haider Ackermann Pitti Uomo Portfolio
2011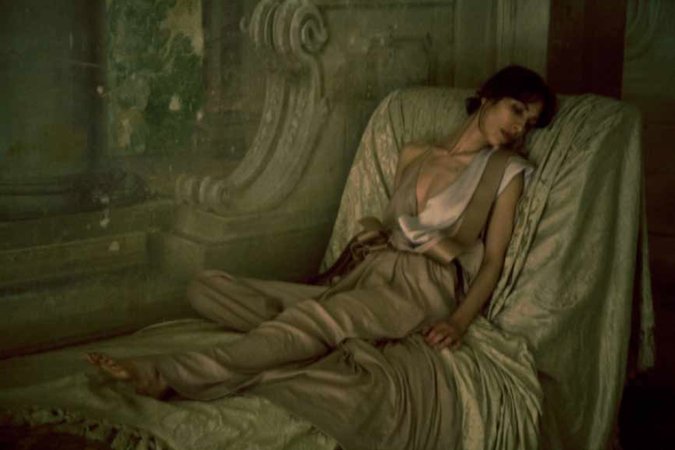 Reclining like a languorous odalisque in a Lord Leighton tableau, the model in this photograph exudes a dissolute air of exotic luxury, very much in keeping with mood of Haider Ackermann's spring/summer 2011 collection presented at the Palazzo Pitti in Florence. A Silk-Road fantasy seen through a pipe-smoke haze, male and female silhouettes alike featured in rich silks and satins, dhoti pants, and kimono collars. Born in Colombia, Ackermann had a peripatetic childhood, growing up in cities across Europe and Africa. Now based in Antwerp, his collections are often informed by a strong sense of place and what the designer describes as "errance"—a kind of wandering sensibility. His garments for women are prized for their expert draping in soft leather and suede, heavy satins, jersey and silk, and for the sensual androgyny of his silhouettes, beautifully typified by the actress Tilda Swinton with whom the designer's style is strongly associated.